Bacon Cheddar Scones are fabulous savoury scones. The recipe is quick and easy to make and packed full of tasty bacon and grated Scottish Cheddar. These scones are the perfect alternative to bread or rolls for breakfast, brunch or serve with soup for lunch.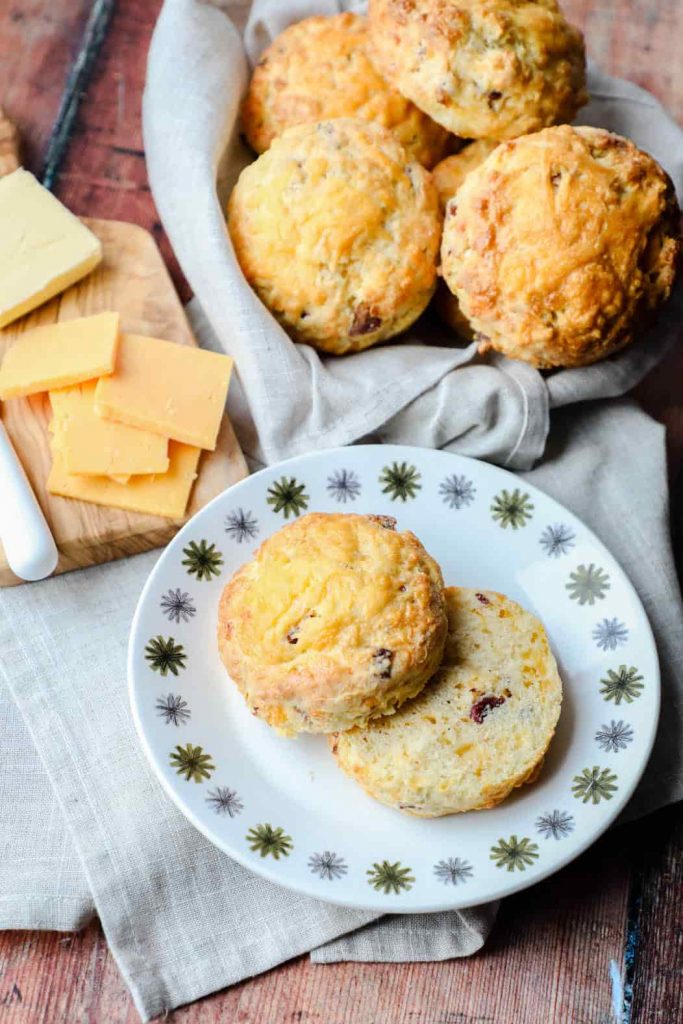 What are Scones?
Scones are a quick bread. You use baking powder or bicarbonate of soda to make the scones rise, rather than the slower yeast needed for bread.
Scones really are quick to make, they are the ultimate quick bread. A basic scone takes under 10 minutes to make and 10 minutes to bake in a hot oven. These Bacon Cheddar Scones will take only a little longer to make, especially if you are going to cook the bacon specifically for the recipe.
Sweet or Savoury?
Scones are very versatile, they can be made sweet or savoury like these Bacon Cheddar Scones. Cut them big for a hearty quick bread to serve with soup or as a sandwich. Cut them small and dainty for the perfect afternoon tea treat.

I've never made scones, are they difficult to make?
I find scones very simple to make, follow the step-by-step photographs for the best technique. However, there are a few things that are worth knowing so that your scones come out perfect every time:
Tips for making great scones
Rub the butter or margarine thoroughly into the flour, the result should look like fine breadcrumbs
Do not overmix. Gently bring together the mixture and pat it into a thick round before cutting out the scones.
Do not twist your scone cutter, this seals the edges of the dough and stops it from rising. Press straight down and lift, if you dust the cutter with flour it will lift off easily.
Practice makes perfect. When my husband first started to make scones the first two batches were very good but it took him until the third bake before they were perfect.
What ingredients do I need to make Bacon Cheddar Scones?
Self-raising flour
Baking Powder
Dried Mustard (optional)
Salt
Cheddar Cheese (grated)
Bacon
Egg
Milk

What kind of bacon should I use for Bacon Cheddar Scones?
I use smoked streaky bacon in my Bacon Cheddar Scones. I like the smoked taste and streaky bacon crisps up and is easy to crumble. However, you can use any bacon that you like, just make sure that it is well cooked and the fat is crisp.

What kind of cheese can I use?
I recommend a mature Scottish Cheddar to give maximum cheesy flavour to your scones. However, you can use any firm cheese that is suitable for graing and has a good strong taste.

I don't have self-raising flour can I use plain or all-purpose flour?
You can make your own self-raising flour using a combination of plain or all-purpose flour and either baking powder or bicarbonate of soda. Check out this post from Charlotte's Lively Kitchen for the proportions of flour to raising agent to use.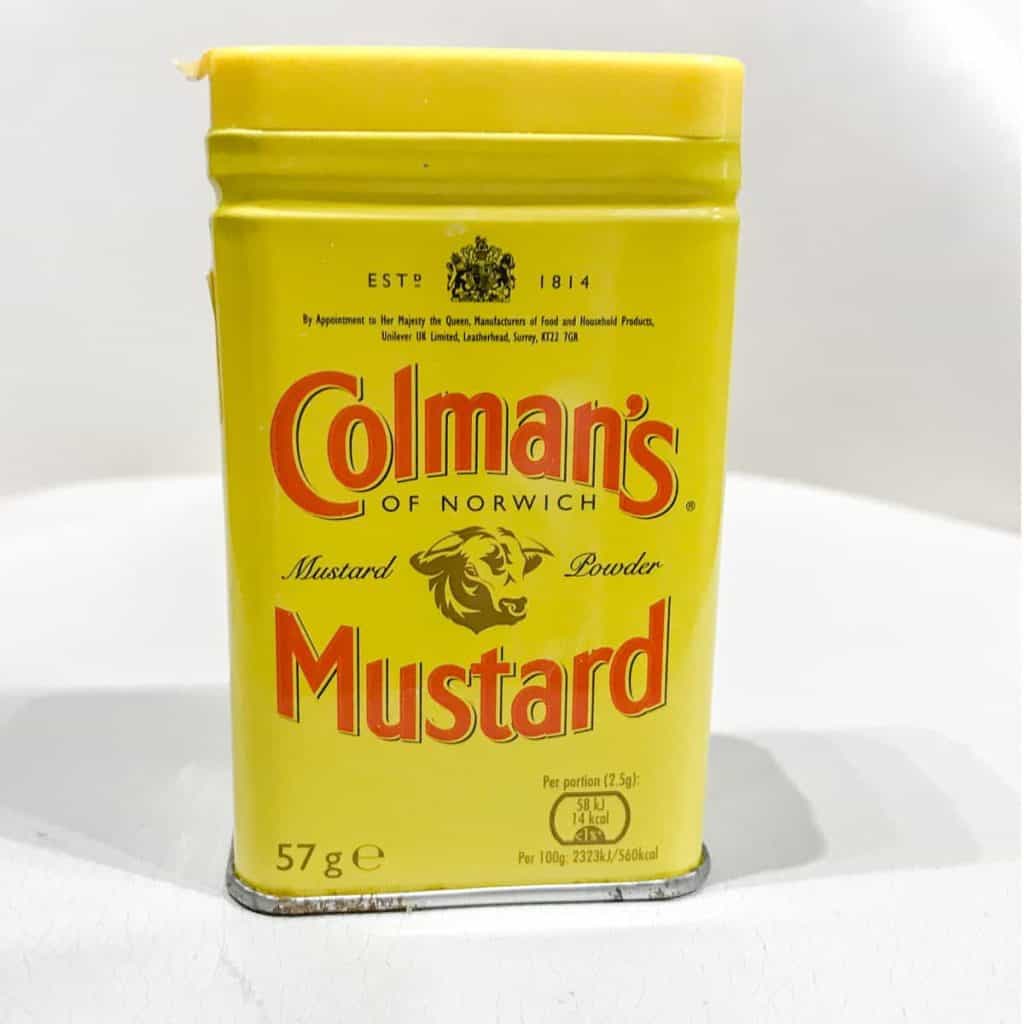 What is mustard powder?
Mustard powder is also called powdered mustard, ground mustard, or mustard flour. It is made by grinding mustard seeds and then sifting the seed coat out to leave a fine powder behind. I use Colman's English Mustard Powder.
Do I have to add mustard to the scones?
No, you can leave it out. However, mustard has an interesting effect on recipes containing cheese, it makes it taste more cheesy. In fact, you really don't taste this small amount of mustard but it does add to the flavour.
Can I use another mustard?
If you don't have mustard powder, use ready-made mustard. Mix it into the egg and milk mixture before adding to the scones.

How long can I keep scones?
Scones are best eaton on the day they are made. Keep them in an airtight container and they will still be okay to eat for another two days but will not taste as fresh. Freshen them up with a short burst in the microwave or oven.

Can I freeze Bacon Cheddar Scones?
Yes, scones freeze really well. Open freeze the scones, them then pop them into a freezer bag or container, Keep the scones for up to 3 months.
Defrost the scones under a tea towel for 2-3 hours, or defrtos in the microwave.

How to make Bacon Cheddar Scones
Follow the step by step photographs to make these delicious scones.
Rub in the butter
Mix together the flour, baking powder and mustard powder (if using).
Rub the cubes of butter into the flour with your fingers until it looks like fine breadcrumbs.
Add the cheese and bacon
Stir in the salt and pepper, the grated cheddar cheese and the finely chopped cooked bacon.
Add egg and milk to scone mix
Beat the egg in a bowl and add to the mixture, add enough milk to bring it together into a soft dough.
Dust your work surface with flour and gently pat the dough into a round about 2 cm thick.

Cut out the scones
Choose a round cookie cutter it doesn't matter if it is plain or fluted, I use an 8 cm (3 in) diameter cutter and this makes 6 large scones. Use a smaller cutter and you will get more.
If you don't have a cookie-cutter you can use a cup or glass.
Dip the cutter into some flour and cut straight down without twisting.
How thick should my scone dough be?
Make the scone dough 2 cm – 2.5 cm thick so that you get a nice high scone. Although scones do rise, they don't rise that much, so you need to cut them thick.
Brush with milk and bake
Place the scones on a baking tray lined with baking parchment.
Brush the tops of the scones with a little milk and sprinkle over the remaining grated cheddar cheese.
Bake at 200 C for about 10 minutes until the scones are risen and golden brown.

Cool on a wire rack
Remove the baking tray from the oven and use a spatula to lift the scones onto a wire cooling rack.

How do I serve Bacon Cheddar Scones?
My favourite way to eat these scones is to serve them still warm from the oven with butter.
Use instead of bread or rolls to make open sandwiches.
Bacon Cheddar Scones are really good to serve with soups or stews as an alternative to bread.
Serve the scones for breakfast or brunch topped with more bacon and scrambled eggs.
Cut small scones and top with savoury fillings to serve as canapes.
More Scone Recipes from Farmersgirl Kitchen
More Scone Recipes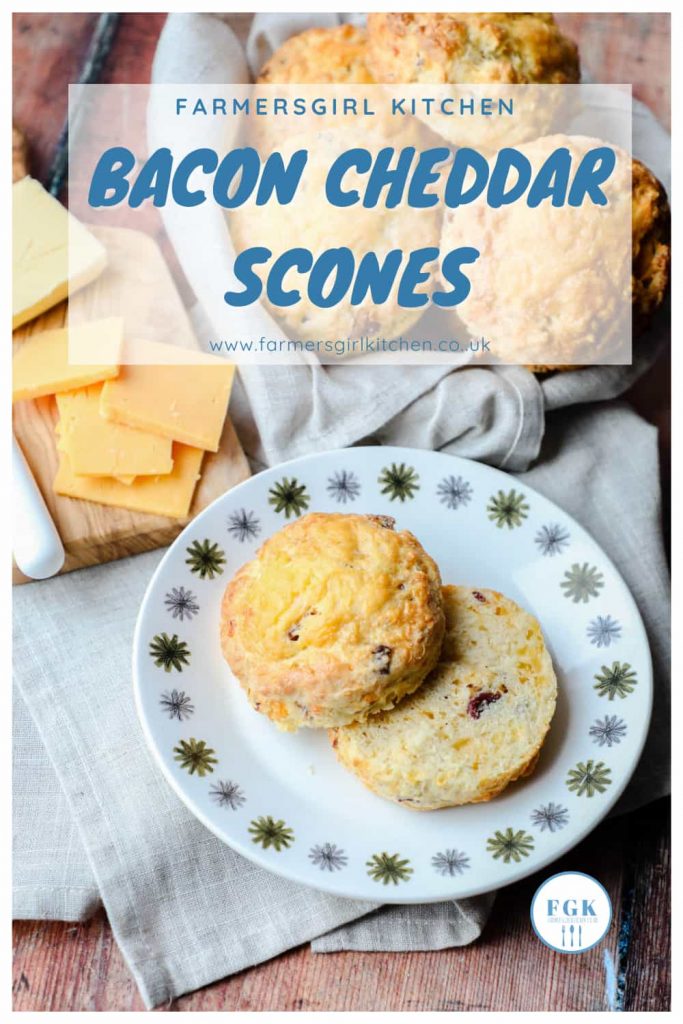 I'm adding this post to #CookBlogShare hosted this week by Lavender & Lovage.