Date and Walnut Scones are a delicious sweet tea time treat. And they are so easy to make you can have them on your tea table in 30 minutes. All they need is a little bit of butter because of the intense flavours of the dates and walnuts.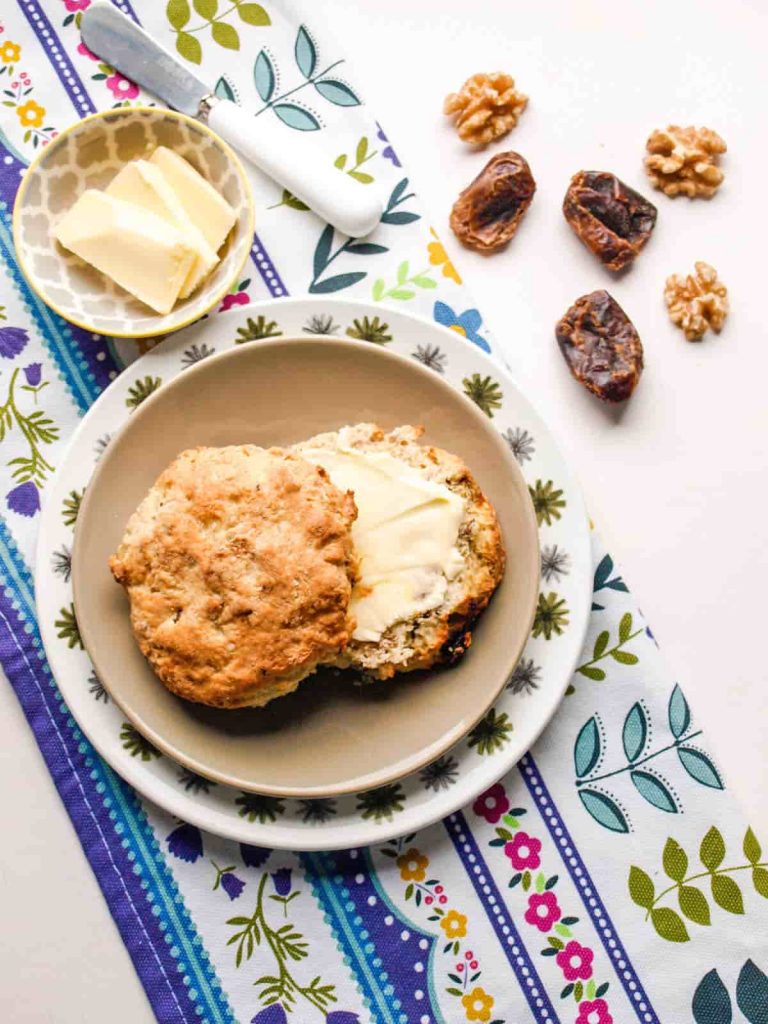 There are many different recipes and ingredients you can include in a scone, but I fancied date and walnut.

I scoured my cookbooks, but couldn't find a date and walnut recipe, so ended up combining a couple of different recipes to create these delicious scones.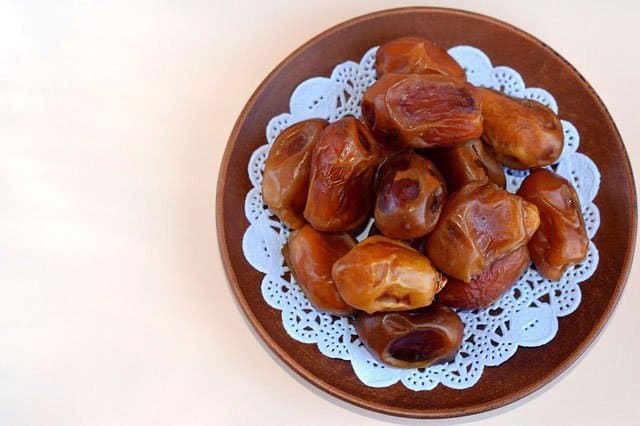 What are dates and what kind should I buy?
Dates are the fruit of a date palm. Buy them fresh in season and they are dark and glossy and eat very well with other fruit in a fruit salad or serve them as part of a cheeseboard. I love to eat them with soft French cheese like Brie.
Buy dried dates for baking, they are lighter in colour and a bit wrinkly because they have been dried. There are many varieties of dates the most common named varieties are Deglet Noor dates and Medjool dates.
Avoid buying dates which are too sticky and covered in crystalised sugar. Make sure you remove the stones from the centre of the fruit before chopping up to add to your scones.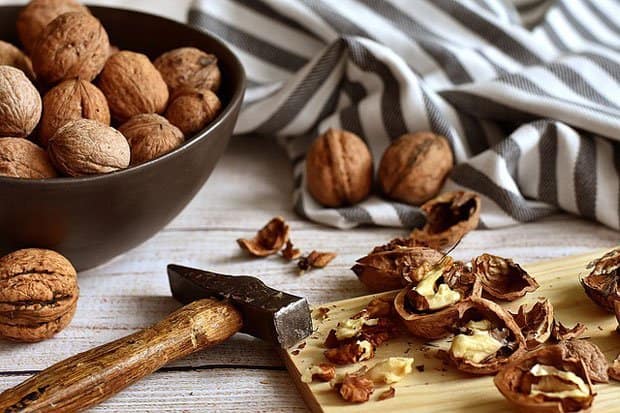 What are Walnuts and what kind should I buy?
Walnuts are the fruit of the walnut tree and, as the picture above, they come in a hard shell. Walnuts are often associated with the Christmas holidays, especially in the UK.
Walnuts are full of good fats, vitamins and minerals, I buy shelled walnuts for baking, as shelling every time you want to bake is more than I'm prepared to do!
Be aware that shelled walnuts will only stay fresh for 2-3 months. You can freeze shelled walnuts and they will keep for about 12 months.

Can I use fruit and nuts other than dates and walnuts in this recipe?
If you are not a fan of dates and/or walnuts then don't be put off, just change for other dried fruits. Of course, they won't be Date and Walnut Scones but they will still be delicious.
Try apricots, figs or raisins and whichever nuts that you prefer, apricot and almond would be a great combination.
If you can't eat nuts, then just leave them out and add a little extra dried fruit. Just make sure you keep to the same total weight.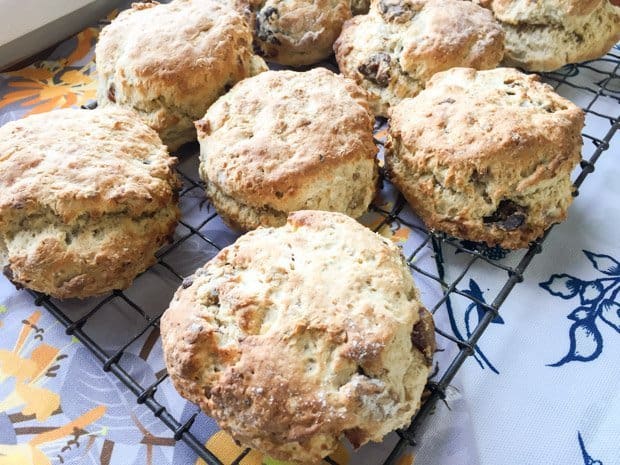 Top with Sugar
Brush the tops of the scones with milk and sprinkle them with demerara or other large crystal sugar. It certainly makes them look pretty and is a nice touch if you are entertaining guests.
As this bake was for home consumption only, so I didn't top them with the sugar.
Get more Scones
You can also get more scones if you use a smaller cutter. But in our house BIG scones are popular so I use a large cutter. and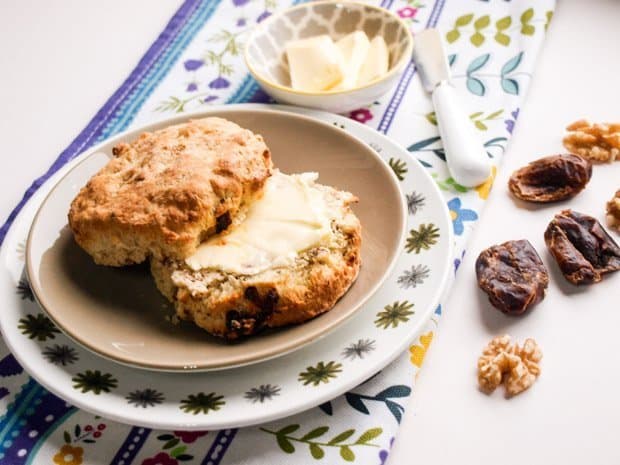 More Scone Recipes from Farmersgirl Kitchen
I really love making scones because they are so easy to make and so versatile. Here are some more recipes for different kinds of scones: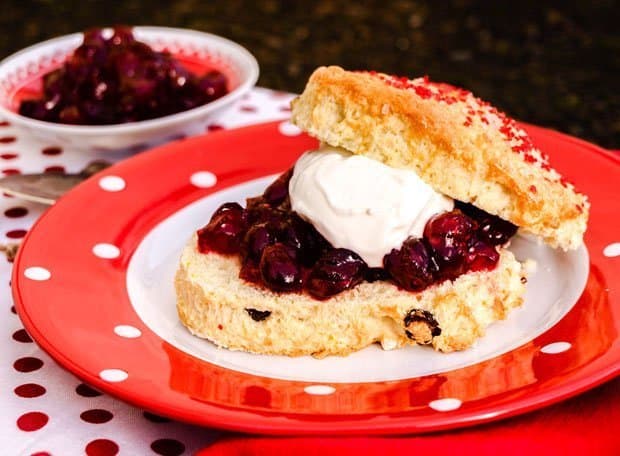 Cranberry Orange Scones are perfect for the holiday season or cut the scones into heart shapes and serve them on Valentine's Day.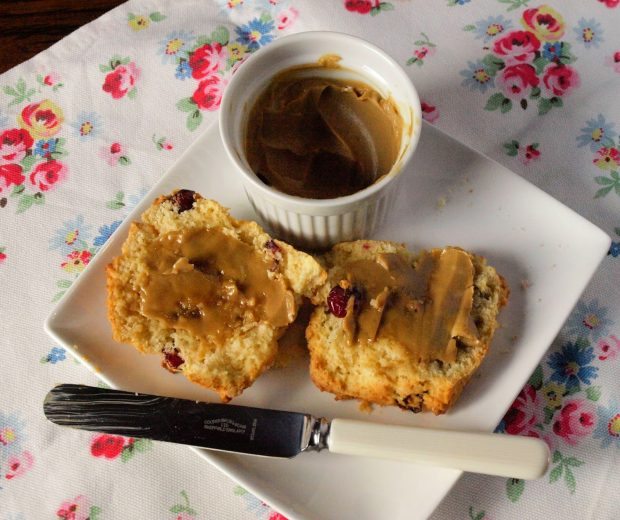 Cranberry Flaxseed Scones ideal served with molasses butter for breakfast or afternoon tea.


Treacle Scones are a simple traditional Scottish bake and a variation on the classic oven scone. Treacle Scones have the slightly sweet, spicy flavours of gingerbread and are delicious served with butter and jam or with a slice of Scottish Cheddar.
More Scone Recipes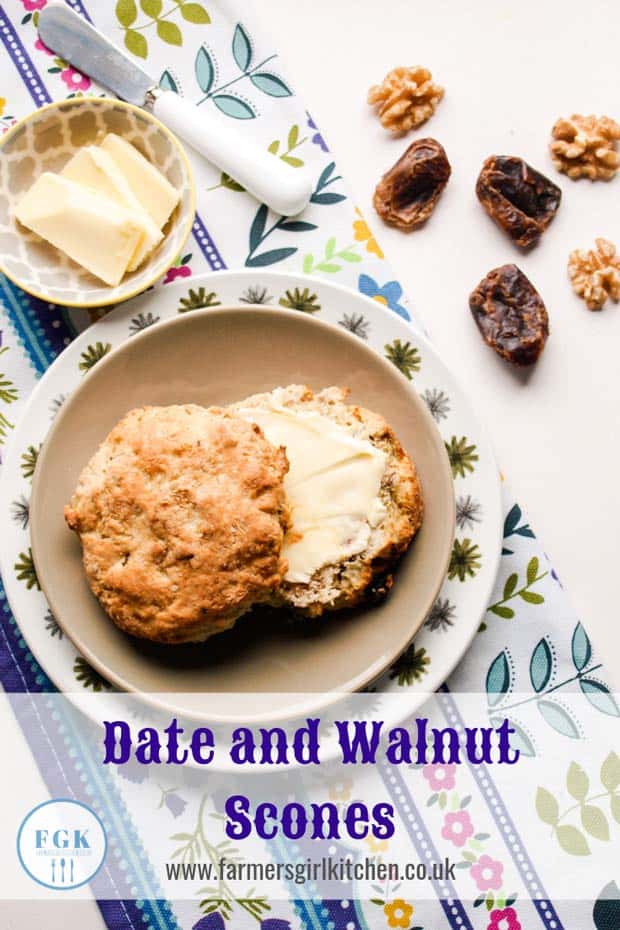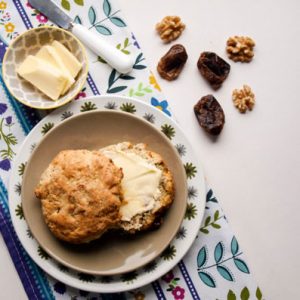 Date and Walnut Scones
Light and delicious scones with added dates and walnuts, a real treat.
Ingredients
50

g

stoned and chopped dates

2oz

75

g

walnut pieces

3oz

250

g

self-raising flour

8oz

1

tsp

baking powder

1

tsp

Mixed Spice

50

g

butter

2oz

50

g

light brown soft sugar

2oz

1

tbsp

demerara sugar

optional

170

ml

milk

6fl oz
Instructions
Place the flour in a bowl with the baking powder and mixed spice, stir until well mixed, rub in the butter (or whizz in a food processor).

Stir in the sugar, dates, walnuts and sugar.

Pour the milk into a well in the middle of the flour and mix with a palette knife to a soft dough. You may not need it all, add gradually until you have a soft but not a wet dough

Roll out the dough and using a cutter, cut out 8 scones, re-rolling the dough if necessary.  Place on a baking sheet, brush the tops with milk and sprinkle with demerara sugar.

Bake in the oven at 220C for about 18 minutes until well risen and golden brown,  Cool on a wire rack.
Nutrition
Calories:
249
kcal
Carbohydrates:
33
g
Protein:
5
g
Fat:
11
g
Saturated Fat:
3
g
Cholesterol:
13
mg
Sodium:
49
mg
Potassium:
182
mg
Fiber:
1
g
Sugar:
11
g
Vitamin A:
170
IU
Vitamin C:
0.1
mg
Calcium:
63
mg
Iron:
0.6
mg
Don't Miss My Latest Recipes
CLICK TO SUBSCRIBE NOW to join my newsletter list & receive a FREE 'How To Adapt Recipes For Your Slow Cooker' printable!
Share by Email
I'm adding the Date and Walnut Scone recipe to Cook Blog Share, hosted this month at Easy Peasy Foodie