Leftover Turkey Shepherd's Pie is a simple potato-topped pie recipe that makes a delicious family meal using leftover turkey from Thanksgiving or Christmas dinner.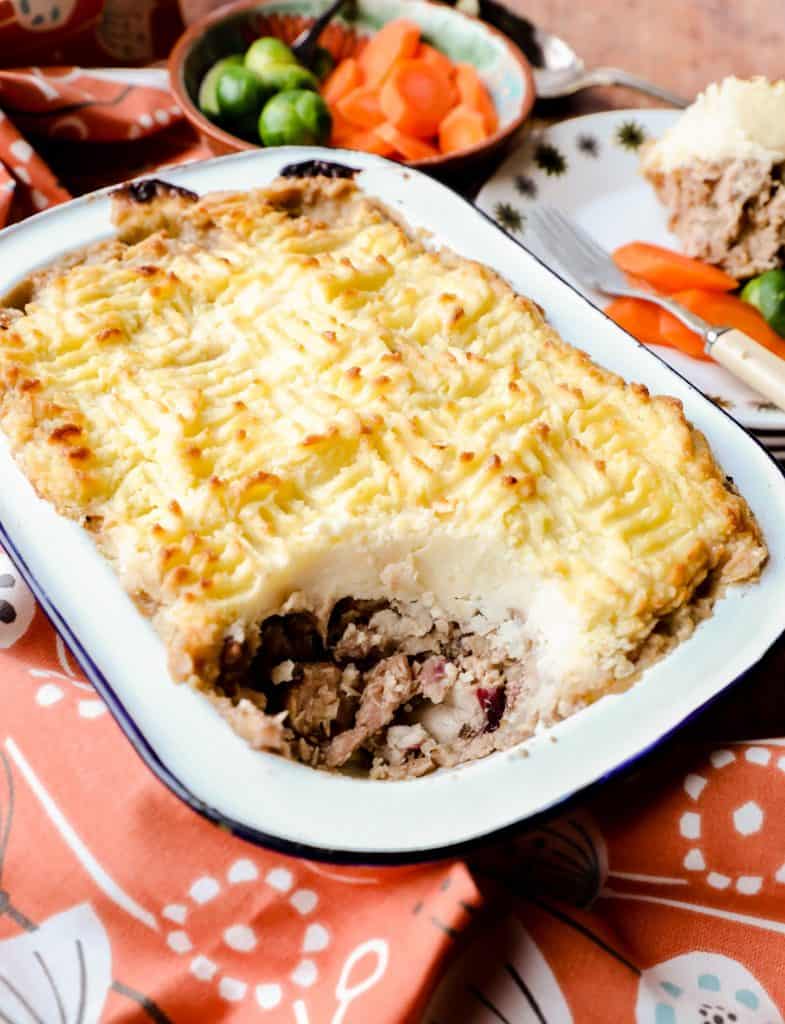 I really love finding new ways to use leftover ingredients. Holidays and family get-togethers are the perfect opportunities for leftovers' creativity. But you don't have to wait, you can also make this pie with leftover chicken from your Sunday roast.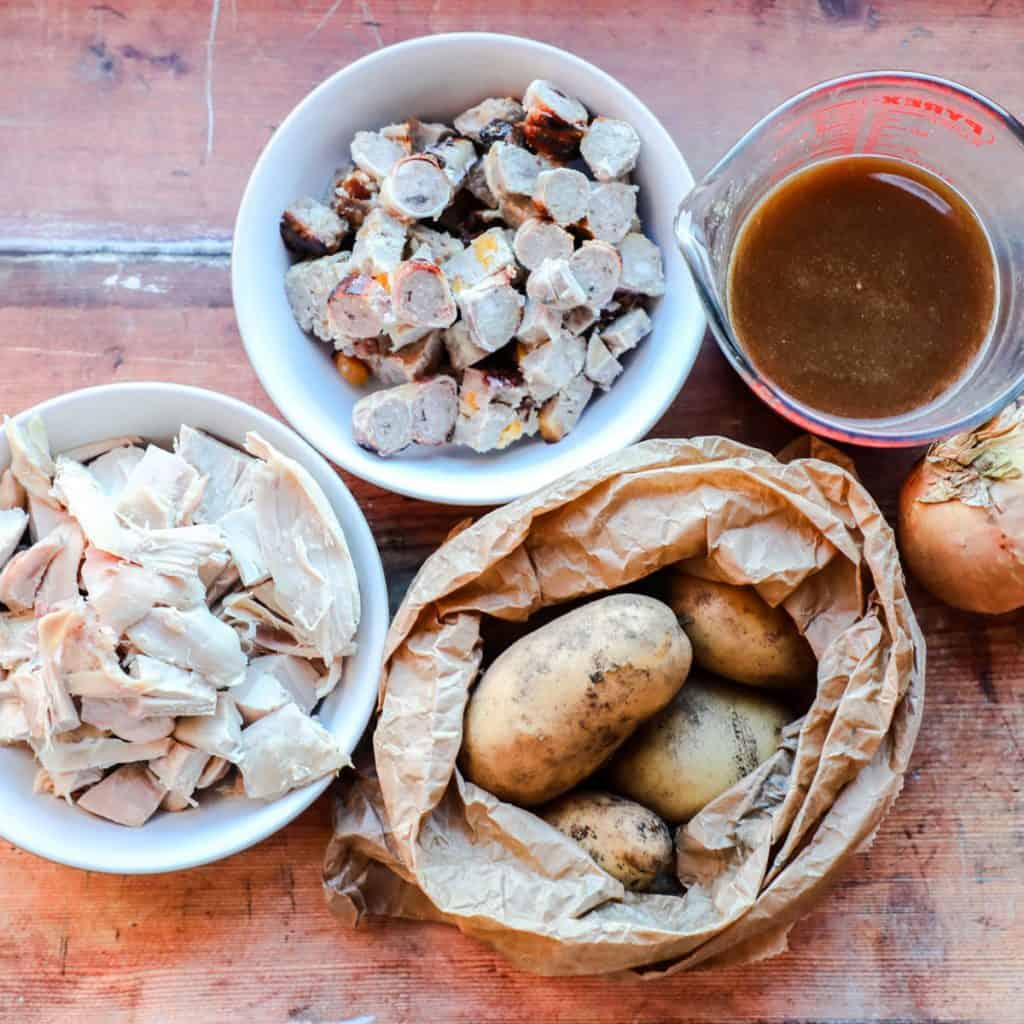 What do I need to make Leftover Turkey Shepherd's Pie?
Cooked turkey
Stuffing (dressing)
Chipolata sausages or Pigs in blankets
Onion
Gravy
Cranberry sauce (optional)
Potatoes
Butter
Milk or cream
Salt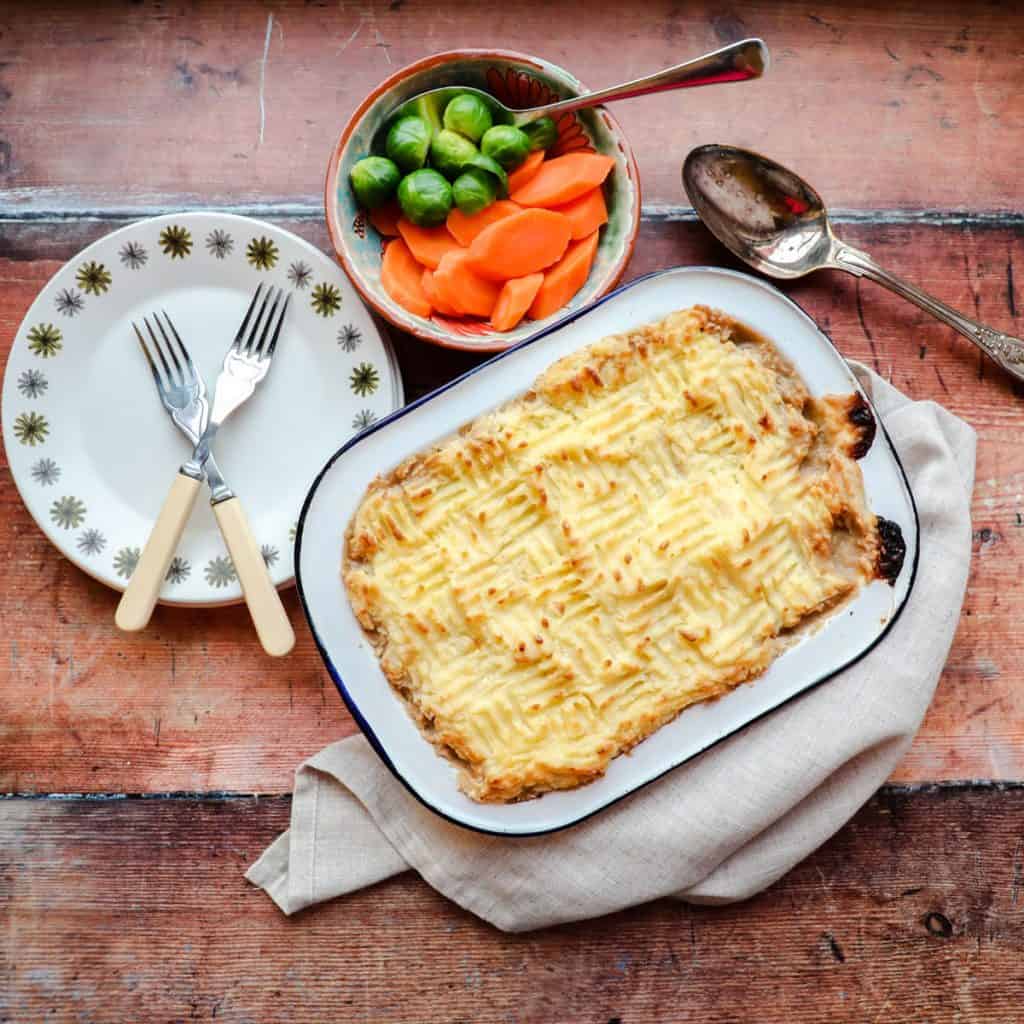 What kind of turkey meat should I use?
Use any leftover turkey meat. I find this turkey pie is a good way to use the meat from the turkey legs. I like to use the breast meat for recipes like Coronation Turkey, however, a mixture of leg and breast meat is good in the pie too.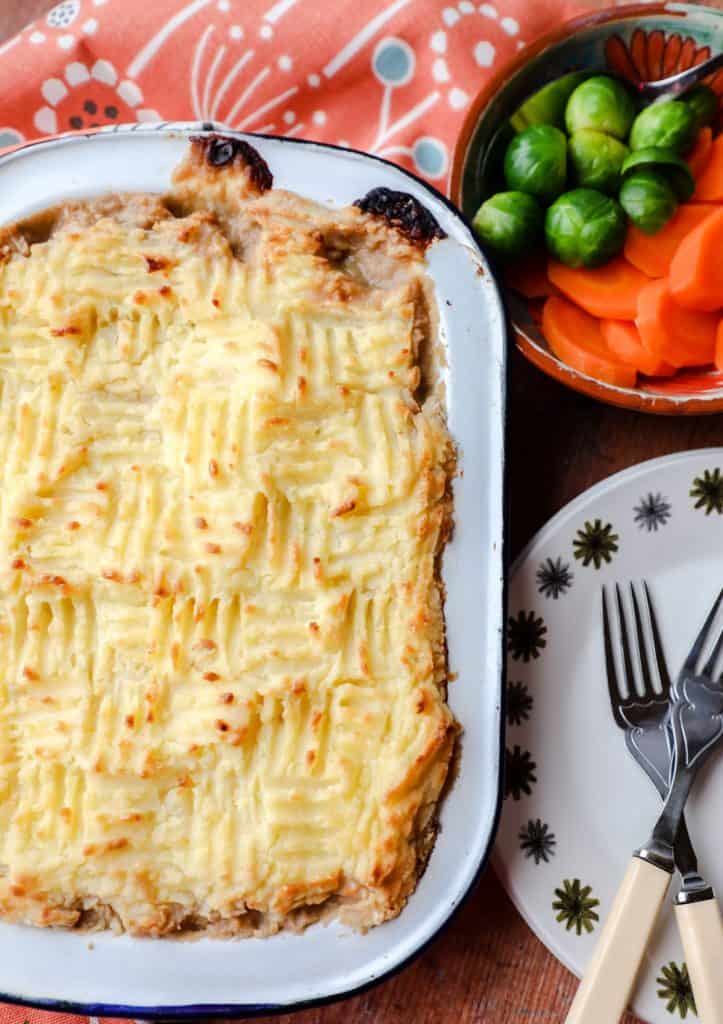 What is stuffing?
Stuffing is an edible mixture you use to fill the neck end of a turkey or chicken. This helps the poultry to retain moisture and the juices run into the stuffing adding to the flavour. You can also cook stuffing in a tray and serve it alongside the turkey.
In the UK stuffing is usually made with pork sausage meat and traditionally flavoured with sage and onion, like this recipe for Easy Sausage Meat Stuffing from Curly's Cooking.  You can also make stuffing flavoured with different herbs and dried fruits.  Meat-free stuffing or dressing is also made with a base of bread or rice.
For the Leftover Turkey Shepherd's Pie use homemade stuffing or ready prepared stuffing from the butcher or supermarket.  You can also use a packet of stuffing mix.  The important thing is to use stuffing that has already been prepared and cooked.  
I don't have any stuffing, what else can I use?
Use more sausages or more turkey. It's fine to mix and match the turkey, stuffing, and sausages. Of course, it will change the overall taste and texture of the pie filling. But it will still taste delicious.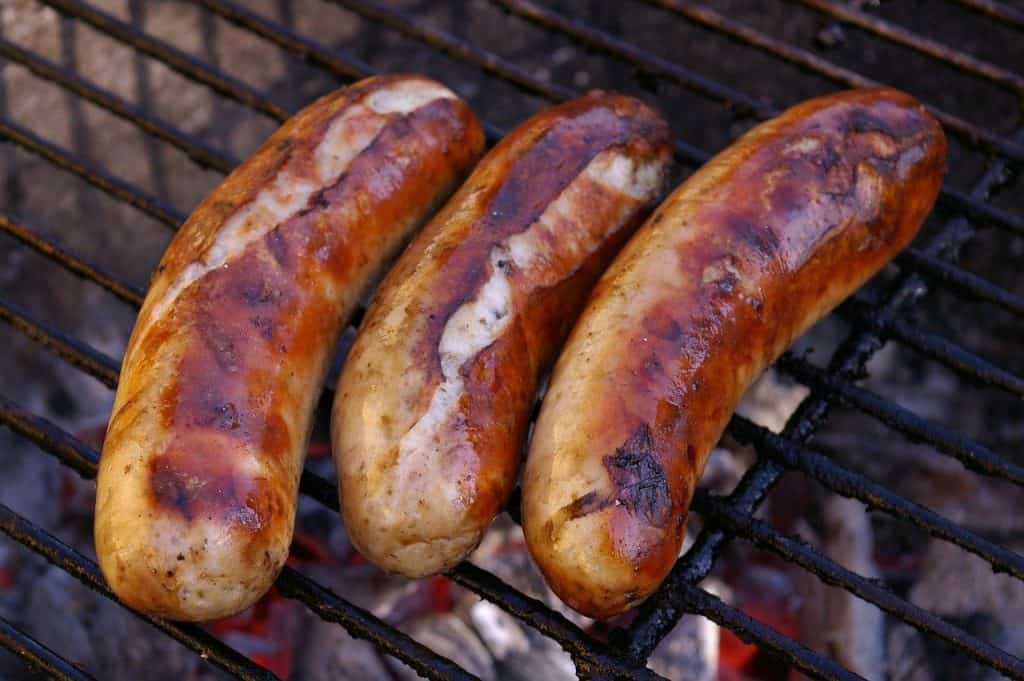 What kind of sausages can I use in the Leftover Turkey Shepherd's Pie?
You can use any cooked sausages in the Turkey Pie. Chipolata sausages are small pork sausages often served with a turkey dinner. In the UK 'pigs in blankets' are small sausages wrapped in streaky bacon, they are now more popular than plain chipolatas.
You can buy them from your butcher or in the supermarket or you can make your own with this simple recipe for Pigs in Blankets from Feast Glorious Feast.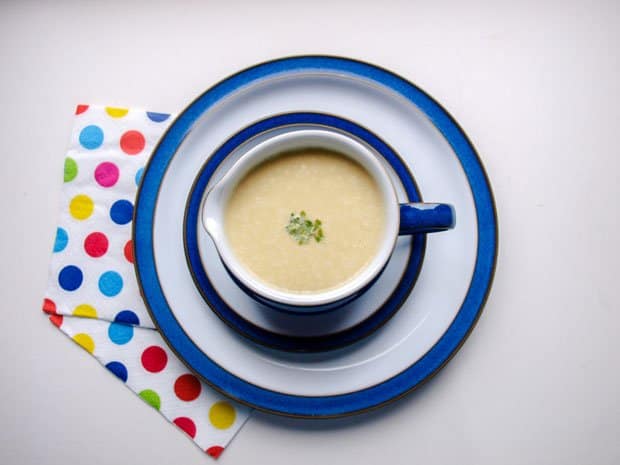 What kind of gravy can I use?
Use leftover turkey gravy if you have some, that would definitely be my first choice. However, any gravy will do including instant gravy from a jar. If you want to try something different then try my Easy Blender Onion Gravy.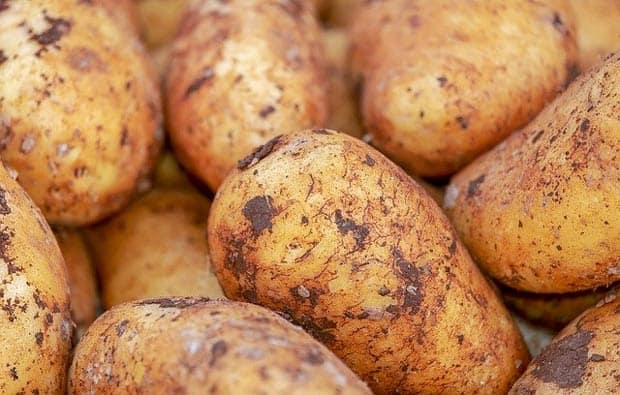 What kind of potatoes can I use?
If you have leftover mashed potato then use that. If making the mash for the pie then use a potato that is good for mashing. I like Maris Piper potatoes as they are a good all-rounder, but King Edwards or Desiree potatoes are also very good.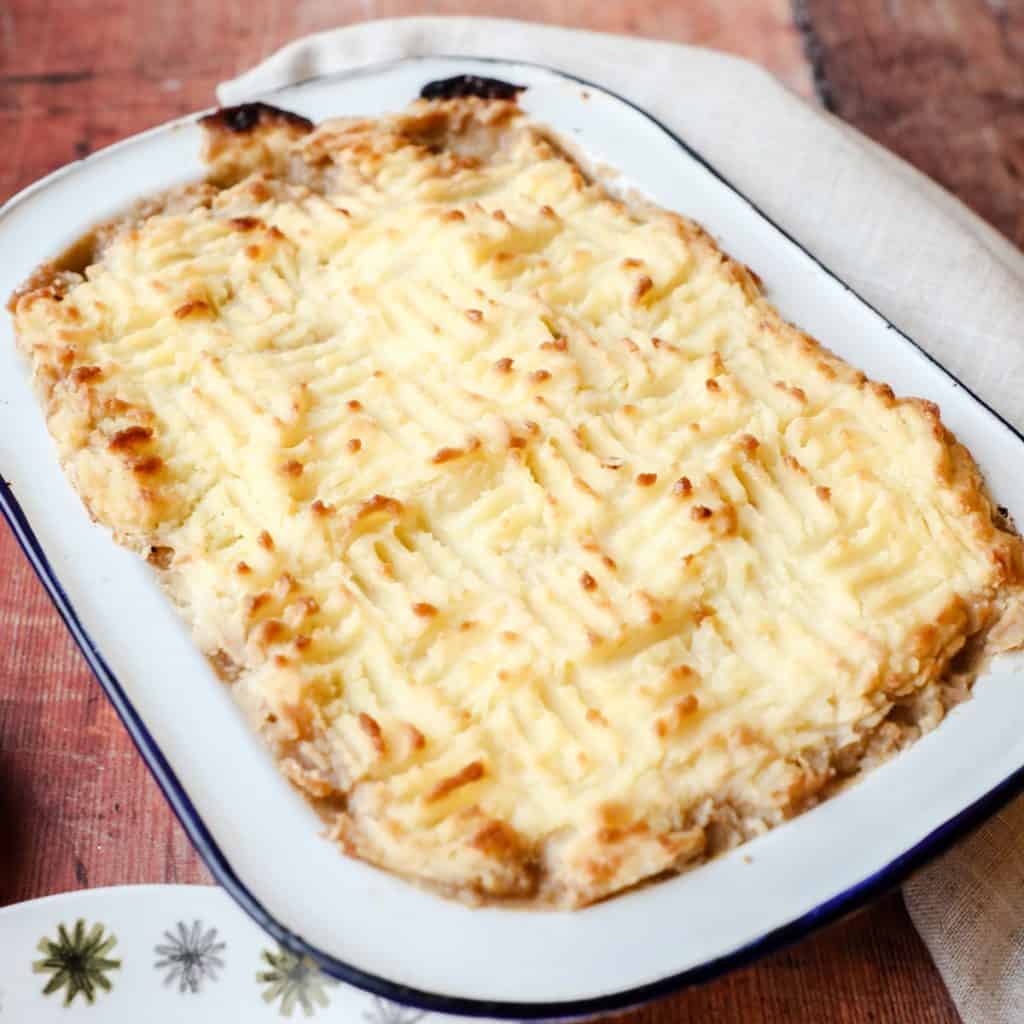 Can I freeze Leftover Turkey Shepherd's Pie?
To freeze the pie, follow the recipe right to the end including baking it in the oven. Then cool and freeze it in the pie dish. Seal in a plastic freezer bag and keep for up to 3 months.
Defrost overnight in the fridge, cover the top with foil and bake in the oven for 40 minutes, remove the foil and cook for another 5-10 minutes to crisp the top.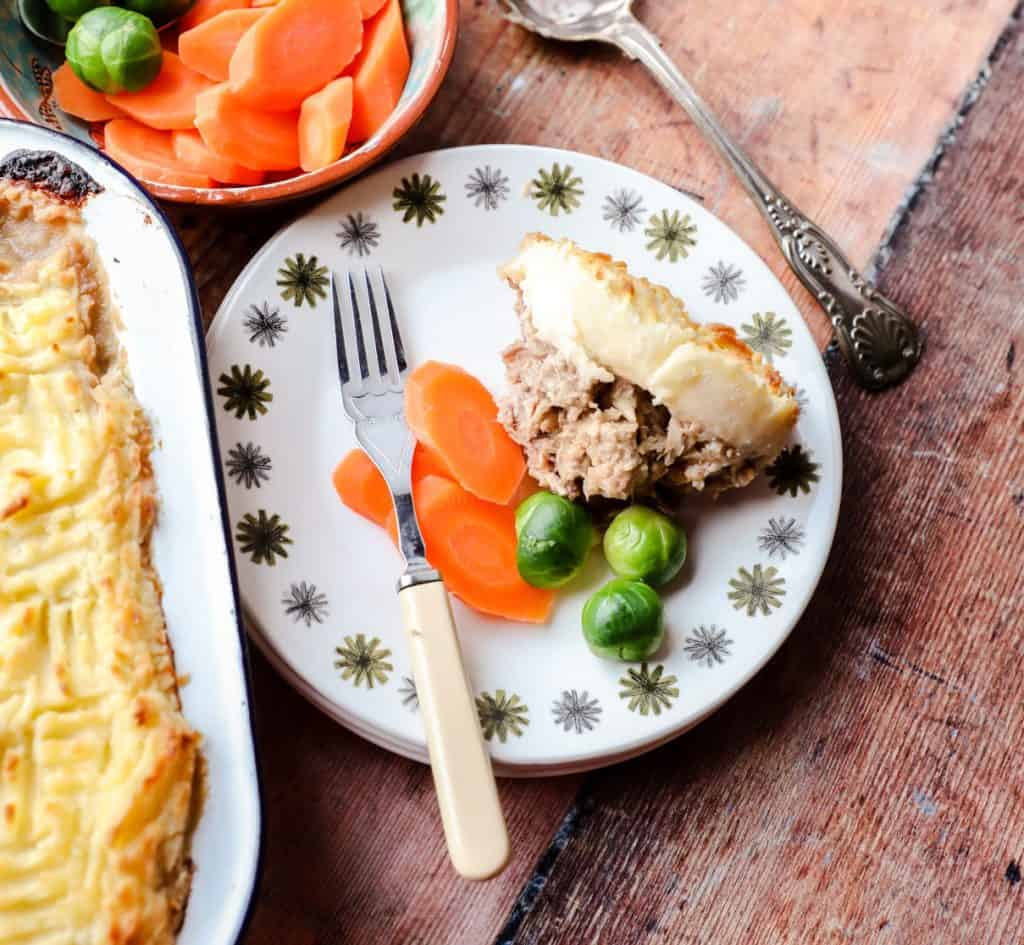 How do I serve Leftover Turkey Pie?
Serve hot with seasonal vegetables like brussels sprouts and carrots. Serve with some extra gravy and cranberry sauce if liked.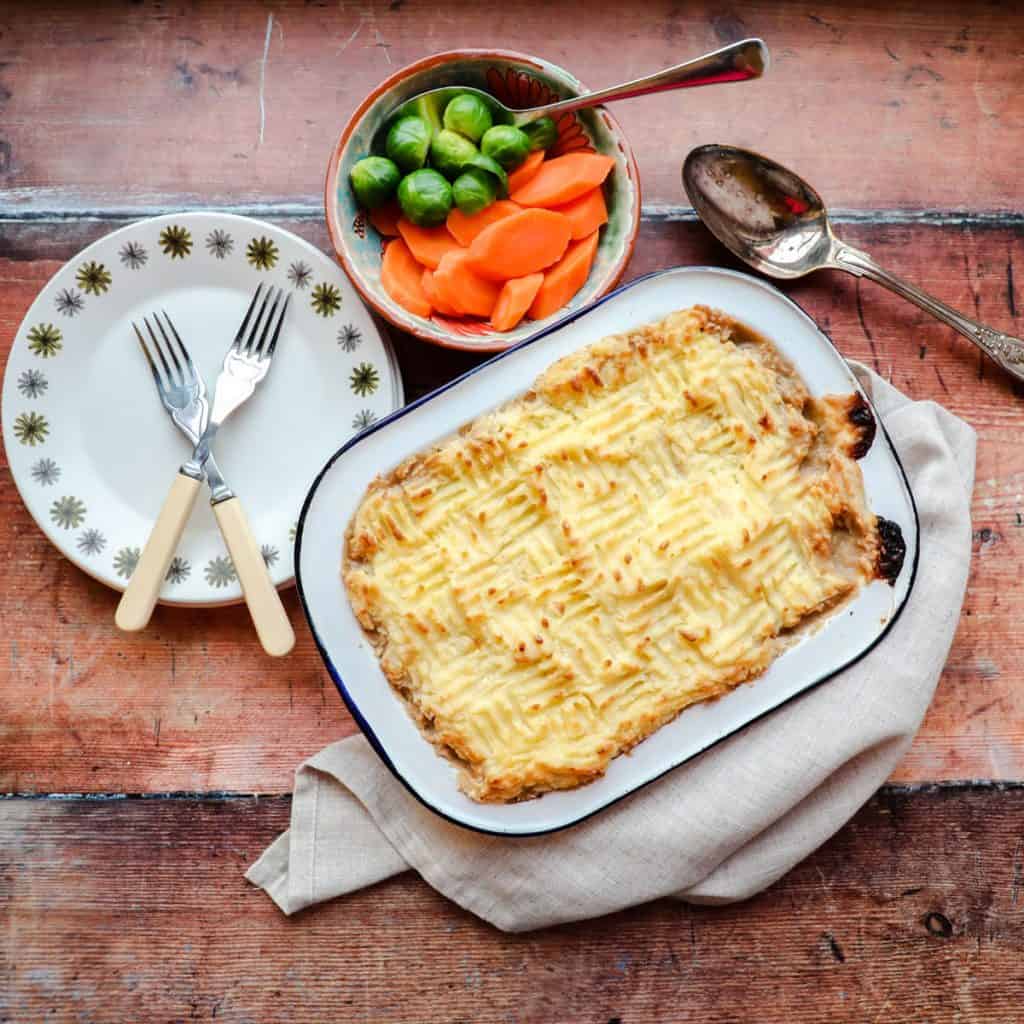 How to make Leftover Turkey Shepherd's Pie
It's easy to make this tasty family pie with a food processor, but you can also mince or chop the turkey with a knife if you don't have one.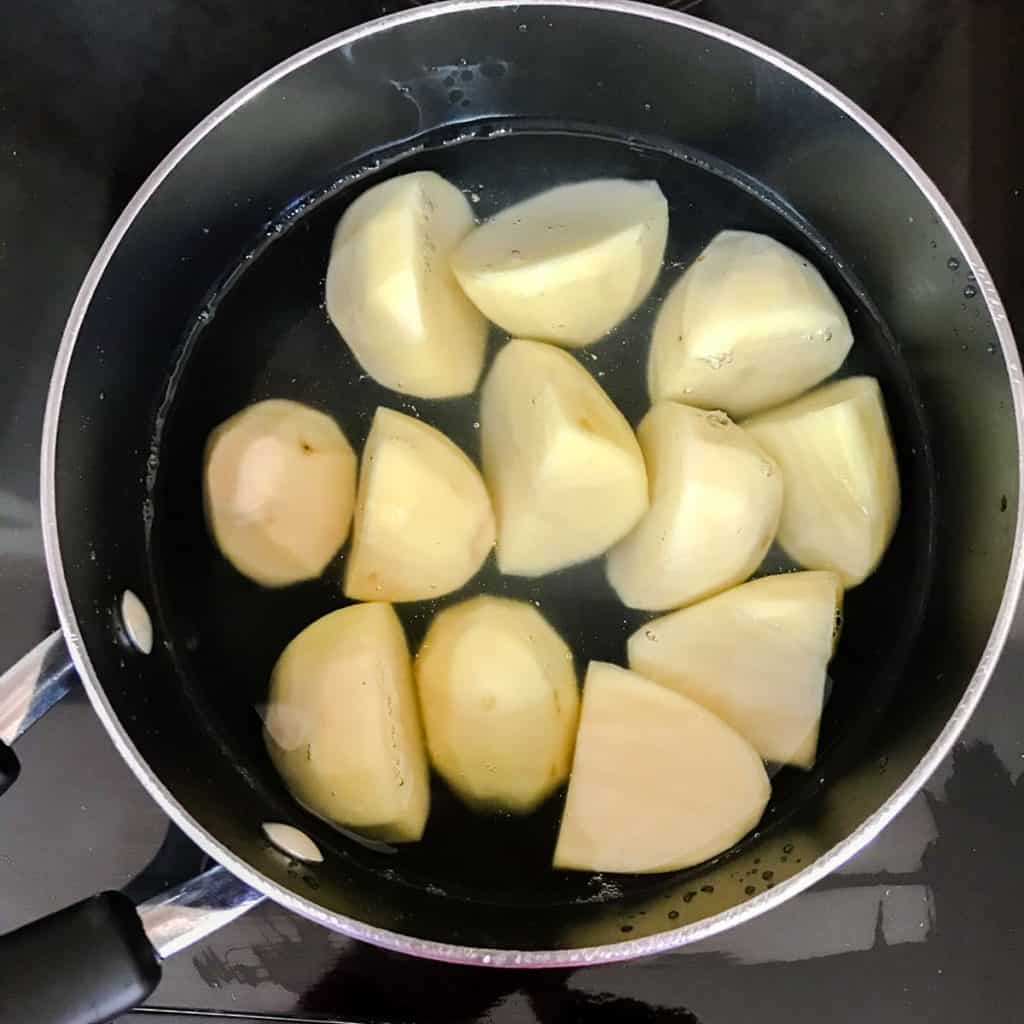 Peel the potatoes and cut them into even-sized pieces. Cover with water and boil for about 15-20 minutes until tender.
If you have enough leftover mashed potatoes you can miss out this step!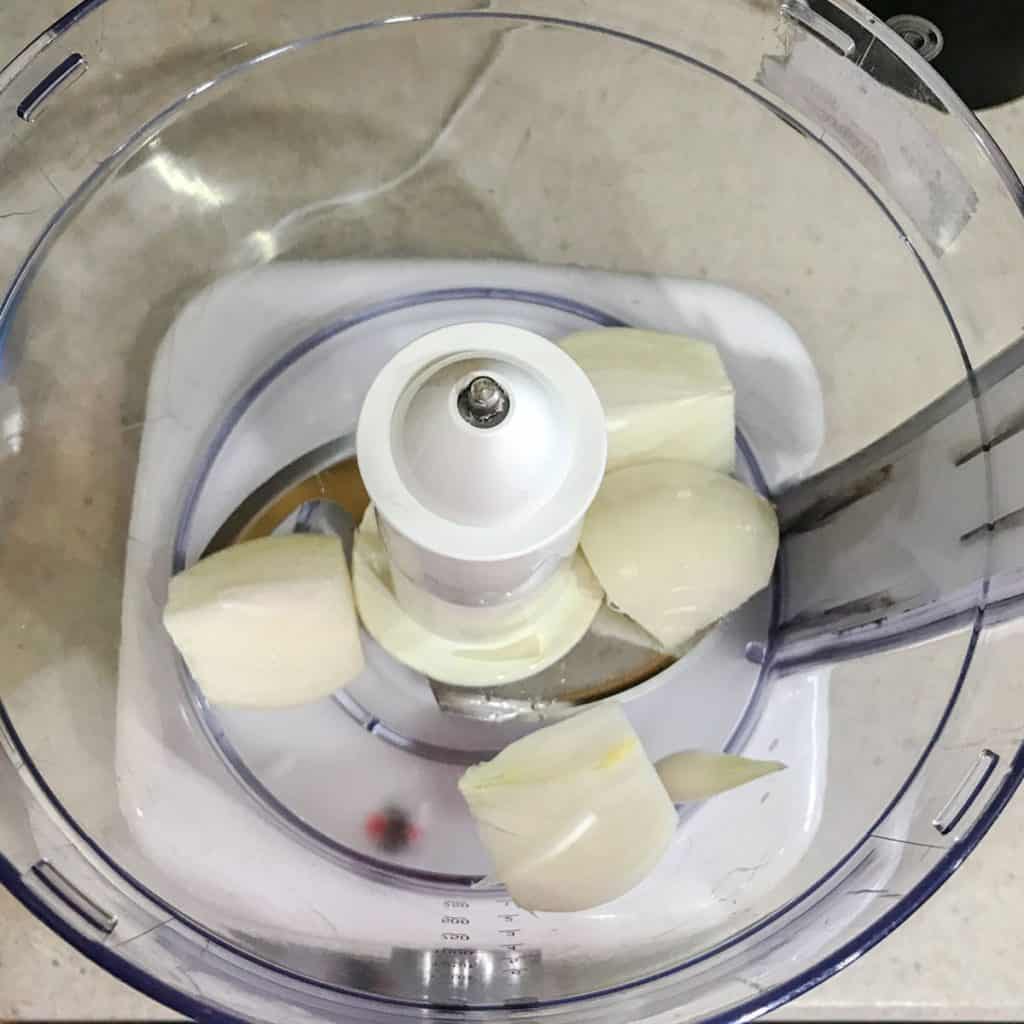 While the potatoes are cooking, peel the onion, cut into quarters and process in the food processor until finely chopped.
Add the chunks of turkey to the onion and process until the pieces are the size of breadcrumbs. Don't over-process because you want to retain some texture.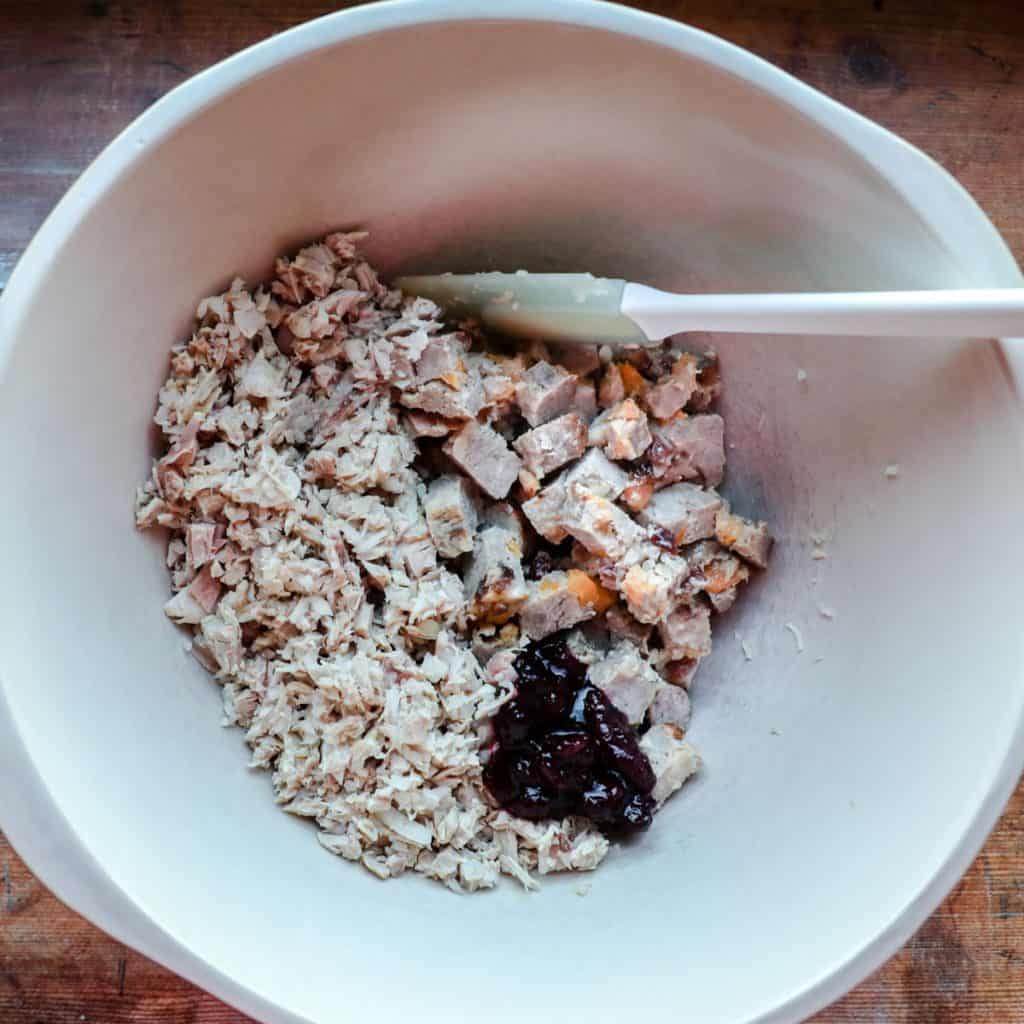 Put the processed turkey and onion into a large bowl. Add the diced stuffing and chopped sausages. Add a spoonful of cranberry sauce, if using.
Pour the gravy over the Turkey Shepherd's Pie filling ingredients and mix together.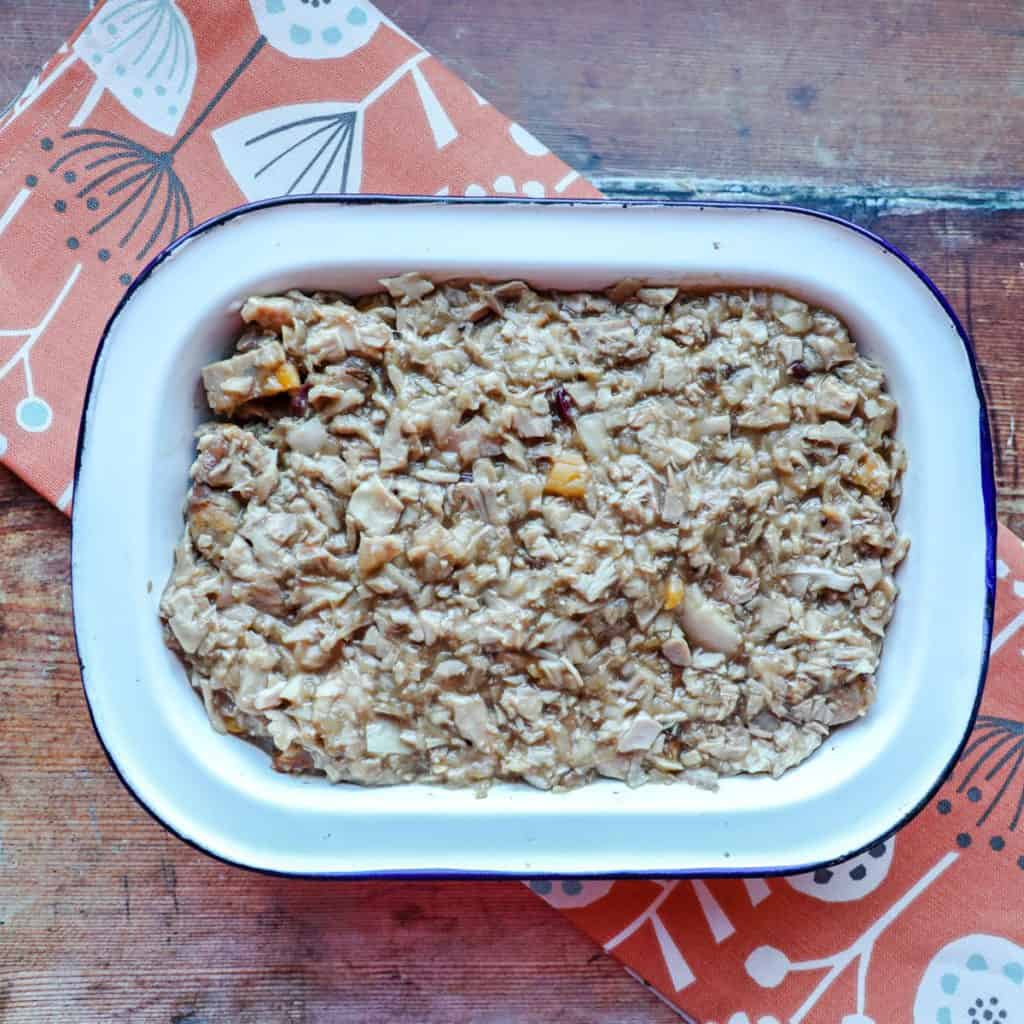 Spoon the filling mixture into a pie dish and flatten the top.
Drain and mash the potatoes with butter and milk or cream. Pile the potato onto the top of the filling.
Leave the mashed potato topping rough or use a fork to make a basket weave pattern, alternating the fork marks.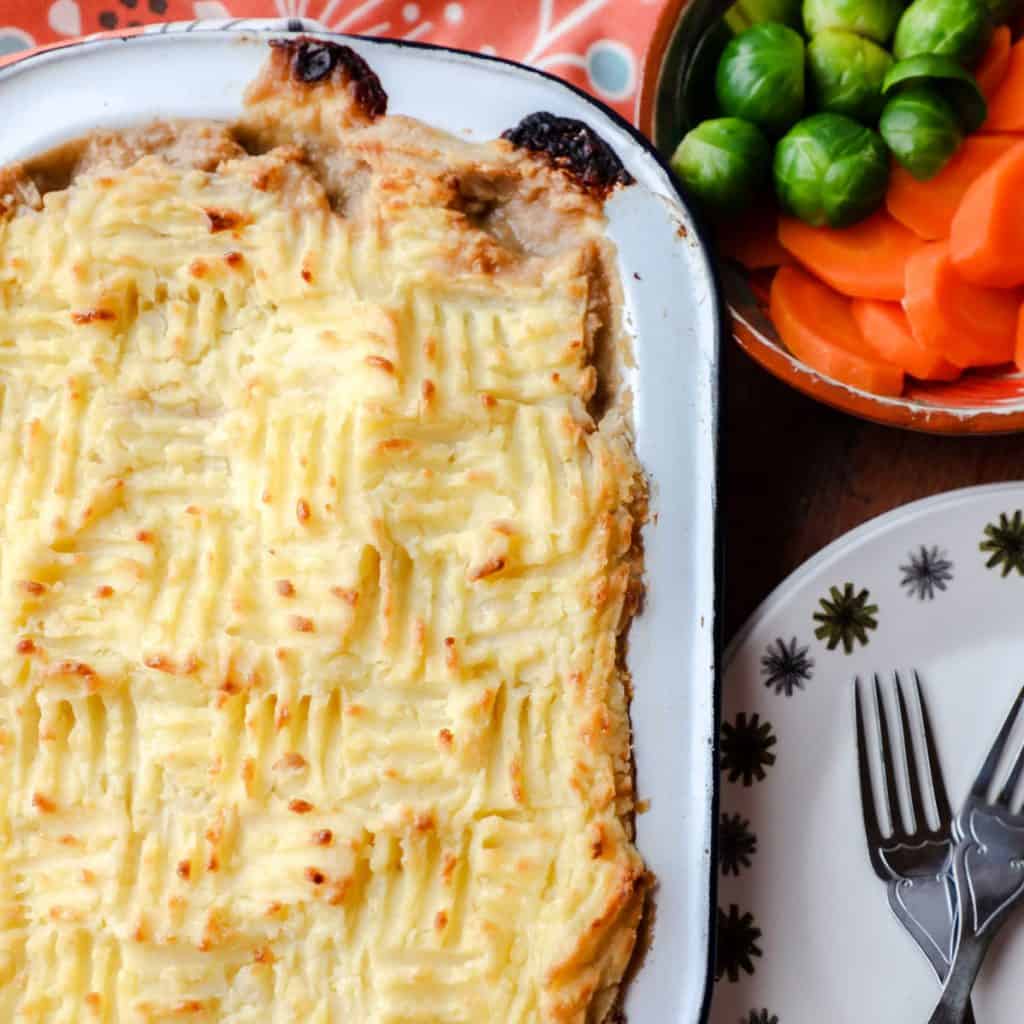 Brush the topping with melted butter before placing the pie on a baking tray and putting it into the oven to bake. The baking tray will help to catch any of the juices that may bubble up and over the top of the pie.
More Leftovers Recipes from Farmersgirl Kitchen
I hate to waste food so often create new recipes to make leftovers special again, here are some of my favourites.