The Best Leftover Turkey Club Sub Sandwich features delicious layers of roasted turkey, cheese, bacon, salad, and pickles. All these gorgeous ingredients are held together in a sourdough baguette.
The Club Sandwich is my absolute favourite sandwich. It's a great way to use turkey leftovers from Thanksgiving in the USA or from Christmas dinner in the UK.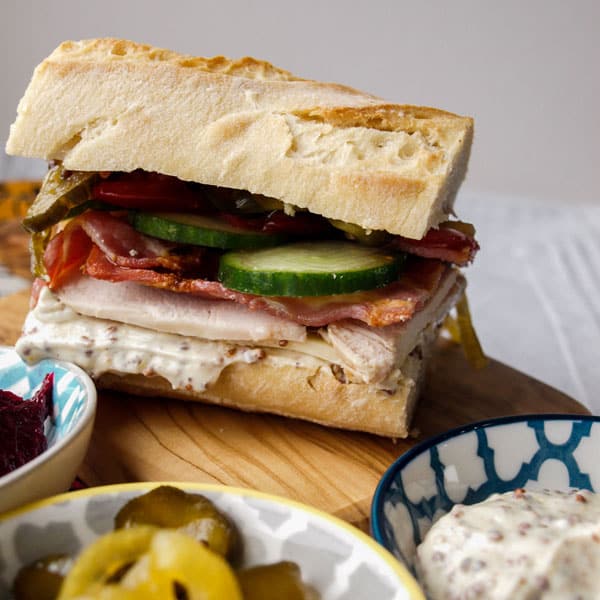 I've created a step by step guide to make it easy for you to recreate the Best Leftover Turkey Club Sub Sandwich. All you need to make sure you have the ingredients into your fridge and larder ready for the day after your celebration.
How to make the Best Leftover Turkey Club Sub Sandwich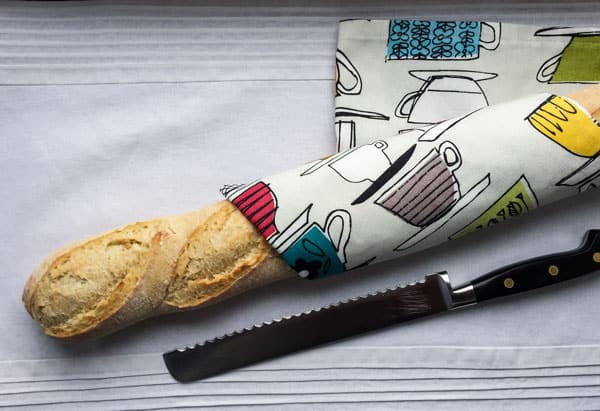 The Bread
Choose your french loaf carefully, I would say buy the best one you can. This is a sourdough baguette and it had a lovely crisp crust. I sliced beautifully, providing the perfect base for the Turkey sandwich.
I love a crusty loaf but if you prefer a softer sandwich use the bread that you like best.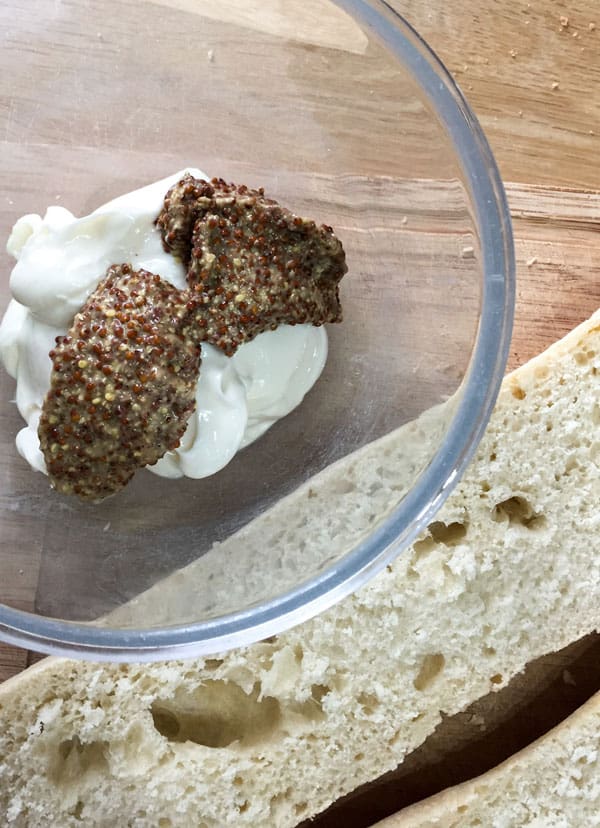 Make the honey mustard spread
Mix the mayonnaise with the grain mustard and honey and spread it onto the base of the french loaf.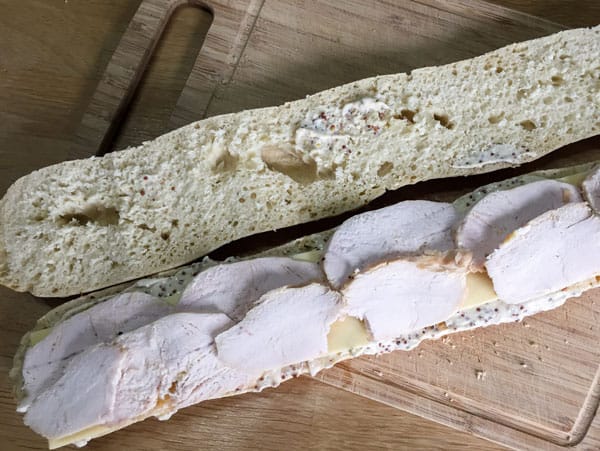 The protein layers
Cover the mayonnaise mix with the sliced Edam cheese and then top with the slices of leftover turkey. Use whatever you have, most cheeses and cold meats will work well in this sandwich.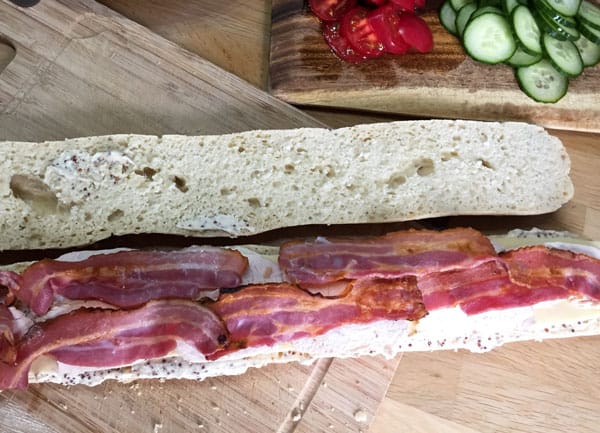 The Bacon
There's nothing quite like salty crispy bacon for flavour and texture. So cover the turkey slices with the crisp slices of streaky bacon. Be generous with the bacon.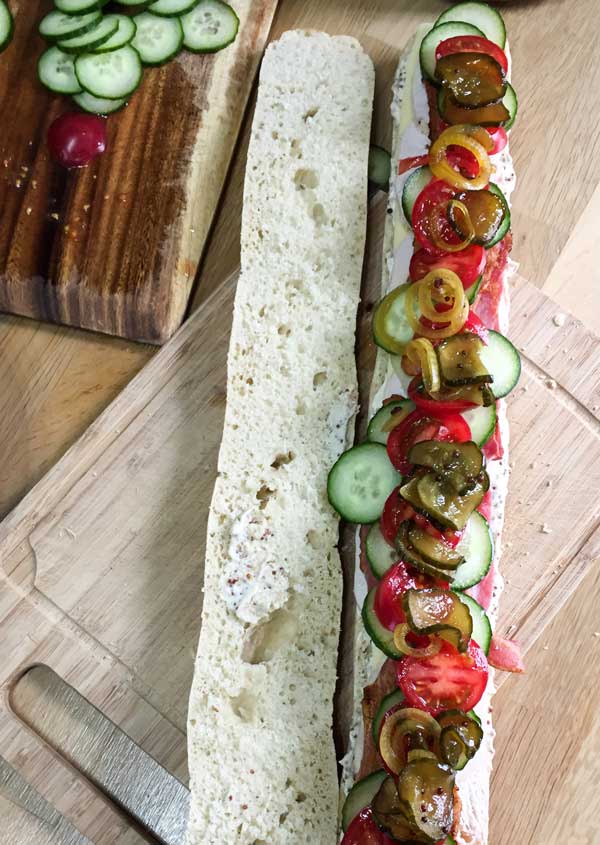 The salad and pickles
Next, add the sliced cucumber and tomatoes and finish with sliced pickled gherkins or, in my case, homemade sweet cucumber pickle. Use your favourite pickles, Piccalilli or even sliced pickled beetroot would pack in the flavour, but I love pickled cucumber.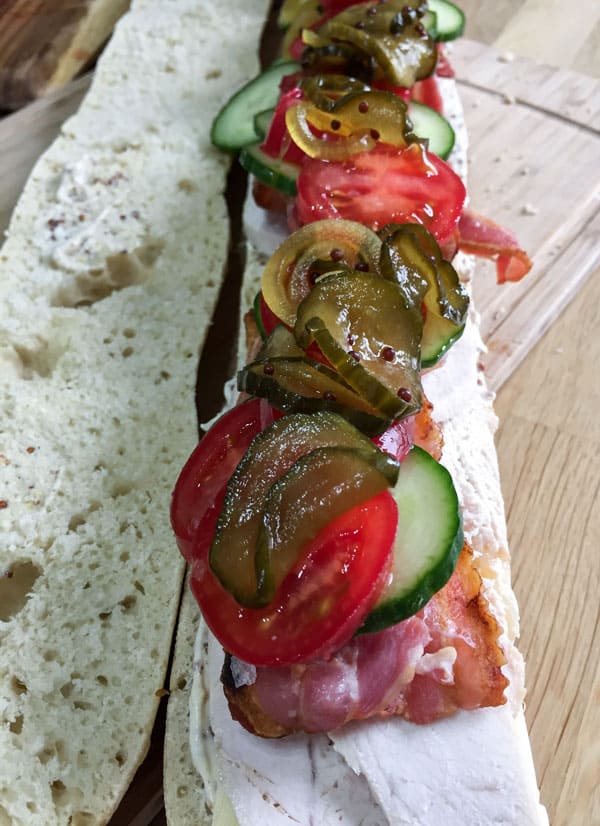 Serving Suggestion
I served the Turkey sandwich with extra mustard mayonnaise, cucumber pickles, and pickled beetroot. on the side. You can serve it whatever with your favourite accompaniments.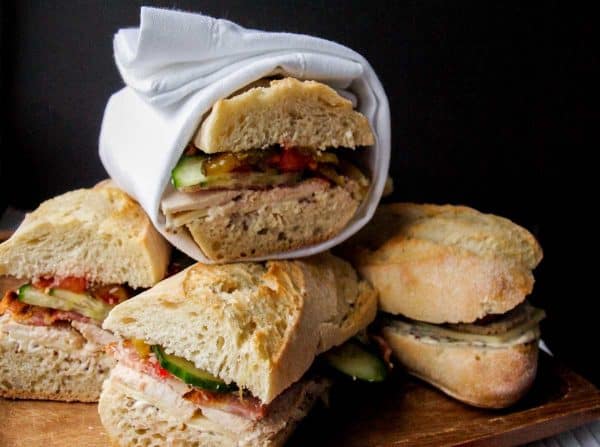 More Turkey Leftovers Recipes from Farmersgirl Kitchen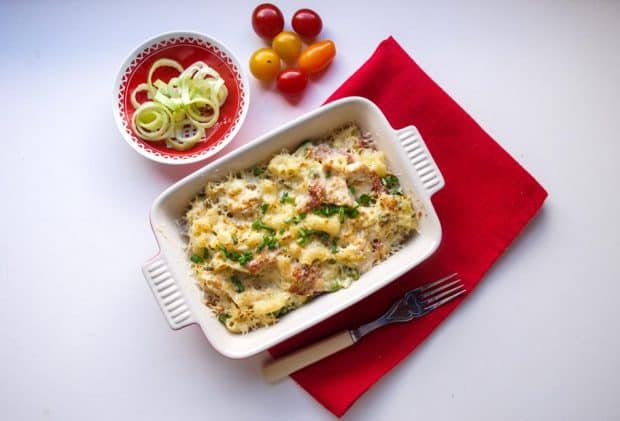 Leftover Turkey and Leek Pasta Bake is the easiest recipe for a leftover turkey bake, you don't even have to make a sauce.

Cheee, Turkey & Bacon Quiche is a great way to combine leftover turkey with cheese from your cheeseboard and create a new meal.

Coronation Turkey Salad is a light and fresh way to eat your leftover turkey, serve it with lots of fresh salad vegetables.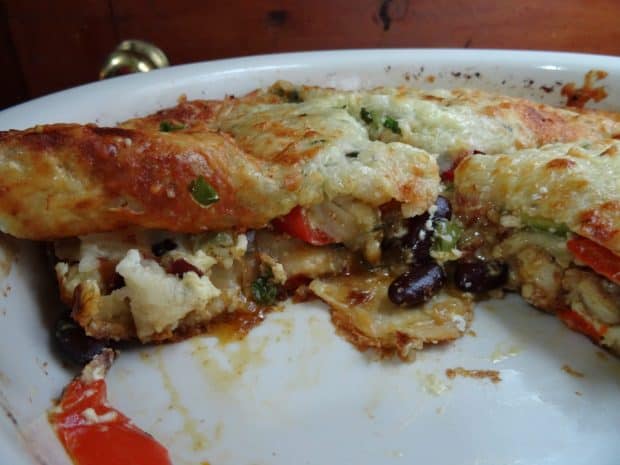 Tortilla Bake is so popular in our house. Season your leftovers with Mexican spices and layer up with all the fajita trimmings.
More Sandwich Recipes
Three Super Creative Sandwiches and a Pizzette – Farmersfirl kitchen
Carrot Hummus & Avocado Sandwich – Tinned Tomatoes
Ploughman's Open Sandwich– Fab Food 4 All
Harissa Halloumi Sandwich – Hungry Healthy Happy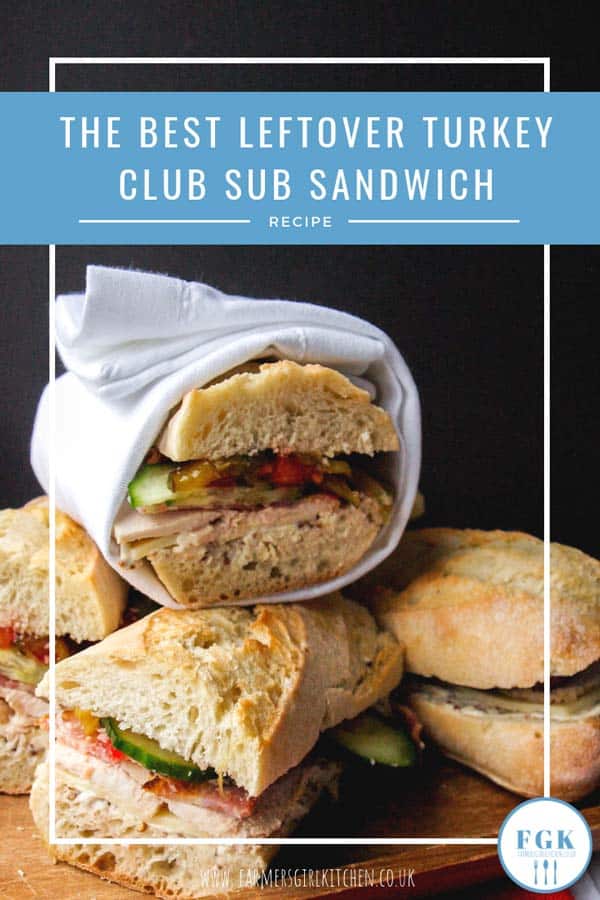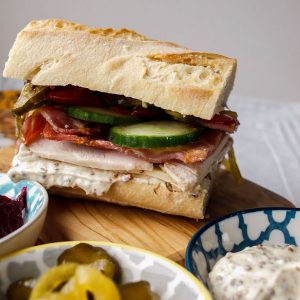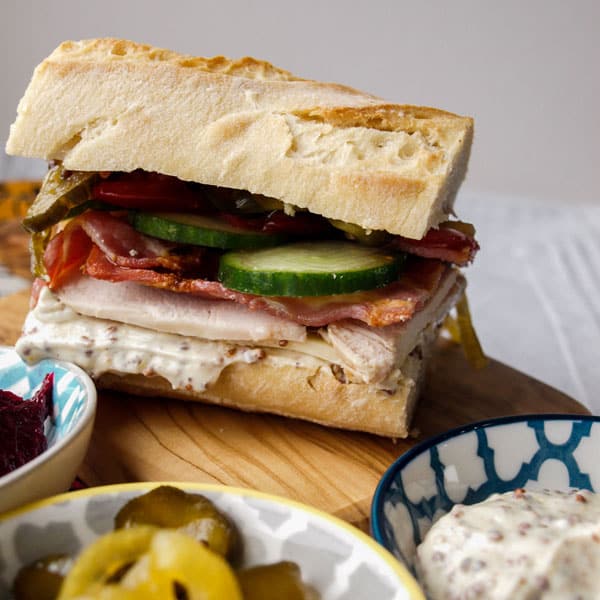 The Best Leftover Turkey Club Sub Sandwich
Make this luscious leftover turkey sandwich on the day after your big feast, be it Thanksgiving or Christmas. When served like this you'll find the leftovers are just as popular as the main event.
Ingredients
1

45 cm

French Loaf (baguette)

3

tbsp

mayonnaise

2

tsp

grain mustard

1

tsp

honey

6

slices

Edam Cheese

I used pre-sliced cheese

200

grams

sliced cooked turkey

100

grams

streaky bacon

grilled until crisp

1/2

cucumber, thinly sliced

3

tomatoes, thinly sliced

100

grams

sliced gherkins or cucumber pickle
Instructions
Slice the french loaf in half lengthwise

Mix the grain mustard, honey and mayonnaise in a bowl, then spread on the bottom of the french loaf.

Lay on the cheese slices followed by the cooked turkey and then the grilled bacon.

Add the cucumber and tomato slices and finish with the pickled gherkins or homemade cucumber pickle.

Slice into 6 substantial sandwiches, go bigger or smaller whatever suits you and your family members' appetite.
Notes
While I love this combination of flavours, you can change up the sandwich to suit your leftovers. You can make layers of cooked ham, French cheeses like Brie or Camembert, adding cranberry sauce and salad leaves. Salami with cheese and sliced olives or tapenade would also be a delicious combination.
Don't Miss My Latest Recipes
CLICK TO SUBSCRIBE NOW to join my newsletter list & receive a FREE 'How To Adapt Recipes For Your Slow Cooker' printable!
Share by Email