Coronation Turkey quickly transforms your leftover turkey into a classic to serve with salads and in sandwiches. An easy recipe and an excellent way to use your Thanksgiving or Christmas leftovers.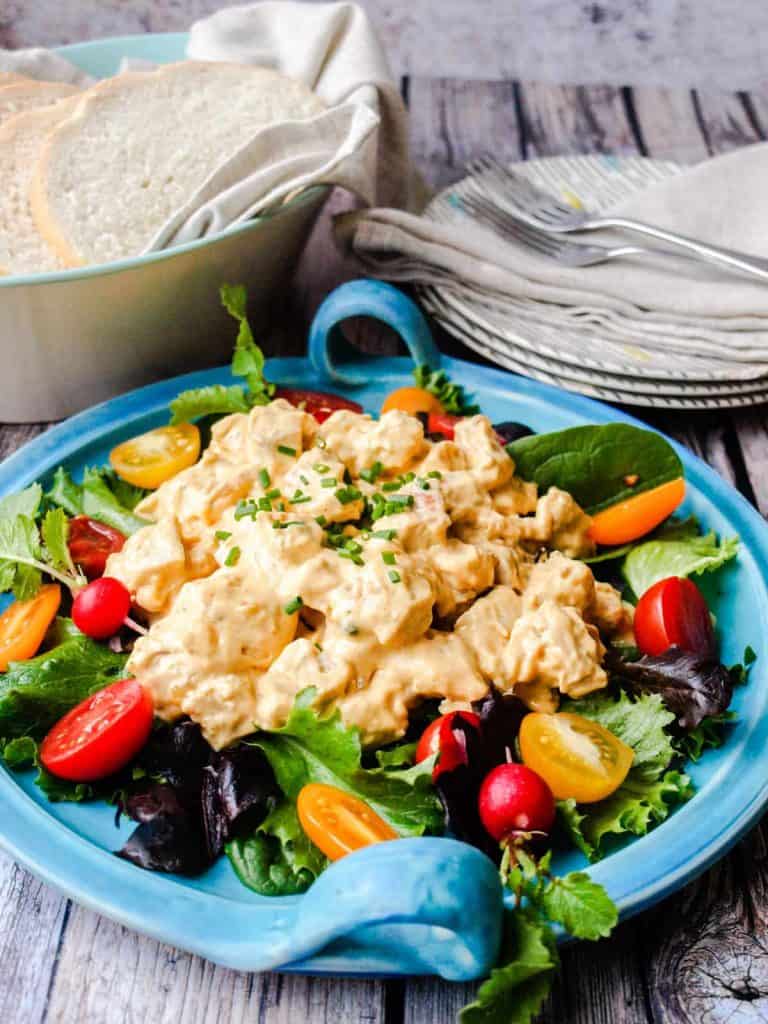 After all the festive feasting I have no inclination to eat rich, sweet or savoury dishes. This is the time when I want to eat simple dishes made with food from the fridge and I crave something light but very tasty.
Coronation Turkey meets my needs perfectly, a few dressing ingredients mixed in a bowl, some chopped turkey and a plate of salad. This recipe makes me very happy and I hope it will make you happy too.
What is Coronation Chicken?
Coronation Chicken is a recipe served following the coronation of Queen Elizabeth II in 1953. The recipe is attributed to Constance Spry and Rosemary Hume, however, a similar dish of chicken mixed with curry & mayonnaise was prepared for the Silver Jubilee of George V in 1935.
Coronation Chicken is an incredibly popular with recipes available from British celebrity chefs such as Jamie Oliver and Gordon Ramsay as well as TV cooks Mary Berry and Delia Smith.

The dish was revisited in 2002 for the Golden Jubilee of Queen Elizabeth II with a modern update, it still stands the test of time.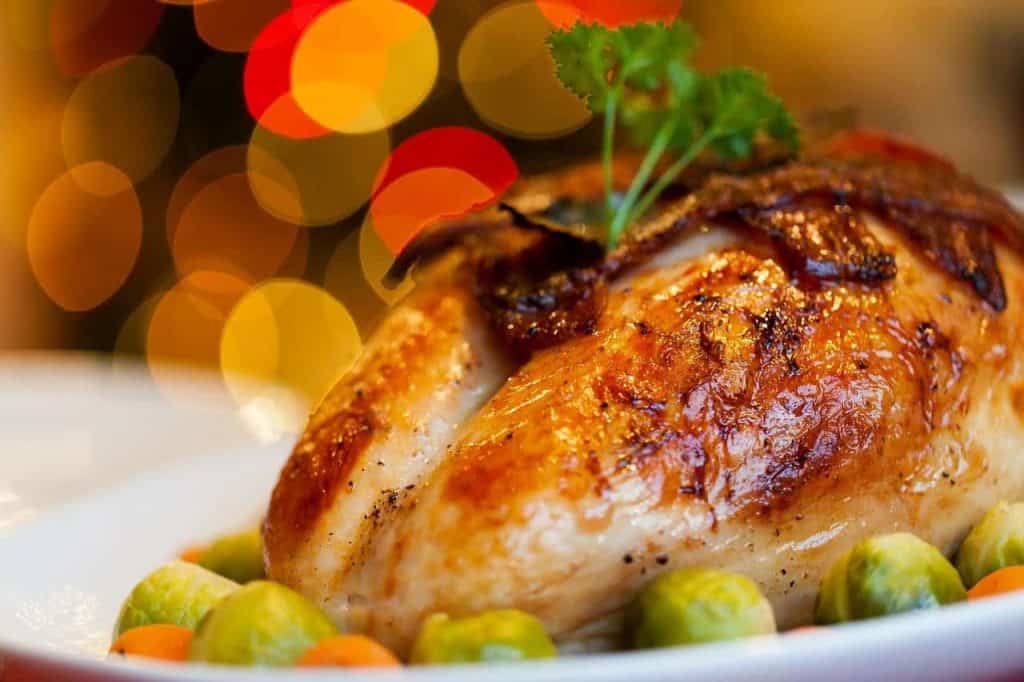 What kind of turkey meat should I use?
I use a mixture of turkey breast meat. But you can use all breast meat or all brown meat or a mixture of both, it depends on what you have left and your own preference.
Make sure there are no hard dry parts to meat and that there are no bones attached. Cut the meat into even-sized pieces and, if you want to use the mixture in sandwiches then cut the meat into smaller pieces.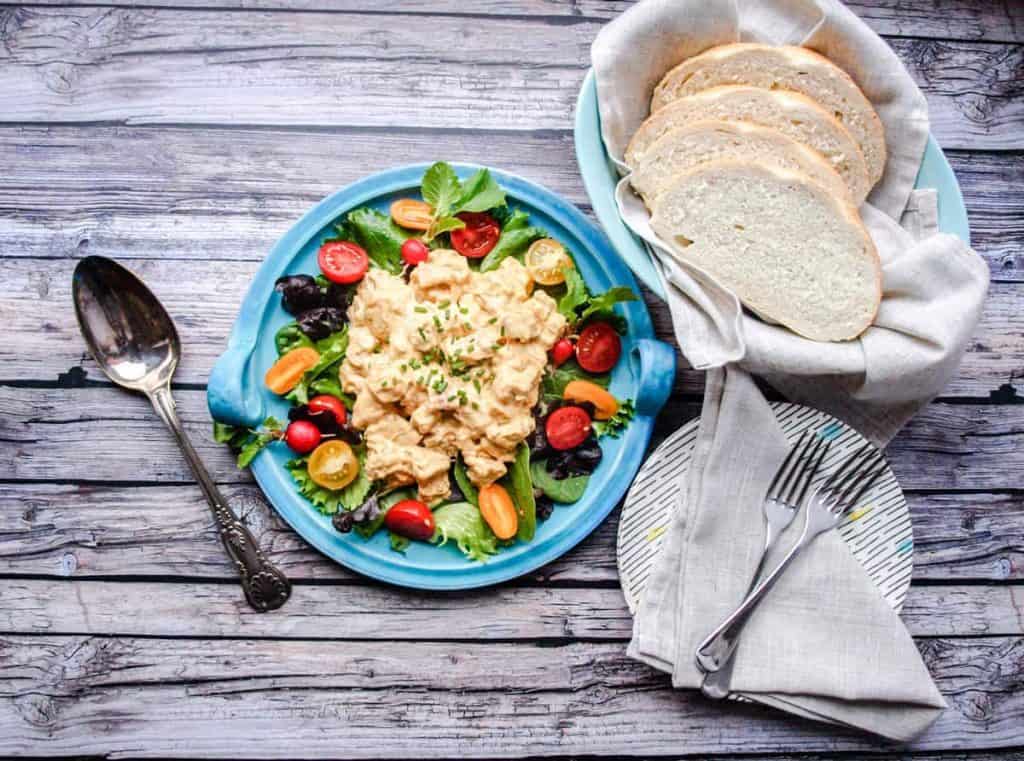 What kind of mayonnaise should I use?
I use light mayonnaise but you can use regular mayonnaise. Or you make your own mayonnaise at home.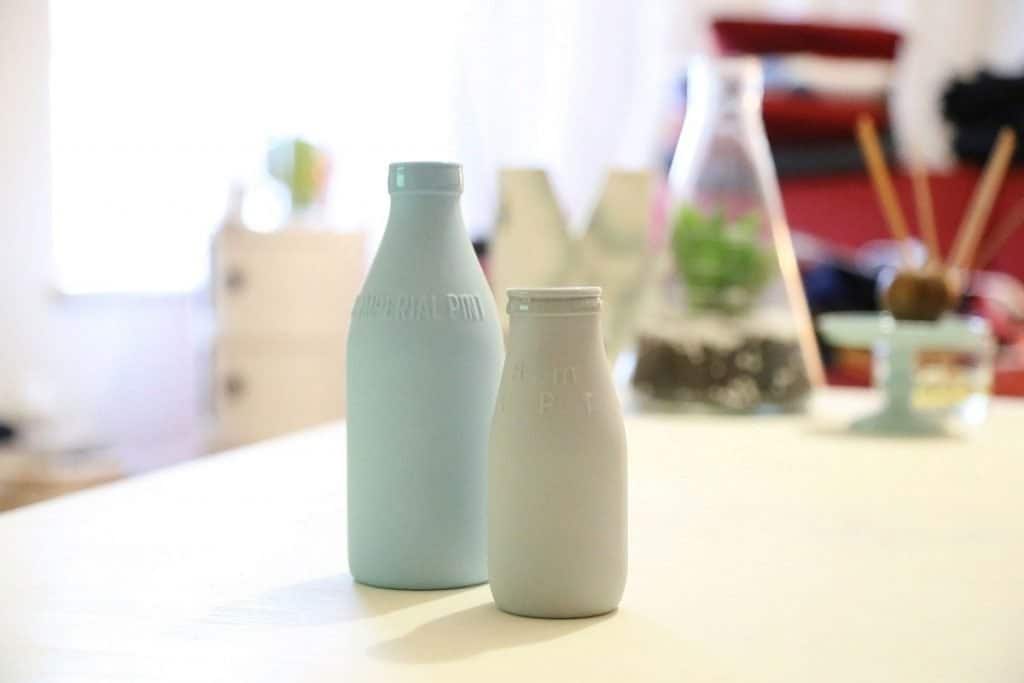 What kind of cream can I use?
I use double cream as I find it gives the best consistency, aim to get a sauce that is the thickness of whipped cream. You can use single cream or creme fraiche but always use unsweetened cream, because the mango chutney adds sweetness.
What kind of curry paste should I use?
Use a mild curry paste like a Korma. You can also use a teaspoon of mild curry powder if you don't have curry paste. Aim for a flavour of curry without much chilli heat.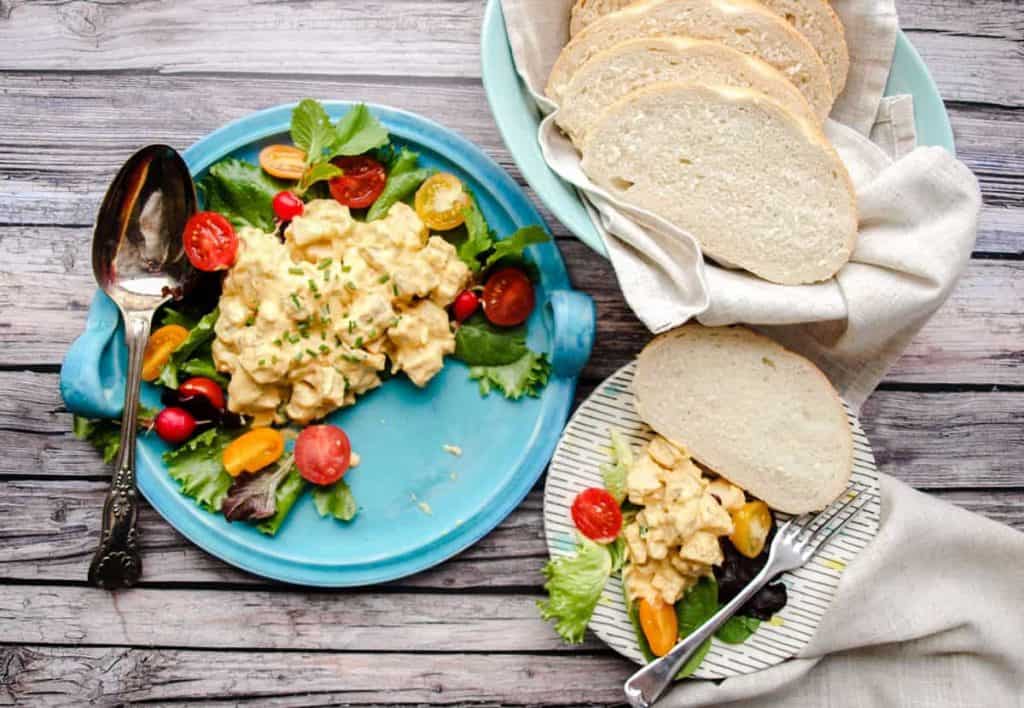 What kind of Mango Chutney should I use?
Use a regular Mango Chutney that will add sweetness to the dressing. If you would like to make your own Mango Chutney, try this easy recipe from Fab Food 4 All. Cut up any larger pieces of mango if the chutney is chunky.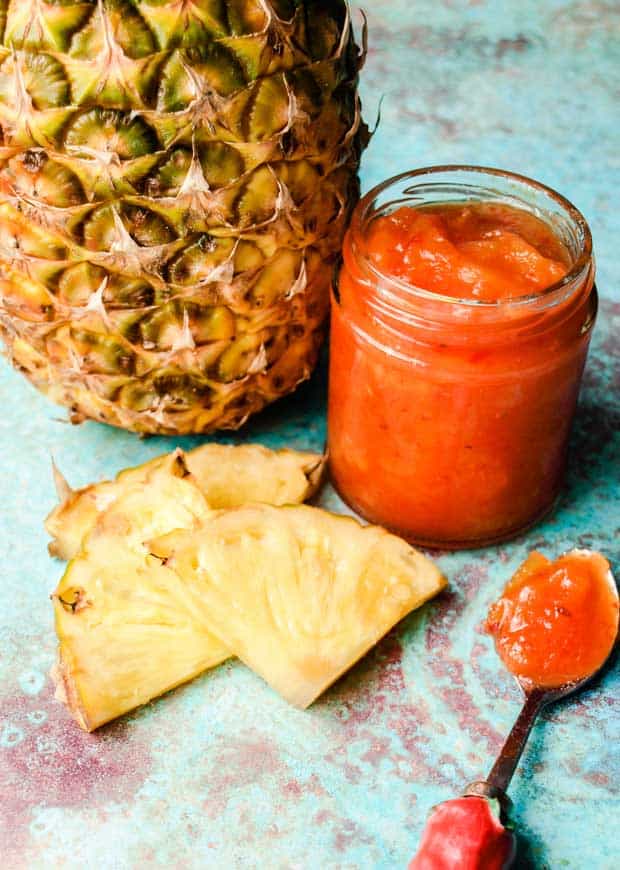 My Pineapple and Chilli Jam would also work really well in this recipe. It has the right amount of sweet and spicy to complement the mild curry paste.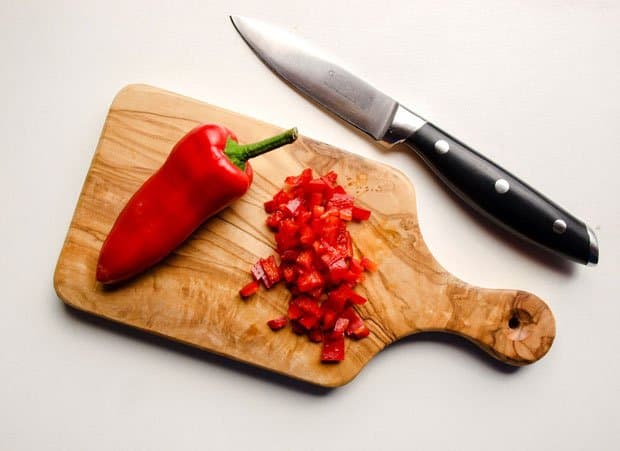 Can I spice up the Coronation Turkey?
Add a more spicy curry paste like Madras to the dressing mix, or use a Hot Mango Chutney to increase the heat in your Coronation Turkey. A traditional Coronation sauce is mild, but this is your sauce so if that is what you like, go for it!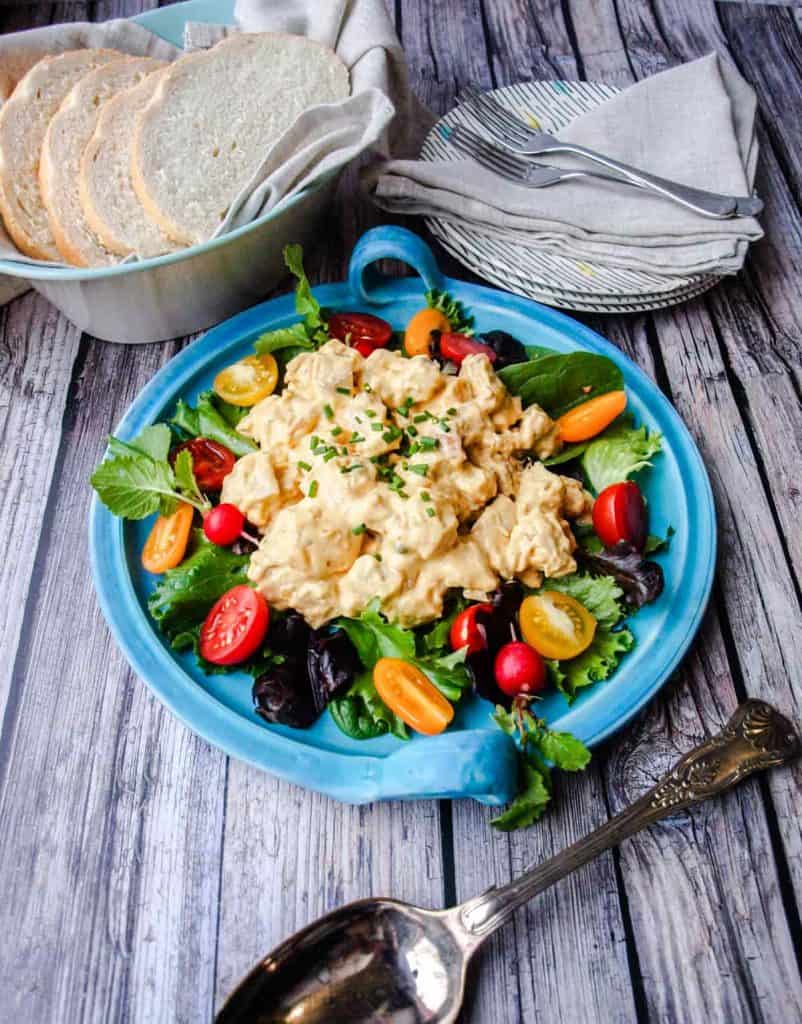 How to make Coronation Turkey
Coronation Turkey couldn't be easier to make, just mix together the dressing and add the cooked turkey.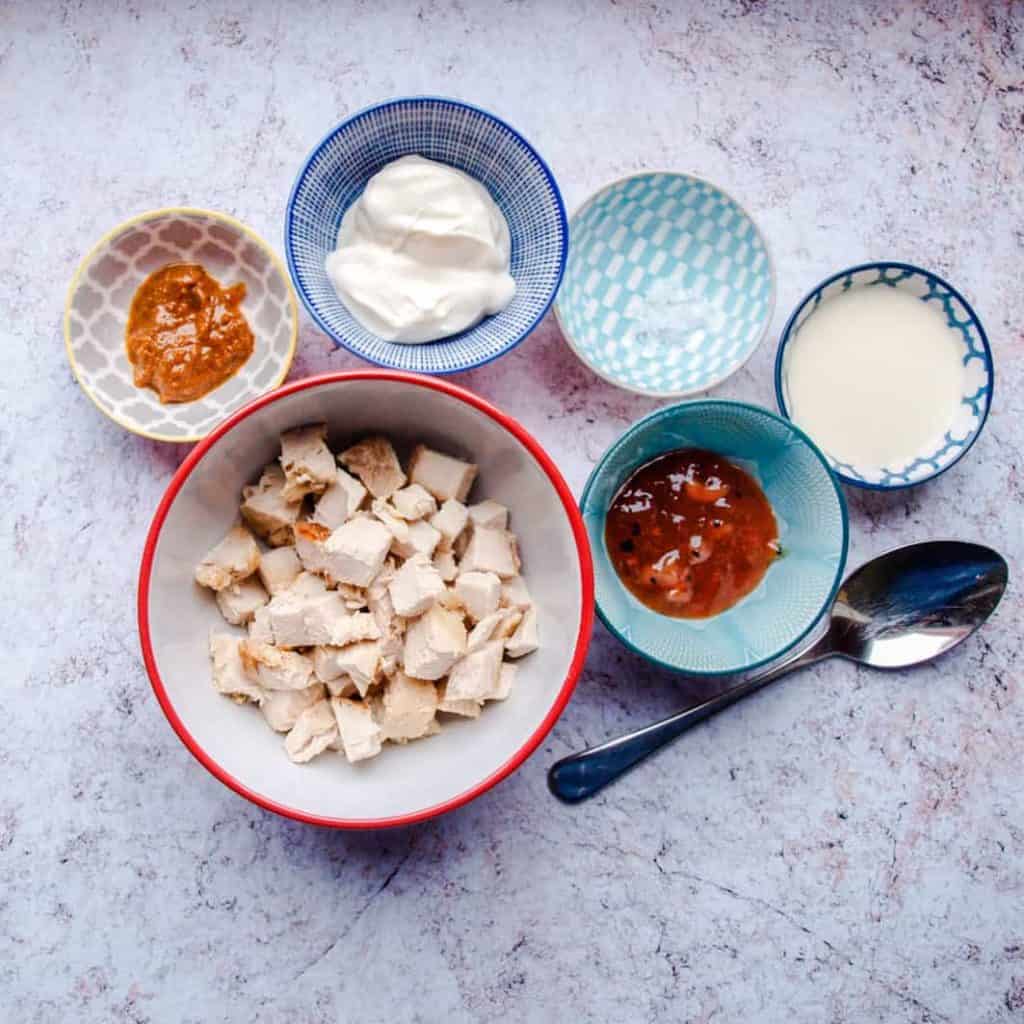 Gather your ingredients
Cooked Turkey
Double Cream
Mayonnasie
Mild Curry Paste
Mango Chutney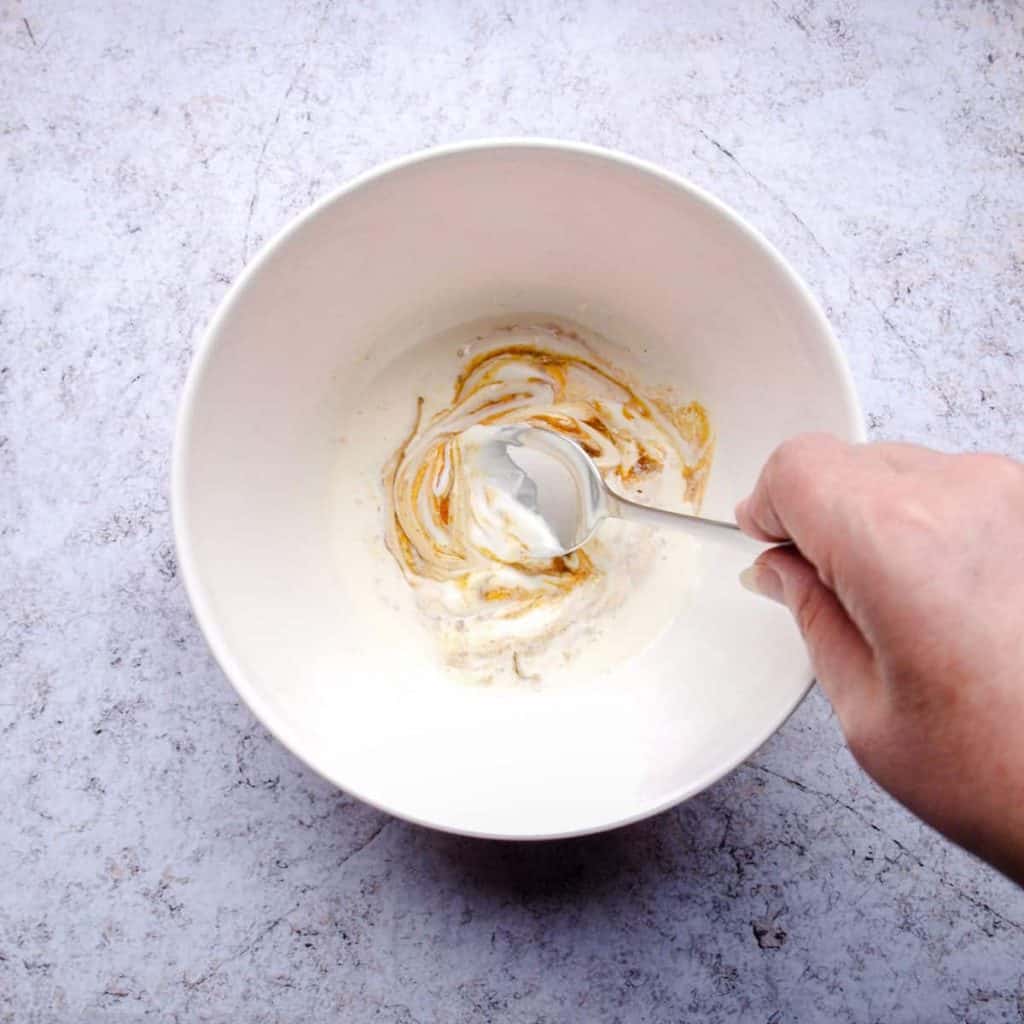 Put the mayonnaise, cream and curry paste into a bowl and mix until combined.
Add the mango chutney to the mayonnaise mixture and stir until combined.
Add the pieces of turkey to the dressing and mix until the turkey pieces are covered in the coronation dressing.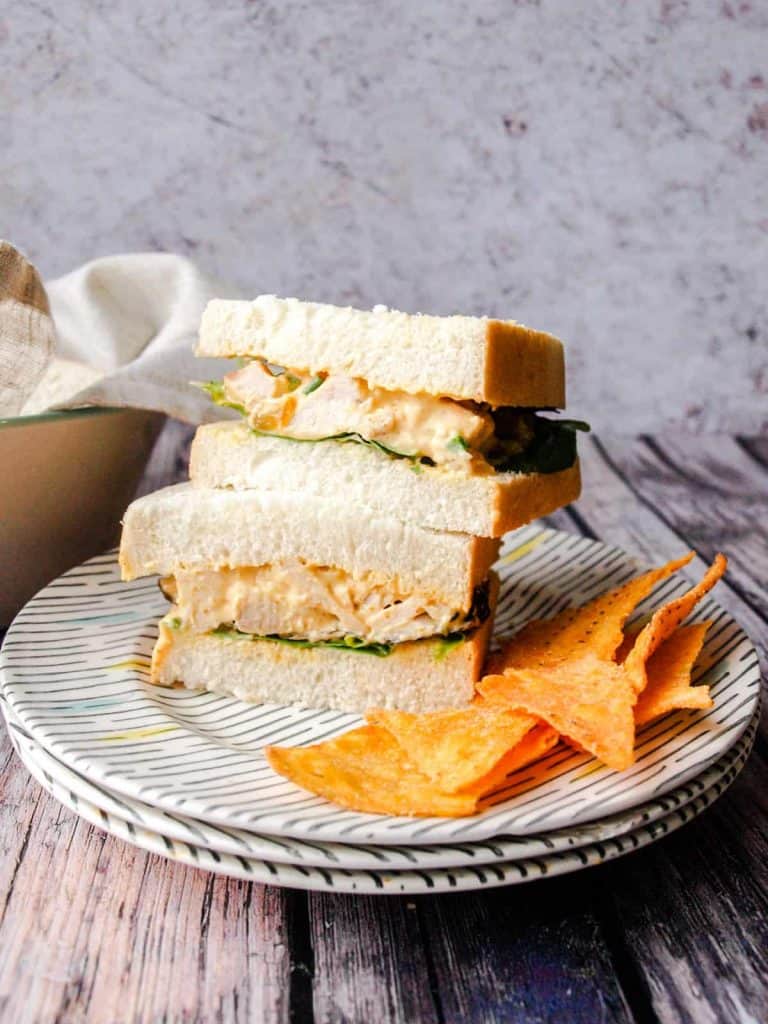 How do you serve Coronation Turkey?
Coronation Turkey is delicious served simply in a sandwich with some tortilla chips on the side.
Serve with salad leaves, tomatoes, and cucumber.
Bake some potatoes and top with Coronation Turkey, be sure to check out my Airfryer Baked Potato recipe, it's perfect for baking up to 3 large or 4 medium potatoes.
More Turkey Leftover Recipes from Farmersgirl Kitchen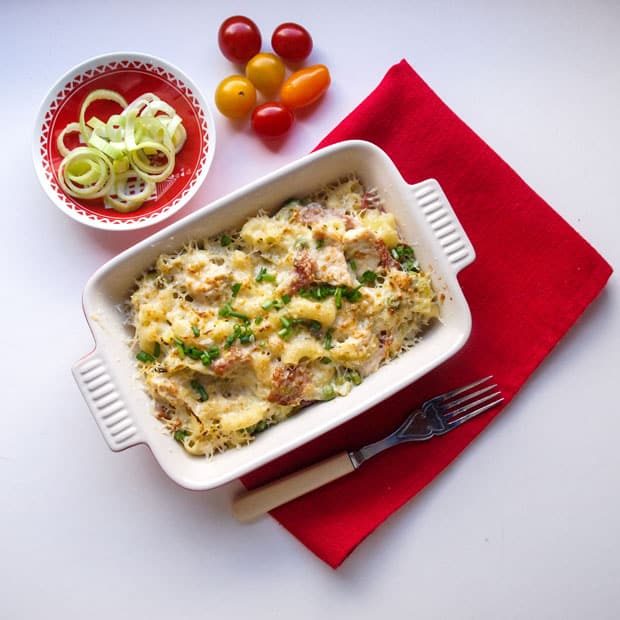 Leftover Turkey and Leek Pasta Bake is a great way to use the leftover turkey, chicken, or even ham from a celebratory meal. It's so easy to make this on 'the day after' when you really don't want to do much cooking and it will fill up you and any remaining guests with a warm and comforting hug of a dish.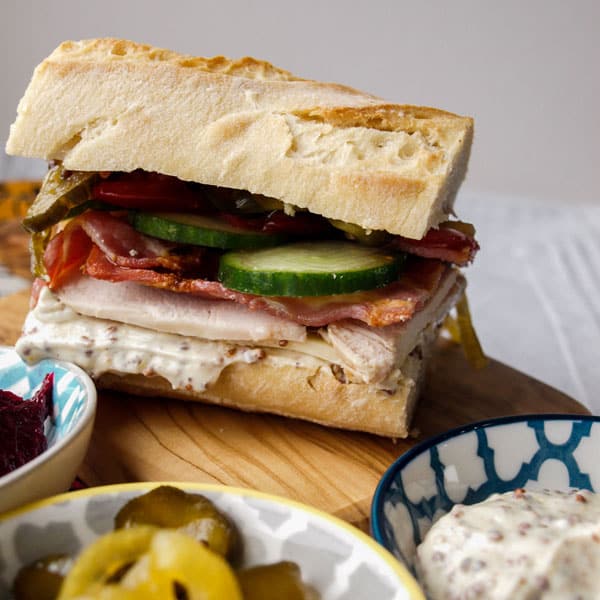 The Best Leftover Turkey Club Sub Sandwich features delicious layers of roasted turkey, cheese, bacon, salad, and pickles. All these gorgeous ingredients are held together in a sourdough baguette.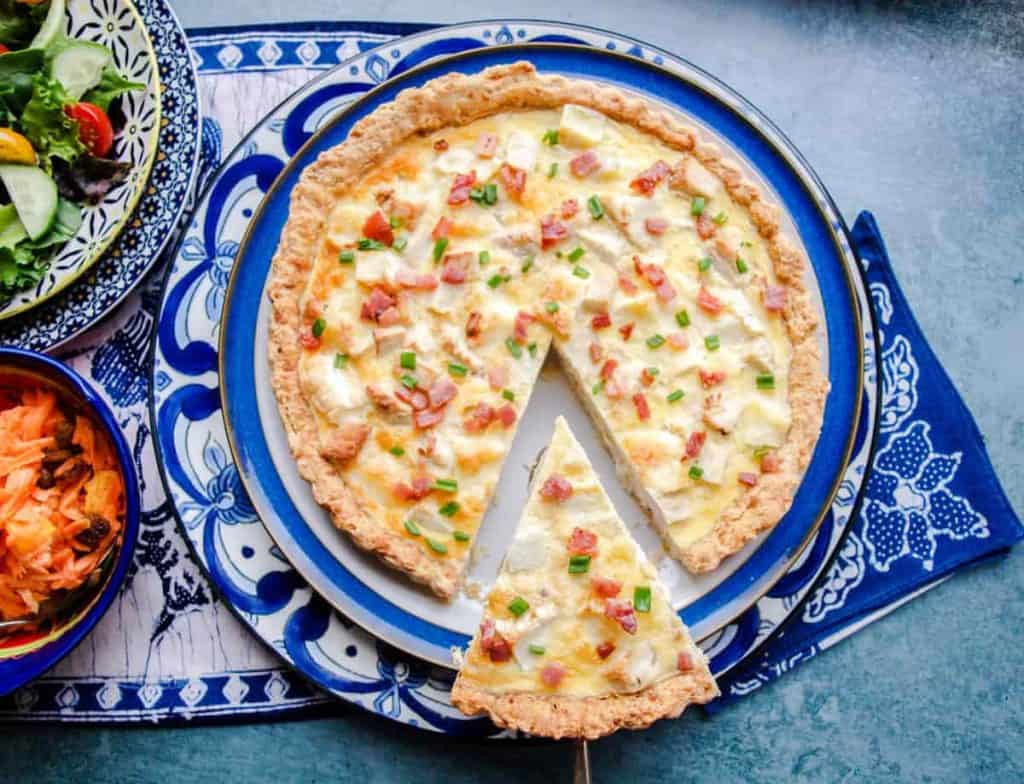 Cheese, Bacon & Turkey Quiche combines a crisp cheese pastry case with a rich creamy filling using cooked turkey, bacon, and soft French Brie cheese. It's the ideal way to make the leftovers from Christmas, Thanksgiving, or Easter into another meal that everyone will love.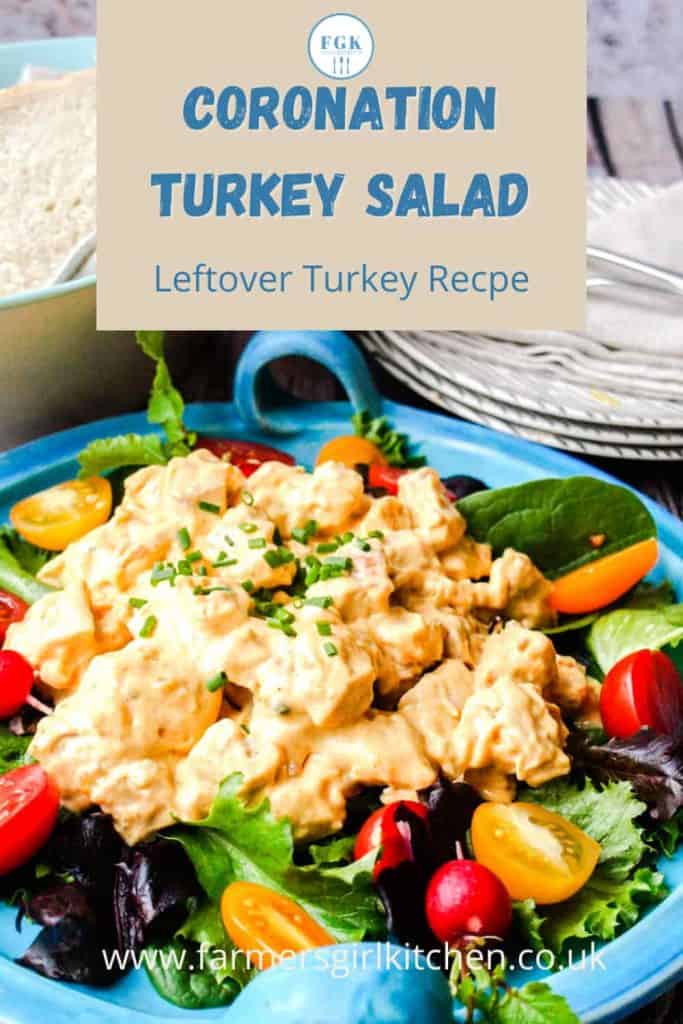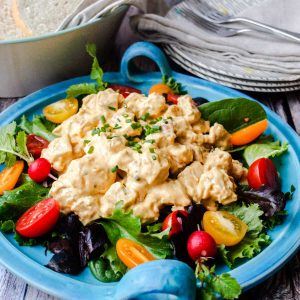 Coronation Turkey
Coronation Turkey quickly transforms your leftover turkey into a classic to serve with salads and in sandwiches. An easy and excellent way to use your Thanksgiving or Christmas leftovers.
Equipment
Sharp knife

chopping board

medium bowl

weighing scales

Measuring spoons
Ingredients
200

g

cooked turkey

3

tbsp

double cream

3

tbsp

light mayonnaise

1

tsp

mild curry paste

1

tbsp

mango chutney

1

pinch

salt
Instructions
Make the dressing
Put the mayonnaise and cream in a bowl with the curry paste and mix until smooth and well combined.

Add a little extra cream if the mixture seems too thick. It should be the consistency of thick cream.

Stir in the mango chutney
Combine with the turkey
Chop the turkey into bite-sized pieces and add to the dressing, stir to combine and coat all the turkey in the dressing.
Notes
Serve the Coronation Turkey on a bed of salad leaves, or it is a delicious filling for a sandwich or to top an open sandwich for a light lunch or supper 
Nutrition
Calories:
259
kcal
Carbohydrates:
10
g
Protein:
22
g
Fat:
15
g
Saturated Fat:
6
g
Cholesterol:
88
mg
Sodium:
394
mg
Potassium:
242
mg
Sugar:
6
g
Vitamin A:
725
IU
Vitamin C:
1
mg
Calcium:
29
mg
Iron:
1
mg
Don't Miss My Latest Recipes
CLICK TO SUBSCRIBE NOW to join my newsletter list & receive a FREE 'How To Adapt Recipes For Your Slow Cooker' printable!
Share by Email