Carrot and Tomato Soup is one of my favourite soups, it's rich and creamy, full of flavour, really easy to make and very economical. You can use up all the dodgy carrots at the bottom of your fridge drawer, add a couple of cans of tomatoes, an onion, some stock and a little milk, and you will have enough soup for 8 people.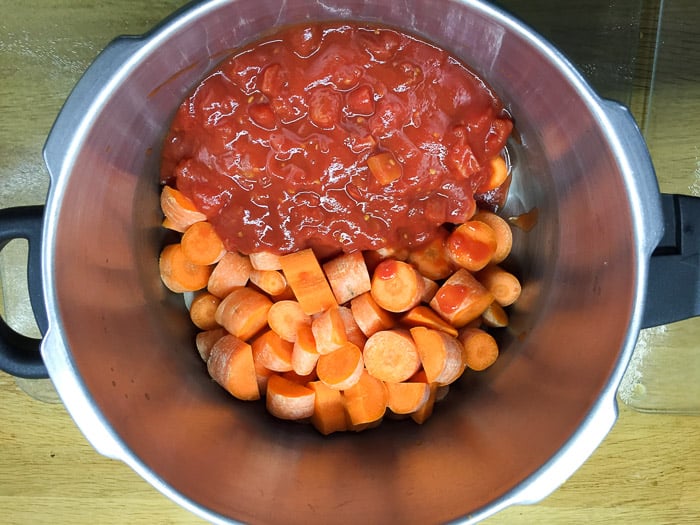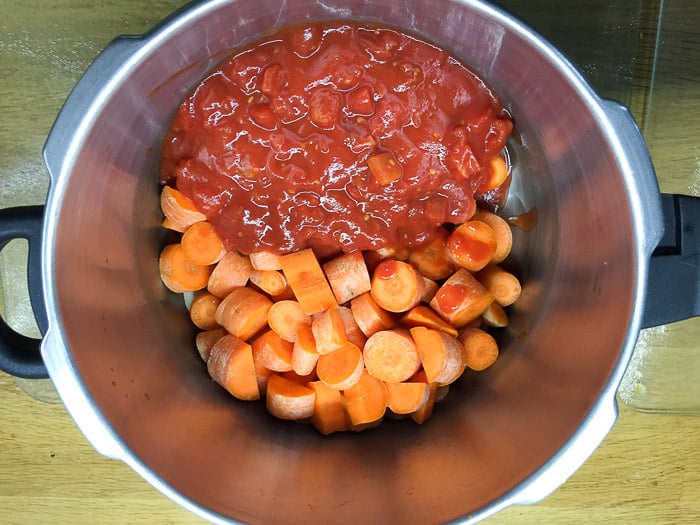 The ingredients for Carrot and Tomato Soup are so simple, I think that's why it is one of my favourites. I often make it if I don't have time to soak pulses, there's nothing fiddly about this recipe, just a bit of quick, rough chopping and chuck it all in the pan. You don't need a pressure cooker, it just takes a little longer in an ordinary pan, although you can speed it up by chopping the carrots a bit smaller. With the increased popularity of electric pressure cookers, I would thoroughly recommend this soup for a quick and easy lunch.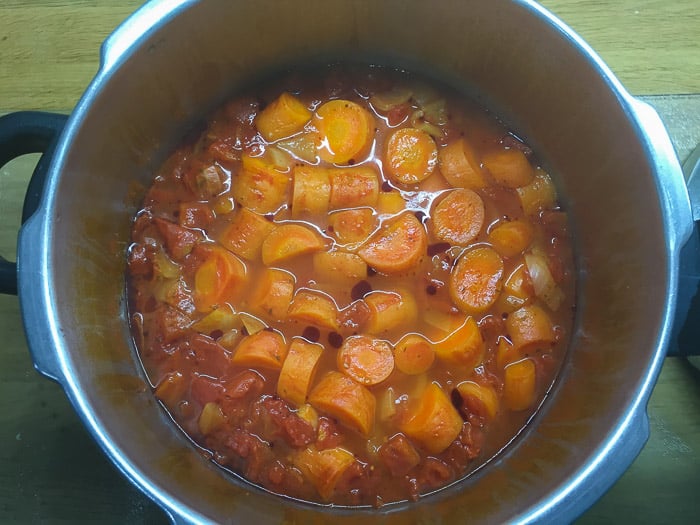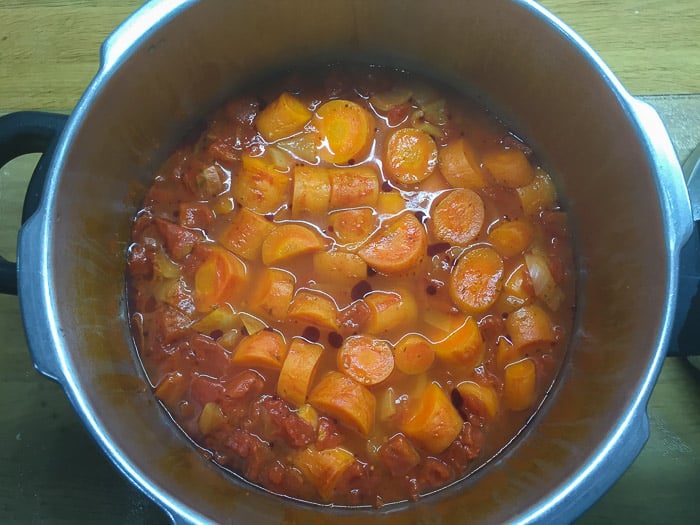 The soup is ready when the carrots are cooked because they are cut in large chunks they hold together well even when soft.
Carrot and Tomato Soup
2018-02-03 22:29:25
Serves 8
A creamy and delicious Carrot and Tomato Soup that's easy to make. Treat yourself to a warming and comforting bowlful.
Ingredients
1 tbsp sunflower oil
1 large onion, peeled and roughly chopped
Approx 600 - 700g carrots, washed and roughly chopped
2 cans plum tomatoes chopped or unchopped doesn't matter
1 litre vegetable stock
salt and freshly ground pepper
300ml milk optional
Instructions
Heat the oil in a large pan (I make this in my pressure cooker but it's not essential) add the onion and the carrots and stir them around for a few minutes.
Add the two tins of tomatoes and the stock.
Season with a tsp salt and a few grinds of pepper, you can adjust later if required.
Cook until the carrots are soft, 10 minutes in the pressure cooker, about 20 minutes without.
Puree the soup either with a stick blender straight into the pot or using a blender or food processor.
Add the milk, if using and blend again.
Notes
If you don't want to use milk, then you can add more vegetable stock to get the soup to the consistency you want.
If you are cooking the soup without a pressure cooker, then cutting the carrots smaller will speed the cooking process.
Farmersgirl Kitchen https://www.farmersgirlkitchen.co.uk/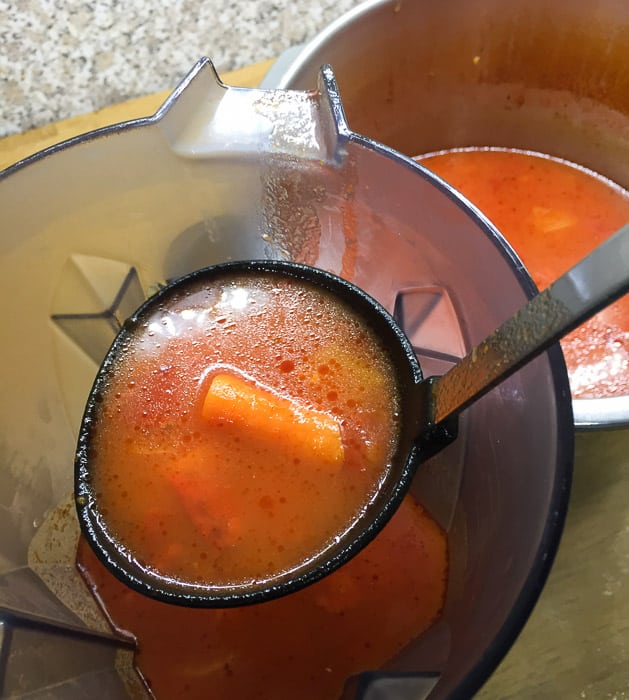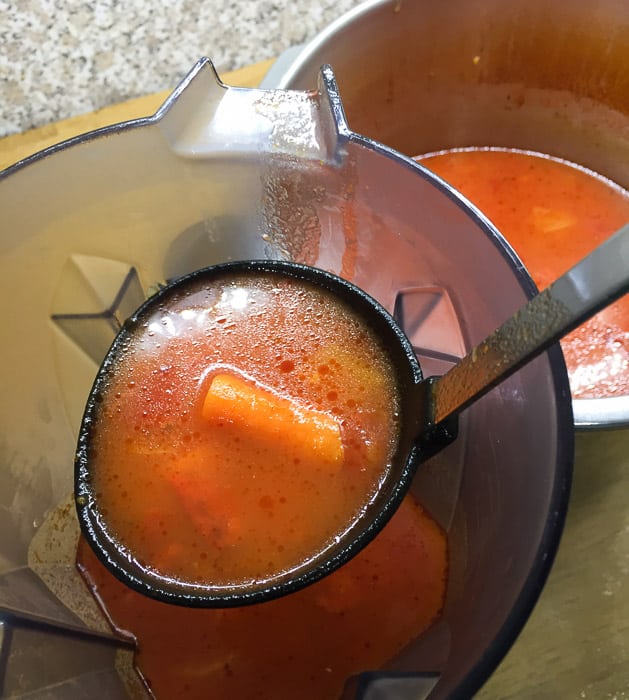 Once the Carrot and Tomato Soup has cooled a little, you blend it either with a stick blender or for a smoother finish, I would recommend blending in the Froothie G2.3 Platinum Series Induction Blender or one of the other family of Froothie power blenders.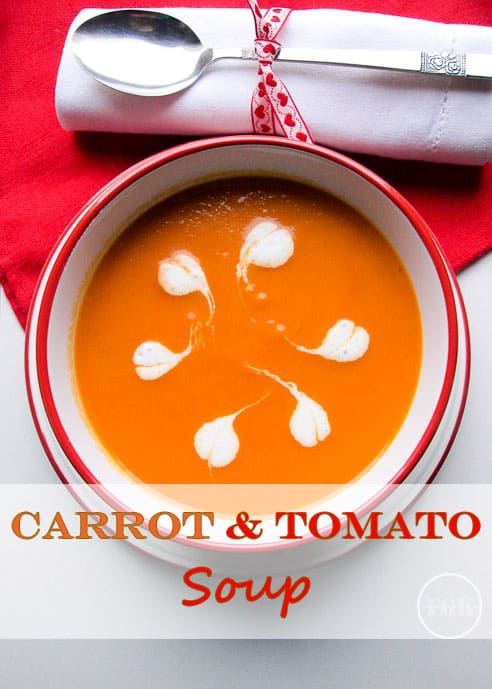 PIN FOR LATER