New Potatoes in Wild Garlic and Lemon Dressing are a seasonal Spring treat. The wild garlic doesn't overpower the delicate flavour of new potatoes and the fresh taste of lemon enhances both.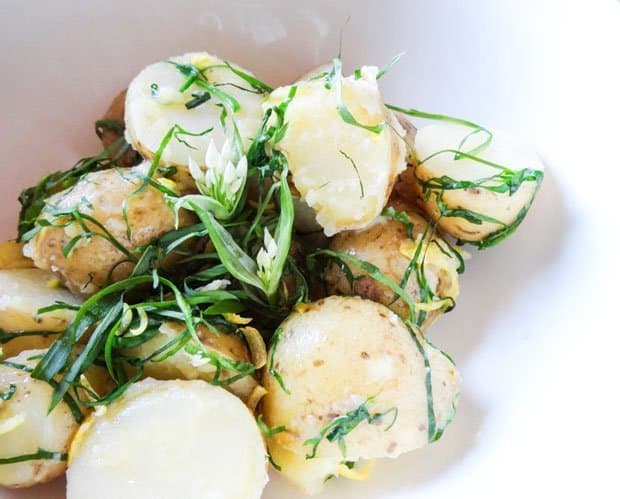 Why make New Potatoes with Wild Garlic & Lemon Dressing?
I love new potatoes and the first new potatoes of the season are always the best. I like to serve them simply boiled and dressed with butter, however this delicious dressing is well worth trying. It's good on warm and cold new potatoes and is a great accompaniment to fish and chicken.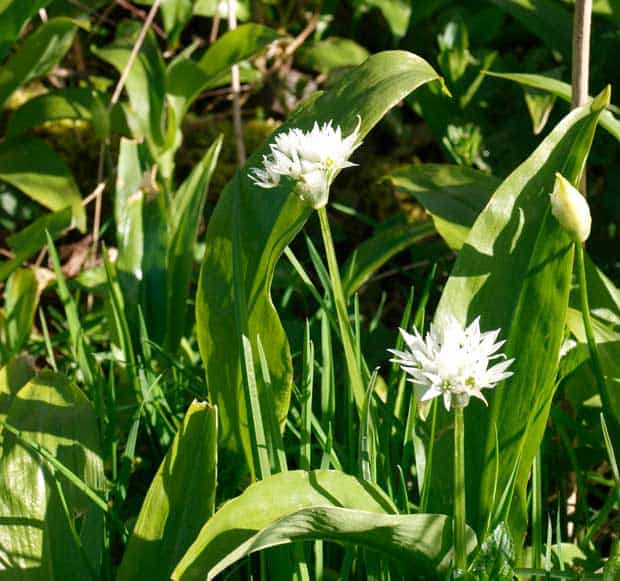 What is wild garlic?
Wild Garlic is also known as Ransoms and is a leafy plant which appears in spring. You can eat the young leaves and the flowers which both have a pungent smell of garlic but are mild in flavour.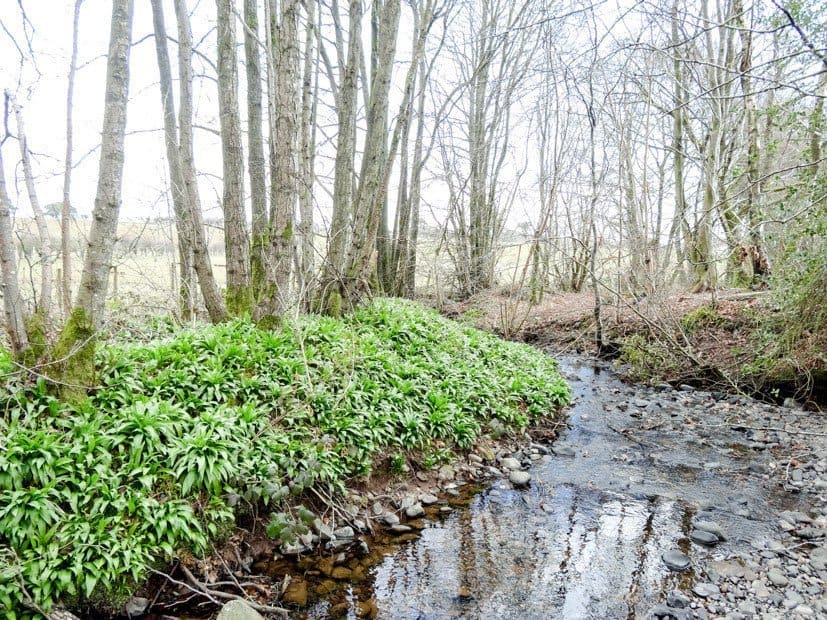 Where does wild garlic grow?
It grows on the woodland floor often close to water. Always pick wild garlic far from the roadside and traffic pollution. Get more information about foraging for wild garlic on the Countryfile website
I'm very fortunate to live in the countryside and to have easy access to a small woodland where an abundance of wild garlic grows.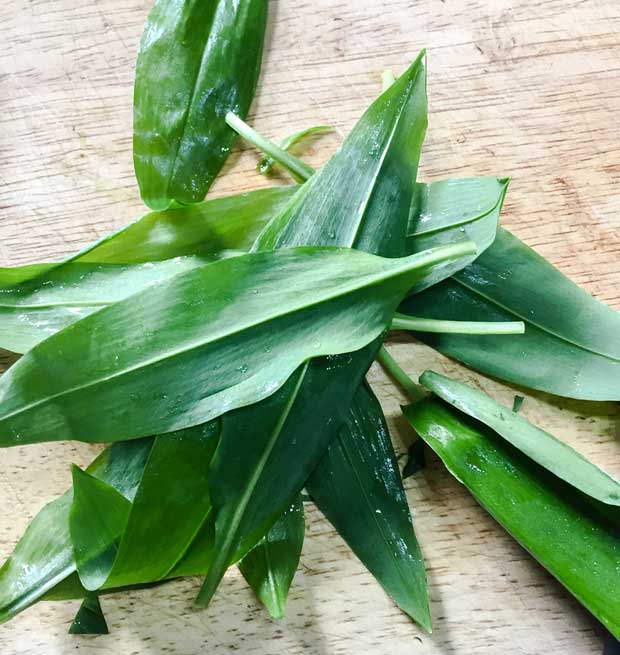 How do you prepare wild garlic?
Wash the Wild Garlic carefully then you can use it just as you would other herbs. Or store it wrapped in damp kitchen paper and a plastic bag in the salad drawer of the fridge. It will keep for 2 or 3 days stored like this without any ill effect.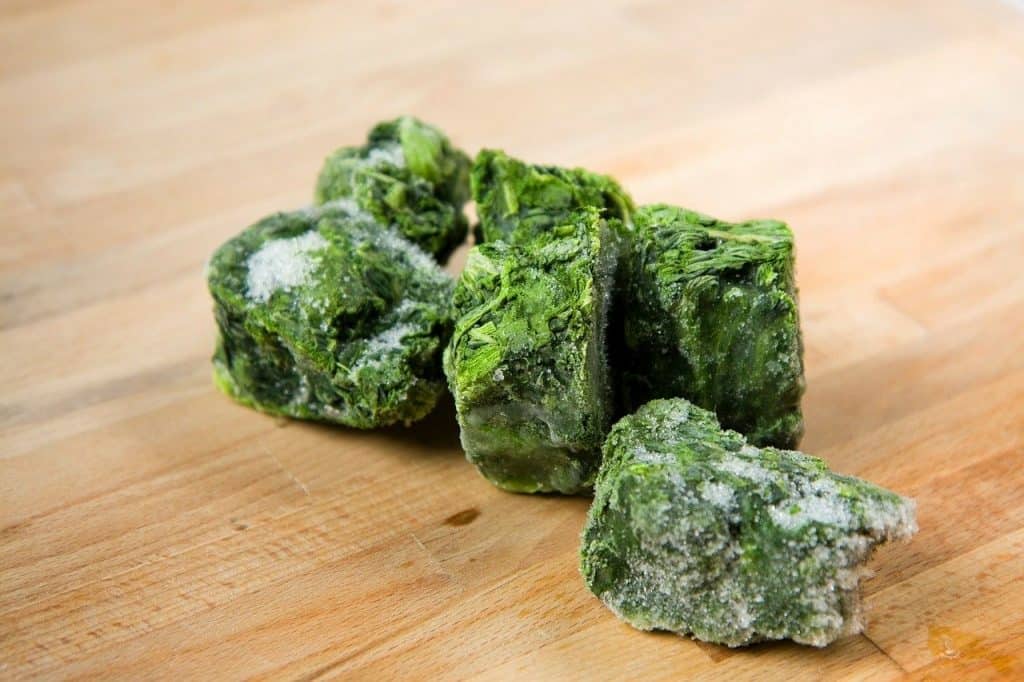 Can you freeze wild garlic?
You can chop it finely and put in ice cube trays then cover with olive oil. Drop these cubes into soups and stews to add a little wild garlic flavour.
You can also freeze it as Wild Garlic Blender Pesto or Wild Garlic Hummus.
About Foraging
I have been foraging most of my life, although until recently I probably wouldn't have called it that. As a child we collected rose hips which were sent off to make rose hip syrup, I think the school got paid for them.
I always pick blackberries (brambles) to make Blackberry & Apple Crumble and Blackberry & Apple Jelly. Sometimes I am lucky enough to find wild strawberries and raspberries. I also pick sloes and make Sloe Gin and Sloe Cordial.
And I remember one bumper 'field mushroom' year when my father-in-law would bring pockets full of mushrooms back from the field every morning.
Be Aware!
The best way to learn foraging is to go with someone who knows what to look for. Always make sure you know what you are picking and if you are not sure – DON'T EAT IT!


The Forager's Kitchen Review
The Forager's Kitchen by Fiona Bird has over 100 easy recipes. Savoury and sweet recipes featuring all kinds of foods you can find for free. You don't have to be in the countryside, you can forage in town, and at the seaside too.
The introduction is beautifully written, full of lively description and useful advice. There is a section of helpful Ground Rules and a serious piece about misidentification, there is even a list of 'Useful Kit for Foragers'
What's in the Forager's Kitchen?
The chapters cover a wide range of plants and habitats including:
Flowers & Blossom
Woodland & Hedgerow
Fruit & Berries
Herbs
Sea & Shore
As well as providing recipes there is a wealth of information given about the plants and other foraged ingredients. Safety is paramount and if you follow the advice in this book you will be able to enjoy collecting free food safely. I also liked the 'Wild Notes' that accompany some of the recipes giving additional information.
The chapters end with some notes about Foraging and the Law including UK, Scotland, Ireland, Wales, US, and Canada.
The Forager's Kitchen is published by CICO Books
RRP £16.99
Popular online book store £10.87
I was supplied with a copy of The Forager's Kitchen by CICO Books, I was not paid for this review and my opinions are my own.
Wild Garlic Recipes
Wild garlic is included in the chapter on herbs. And there are six recipes for this delicious spring leaf, including New Potatoes in Wild Garlic and Lemon Dressing.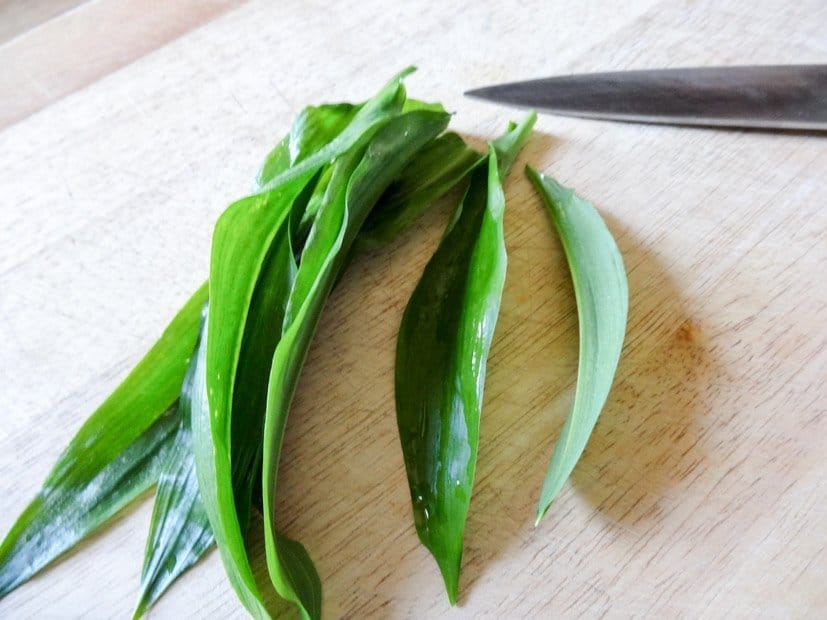 It's important to wash the wild garlic leaves thoroughly, you really should use them on the day you pick them, but you can wrap them in damp kitchen paper and store in a bag or box in the fridge.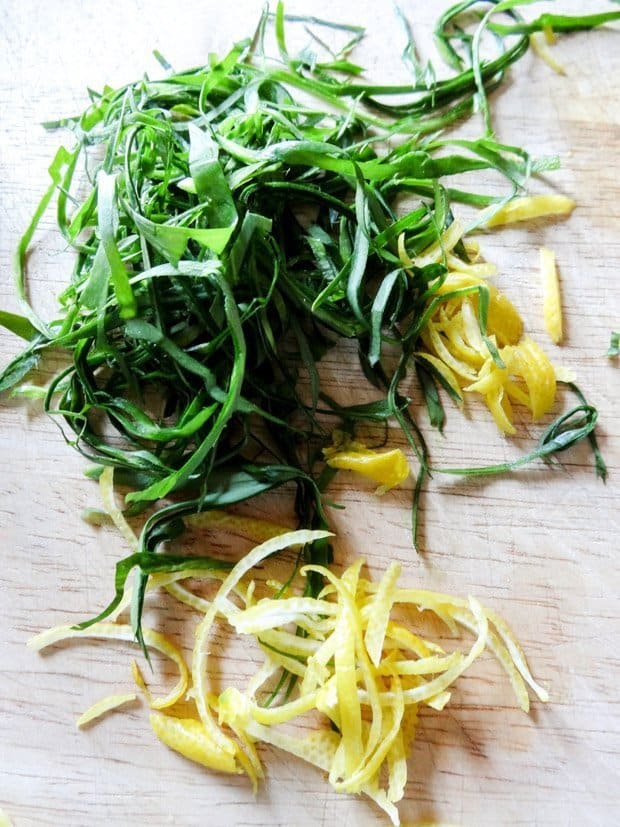 Make a chiffonade
Slice the wild garlic and lemon into a chiffonade. This is simply very fine slices of the leaves, and the yellow part of the lemon peel. Use a potato peeler to take fine peelings from the lemon and then finely slice, or use a zesting tool.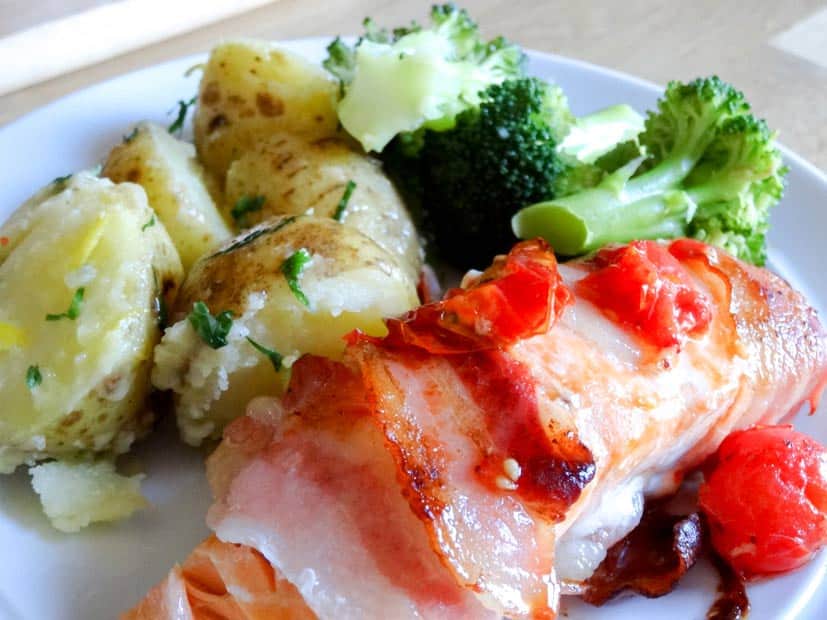 How do you serve the New Potatoes?
It's ideal to serve with chicken cooked wrapped in bacon or proscuiotto.
Simply grilled fish fillets would work well with the fresh lemon and garlic dressing.
Serve warm or cold with salad.
More Wild Garlic recipes from Farmersgirl Kitchen
Wild garlic has a short season so forage responsibly but make sure you gather enough to make more than one recipe.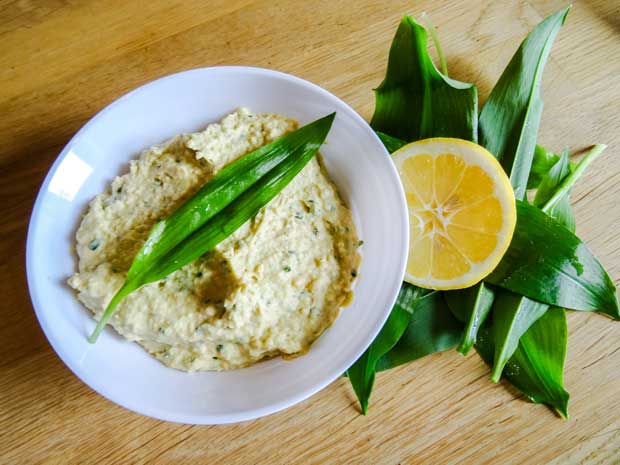 Easy Wild Garlic Hummus is a really versatile recipe using chickpeas and wild garlic to make a flavour-packed dip or spread in your food processor. Hummus always contains garlic so wild garlic is an easy substitution.

Cheese and Wild Garlic Scones are full of flavour and perfect to serve with soup as an alternative to bread. They are also very good just to eat on their own with butter.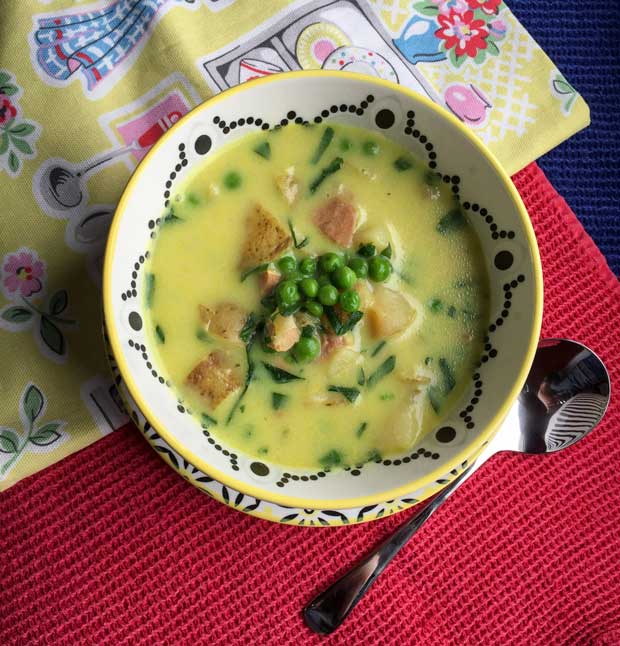 Wild Garlic, Ham and Pea Chowder is a chunky soup using potatoes, peas, ham, and wild garlic leaves. The soup has a mild garlic flavour and is creamy and totally delicious.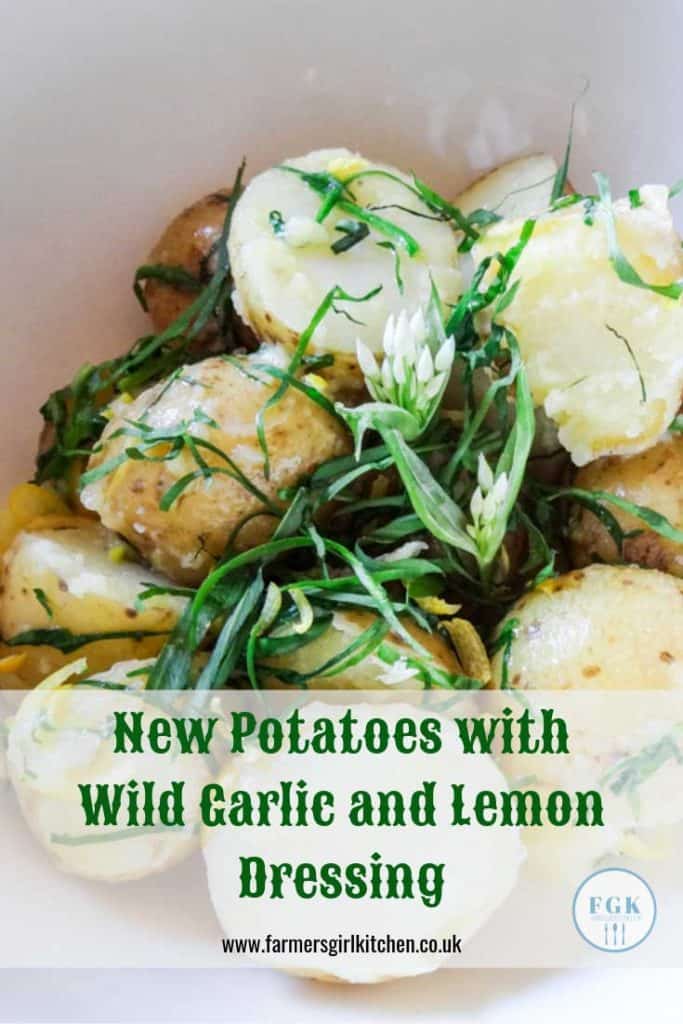 PIN FOR LATER
Let's get social!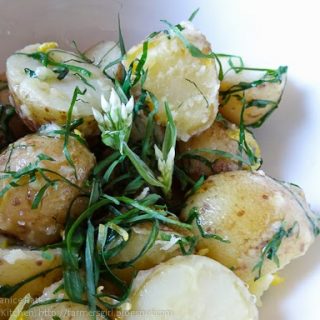 New Potatoes in Wild Garlic and Lemon Dressing
Make your new potatoes even more delicious by making a dressing of wild garlic and lemon.
Ingredients
800

g

new potatoes

8

ramps

wild garlic leaves, washed and dried

25

g

butter

Zest of 1/2 lemon

Freshly ground black pepper

2-3

ramps

wild garlic flowers, washed, dried and segmented
Instructions
Scrub the potatoes (to remove loose dirt).  Cut any larger potatoes in half.  Cook in a minimum quantity of boiling water for 15-20 minutes until the potatoes are just soft.

Meanwhile, chiffonade the ramps leaves (roll the leaves up tightly and cut into thin shreds)

Drain and reserve the potatoes, and add the butter and lemon zest to the pan.  Return to the heat briefly to melt the butter, then add the shredded ramps leaves.  Cook for a minute to wilt the leaves, then return the potatoes to the pan.

Toss the potatoes in the butter lemon, and ramps and season with freshly ground pepper.

Turn into a warm serving bowl and scatter the tiny ramps flowers over the top before serving.
Nutrition
Calories:
221
kcal
Carbohydrates:
40
g
Protein:
4
g
Fat:
5
g
Saturated Fat:
3
g
Cholesterol:
13
mg
Sodium:
56
mg
Potassium:
842
mg
Fiber:
5
g
Sugar:
2
g
Vitamin A:
795
IU
Vitamin C:
43.9
mg
Calcium:
47
mg
Iron:
2.3
mg
Don't Miss My Latest Recipes
CLICK TO SUBSCRIBE NOW to join my newsletter list & receive a FREE 'How To Adapt Recipes For Your Slow Cooker' printable!
I'm linking this recipe to Cook Blog Share the recipe link up for food bloggers this week hosted at Melissa Traub – Plant Based Nutrition