I love to make scones and these Cheese and Chive Scones are so delicious. It's so simple to rub together the ingredients and a few minutes in a hot oven produces a fresh, soft and wholesome quick bread, perfect with soup, with cheese or in this case with a fresh marjoram infused cream cheese sprinkled with marigold petals.
Cheese and Chive Scones with Marjoram Cream Cheese
225g wholemeal self-raising flour
1 level tsp baking powder
50g butter or soft margarine
50g grated hard cheese (I used cheddar)
1 tbsp finely chopped chives
1/4 tsp chilli powder
a pinch of salt
1 egg
milk
2 tbsp cream cheese
1 tsp finely chopped marjoram leaves
A few marigold petals to scatter


For the Scones
1. Heat the oven to 220C, Gas 7
2. Put the flour and baking powder in a bowl and rub in the butter or margarine until the mixture looks like fine breadcrumbs.
3. Add the cheese, chives, chilli powder and salt.
4. Crack the egg into a measuring jug mix it with a fork and then make up the liquid to 150ml with milk.
5. Stir the milk into the flour and mix to a soft dough, add a little extra milk if required.
6. Turn onto a lightly floured table and gently roll out to about 1.25cm thick.
7. Cut into rounds, the size of the cutter will determine how many scones you make.
8. Place the scones on a greased baking tray, brush the tops with a little milk and bake for about 10 minutes or until pale golden brown.
9. Remove the scones from the tray and leave to cool on a wire rack.
For the Marjoram Cream Cheese
Mix the cream cheese with the marjoram, leave to infuse for at least 30 minutes.
Spread the cooled scones with the marjoram cream cheese and sprinkle with marigold petals. Best served with a cup of tea.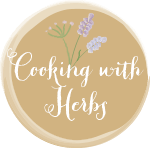 I'm entering my Cheese and Chive Scones for Cooking with Herbs, the blog challenge run by Karen at Lavender and Lovage, this month's theme is Summer Herbs and Flowers – well I've given you both, enjoy!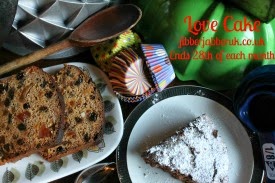 The Love Cake challenge run by Jibber JabberUK is looking for savoury bakes in August, so my cheese and chive scones, with a little pinch of chilli heat, are a perfect match.