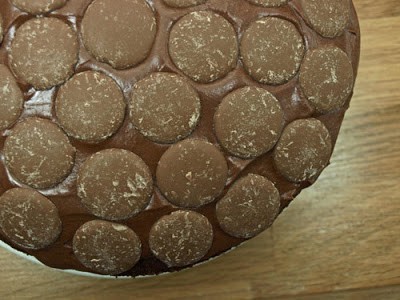 It's my younger son's birthday at the weekend, I won't see him but my husband is going to visit today to help him move into a new flat and taking the cake with him. Because I had to make it a little early I chose a recipe which is made with oil and has good keeping qualities. It's also a brilliant cake if you don't have an electric mixer because it's easy to make with just a wooden spoon.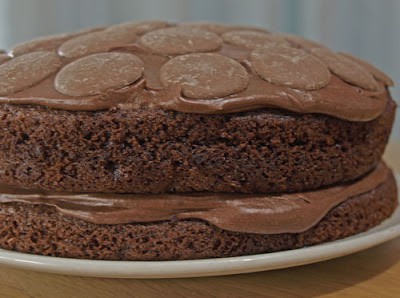 Chocolate Cake
190g plain flour
2 tbsp cocoa powder
1 tsp bicarb of soda
1tsp baking powder
150g caster sugar
2tbsp golden syrup
2 eggs, beaten
150ml vegetable oil
150ml milk
1. Heat the oven to 160C, grease and line two 20cm sandwich tins.
2. Sieve the flour, cocoa, bicarb, baking powder and caster sugar into a large bowl.
3. Add the syrup, beaten eggs, oil and milk.
4. Beat well and pour into the tins.
5. Bake for 25-30 minutes or until firm to the touch.
6. Turn onto a wire rack, remove the paper and leave to cool.
Chocolate Icing
50g cocoa powder
2-3 tbsp hot water
50g butter
200g icing sugar, sifted
Packet of Giant Chocolate Buttons
1. Put the cocoa, hot water and butter in a bowl and beat until smooth.
2. Add the icing sugar to make a thick icing
3. Fill and top the cake with the icing and decorate with the chocolate buttons