I've been baking Sweet Gingerbread Men for as long as I can remember, it's a bit of a family tradition both my mum and her mum made gingerbread men around Christmas time.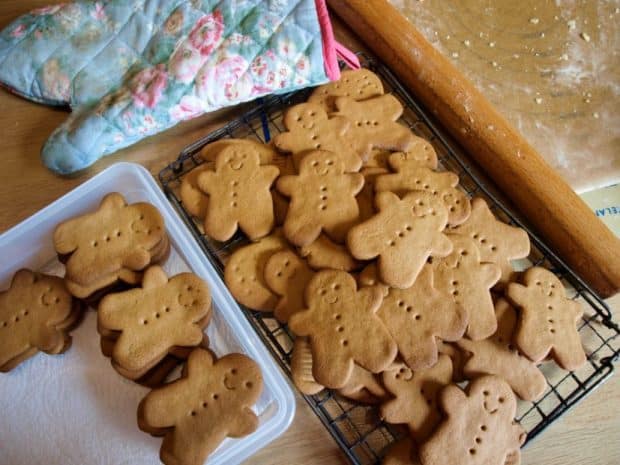 I still have my gran's original Gingerbread Man cutter which she gave me when she stopped baking, it's the large cutter with a sort of 'hat' or maybe 'ears'?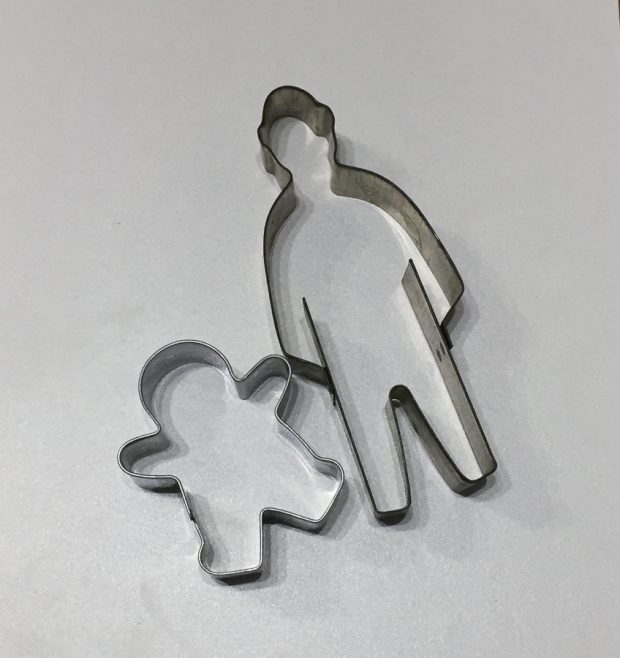 These days I find that the large gingerbread men are just too much for us to eat, so I managed to source a mini cutter which makes the perfect Sweet Gingerbread Men. Whenever I make Gingerbread Men I think of the song made famous by Sammy Davis Jnr.
"Feel like I'm made out of gingerbread
Uh huh (uh huh) uh huh (uh huh)
Crumb pickin' lip lickin' gingerbread
Uh huh (uh huh) uh huh (uh huh)
Can't think about rainy weather now
I've finally got myself together now
Fresh out of the pan sweet gingerbread man
Fresh out of the pan sweet gingerbread man"
Sweet Gingerbread Man – music by Michel Legrand, Lyrics by Alan Bergman and Marilyn Bergman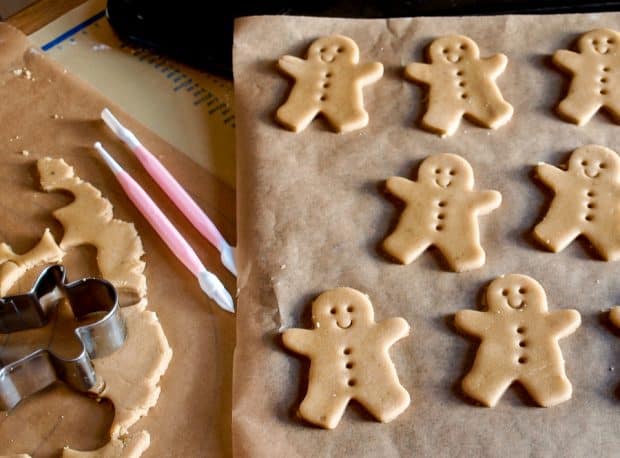 The mixture for making the Sweet Gingerbread Men is straightforward to prepare, however, when rolling out the dough I would recommend cutting it into four pieces and working with one piece at a time. You can re-roll the dough but, it does become harder to work as it cools. I use fondant icing tools to mark out the buttons and eyes, I was particularly pleased to find a tool that is a 'C' shape and makes a lovely smile for the little characters.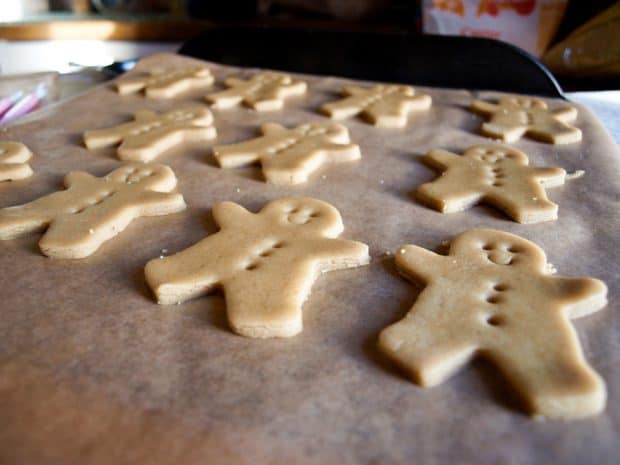 I roll my dough onto a piece of baking parchment as it is very sticky and will stick to your work surface. Be careful when lifting the cutouts onto the baking tray, also lined with baking parchment, because they can distort. Add the features after you have transferred the shapes to the baking tray. Keep the dough pieces apart as they will spread a little.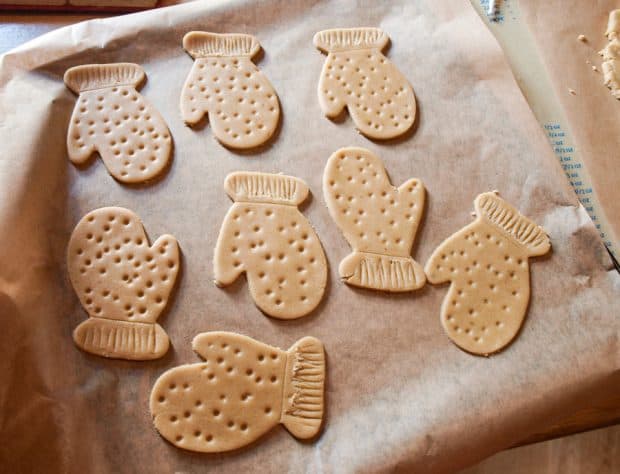 You don't have to stick to Gingerbread men shapes, if you have other cutters, you can make any shape you like. I made Gingerbread Mittens, I was rather pleased with the 'knitted' rib cuff for my mittens!
Recipe for Sweet Gingerbread Men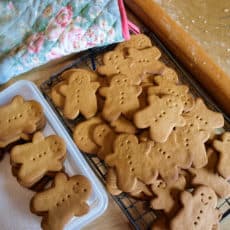 Sweet Gingerbread Men
Crunchy gingerbread biscuits (cookies) cut in the shape of little people.
Print
Pin
Rate
Ingredients
4

tbsp

Golden Syrup

100

g

4oz butter

225

g

8oz soft light brown sugar

1

egg beaten

450

g

1lb plain flour

1

tbsp

ground ginger

2

tsp

bicarbonate of soda
Instructions
Place syrup, butter and sugar in a large saucepan. Heat gently until melted.

Remove saucepan from heat leave for 5 minutes to cool slightly, add the egg and sift the flour ginger and bicarbonate of soda on to the syrup mixture.

Beat with a wooden spoon until well mixed and smooth ball.

Cool for 5 to 10 minutes or until mixture is cool enough to handle, then transfer mixture to work surface and knead lightly.

Roll out out thinly and cut out the gingerbread men with a cutter.

Reroll the trimmings and cut more figures.

Place shapes on to baking sheets covered with baking parchment.

Mark the eyes, mouth and buttons with a small knife (see notes for my tips)

Cook at 180C, 350F, Gas 4 for 10 minutes

Remove from the oven, and leave on the trays for a few minutes until the biscuits firm then remove to a wire rack to cool completely.
Notes
If you roll the dough and cut out directly onto the baking parchment it is less likely to stick I use cake decorating tools to mark the features on the gingerbread men You can store the biscuits in an air tight tin or plastic box for about a month, but they also freeze well and you can keep them for 3 months. You may need to refresh them in a hot oven for a couple of minutes to make them crisp again.
I have a word of warning for you…if you make these Sweet Gingerbread Men once, you will be expected to make them every year, until you can pass on the mantle to the next generation.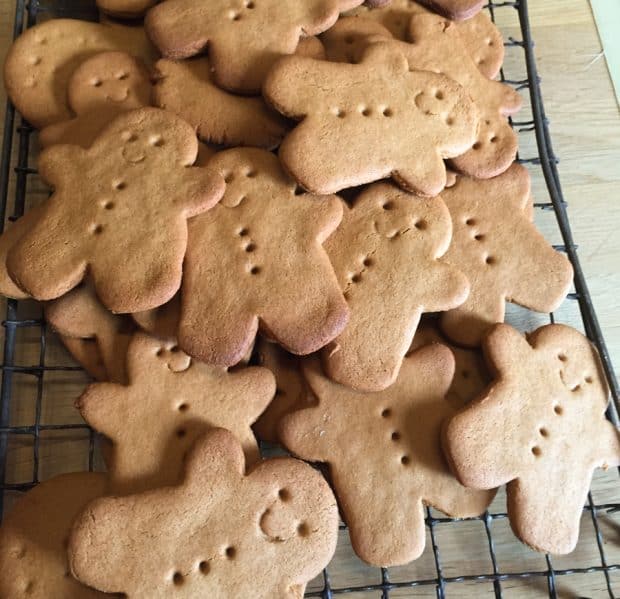 More Christmas Recipes
Easy Festive Apple and Mincemeat Streusel Muffins -Farmergirl Kitchen
Easy Slow Cooker Mincemeat with Ginger – Farmersgirl Kitchen
Festive Light and Fruity WhiskyMarmalade Cake – Farmersgilrl Kitchen
What are your Christmas baking traditions?
WHY NOT PIN FOR LATER?