Chocolate Orange Scottish Shortbread' is a festive twist on the classic Scottish shortbread I've been making for a very long time. I use the recipe that my Mum handed down to me and it is always popular.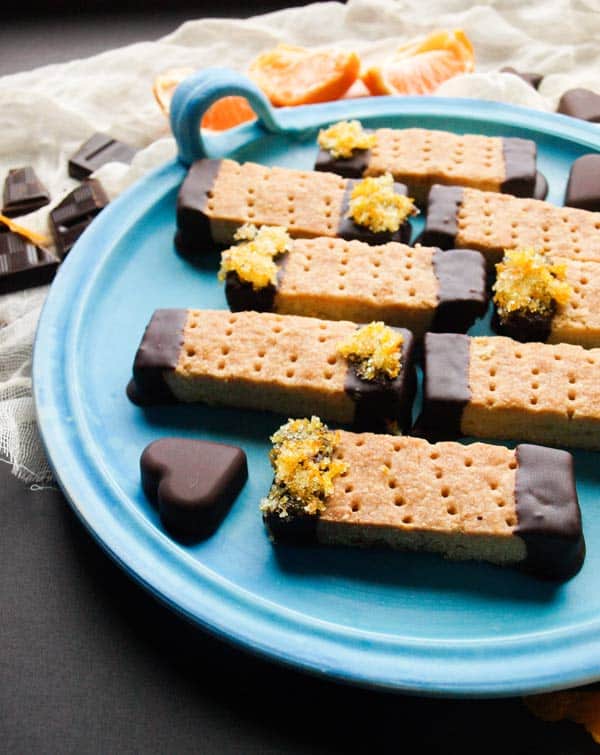 Sometimes I like to ring the changes and, as I had rather a lot of oranges in the fruit bowl, I decided to create a chocolate and orange shortbread finger.
Chocolate and Orange
Chocolate and orange is a classic combination, The acidity of the oranges helps to cut through the richness of the sweet shortbread and enhances the flavour of the dark chocolate.
How to make Chocolate Orange Shortbread
Here is a step by step guide to making your own Chocolate Orange Shortbread.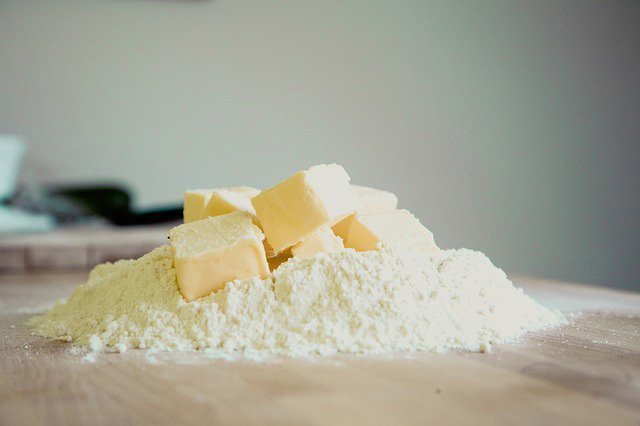 For the basic shortbread cookies recipe, you need only three ingredients, butter, flour, and sugar. I would usually use caster (superfine) sugar.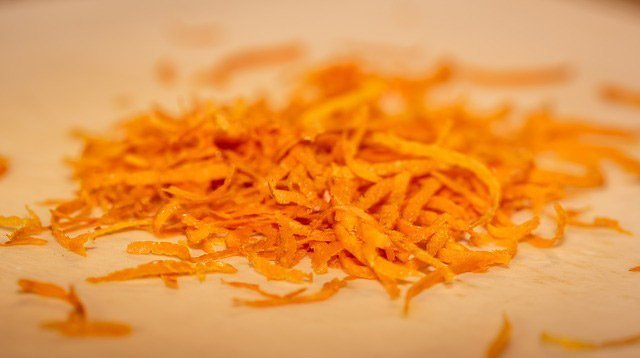 I use soft brown sugar for this Chocolate Orange Shortbread recipe, Then I add the zest of an orange to the shortbread.
What is orange zest?
Orange zest is the coloured outer skin of the orange which holds the orange oils. This oil adds an intense orange flavour to your baking or cooking. Aim to avoid including any of the bitter white pith in your zest.
How do you zest an orange?
There is more than one way to zest an orange:
Use a vegetable peeler to peel off the skin then cut it into shreds
Grate the zest from the orange using a Microplane grater or the smallest cutting blades of your grater
Buy a zester, a tool which you scrape along the orange and it takes off long curls of zest

Making the orange shortbread is relatively easy.
Weigh out the flour and sugar and place in a bowl with the orange zest.
Cut the butter into small cubes, then rub the softened butter into the flour and sugar with your fingers.
When the mixture starts to clump together press into a tin.
Prick the shortbread with a fork as this helps it to cook evenly.
Mark out the fingers before you bake the shortbread because this makes it easier to cut evenly once it's baked.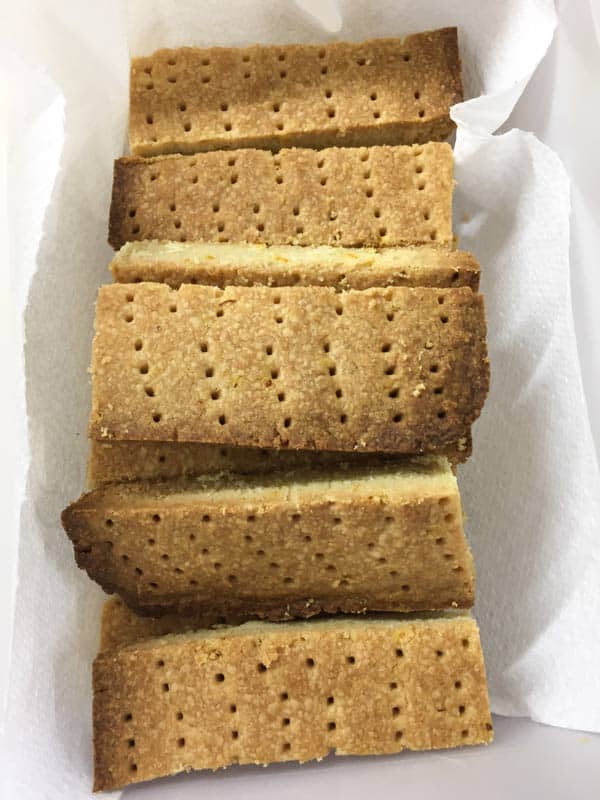 These are the 'naked' shortbread fingers. after baking. I did leave them a little longer than I should have and they coloured a bit around the edges.
Baking Tips
Every oven is different so keep an eye on your shortbread and adjust the timing to suit you oven
Set your timer 5 minutes earlier than the stated recipe times and check if the shortbread is baked. You can always leave it a bit longer if it is not quite baked.
Let the shortbread cool in the tin for about 10 minutes before cutting along the lines to make the shortbread fingers.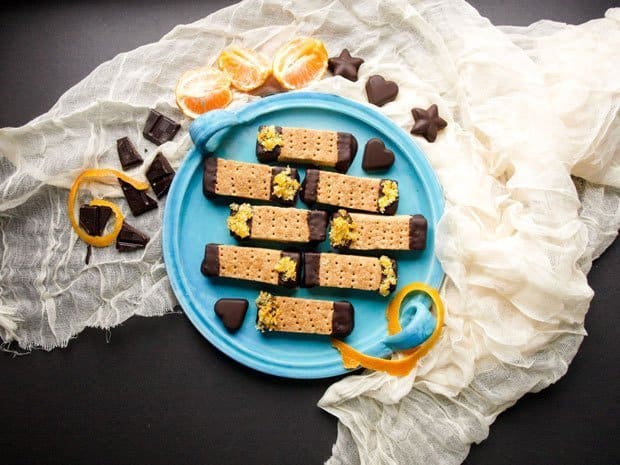 Add the finishing touches
Dipping the shortbread in dark chocolate is what makes this Chocolate Orange Scottish Shortbread, really special. For a final touch of orange zing, I sprinkled the chocolate with a mixture of sugar and orange zest. I think this makes the shortbread look really festive and adds a touch of luxury as well as a burst of real orange flavour.
More Shortbread Recipes from Farmersgirl Kitchen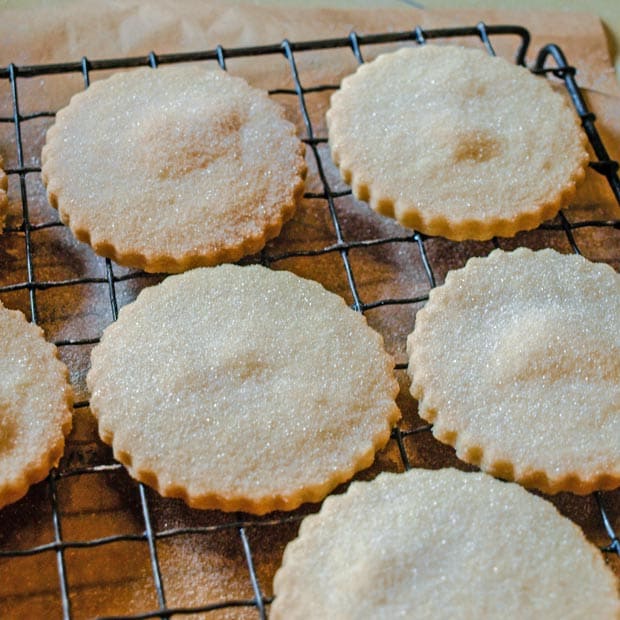 Scottish Shortbread Biscuits are a classic, indeed, iconic Scottish biscuit. These buttery, crumbly biscuits (cookies) need only three ingredients to produce the very best sweet treat you can enjoy.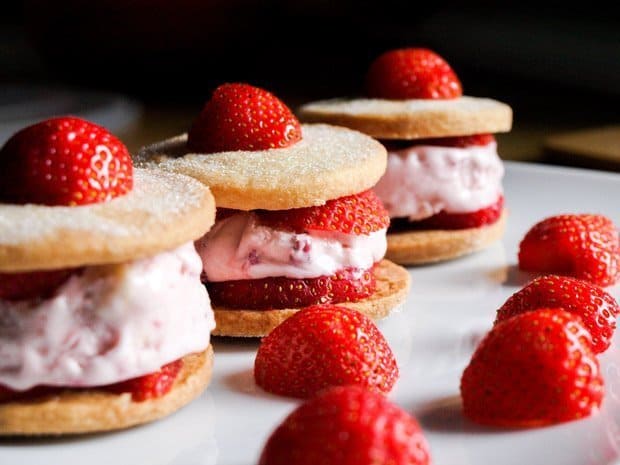 Strawberry Shortbread Ice Cream Sandwich – strawberry ice Cream and fresh strawberries, sandwiched between two buttery shortbread cookies.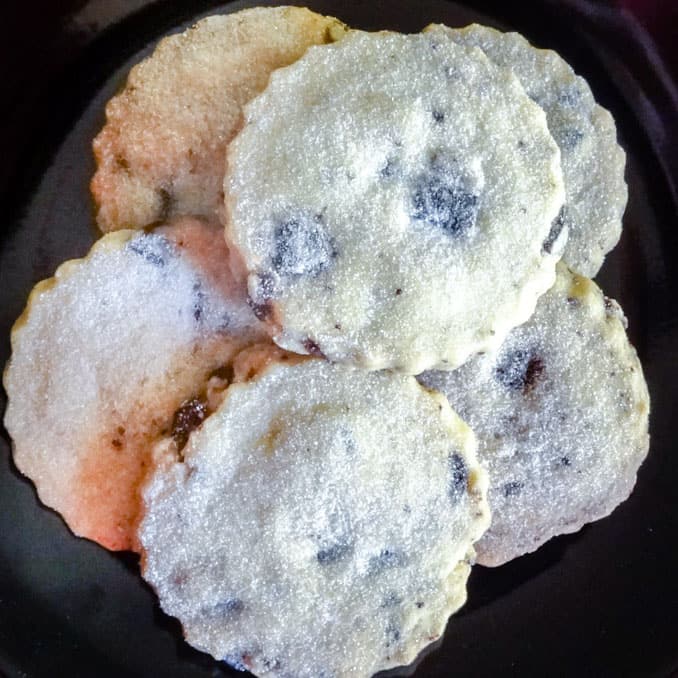 Chocolate Chip Shortbread Cookies – bite into a buttery crumbly shortbread cookie studded with chunks of dark chocolate, delicious.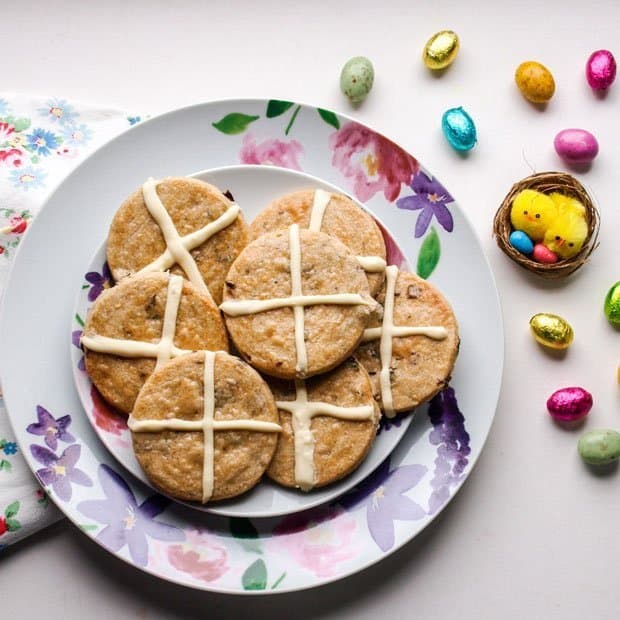 How to make Hot Cross Shortbread Cookies – a seasonal twist on the classic shortbread, these cookies contain dried fruit and hot cross bun spices.
More Chocolate Orange Recipes
Chocolate Orange Cornmeal Biscotti – Casa Costello
Chocolate Orange Cake – Fab Food 4 All
Vegan Chocolate Orange Oat Bars – Veggie Desserts
Chocolate Orange Macarons – Emily's Recipes & Reviews
Not another Bloody Orange Chocolate Cake – Tin & Thyme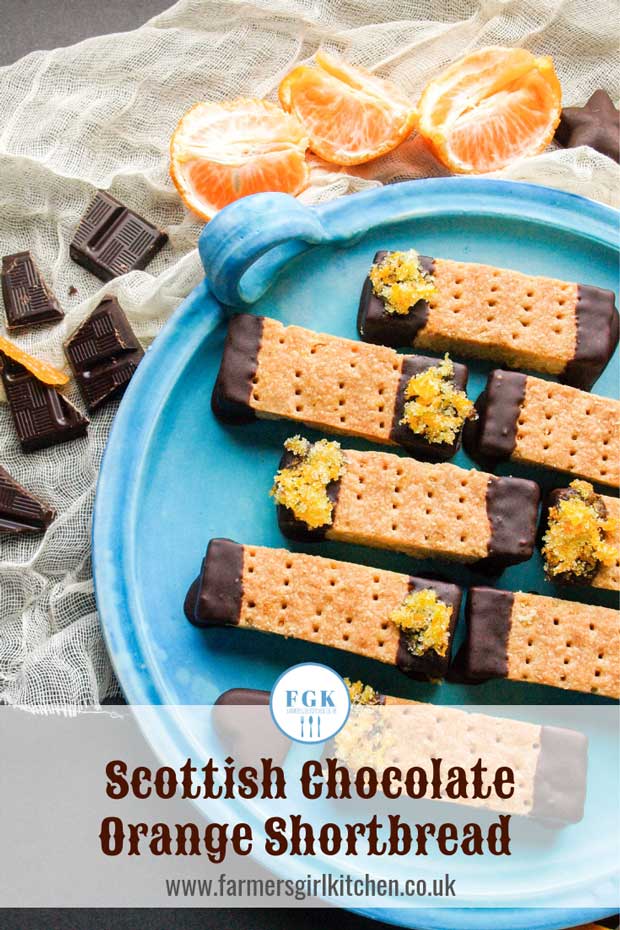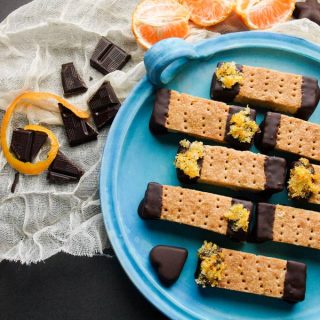 Chocolate Orange Scottish Shortbread
Butter shortbread cookies flavoured with orange zest and dipped in dark chocolate
Ingredients
225

grams

plain (all-purpose) flour, sieved

50

grams

soft light brown sugar

2

medium oranges

finely grated rind

150

grams

butter

cut into small pieces

100

grams

dark chocolate

1

teaspoon

coconut oil

optional

3

teaspoon

granulated sugar
Instructions
Place flour in a bowl, add sugar and grated rind of one orange

Add the butter and rub into mixture

Press into a 20cm square tin, press down firmly

Prick all over with a fork, mark into 12 pieces

Bake 170c for 25 minutes, turn down to 150C for further 15 minutes

Cool slightly before cutting into pieces

Break up the chocolate and put in a bowl, with the coconut oil, if using. Place the bowl over a pan of just-boiled water, stir until the chocolate is melted.

Dip one end of each of the shortbread fingers in melted chocolate, place on baking parchment and chill until set.

Mix the finely grated rind of the second orange with the granulated sugar

Re-melt the chocolate and dip the other end of the fingers into the chocolate and sprinkle on the sugar and orange zest mixture.

Chill again, until set.

Store in an airtight container.
Notes
I added the coconut oil as it slightly softens the dark chocolate. It is optional and will work perfectly with out the coconut oil. You could also use milk or white chocolate, your choice.
Nutrition
Calories:
241
kcal
Carbohydrates:
25
g
Protein:
2
g
Fat:
14
g
Saturated Fat:
8
g
Cholesterol:
27
mg
Sodium:
91
mg
Potassium:
122
mg
Fiber:
1
g
Sugar:
9
g
Vitamin A:
360
IU
Vitamin C:
11.6
mg
Calcium:
21
mg
Iron:
1.9
mg
Don't Miss My Latest Recipes
CLICK TO SUBSCRIBE NOW to join my newsletter list & receive a FREE 'How To Adapt Recipes For Your Slow Cooker' printable!
Share by Email
It is the very last 'We should Cocoa' chocolate recipe inky challenge run by Choclette at Tin & Thyme. Chocolate Orange Scottish Shortbread is my entry for this final challenge.
I first entered 'We Should Cocoa' in June 2011, My entry was Chocolate Pavlovas with Strawberries and I'm rather embarrassed by the terrible photograph, although the individual Chocolate Pavlovas were delicious. Time to make them again and take a better photo, I think.