Hot Cross Shortbread Cookies are shortbread cookies with all the citrus and spicy flavours of a Hot Cross Bun. It's the perfect recipe for your cookie jar all year round, but when you dress up these cookies with a piped cross, they make a great addition to your Easter tea table.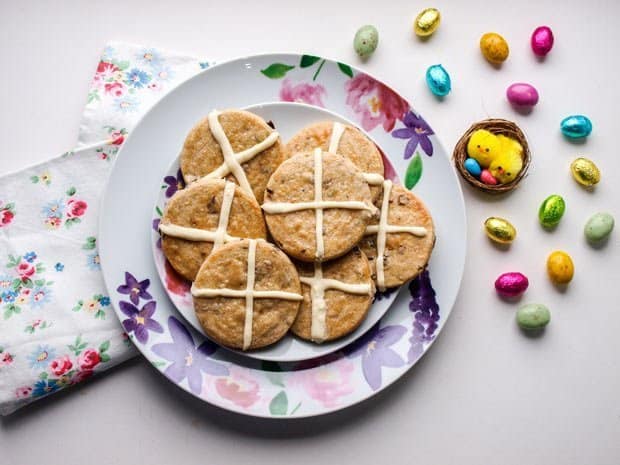 The origin of the Hot Cross Bun may go back to the 12th Century when it is said that they were baked by monks and marked with a cross to honour Good Friday.
However, there is an alternative theory that the baking of cross buns may go back even further to Pagan times. when these buns were baked at the beginning of Spring to celebrate the goddess Eostre.
Whatever the origin of the Hot Cross Bun the tradition of eating these sweet treats in Spring, and particularly on Good Friday, have survived because they are just so delicious.
How to make Hot Cross Shortbread Cookies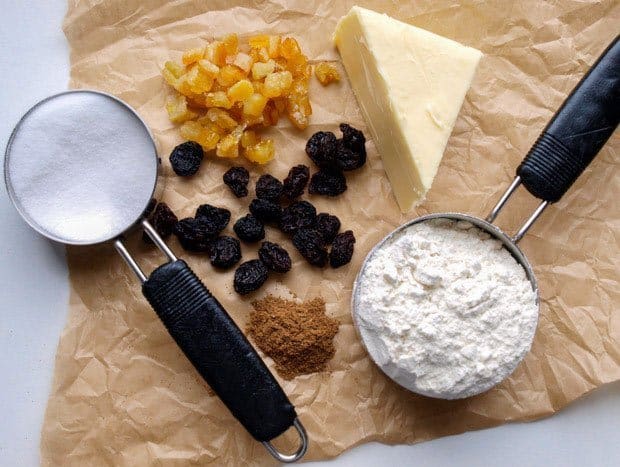 Ingredients for Hot Cross Shortbread Cookies
Use softened butter, sugar, flour, mixed spice, raisins, and mixed peel to make your cookies. Chop the raisins and mixed peel as, otherwise, the pieces are too lumpy in the cookies.
For the glaze
You will need an egg, white only, and an additional tablespoon of caster sugar for the glaze.
Equipment
You will also need an 8 cm plain edged round cookie cutter, baking parchment or a non-stick baking mat and two baking sheets.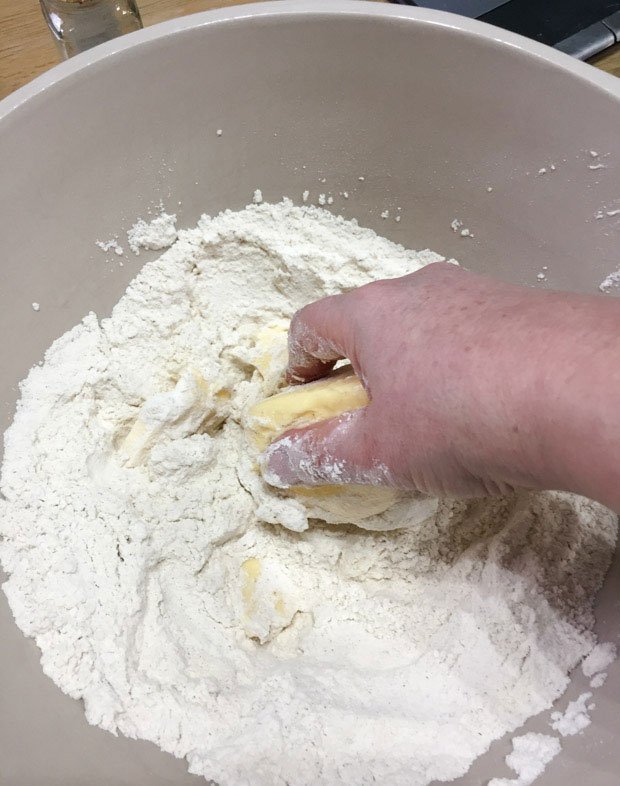 Make the Shortbread
Take the butter out of the fridge for a few hours to soften, then take the block and push it into the mixture of flour, sugar and mixed spice, the butter will gradually take up more of the dry mixture as you work it in.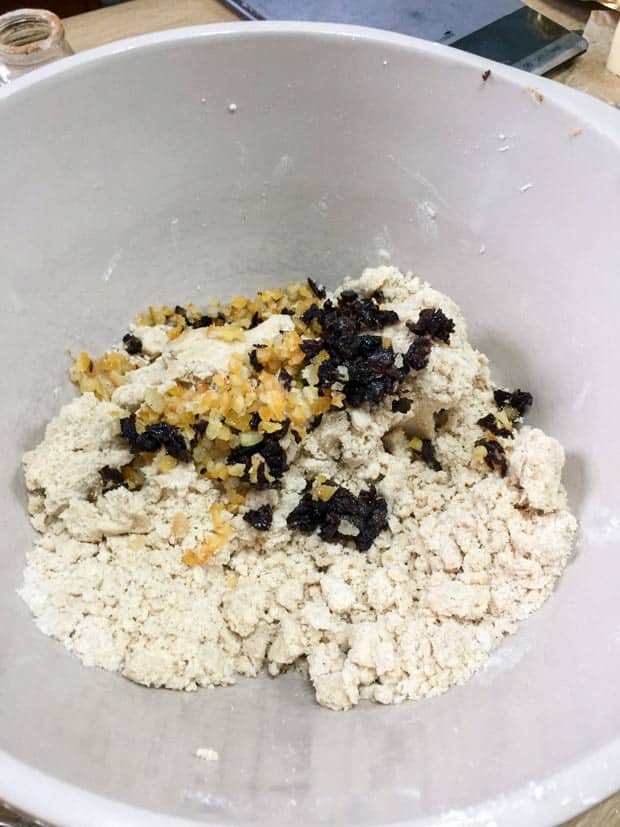 Add the flavouring
Add the finely chopped raisins and mixed peel to the dough when it starts to cling together but has still not formed a ball, then keep working the ingredients together. Get in with both hands!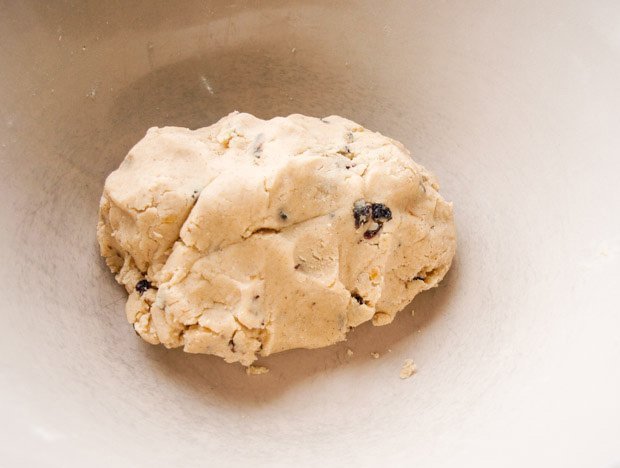 Knead the shorbread cookie dough
It only takes a few minutes of kneading the mixture and then suddenly you will find that the dough has come together. All the butter will have merged with the flour, sugar, and spice and you should have a nice even distribution of raisins and mixed peel too.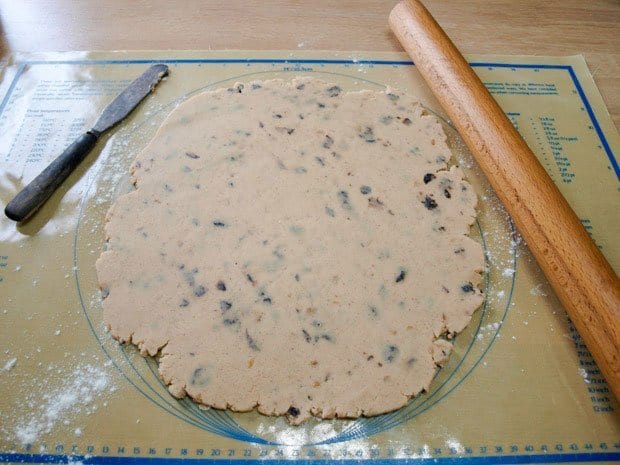 Roll out the Hot Cross Shortbread Cookie Dough
There is no need to chill the dough, in fact, chilling will make it more difficult to roll out. You can make your cookies straight away.
Lightly dust your work surface and rolling pin with flour and press down the dough, then roll it out gently until it is about 1/2 cm thick.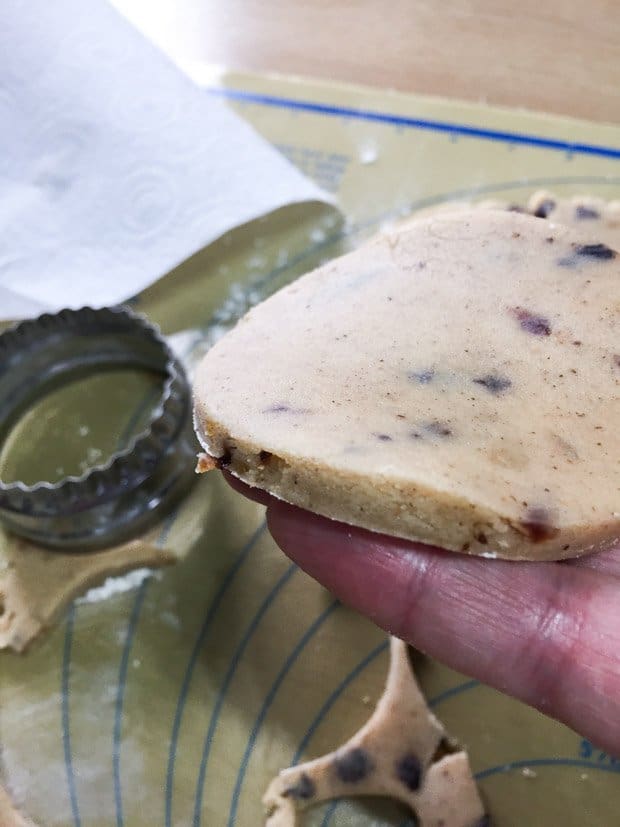 Cut out the cookies
I would usually transfer the cookies using a spatula, but I wanted to show you the depth of the cookie. You do need to press quite firmly with your cutter to make sure you don't have too many little tags of raisin around the edges.
This recipe makes about 16 x 8 cm cookies, I could get nine cookies on my baking sheet. If you use a smaller cutter you will get more cookies. Shortbread Cookies, don't really spread so you can place them reasonably close together.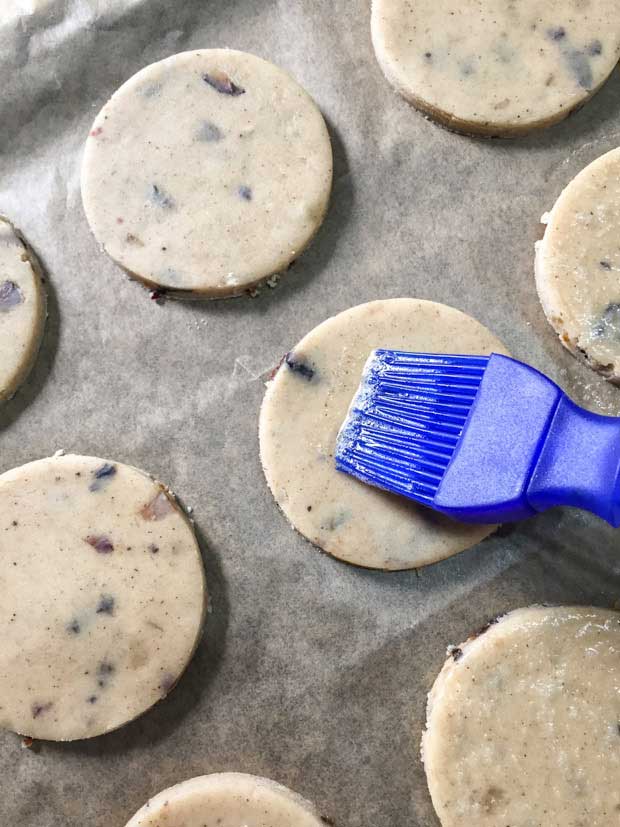 Glazing the Cookies
When I started to develop this recipe, I wondered how I was going to make the shortbread cookies look more like Hot Cross Buns.
Normally, I would dust my shortbread cookies with caster (superfine) sugar, but that wasn't going to look anything like a Hot Cross Bun. Then it came to me, I could brush them with a mixture of egg white and sugar to make a shiny surface.
Separate the egg, and lightly whisk the egg white until it is broken up, then add the sugar and beat it a little more until it was just frothy. Brush the tops of the cookies.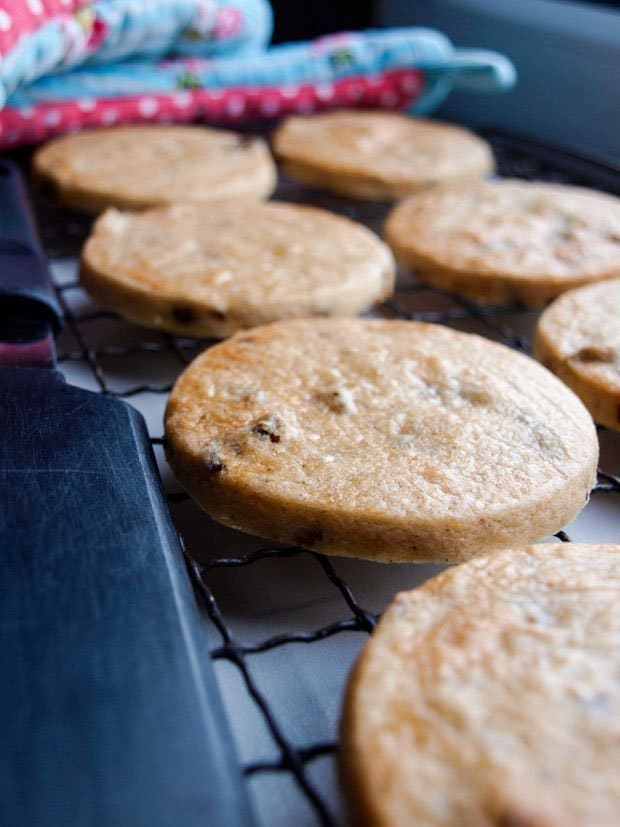 Bake the Hot Cross Shortbread Cookies
Bake the cookies between 8-10 minutes until golden brown. The glaze keeps them shiny and the sugar in it carmelises and adds a little extra golden glow around the edges of the cookie. Lift the cookies off the baking sheet and let them cool on a wire cooling tray.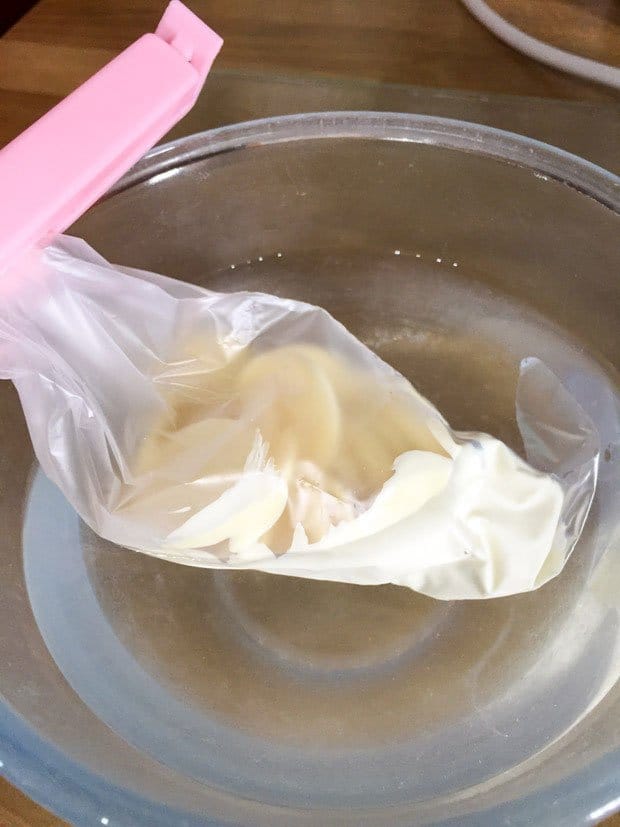 Hoe to make crosses on the cookies
Option 1
Melt white chocolate buttons into a disposable piping bag. Clip the open end to prevent any water from getting in, and place it in a bowl of just-boiled water from the kettle. You can also microwave the piping bag but I like the hot water method, as I feel I have more control.
Option 2
Use Royal Icing, you can make this yourself or because you only need a very little buy it ready-made in a tube.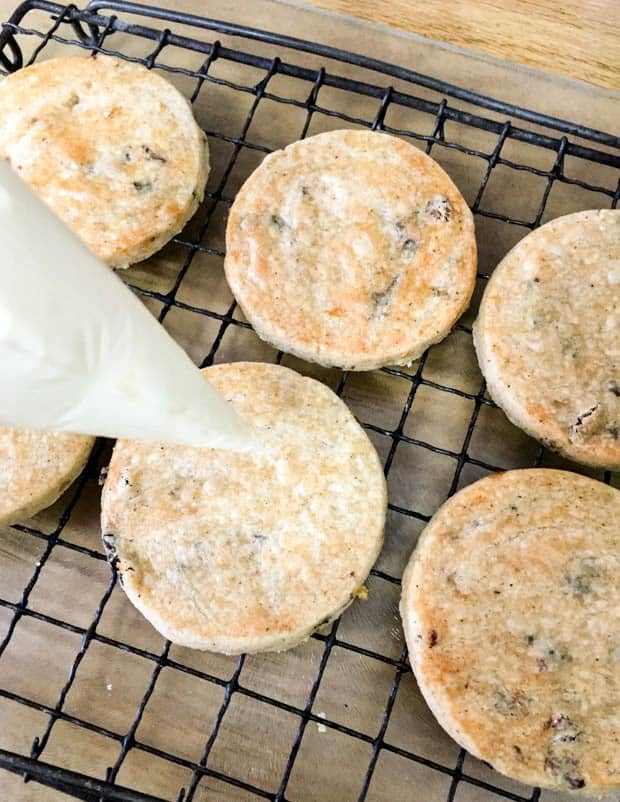 Use White Chocolate
Once the chocolate has melted, snip the end of the piping bag and pipe the crosses. The chocolate comes out quite quickly, put your finger over the end of the piping bag between each cross and when moving between cookies.
If your piping skills are a little rusty the royal icing as it is firmer and will give you more control to create your crosses.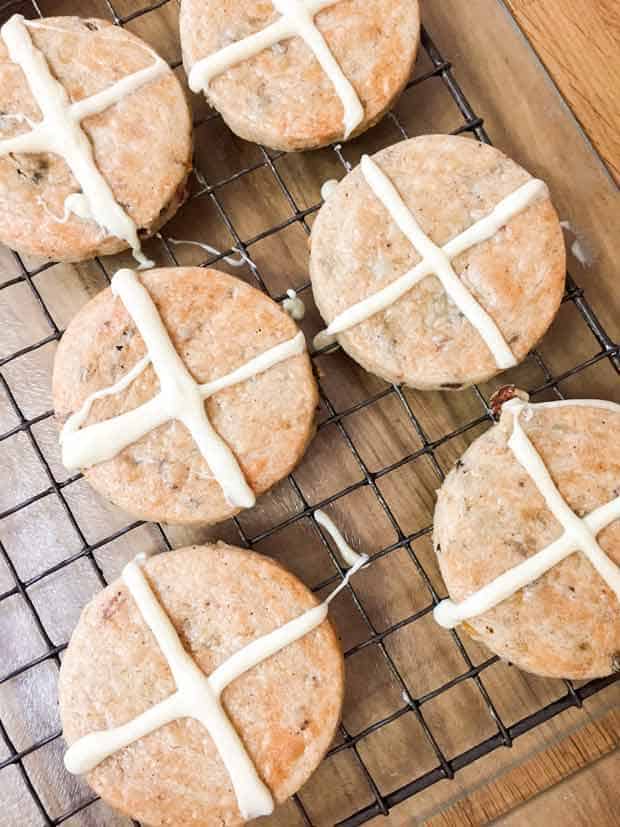 Tidy up your crosses
As you can see, some of the crosses are more even than others. If you do have any chocolate where it shouldn't be, it is possible to scrape the stray bits of chocolate off with a knife once the chocolate has set firm, so don't worry if you make a few mistakes.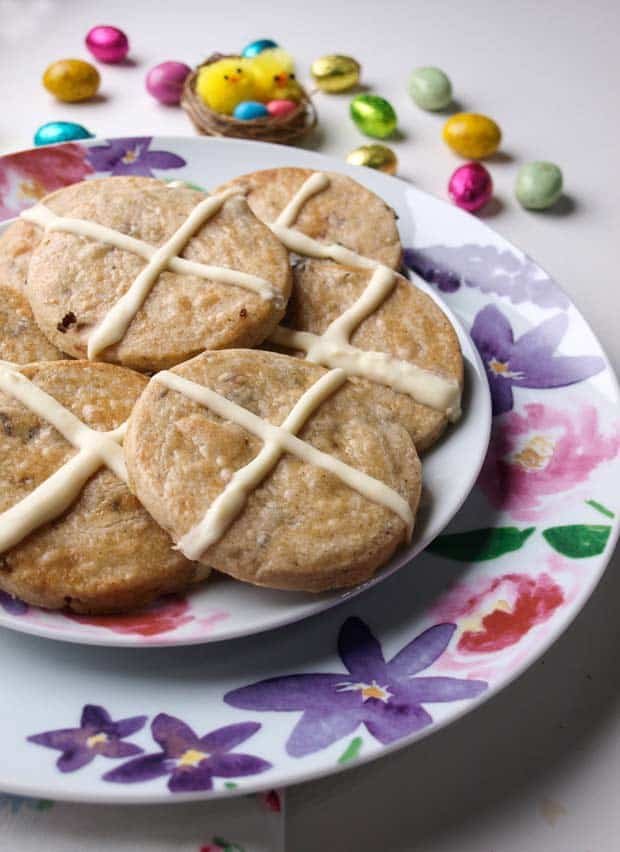 The texture of the cookies is softer than traditional shortbread cookies because of the raisins and mixed peel. However, they melt in your mouth with the buttery taste you associate with good shortbread and the citrus and spice taste of a Hot Cross Bun.
More Easter Recipes from Farmersgirl Kitchen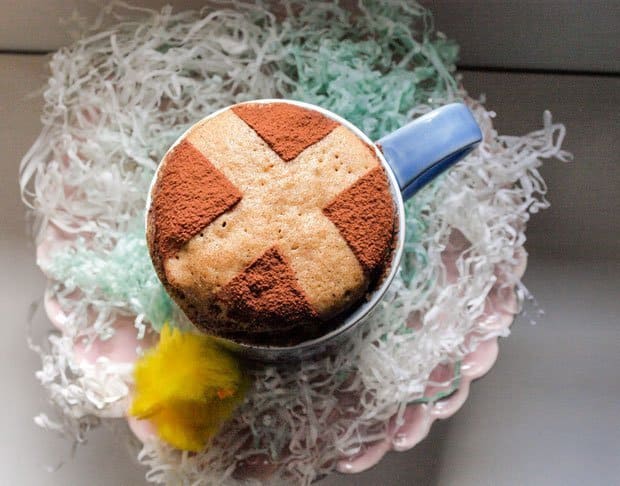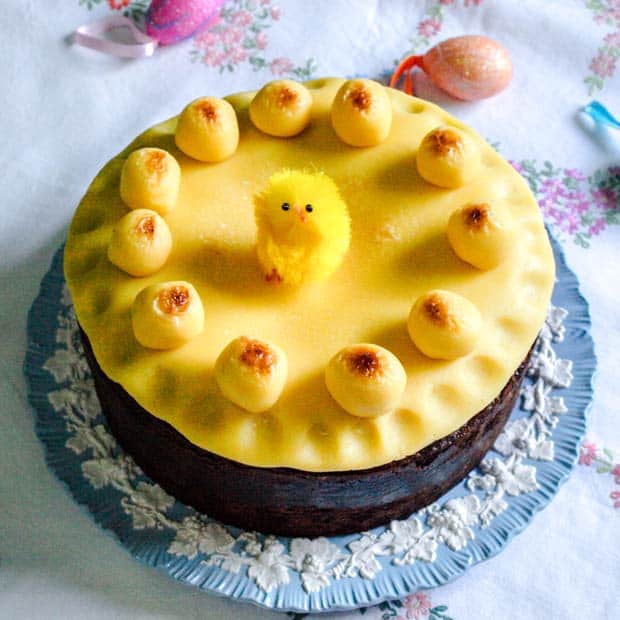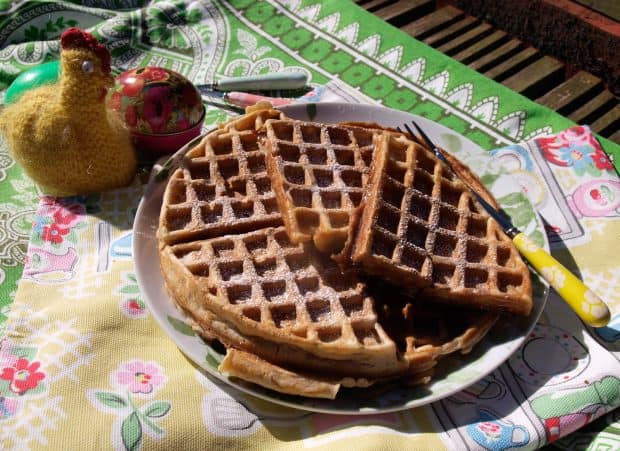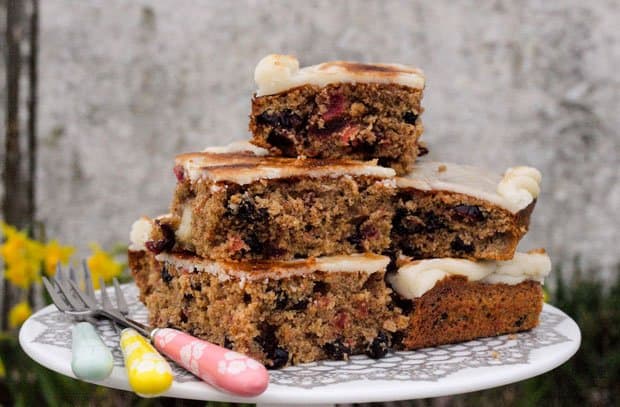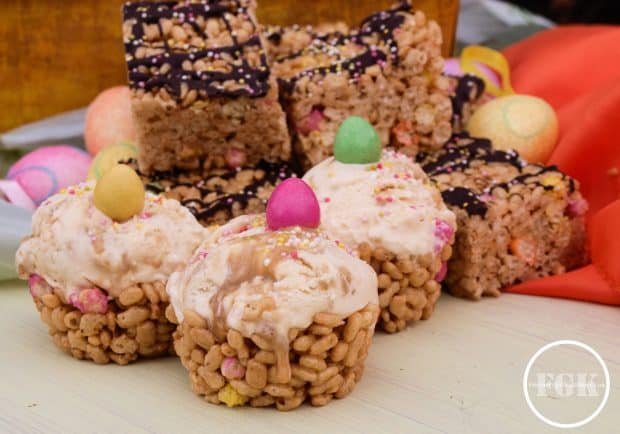 Fiesta Rice Krunchie Bars and Edible Ice Cream Bowls
More Easter Cookie Recipes
Easy Creme Egg Cookies – Fab Food 4 All
Carrot Cake Cookies – The Baking Explorer
How to make Easter Biscuits – My Boys Club
Easter Cookie Bar -Cooking with my Kids
Easter Chocolate Shortbread Biscuits with Mini Eggs – Jo's Kitchen Larder
Traditional Easter Biscuits (Gluten Free) – Gluterama
Almond Easter Thumbprint Cookies – Tin & Thyme
Easter Baking Spring Biscuits – Thinly Spread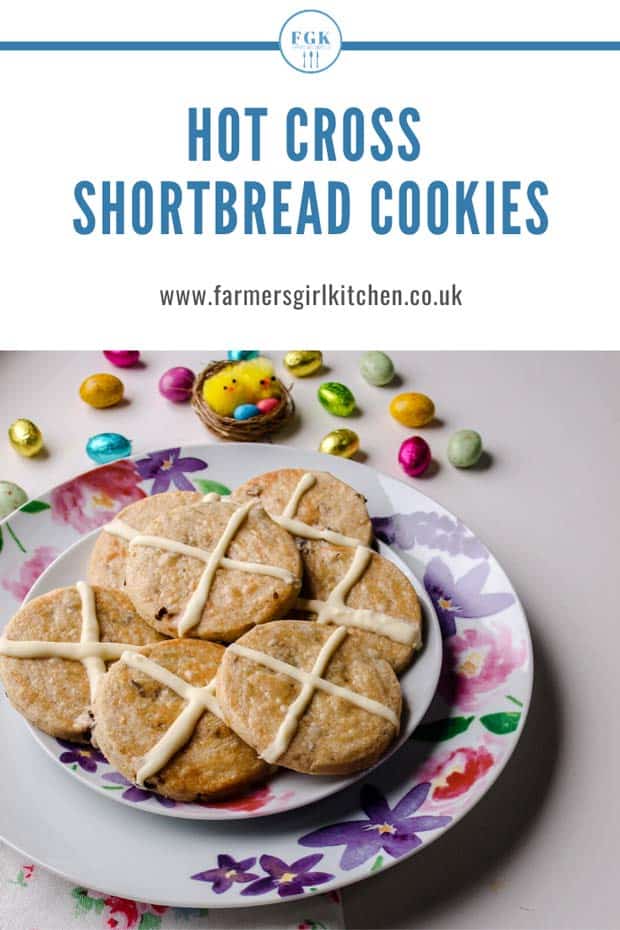 PIN FOR LATER
Let's get social
Stay in touch with everything that's going on at Farmersgirl Kitchen.
Facebook Pinterest Instagram Twitter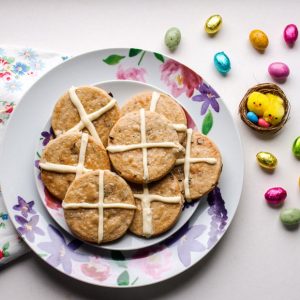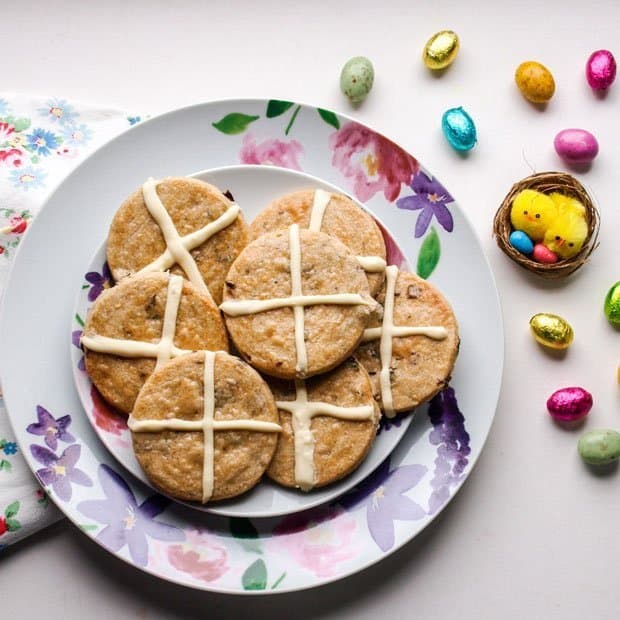 Hot Cross Shortbread Cookies
Rich butter Shortbread cookies will all the spicy flavours of a traditional Easter Hot Cross Bun.
Ingredients
300

g

10oz plain flour

100

g

4oz caster sugar

200

g

8oz butter

30

g

raisins

finely chopped

30

g

mixed peel

finely chopped

2

tsp

mixed spice
For the glaze
1

egg white

lightly beaten (optional)

1

tbsp

caster sugar

optional
For the crosses
80

g

white chocolate buttons
Instructions
Sift the flour into a bowl, add the sugar and mixed spice and mix well together.

Work in the butter with your fingertips - keep it in one piece and gradually work in the dry ingredients.

When the mixture starts to come together, add the finely chopped raisins and mixed peel.

Knead the chopped raisins and mixed peel into the mixture until the dough comes together in a ball.

Pat down on a work surface and use a rolling pin to roll the dough to about 1/2 cm (1/8 in) and cut out with a plain edged (8 cm) cookie cutter.

As you cut the cookies place them on a baking sheet lined with baking parchment or a mat.

Gather together the remaining dough and cut more cookies, repeating until all the dough has been used and all the cookies are on a baking sheet. I used two baking sheets.
To glaze
Mix together the lightly beaten egg white with a tablespoon of caster sugar, then brush the tops of the cookies with this glaze.

Bake in the oven at 170C 8-10 minutes until firm and pale golden brown. Lift onto a cooling tray with a spatula.
To make the crosses
Once the cookies are completely cool. Place the white chocolate buttons into a disposable piping bag, clip the end of the bag, The place the closed end into a bowl of boiled water and leave until the chocolate has melted.

Carefully snip the end of the piping bag and pipe a cross on top of each cookie. This is quite tricky as the chocolate wants to run. As an alternative, you could use ready-made royal icing to pipe the crosses.

Leave until the chocolate is firm, then pack carefully into an airtight container until ready to serve.
Notes
These Hot Cross Shortbread Cookies have soft and melting buttery texture rather than the crisp snap of a plain shortbread cookie, a nice change and a great flavour.
Nutrition
Calories:
225
kcal
Carbohydrates:
27
g
Protein:
3
g
Fat:
12
g
Saturated Fat:
7
g
Cholesterol:
28
mg
Sodium:
100
mg
Potassium:
56
mg
Fiber:
1
g
Sugar:
12
g
Vitamin A:
312
IU
Vitamin C:
1
mg
Calcium:
17
mg
Iron:
1
mg
Don't Miss My Latest Recipes
CLICK TO SUBSCRIBE NOW to join my newsletter list & receive a FREE 'How To Adapt Recipes For Your Slow Cooker' printable!
I'm entering the Hot Cross Shortbread Cookies in Bake of the Week hosted at
Casa Costello
with
Mummy Mishaps
I'm also adding this Easter cookie recipe to Cook Blog Share, where bloggers share their delicious recipes.