Gooseberry Jam is a very easy jam to make and it tastes absolutely delicious. You only need three ingredients, gooseberries, sugar, and water. It's perfect to serve at breakfast on toast or croissants or enjoy it on scones and pancakes for afternoon tea. A pot of Gooseberry Jam also makes a very welcome gift.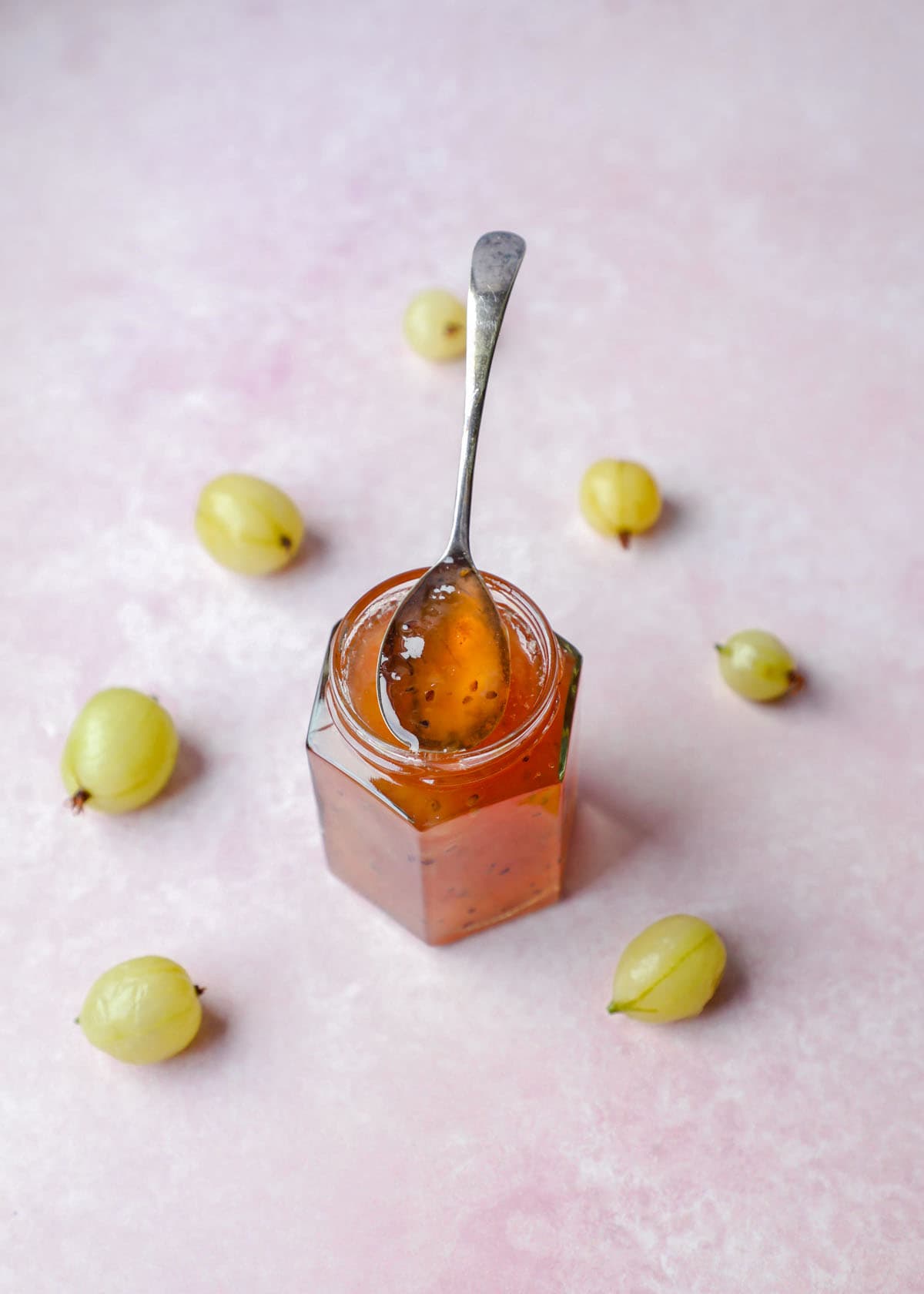 Magical Gooseberry Jam
I think that Gooseberry Jam is a rather magical jam. Fresh gooseberries can be quite tart to eat, but sharp-tasting fruits definitely make the best jam. I love how the green gooseberries, sugar, and water turn into pots of delicious glowing amber-pink sweet spread.
What are Gooseberries?
Gooseberries are tart, edible berries that are about the size of a grape. They are the fruits of a flowering shrub that is part of the same family as blackcurrants.
Gooseberries are easy to pick, although you do have to watch out for the thorns. There are many different varieties, some sharper and some sweeter. Ripe reddish berries can be eaten raw, but the very firm green gooseberries are as sour as a lemon!
In this recipe I suggest different quantities of water and sugar for ripe and unripe berries. because the difference is really quite marked.

Are jam and jelly the same thing?
Yes and no! Yes, they are both preserves but in the UK whole fruit preserves are called jam. And strained preserves with no pieces of fruit in them are called jelly, like Blackberry & Apple Jelly. In the US all preserves are called jelly whether they have pieces of fruit in them or not.
What does Gooseberry Jam taste like?
I think it has a light fresh taste, sweet enough but with a little zing. While I love the intense sweetness of strawberry or apricot jam, the slight sharpness of the gooseberries cuts through the sugar to bring that fresh taste. If I compare it to a wine, then Gooseberry jam is more of a fresh sauvignon blanc or pinot grigio sort of jam.
Where can I find fresh gooseberries to make Gooseberry Jam?
Buy fresh gooseberries at farmers' markets and sometimes you will see them in the supermarket during May and June. However, they are a bit of a niche crop and many supermarkets don't stock them. If you have space in your garden or allotment, then gooseberries are easy to grow and two bushes will provide you with enough fruit to make a few jars of jam.
Are gooseberries banned in the US?
There isn't a straightforward answer to this question. However, in 1911 all varieties of Ribes including currants and gooseberries were made illegal to grow in the US because they were carriers of white pine blister rust which could infect white pine trees.
So currants and gooseberries weren't grown at all in the US until he federal ban was lifted in 1966. This means that the regulations now vary from state to state.

Can I freeze gooseberries?
Yes, they freeze really well. Lay them in a single layer on a tray and freeze until solid, and then store in a freezerproof container.
How long can I keep frozen gooseberries?
If properly frozen and well stored, you can keep them for up to 12 months. I have used frozen fruit for jam that has been in the freezer for longer than that.
Can I make Gooseberry Jam with frozen gooseberries?
I usually use frozen gooseberries to make my gooseberry jam. I find it very convenient to use the frozen berries, and I can choose when I want to make a few jars of jam.
How much Gooseberry Jam will the recipe make?
The recipe below will make two 450g jars of gooseberry jam, this may vary slightly depending on how ripe the fruit is.
Do I need to water bath the jam?
I have been making jam for over 40 years and I have never needed to water bath my jam. The high sugar content of UK jams and jellies means that they will keep well without the water bath treatment. In some countries all preserves are water bathed, however this is not necessary with this recipe.
Can I double the quantities to make more gooseberry jam?
Yes, I often double the quantities of this recipe to make a larger batch of jam. Double quantities work perfectly, but I would not recommend increasing any further as it is more difficult to get a large batch of jam to set.
How long can I keep gooseberry jam?
Gooseberry Jam will keep well for up to 12 months if the jars are sterilsed and it is kept in a cool, dark place. I often keep my jam for longer than this and as long as it is sealed and clean on top, it will be okay to eat.
How do I sterilise my jam jars?
Wash and rinse the glass jars and metal lids
Put the wet glass jars on a baking tray upside down.
Place in the oven at 150C before you start to make the jam. The water creates steam which helps to sterilise the jars.
Pour boiling water from the kettle over the lids then drain and leave to dry on kitchen paper.
Take the jars out of the oven and fill them with the hot jam, then put on the lids.
When the jars have cooled check that the lids are tight and tighten further if needed.
What does a rolling boil look like?
I could try to describe a rolling boil but it is much easier to show you what it looks like. I made this video when I was making Fig and Lime Jam.
How do I know if my jam is set?
When you have boiled the jam for 15 minutes you can check if it will set (firm up) once cooled. To test for setting point you can use a jam thermometer, you can use the 'flake' test, but I have always used the wrinkle test.
What is the Wrinkle Test?
Put some saucers in the fridge before you start making the jam.
After your jam has been at a rolling boil for the necessary time, take the pan off the heat.
Put a teaspoon of the jam onto one of the cold saucers.
Place the saucer back in the fridge and leave for 5 minutes.
Remove the saucer and push your finger across the jam. If it wrinkles then it will set
Skim off any froth on top of your jam with a metal spoon and pot up your jam in sterilised jars.
How do I serve Gooseberry Jam?
Serve gooseberry jam with breakfast, elevenses or afternoon tea just as you would any other jam. I like it on bread, toast, croissants, scones and Scotch Pancakes.
I hope you enjoy making and eating Gooseberry Jam. It's really not difficult to make and the difference between store bought and homemade jams and jellies is really quite marked. Once you've successfully made Gooseberry Jam why not try some more of my Jam recipes?
More Jam Recipes from Farmersgirl Kitchen
More Jam & Jelly Recipes

PIN FOR LATER
I'm linking this recipe to Cook Blog Share the link up for great recipes from bloggers, this week hosted by Sew White
Originally published October 27, 2012