Do you remember Butterscotch Angel Delight?  Well, this Creamy Butterscotch Pudding is so much better than that, it is rich, creamy with a sweet caramel flavour, a really indulgent treat.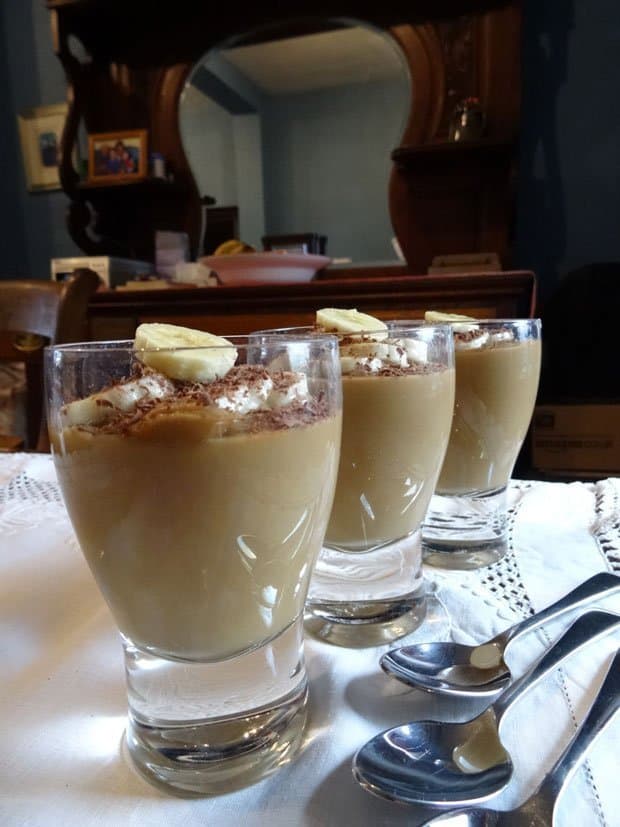 It comes from a beautiful book called Vanilla Table: The essence of exquisite cooking from the world's best chefs. Vanilla Table is curated by Natasha MacAller who has a passion for Vanilla and hopes to inspire home cooks, students and chefs to try this exotic but familiar ingredient in a wide range of dishes.  It includes recipes from Natasha and 33 other chefs from around the world including David Lebovitz, Anton Mosimann, Yotam Ottolenghi and Peggy Porchen.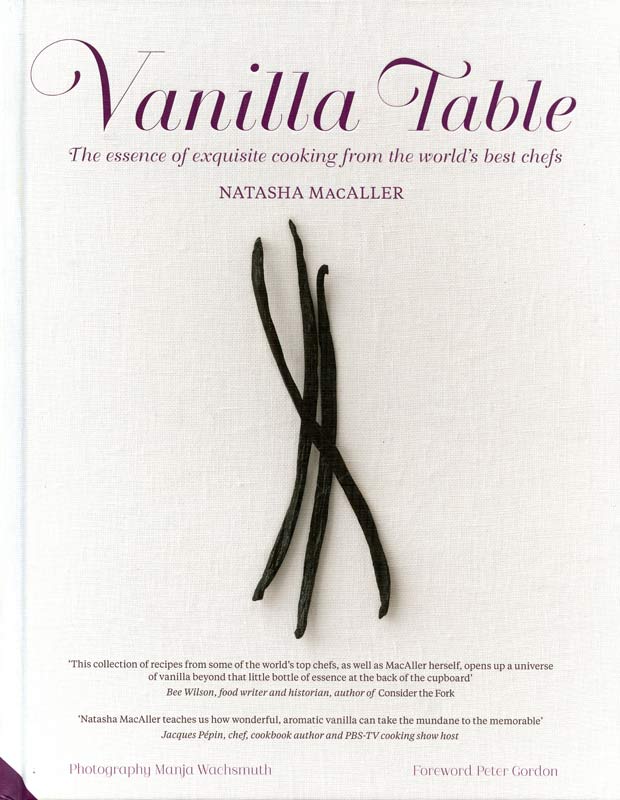 About the Author: NATASHA MACALLER is known worldwide as the "Dancing Chef". A former professional ballerina,
after thirty years of performing with companies such as New York's Joffrey Ballet, the Boston
Ballet and on the stages of Broadway, she decided to move on to what she considered another
performing art: cookery. She used her seasonal layoffs from ballet to become a professional cook
and eventually set up her own catering business, Dancing Chef Catering, which served TV, theatre,
film and food industry folks. In 1996, after graduating number one in her class from The Colorado
Culinary Institute, Natasha went from strength to strength, and she now holds her own culinary
classes and has become an international chef consultant.
About the Photographer: MANJA WACHSMUTH is a Danish photographer who, while currently residing in New Zealand, comes out of the Scandinavian photographic tradition. Specialising in food photography, she has her own boutique photographic studio and works with some of New Zealand's favourite magazines and chefs, as well as with clients in Denmark, UK and Australia.
Here are some of the recipes that caught my eye: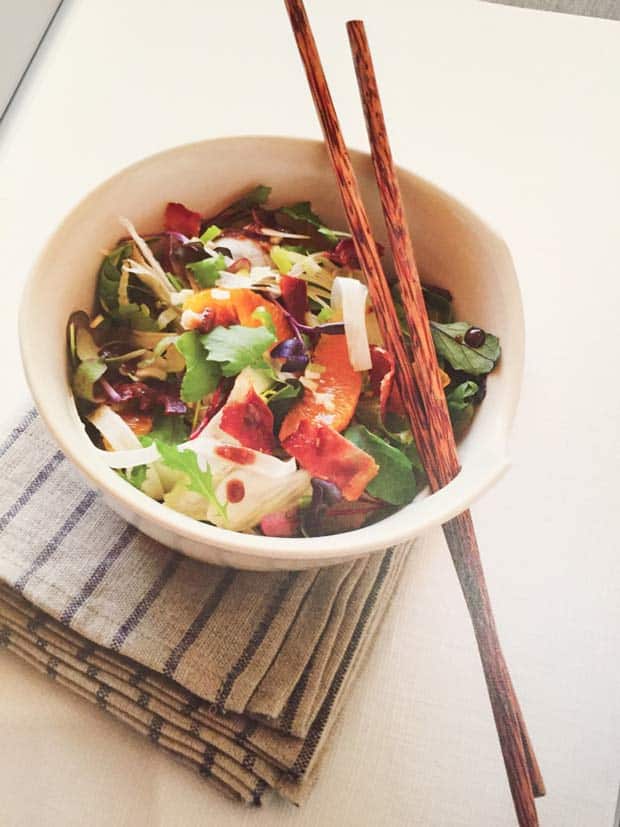 Starters: Shaved Fennel and KeriKeri Orange Salad, Caramelised Orange Salad, Pate au Poulet with Tipsy Cherries and Heirloom Tomato Bisque.
Main Plates: Slow Roasted Oxtail Pot Pies, Vanilla Lacquer Duck Leg, Seared Scallops with Vanilla Parsnip Puree, Chicken Stroganoff with Chanterelles and Vanilla.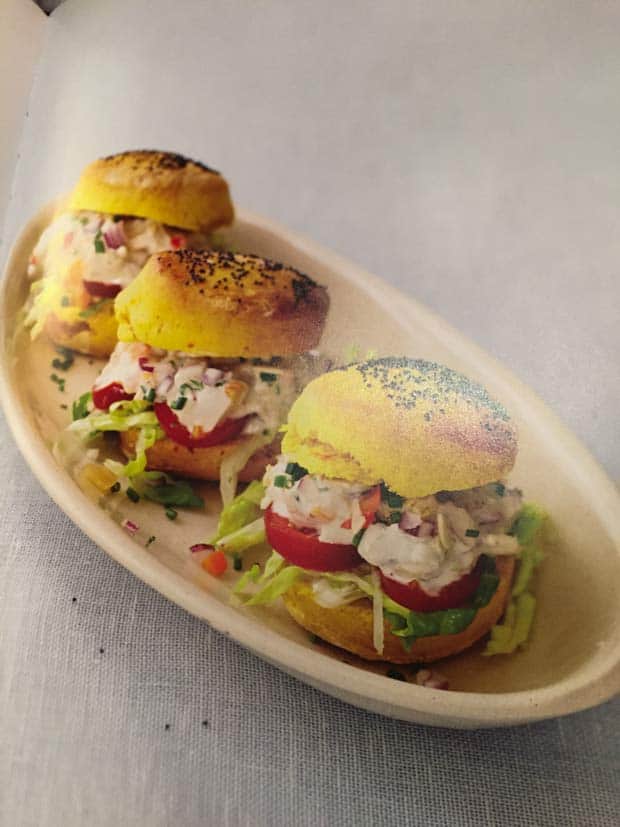 Blue Plates* and Brunch Plates: Coronation Chicken on Squashy Poppyseed Buns, Crunchy Cornflake Fried Chicken and Apricot, Almond and Vanilla Clafoutis.
*Blue plates are a US invention, literally, a plate made up of three compartments – one each for main, side and dessert. 


Sharing Plates:  Island Crab cakes with vanilla-grapefruit remoulade,  The Tonga Trifle, Devilish Eggs with vanilla candied bacon and Saturn Peach, Onion and Blue Cheese Pie.
Dessert Plates: Vanilla Spiced Pineapple Roast, Quince Tarte Tatin, Raspberry Meringue Martinis, Creamy Butterscotch Pudding with Tash's English Toffee and The Anna Pavlova.
Cake Plates: Pure Vanilla Layer Cake, Caramelised Pineapple Carrot Cake, Two-Tone Chocolate Malt Cake and Bittersweet Chocolate Torte.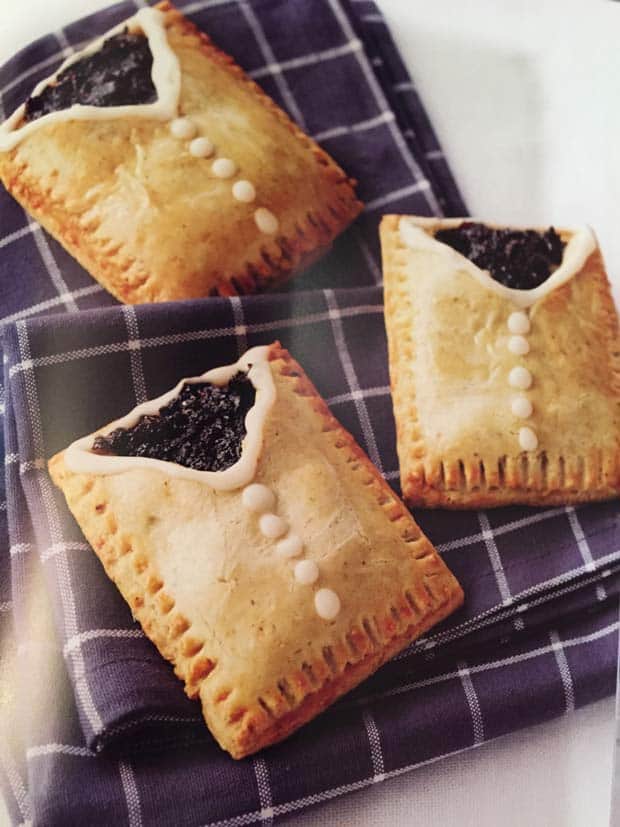 The Cookie Plate: Chocolate Sticky Bits, Espresso Brownie Bites, Gold Ingots, Cranberry Tweed Cardigans and Black Pepper Chai Truffles.
Bevvies and Bar Snacks: Toasty Coconut Chips and Nuts, Vanilla Passion Martini, Pink Ginger Zinger, Carrot Vanilla Gougeres.
Vanilla Pantry: Vanilla Sugar, Vanilla Salt Flakes, Vanilla Extract, Vanilla Aioli, Raspberry Vanilla Vinegar and Scooter Pastry Cases/Pie Shells.
Vanilla Plate concludes with Notes, Weights and Measures, All Sorts of Sources and biographies of the Contributing Chefs.
Who is it for?
Vanilla Table is not a beginners book, it is a book for confident cooks who would like to produce restaurant-style dishes.
Pros:
Each recipe is well laid out with a paragraph about the story behind the recipe, a table showing the ingredients and clear instructions.  The photographs by Manja Wachsmuth are outstanding and help you understand how the dish should look as well as tempting your taste buds.
Cons:
Some of the recipes are quite complex or include ingredients that are difficult to source although the majority seem fairly straightforward.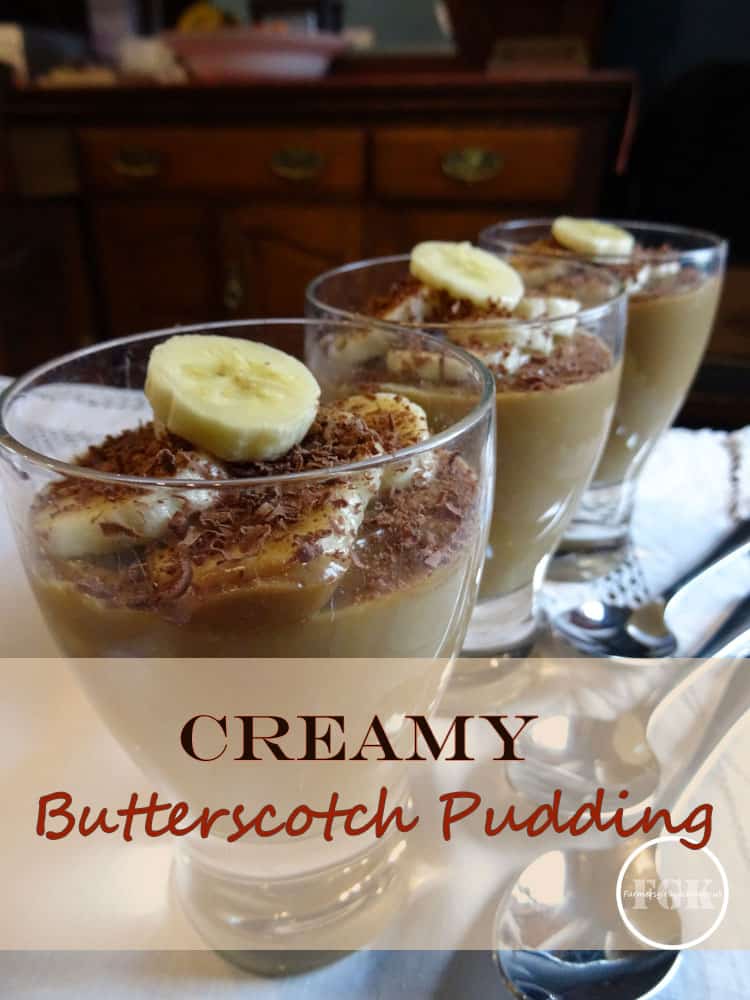 I chose to make the Creamy Butterscotch Pudding which is essentially a caramel custard made with dark brown sugar, cream and butter.  I am not entirely sure why the egg yolks were added when the pudding also contains cornflour to thicken it, they seemed a little surplus to requirements to me.  Whether you add the eggs or not, Creamy Butterscotch Pudding is a gorgeous dessert and would be perfect for a dinner party or other event as you can make it beforehand and keep it in the fridge until required.  The taste is well worth the many pots and bowls that it requires to make it.
Recipe for Creamy Butterscotch Pudding

Creamy Butterscotch Pudding
A creamy and delicious custard type pudding with the comforting flavour of butterscotch, perfect on its own or with bananas.
Ingredients
475

ml

whipping cream

70

g

unsalted butter

softened

225

g

dark brown sugar

45

g

cornflour/cornstarch

1/4

tsp

fine sea salt

480

ml

milk

3

egg yolks

lightly beaten

15

ml

pure vanilla extract

1

tsp

rum

optional

1 1/2

tsp

apple cider vinegar
Instructions
In a small saucepan, heat 300 ml cream until warm (or microwave in a small jug until warmed). Remove from heat and set aside.

Combine butter and brown sugar in a medium stainless steel saucepan over low heat.  Simmer 2 minutes, stirring with a spatula until bubbly. Add warmed cream and stir until smooth.

Combine cornflour and salt in a small bowl.  Slowly whisk in 1/4 of the cold milk until cornflour dissolves.  Add this mixture to the pan with remaining milk.  Bring to a simmer over medium heat, stirring constantly to prevent burning.  Stir about 2 minutes until you see steam rise from the surface and the pudding thickens.  Slowly stream in egg yolks, whisking constantly.

Switch to spatula and continue to gently stir until bubbles form on top of pudding.

Remove from heat and stir in 2 1/2 tsp vanilla, rum (if using) and the vinegar.  Quickly strain into a jug , to make pouring easier, and then immediately pour into 6 individual serving dishes or glasses.

Tightly cover each one with a piece of cling-film to keep a skin from forming.  Chill 3 hours or until softly set.  Can be made a day in advance.

To serve whip remaining cream with 1/2 tsp vanilla until soft peaks form.  Place a dollop of the whipped cream on top of each pudding.  Garnish with a toffee shard or serve with sliced bananas for that retro childhood pudding experience!
Nutrition
Calories:
615
kcal
Carbohydrates:
50
g
Protein:
5
g
Fat:
43
g
Saturated Fat:
26
g
Cholesterol:
239
mg
Sodium:
178
mg
Potassium:
224
mg
Sugar:
40
g
Vitamin A:
1715
IU
Vitamin C:
0.5
mg
Calcium:
187
mg
Iron:
0.5
mg
Don't Miss My Latest Recipes
CLICK TO SUBSCRIBE NOW to join my newsletter list & receive a FREE 'How To Adapt Recipes For Your Slow Cooker' printable!
Share by Email
More Creamy Desserts from Farmersgirl Kitchen
Easy Blackberry and Apple Trifle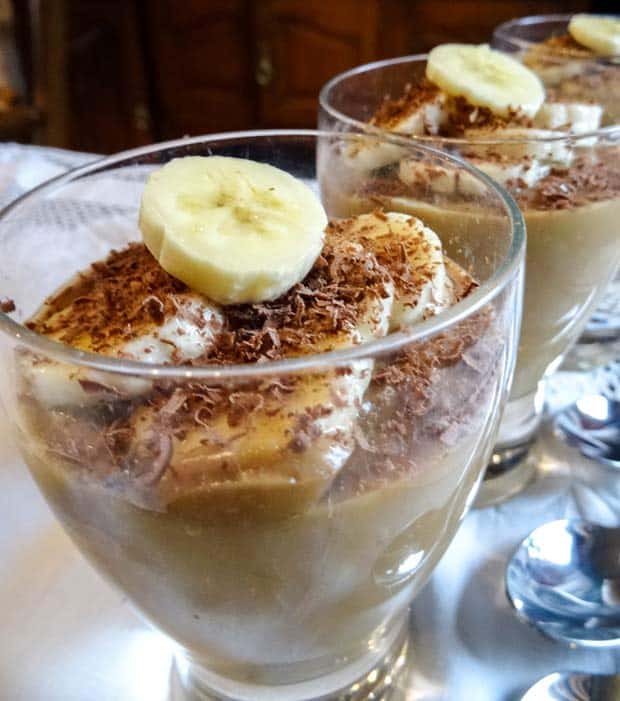 As you can see I didn't serve Creamy Butterscotch Pudding with whipped cream but topped with thin slices of banana and finely grated chocolate.  Banana and butterscotch is a great combination and gave a different texture.
Vanilla Table by Natasha MacAller
Published by Jacqui Small in March 2015
RRP £25
I have one copy of Vanilla Table to giveaway, follow the instructions on the Rafflecopter to enter (UK/EU only) GOOD LUCK!
CLOSED