Treacle Oat Cookies are crisp and delicious cookies made with oats, coconut and the rich taste of treacle (molasses). They are such a good biscuit, and are easy to make and I would urge you to give them a try.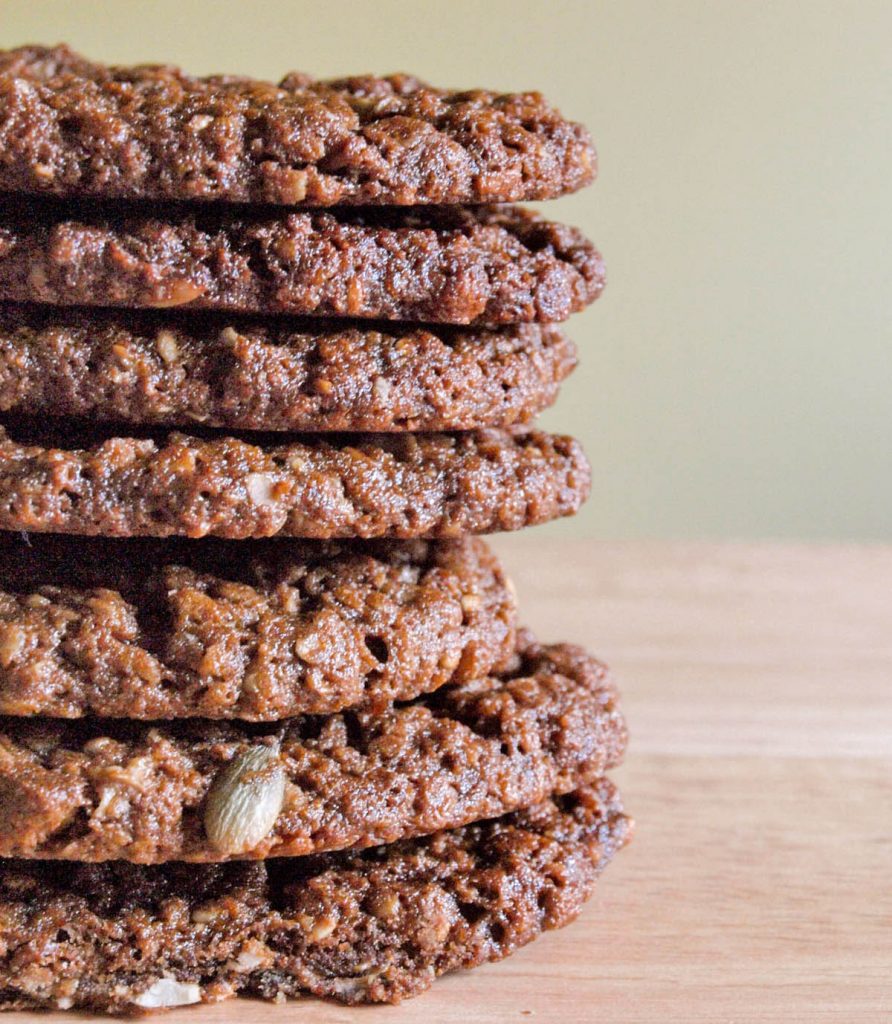 Homemade cookies and biscuits are always so much nicer than the ones you buy in the supermarket and you know exactly what has gone into them.
What is Treacle?
Treacle is a dark thick syrup and is a by product of the sugar refining process. Molasses is similar to treacle and can also be used in this recipe.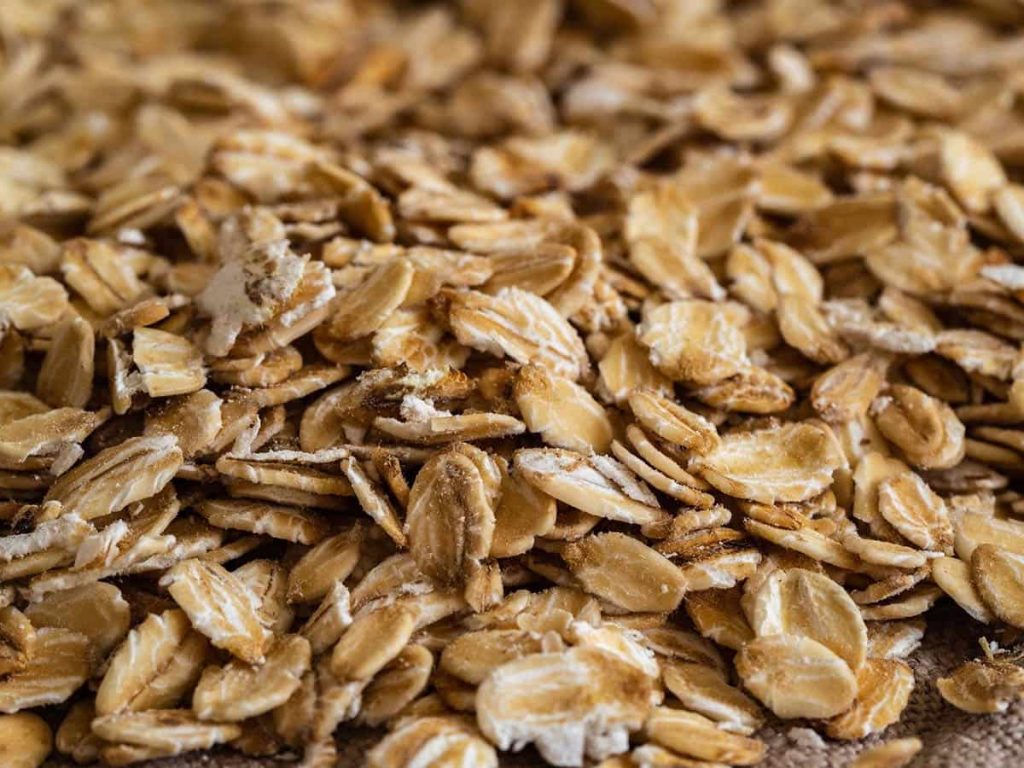 What kind of oats should I use?
Use rolled oats for this recipe, these are easily available and can be used in different bakes as well as to make a warming bowl of porridge (oatmeal).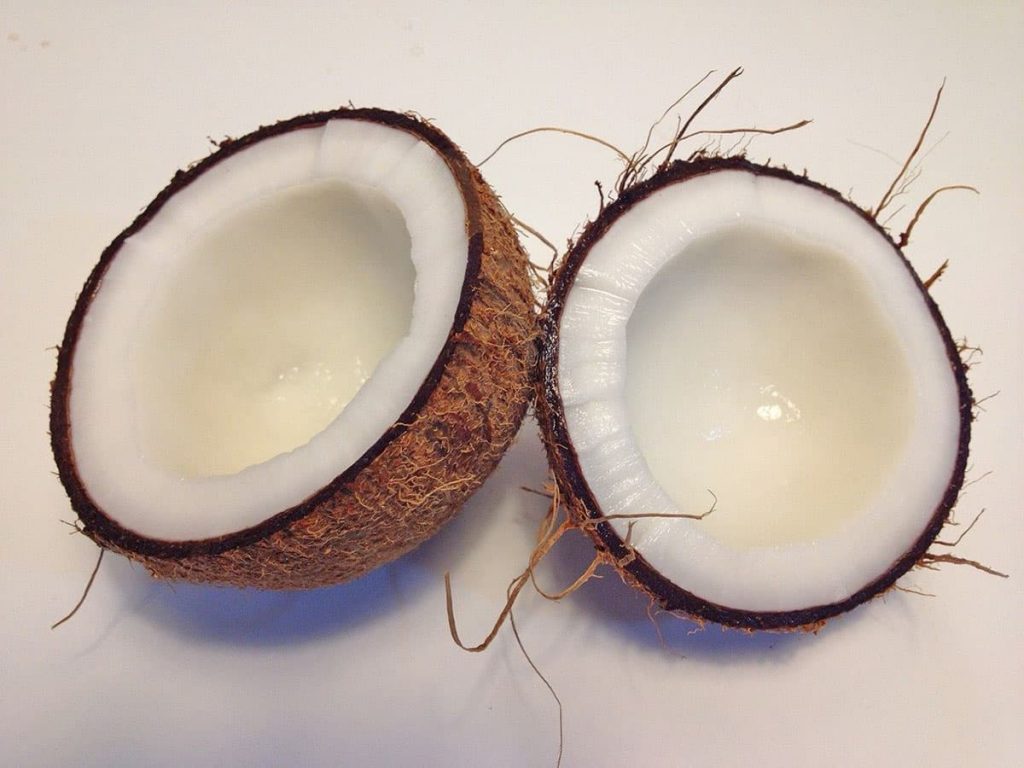 What kind of coconut should I use?
Use finely shreded dessicated coconut. The larger dried coconut flakes are not suitable for these cookies.
How to make Treacle Oat Cookies
These Treacle Oat Cookies are really easy to make and a great way to fill up your cookie jar with a homemade treat.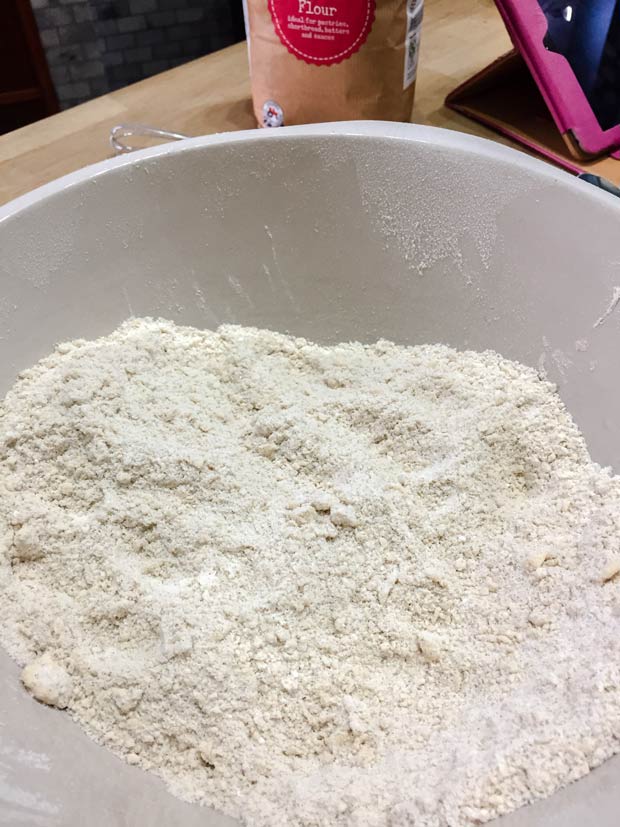 Mix the dry ingredients
Combine the flour with the oats and coconut in a bowl.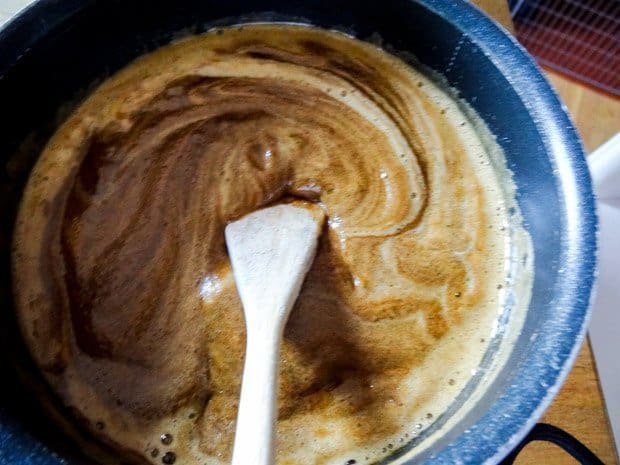 Melt the butter and sugars
Put butter, sugar, and treacle into a saucepan
bring to the boil, stirring all the time.
Dissolve the bicarbonate of soda in milk
Add the bicarbonate of soda mix to the butter, sugar, and treacle mix. It puffs up like puff candy and looks like a stripey tiger!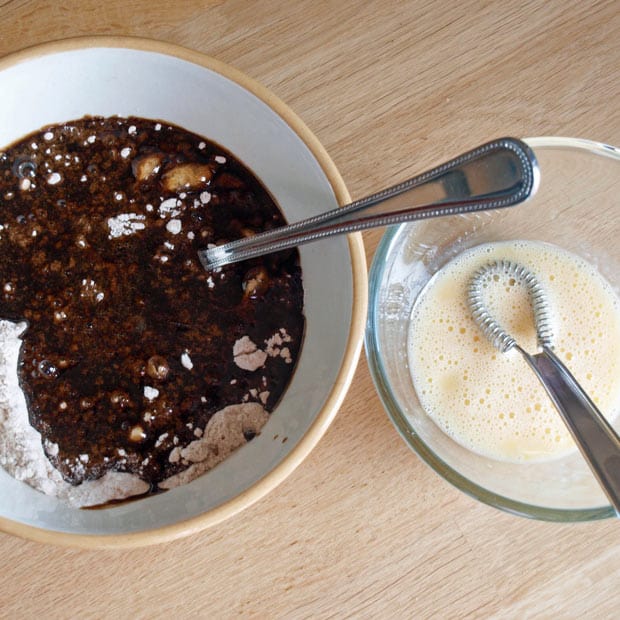 Combine the dry and wet ingredients
Pour hot treacle mixture on to dry ingredients. Mix thoroughly. Leave on one side for 30 minutes or until firm.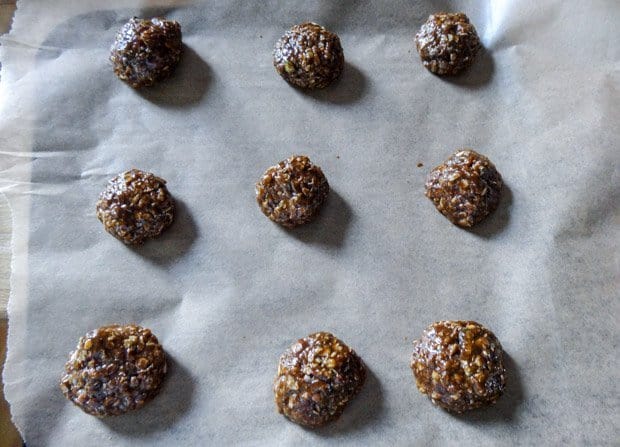 Make the cookies
Cover a baking sheet with baking parchment
Break off 18 small pieces of the mixture and roll into walnut-sized balls and place on the baking sheet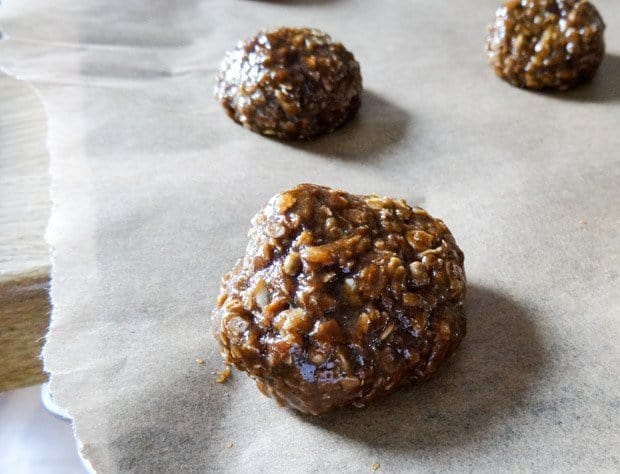 Leave lots of space around the cookies because they spread as they bake
Bake for 10-12 minutes
NOTE
Due to the high sugar content these cookies can burn easily if overbaked. As every oven is different check them frequently to make sur they don't catch.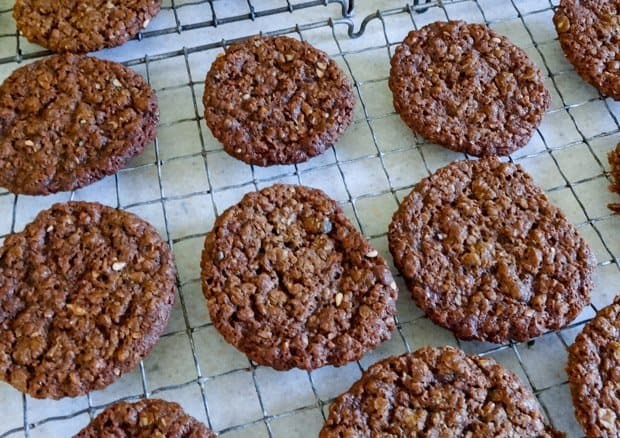 Cool the Cookies
Leave on the baking trays for 1-2 minutes
Remove to a cooling rack
How do you store the Treacle Oat Cookies?
Store the cookies in an airtight container such as a biscuit tin or a plastic box with an airtight lid.
How long can you store the cookies?
Treacle Oat Cookies will keep in an airtight tin for up to 2 weeks. However, I very much doubt that you will be able to keep them as long as that because they are just too good.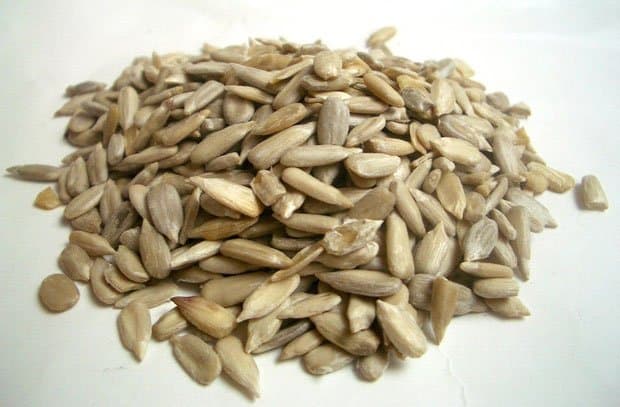 Alternative Ingredients
Replace the coconut with sunflower seeds and/or pumpkin seeds.
Replace the coconut with chopped hazelnuts or walnuts.
Use Golden Syrup in place of treacle/molasses.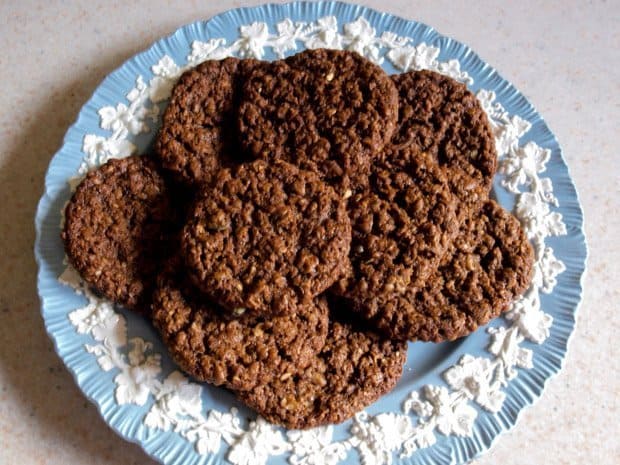 Treacle Oat Cookies are some of the nicest biscuits I have ever made they are crisp and sweet and perfect with a cup of tea or coffee.
More Cookie Recipes from Farmersgirl Kitchen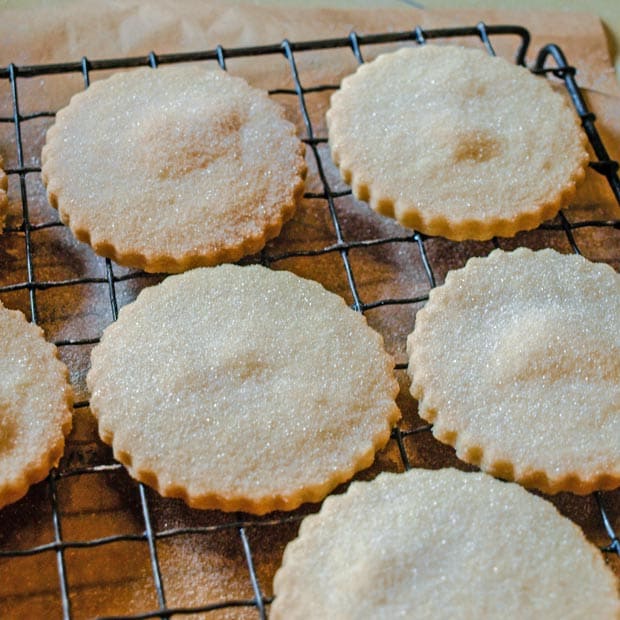 Scottish Shortbread Biscuits are a classic, indeed, iconic Scottish biscuit. These buttery, crumbly biscuits (cookies) need only three ingredients to produce the very best sweet treat you can enjoy.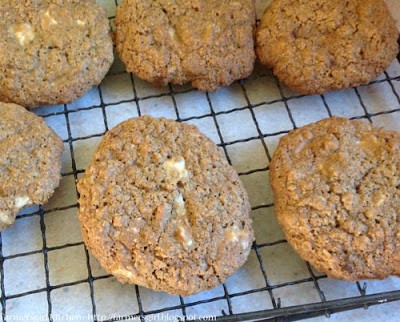 Salted Vanilla Oatmeal Cookies are the most delicious sweet and salty chewy oatmeal cookies. Make them with ingredients you will have in your larder.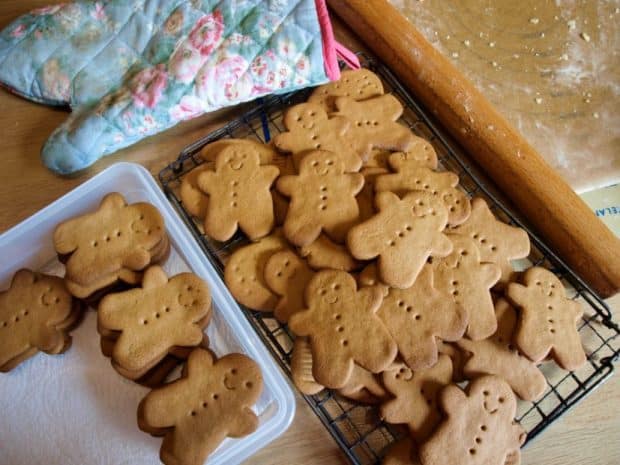 I've been baking Sweet Gingerbread Men for as long as I can remember. They are such a fun biscuit to make and all my family really love them.
More Cookie Recipes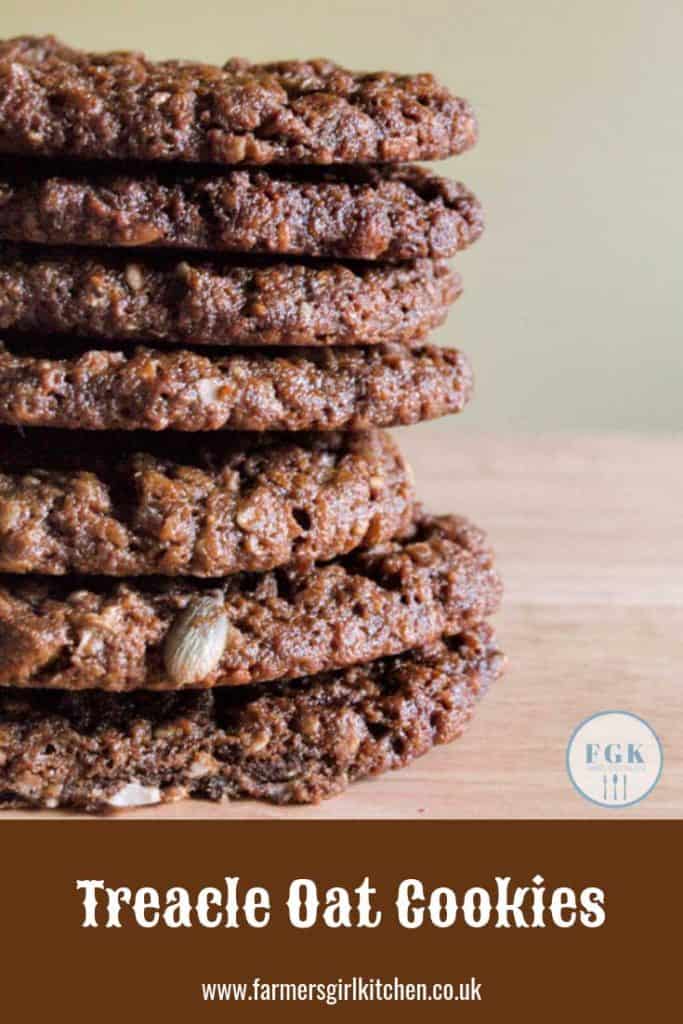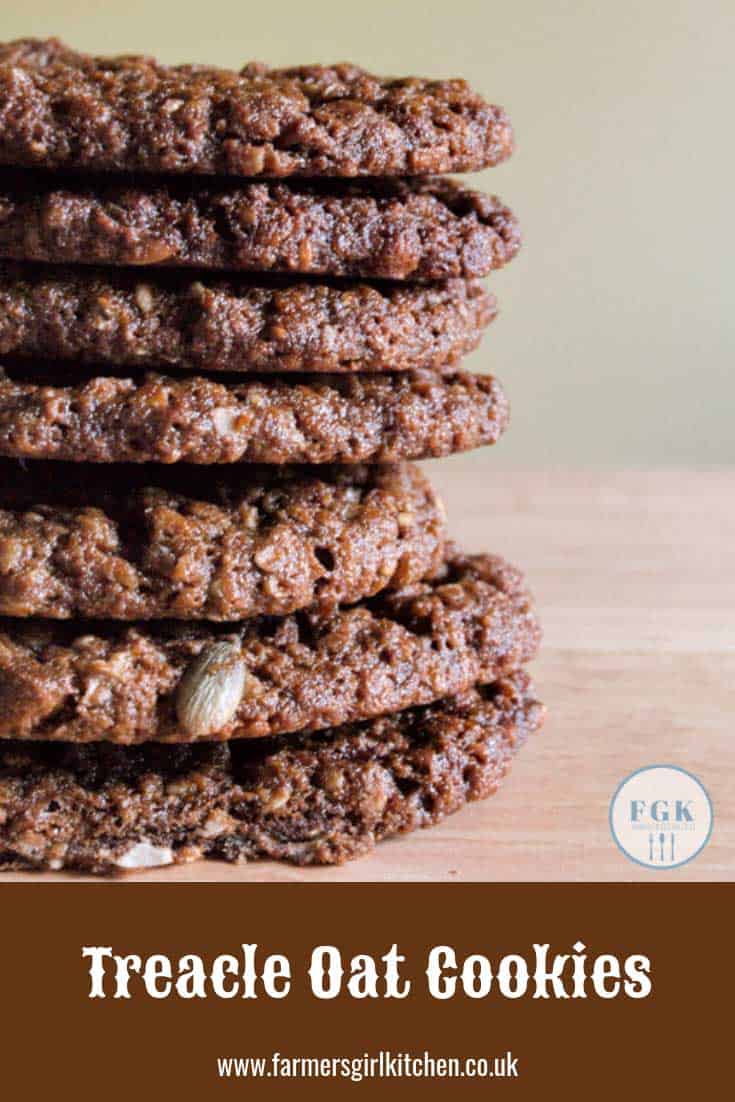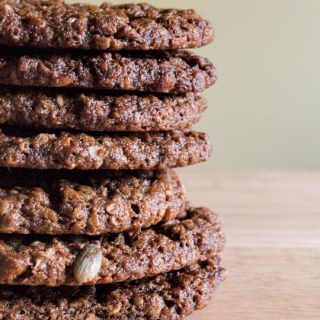 Treacle Oat Cookies
Crisp oat and coconut cookies with rich treacle for a full flavour.
Ingredients
100

g

self-raising flour

sifted

75

g

rolled oats

25

g

desiccated coconut

or mixed seeds (sunflower, sesame, pumpkin)

100

g

butter

125

g

caster sugar

2

tbsp

treacle

1

tsp

bicarbonate of soda

1

tbsp

milk
Instructions
Combine flour with oats and coconut

Put butter, sugar and treacle into saucepan, very slowly bring to the boil, stirring all the time.

Remove from heat. Add bicarbonate of soda dissolved in milk.

Pour hot mixture on to dry ingredients. Mix thoroughly. Leave on one side for 30 minutes or until firm.

Break off 18 pieces of mixture and roll into walnut sized balls.

Transfer to buttered baking trays (leaving room between to allow for spreading), Bake in centre of moderate oven 170C for 10 -12 minutes.

Leave on trays for 1 or 2 minutes before transferring to wire cooling rack. Store in an airtight tin when cold.
Notes
Do watch your oven temperature, as ovens can be slightly different and the high sugar content means that these cookies may burn around the edges if the oven is too hot.
Nutrition
Calories:
89
kcal
Carbohydrates:
11
g
Protein:
1
g
Fat:
4
g
Saturated Fat:
2
g
Cholesterol:
9
mg
Sodium:
83
mg
Potassium:
45
mg
Sugar:
6
g
Vitamin A:
105
IU
Calcium:
7
mg
Iron:
0.3
mg
Don't Miss My Latest Recipes
CLICK TO SUBSCRIBE NOW to join my newsletter list & receive a FREE 'How To Adapt Recipes For Your Slow Cooker' printable!
Share by Email