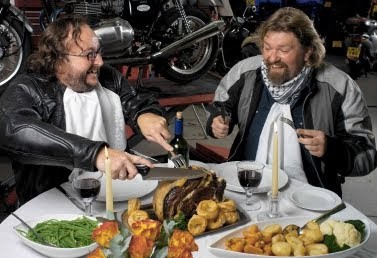 For those visiting from other countries, I should really explain that the Hairy Bikers are a couple men from the north of England who drive round the country (and other countries) on their motorbikes making and eating fabulous food. They are so genuine in their enthusiasm and like good down-to-earth food. Their latest series 'Hairy Bikers – Mums know best' takes you into the homes of everyday Mums who make lovely meals. It is one of the highlights of my viewing week (I know, how sad is that lol!).
Anyway, one of the recipes that caught my eye was this Sticky Date Cake which is basically a boiled fruit cake but it is made using a tin of condensed milk. Preparation is minimal but it takes a good 2 and a half hours to bake in a low oven.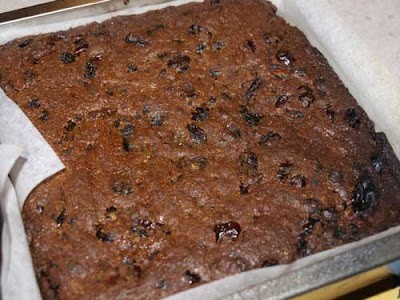 This is the baked cake still in it's tin.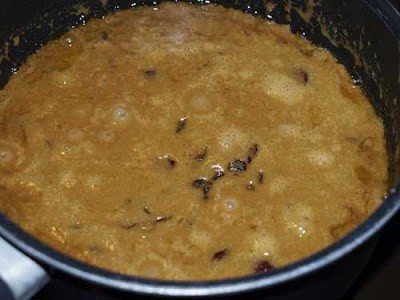 That is the unappetising goo that is the boiled mixture before you bake it (I didn't want to put that as the first photo in case you were put off!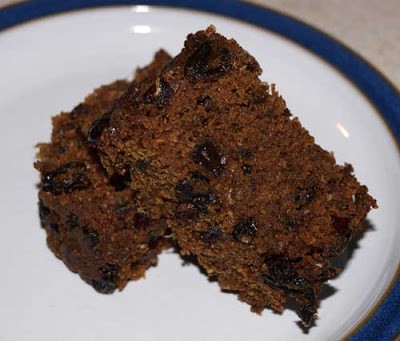 and here are a couple of slices of the delicious cake, so where is the recipe, I hear you ask? Click on this link Sticky Date Cake and you too can make a Hairy Biker special.
When I described this cake to friends on the crafting forum I visit. Angelnorth recognised it immediately and, as I have actually visited her in real life, she reminded me that she had served me a piece of this cake on my visit and it comes from a book called "Food from the Place Below".
It seems that the original link to this recipe has been removed, so I have linked to another copy of it which has been posted on the BBC Good Food website as "Sticky Date Cake". I have checked it against the original recipe in the Mum's Know Best cookbook and it is the same.