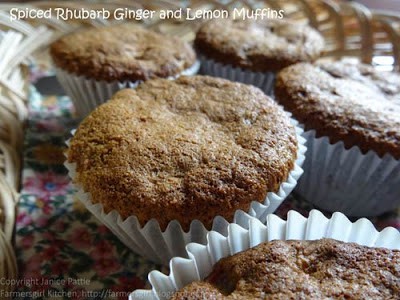 It's still Rhubarb Central here! This time I'm bringing you some Spiced Rhubarb and Lemon Muffins. This is a classic combination with the spices including cinnamon and little pieces of crystallised ginger. I decided to make these when I saw the Recipes for Life Challenge at Vanesther's Bangers and Mash blog. The rules of the Recipes for Life call for a trio of ingredients, and this month they are rhubarb with lemon and spice. A monthly winner will be picked and the best of the recipes will be included in a new charity cookbook to be published by SWALLOW later this year.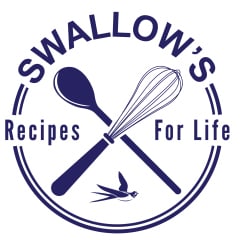 Spice Rhubarb and Lemon Muffins
150g light brown sugar
1 tbsp sunflower oil
1 egg
1 tsp cinnamon extract (or 1/2 tsp ground cinnamon)
100ml milk
100g finely diced rhubarb
175g wholemeal flour
1 tsp baking powder
1 tsp bicarb soda
1/2 tsp ground ginger
pinch salt
50g chopped ccrystallised ginger
grated zest of half a lemon
1. Preheat the oven to 200C.
2. Line you muffin tin with paper cases.
3. Place 125g of the sugar, oil, egg cinnamon extract and milk. Mix together and add the rhubarb.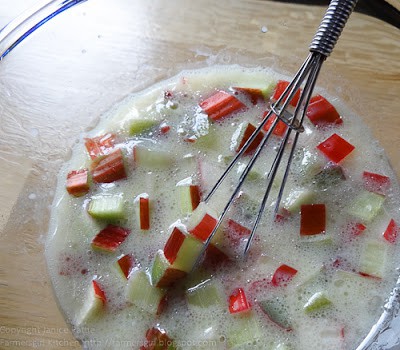 Wet ingredients
4. Sift your dry ingredients into the bowl, add the wet ingredients and stir until combined but don't over mix or your muffins will be heavy.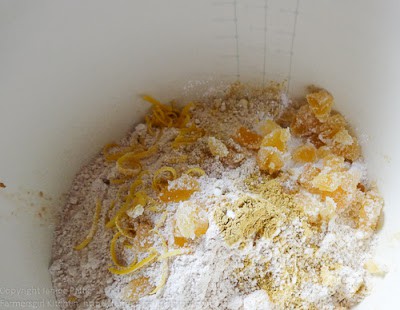 Dry ingredients
5. Spoon the mixture into the cases, filling about 3/4 full.
6. Sprinkle the tops of the muffins with the remaining sugar (I forgot to do this!)
7. Bake for 18-20 minutes.
8. Leave in the tin for 5 minutes before transferring to a wire rack.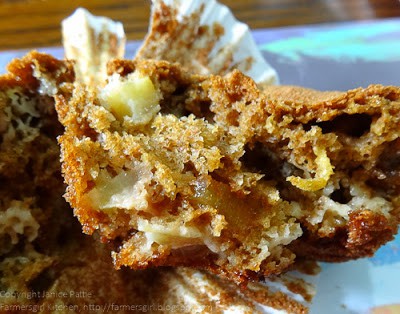 Cakey, fruity gingeryness!
What I really liked about these muffins was that they were really moist, the acidity of the rhubarb and the lemon took the edge off the sweetness and the combination of ginger and cinnamon worked really well with the fruit. Best of all were the little nuggets of intense crystallised ginger.