Last Minute Christmas Cake is a light and fruity cake that is easy to make. It does not need to mature like a traditional dark Christmas cake so you can make it and eat it as soon as it has cooled.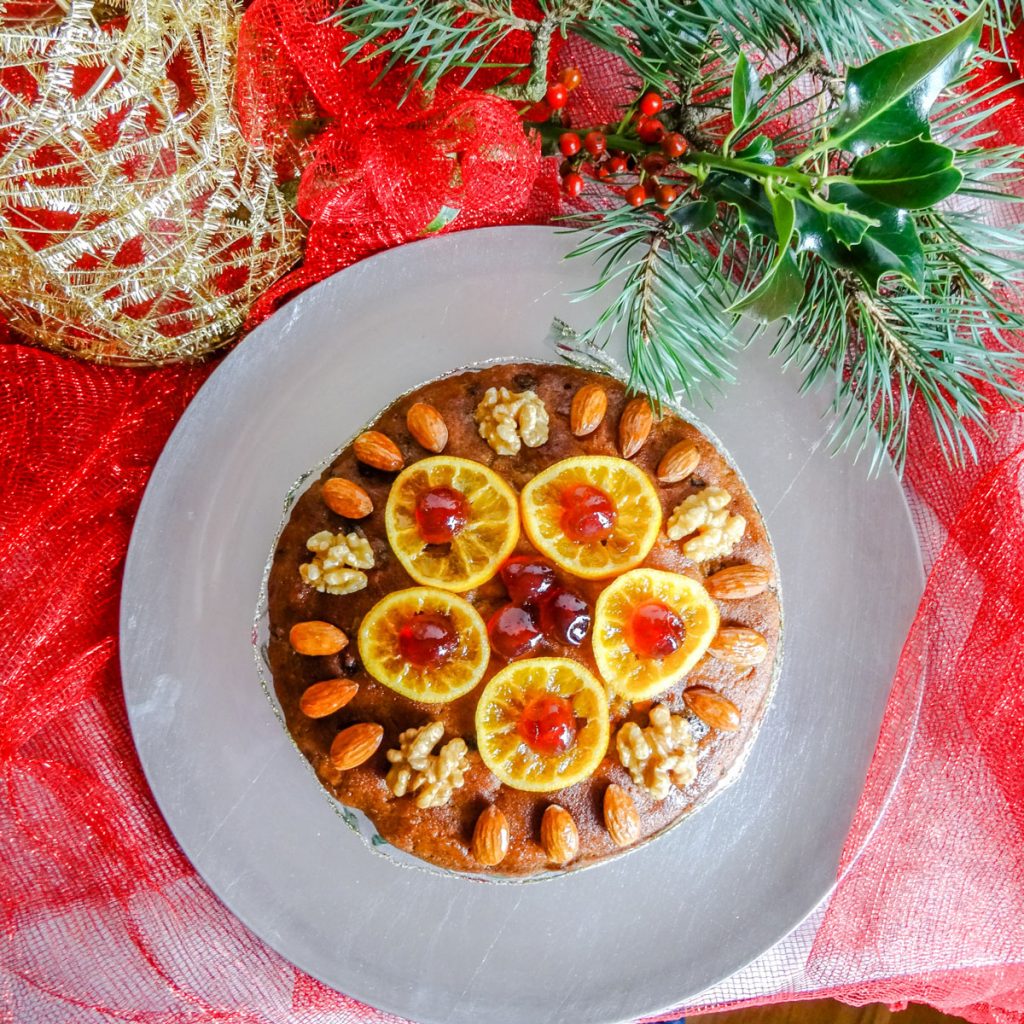 Traditional Christmas Fruit Cake
I usually make my Christmas Fruit Cake in late October. Then I wrap it up in parchment and foil and put it in a dark, cool cupboard to mature. I bring it out about a week before Christmas to cover it with marzipan and to ice (frost) and decorate it.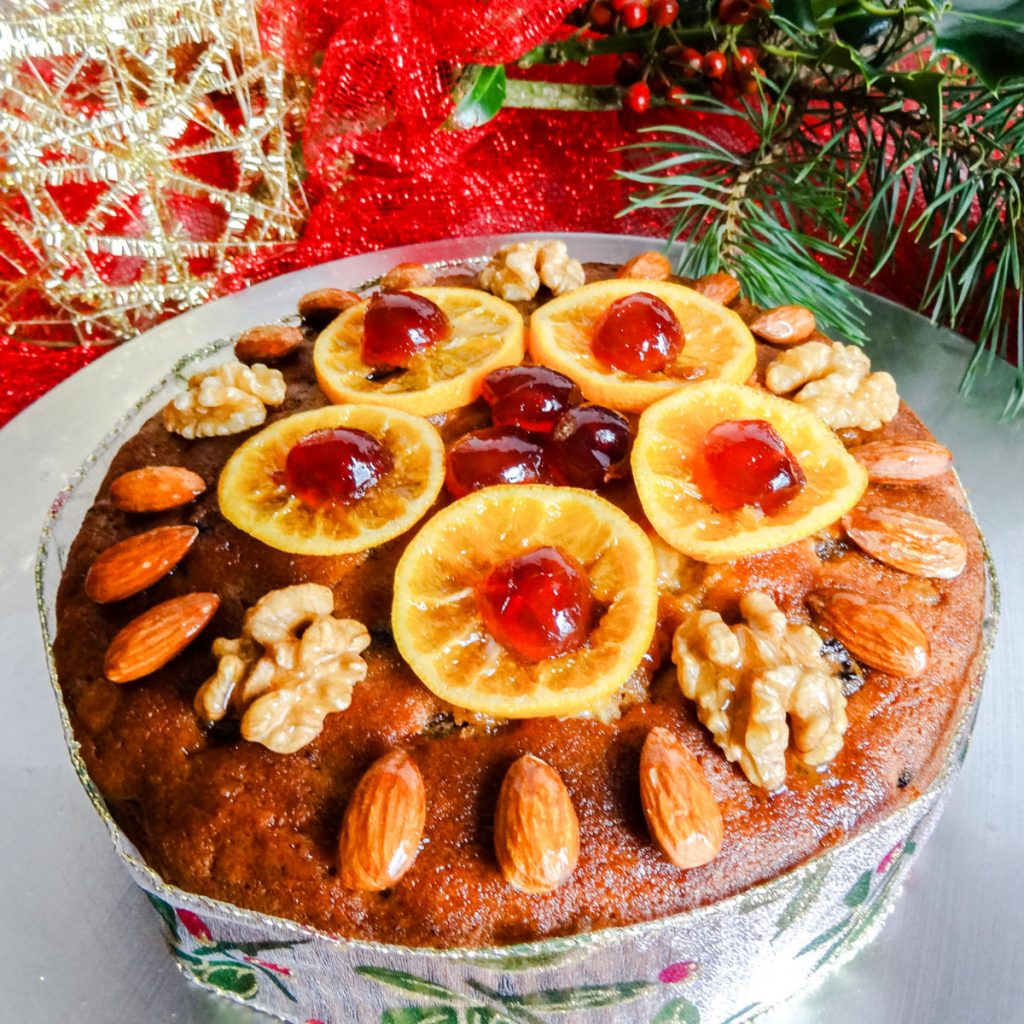 How can I decorate the Last Minute Christmas Cake?
For a last-minute decoration, I simply topped the cake with slices of clementine cooked in syrup, glace cherries, almonds, and walnut halves. Brush the fruit and nuts with more of the sugar syrup.
If you have a little more time you can cover the cake with marzipan and fondant icing. See below for some of my simple fondant icing designs.
Can I decorate the cake with Royal Icing?
You can but you need more time. Cover the cake in marzipan and then leave it for a week to dry out, then make the Royal Icing and cover the marzipan. If you don't let the marzipan dry out, the oils will 'bleed' through the Royal icing and spoil the look of your cake.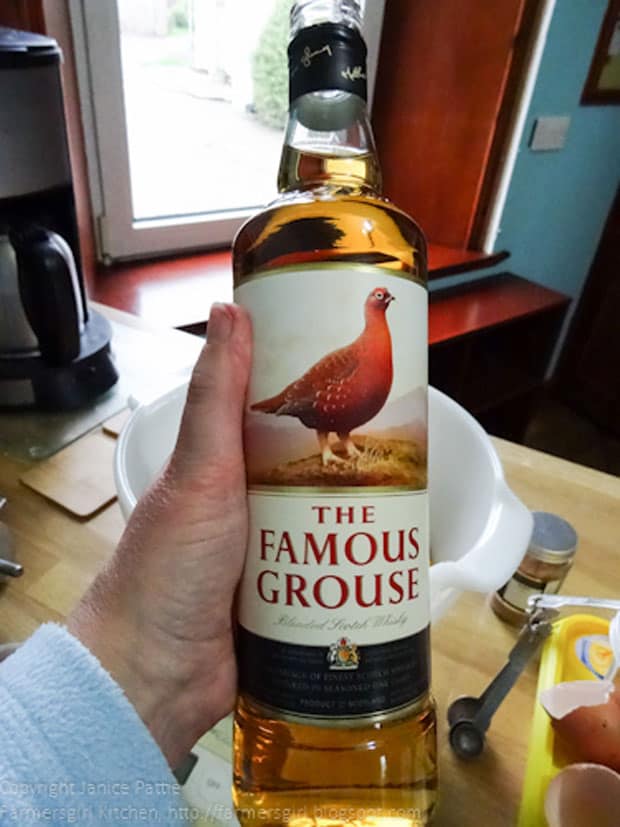 What kind of Whisky should I use in the Last Minute Christmas Cake?
I add a tablespoon of blended whisky to the cake mixture.I use a blended Scotch Whisky, but use any whisky. Or use brandy or rum or a fruit liqueur of your choice.
Do I have to use Whisky in this cake?
No, you can leave out the whisky. I use Orange Marmalade with Whisky to add a fresh and fruity flavour and adds the warmth of whisky to the Last Minute Christmas Cake.
For a no-alcohol version use ordinary orange marmalade and a tablespoon of orange juice in place of the whisky.
How to make Last Minute Christmas Cake 
This really is a simple cake to make there are very few steps to follow and it's even simpler if you have a stand mixer to do the work. However, you can make it in a bowl with a wooden spoon, just make sure the butter is soft.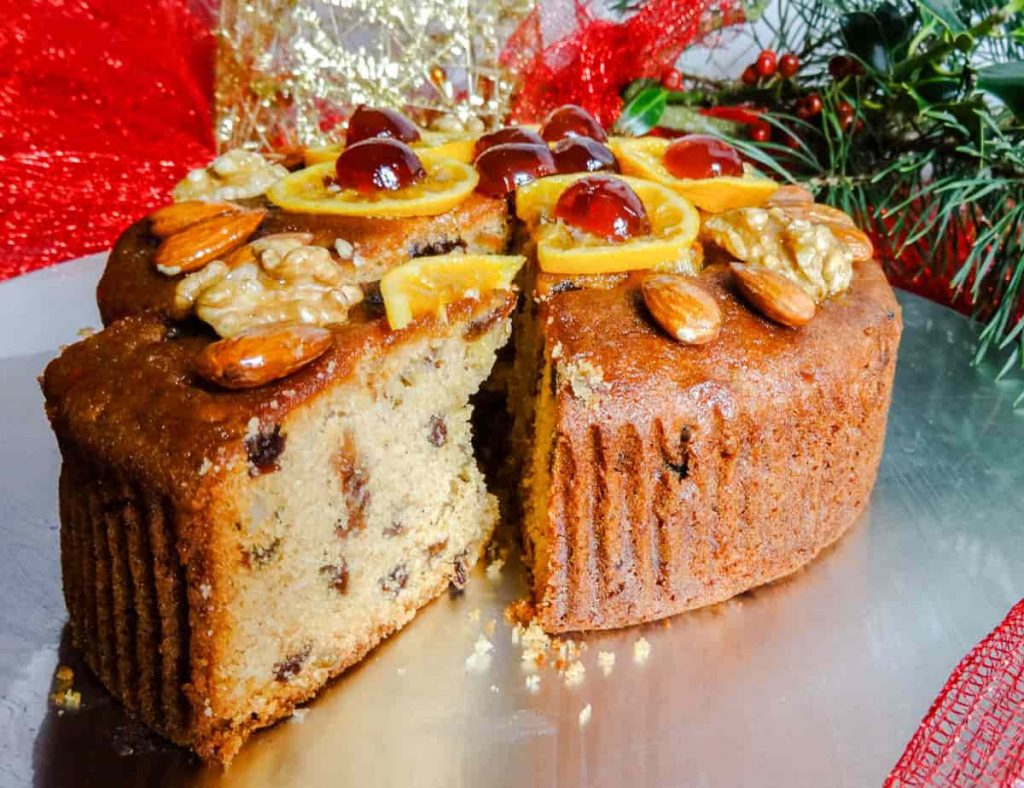 Ingredients for Last Minute Christmas Cake
You will need:
soft margarine or butter
caster sugar
self-raising flour
2 large eggs, beaten
sultanas
raisins
mixed peel
glace cherries halved
cinnamon
mixed spice
Orange Marmalade with or without whisky
Scotch Whisky or Orange Juice
For Topping
1 clementine
caster sugar
water
glace cherries
mixed nuts
How do I make self-raising flour?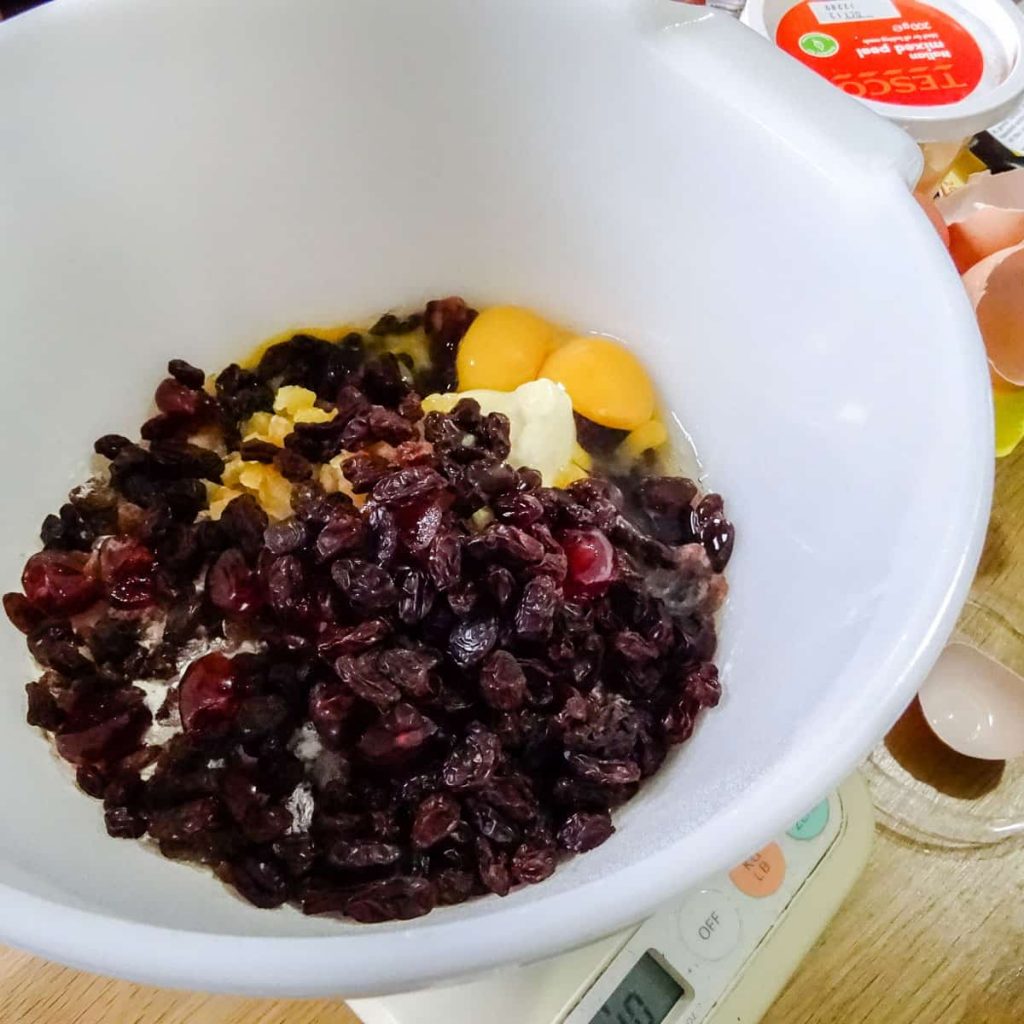 All in one bowl
Put all the ingredients into a large bowl, mix well until everything is combined.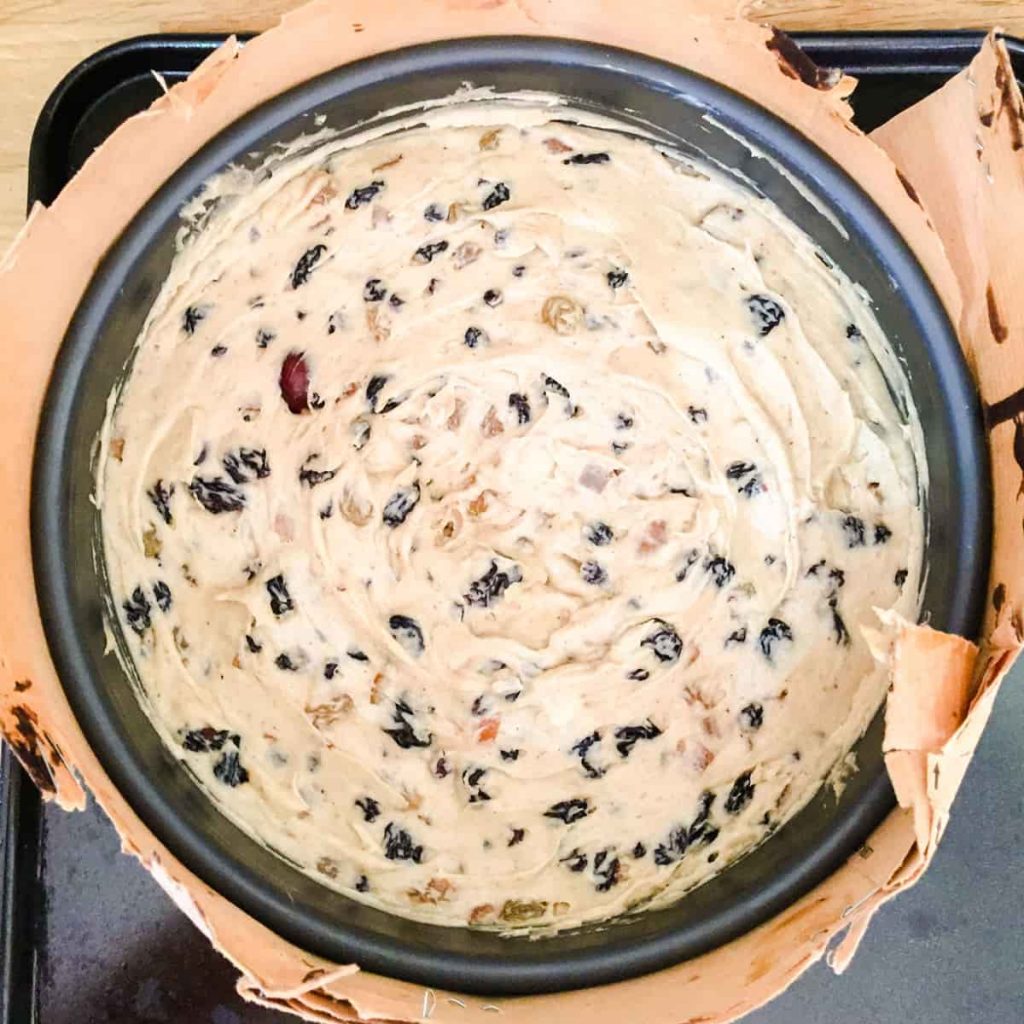 Fill the tin and bake
Fill the tin with the cake mixture and bake for two hours.
Cool for about 10-15 minutes in the tin, then turn onto a rack to cool completely.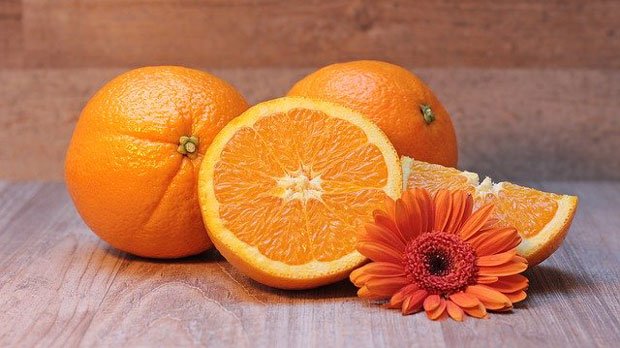 Prepare the topping
Put the sugar and water in a pan and heat slowly until the sugar is completely dissolved.
Bring to a boil, and boil for 5 mintues until it starts to become syrupy.
Add the clementine slices and simmer for 10 minutes.
Remove the slices to a piece of baking parchment to cool and dry.
Set aside the syrup to dry.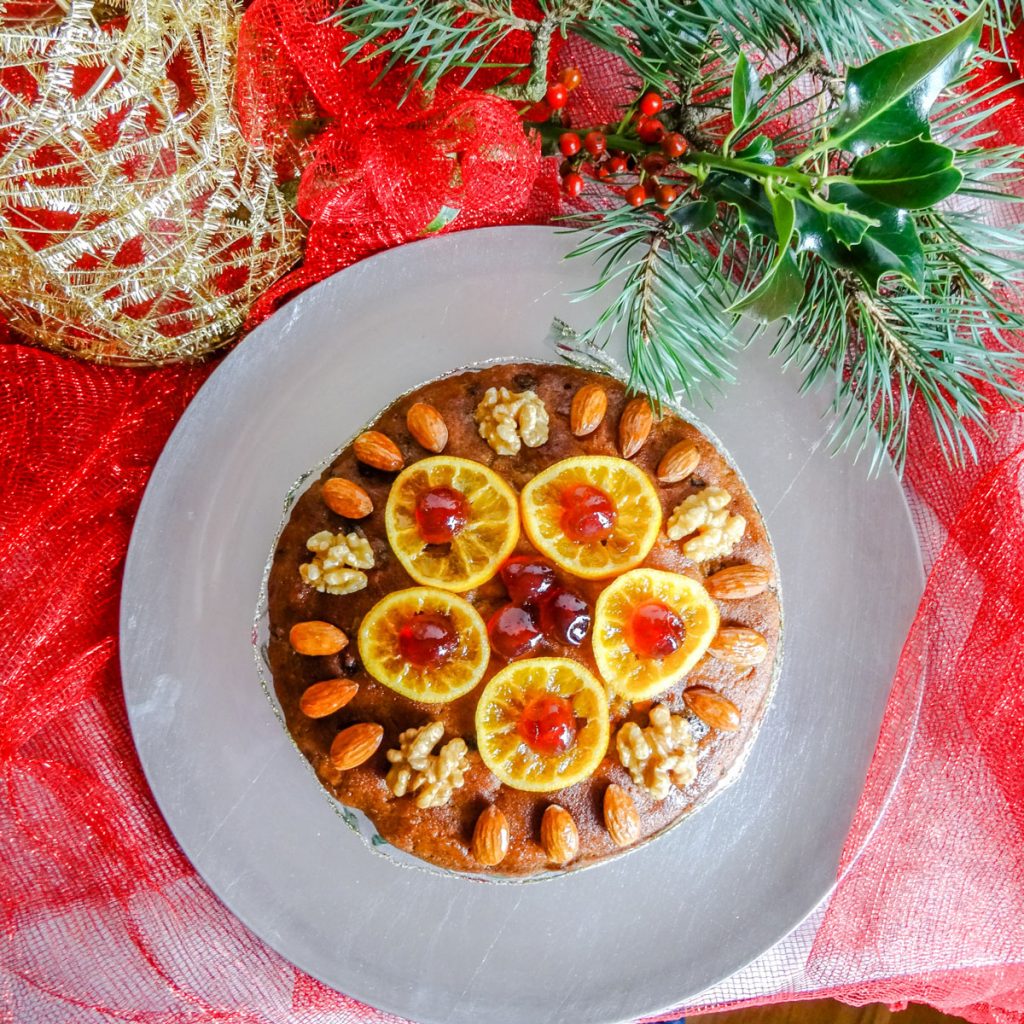 Arrange the topping
Brush the top of the cake with the cooled sugar syrup.
Arrange the fruit and nuts on the top of the cake and brush them with sugar syrup.
Serving Suggestion
It's traditional to serve a slice of Christmas Cake for a Christmas Day Tea with turkey sandwiches and a cup of tea. Or serve with a glass of sherry, whisky or the tipple of your choice as a special treat.
Last Minute Christmas Cake is an ideal cake for lots of other occasions when you may have visitors. Make it for New Year, Easter, Thanksgiving or just make it for yourself and your family.
More Last Minute Christmas Recipes from Farmersgirl Kitchen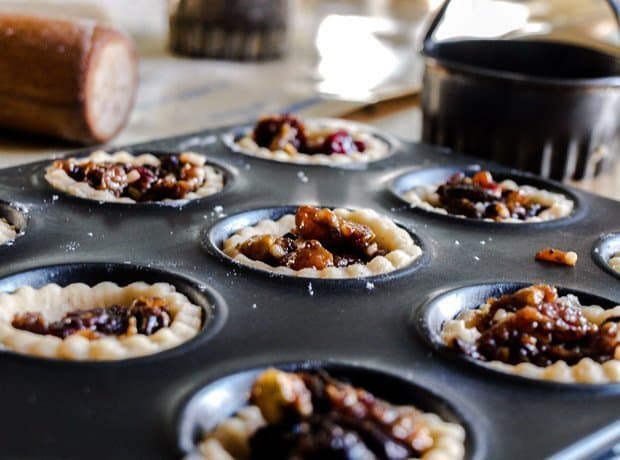 Instant Chocolate Mincemeat is quick and easy to make. it's ideal if you want to make your own mincemeat but didn't quite get around to making soon enough for it to mature properly
Easy Festive Apple and Mincemeat Streusel Muffins are simply made with ingredients you probably already have in your larder. You can make them to serve for Christmas breakfast or as a sweet treat at any time of day. I think you'll love them!
Heavenly Meringues are like sweet little clouds filled with lightly whipped cream. As you bite into the meringue the crisp shell gives way to the billowy soft cream and just melts in your mouth.
More Last Minute Christmas Recipes