Slow Cooker Chocolate Caramel Puddings are the perfect midwinter treat, and these little puddings have a secret. A special melting chocolate caramel treat inside that makes them even more delicious.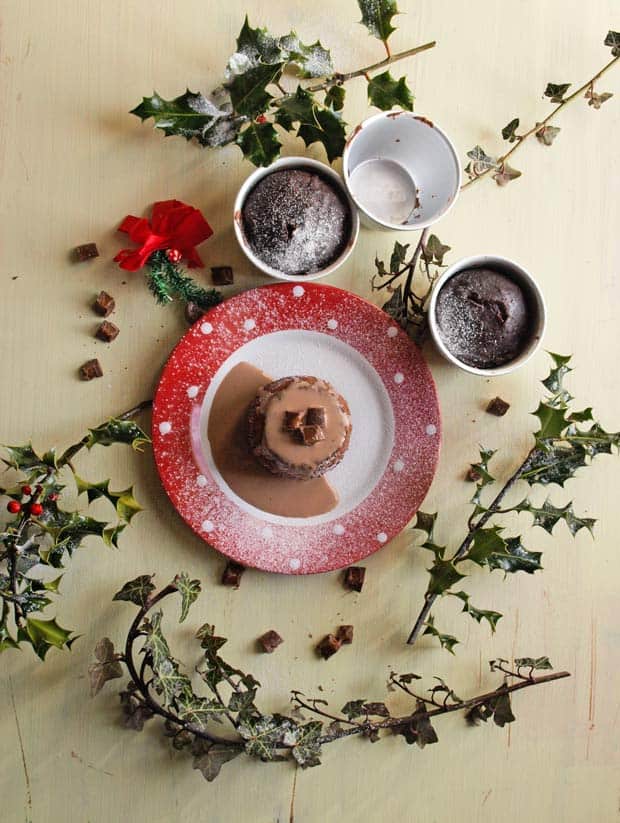 A melting centre
Inside each of the little Chocolate Caramel Puddings, there is a piece of caramel-filled chocolate bar. Or you can use chocolate caramel sweets such as rolos.  As the puddings cook the chocolate and caramel melt inside, what a decadent treat!  
Why use a slow cooker to cook the chocolate caramel puddings?
I use my Slow Cooker for steamed puddings because it gently bubbles away and I can go and do other things. I know I can leave it to do its thing without worrying about the pan boiling dry.  
Can I still make Chocolate Caramel Puddings without a slow cooker?
You can steam the puddings in a saucepan with a saucer in the bottom. Or, if you have a steamer then use that. Just keep checking the pan so that it doesn't boil dry.
How do I serve the Slow Cooker Chocolate Caramel Puddings?
Serve the Chocolate Caramel Puddings with Chocolate Caramel Sauce.  If that is too rich then serve with plain pouring cream, ice cream, or custard.
What is Chocolate Caramel Cream?
It is easy to make the Chocolate Caramel Cream, just gently melt the chocolate caramels in the cream and serve.
More Slow Cooker Desserts from Farmersgirl Kitchen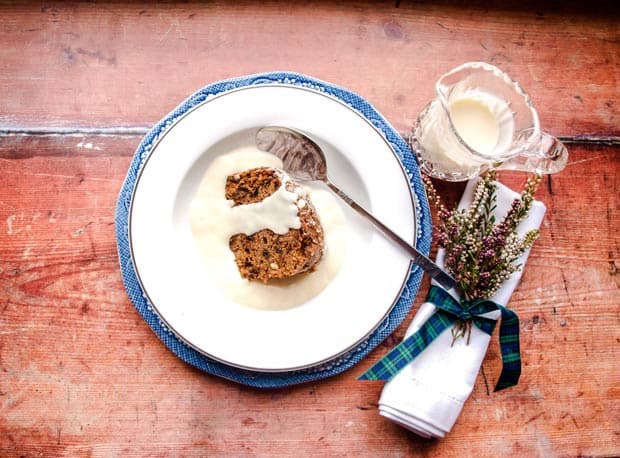 An updated version of a delicious traditional Scottish Steamed dessert, Slow Cooker Scottish Cloutie Dumpling. It tastes exactly as it should, retaining all the expected flavours but I make it in my slow cooker for maximum convenience.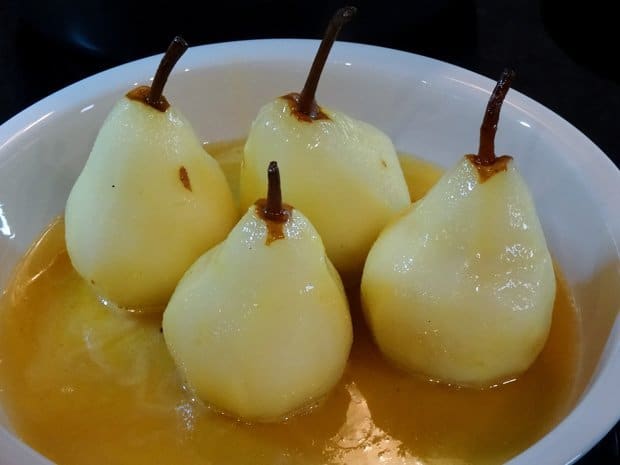 Slow Cooker Chardonnay Poached Pears is a light and fruity dessert with the delicate flavours of white wine infused into the sweet pears.
More Slow Cooker Desserts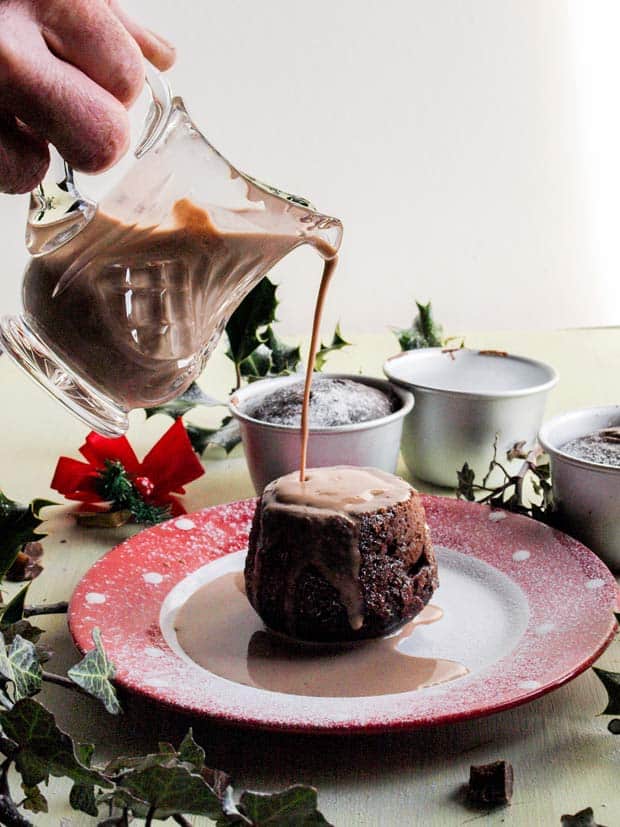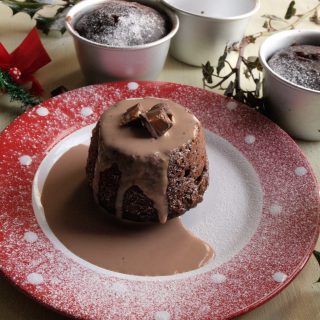 Slow Cooker Chocolate Caramel Puddings
Little chocolate steamed puddings with pieces of caramel filled chocolate inside.
Ingredients
For the pudding
50

g

butter

35

g

soft brown sugar

110

g

self-raising flour

1

large egg

25

g

cacao or cocoa powder

4

tbsp

milk

1

pinch

of salt

1

square of caramel filled chocolate bar or chocolate caramel sweet

e.g. rolo
For the sauce
150

ml

single cream

50

g

chocolate caramels sweets or caramel filled chocolate bar
Instructions
Butter 3 x 6 oz mini pudding basins and put a circle of baking parchment in the bases of the basins.

Mix all the pudding ingredients, except the chocolates, with a spoon or electric mixer

Half fill the pudding basin

Add the chocolate into the centre and fill the rest evenly between the basins.

Cover with baking parchment and foil and tie with string.

Boil a kettle and pour the boiling water into the slow cooker pot and add the puddings, the water should come about half way up the pudding basins.

Put the lid on the slow cooker and cook on high for 1 1/2 hours until the pudding has risen and the centre looks firm.

The puddings should slide out of their basins, but it they don't then ease round them with a blunt knife or small spatula.

To make the sauce

Place the cream and chocolate caramel into a small pan and warm slowly until the sweets have melted into the cream, serve warm over the puddings..
Notes
You can make the puddings in advance and reheat in the microwave for 30 seconds before serving. Double up the quantities to make enough for six or make a big pudding and steam for 2 – 2 1/2 hours.
Don't Miss My Latest Recipes
CLICK TO SUBSCRIBE NOW to join my newsletter list & receive a FREE 'How To Adapt Recipes For Your Slow Cooker' printable!
Share by Email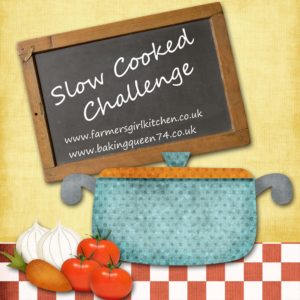 If you love Slowly Cooked food then why not join me and Lucy from Baking Queen 74 for the Slow Cooked Challenge. It's not just about cooking in the Slow Cooker or Crockpot, any slowly cooked food can be entered. 
 Many thanks to Lucy for hosting the November Slow Cooked Challenge.  There are lots of fabulous recipes that I'm itching to make. Why not pop over to the Slow Cooked Challenge Round Up and take a look.  
If you would like to take part, then please:
Make your recipe in your Slow Cooker or other slow cooking method and post a photograph and the recipe, or a link to a recipe, on your blog
Link to Farmersgirl Kitchen and Baking Queen 74
Use the Slow Cooked Challenge logo in your post
If you use twitter, tweet your post with @FarmersgirlCook @BakingQueen74 and use #SlowCookedChallenge and we will re-tweet it to our followers AND post your picture on the dedicated Pinterest Board.
A round up of all the entries will be posted on the host's blog.
Rules:
Please do not publish recipes from cookbooks on your blog without permission, they are copyright.
If you are using recipes from another website, please link to the recipe on the website rather than publishing the recipe.
One entry per blog.
Recipes must be added to the linky by the 28th of each month and a round-up will be posted on the host blog.