This year has been particularly good for blackcurrants in my garden. We had a warm dry spell in early summer when the flowers were pollinated and 'set'. Since then we have had an awful lot of rain, not great for other things, but the blackcurrants absolutely love it and are nice and big and juicy and perfect for Blackcurrant Jam!
Blackcurrants are high in pectin so it is a good jam to try if you are a beginner. The pectin is what makes the jam set, fruit like strawberries can be tricky to set, but blackcurrants are perfect for jam making, so if you have never made jam before please do give it a go.
Homemade Blackcurrant Jam it's easy to make and so delicious, nothing you buy can every match it.
How to make Blackcurrant Jam
Blackcurrant Jam has a deep fruity flavour, it's easy to make and a real taste of summer.
Print
Pin
Rate
Ingredients
450

g

1 lb blackcurrants

450

ml

3/4 pint water

550

g

1 1/4 lb sugar
Instructions
Remove the stalks, then wash the fruit.

Simmer gently with the water until the skins are really soft.

Add the sugar

Boil rapidly (rolling boil) until setting point is reached.

I suggest you boil for 15 minutes then test for set, if not set test again after 5 minutes.
Notes
There are many methods of testing set, I put saucers or small plates in the fridge and drop a spoonful of jam onto the plate, leave in fridge for 5 minutes, if it wrinkles when you push it with your finger then it's ready. Check out the video to see the wrinkle test. Remember to take the jam off the heat while testing. If it's not set then you can put it back on for 5 minutes.
Here is a little help with the main techniques for jam making. Check out the video to see what a 'rolling boil' looks like.
Using the wrinkle test to test for set, if you see that wrinkle you know that your jam will set.
For more information on jam making techniques, check out the Jam Mistress herself: Vivien Lloyd for tips on Mastering Preserves.

To make sure you don't miss any of my recipes, sign up via the Action Box at the bottom of this post or follow Farmersgirl Kitchen on Facebook, Instagram, Twitter, Pinterest and Flipboard.
Here are two more of my popular jam recipes you might like to try: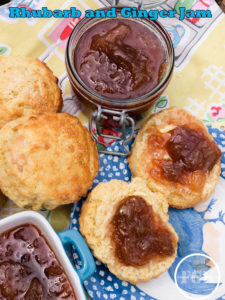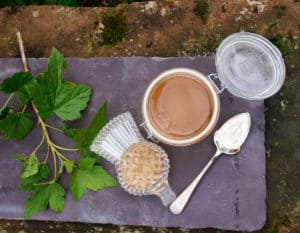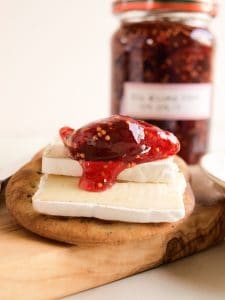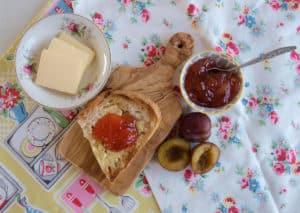 If you would like to make other kinds of jam and jelly here are a few ideas from Top UK bloggers to expand your repertoire:
Gooseberry Jam – Baking Queen 74
Easy Redcurrant and Port Jelly– Kavey Eats
Peach and Ice Wine Jam – Kavey Eats
Fig and Strawberry Jam – The Veg Space
Morello Cherry and Raspberry Jam – The Veg Space
Apricot and Vanilla Jam – Tin & Thyme
Easy Blackberry and Apple Jam– Fab Food 4 All
Quick One Punnet Strawberry Jam – Fab Food 4 All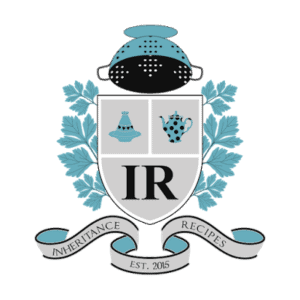 I'm entering the Blackcurrant Jam for Inheritance Recipes, the Linky run by Coffee & Vanilla and Pebble Soup to celebrate recipes passed down through the family. I can remember picking blackcurrants with my Granny who then made Blackcurrant Jam. My Mum is a very accomplished jam maker and I've yet to taste anything to better her Raspberry Jam.
Blackcurrant Jam is perfect in desserts, I used it to top some fat-free Greek yogurt, nectarines, and strawberries. You can swirl it into yogurt too or make your own fruit corners.