Rhubarb and Ginger Jam is one of the first jams I ever made. It's absolutely delicious and the perfect way to preserve a glut of rhubarb in the spring and early summer. Rhubarb and Ginger Jam is really easy to make and the preserved ginger adds a fabulous kick.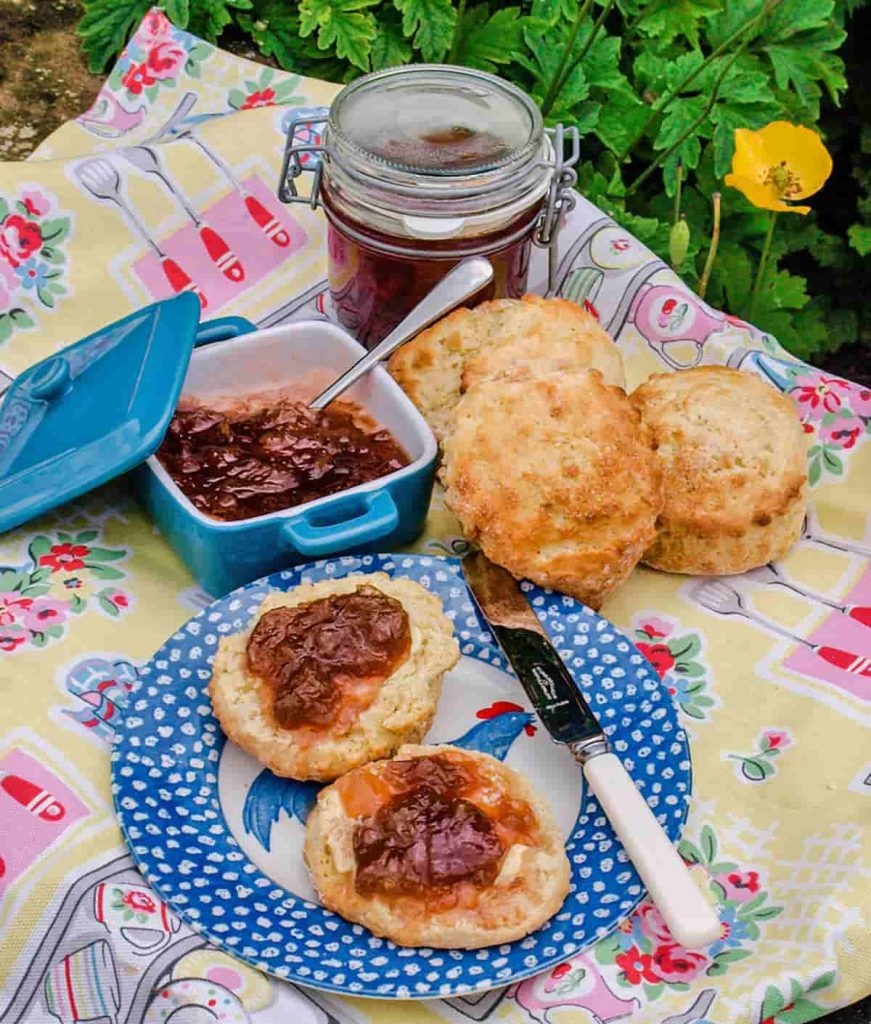 Rhubarb & Ginger Jam Inspiration
I first made Rhubarb and Ginger Jam from a recipe in A Taste of the Country by Pamela Westland. It was one of the first cookbooks that really fired my imagination. I borrowed it from the library when I was 15 years old and carried it off to Belgium as my holiday reading.
I then bought a paperback copy and one of the first recipes I made was rhubarb and ginger jam. It's such a great book that I had to buy a second copy as the first one eventually fell to bits.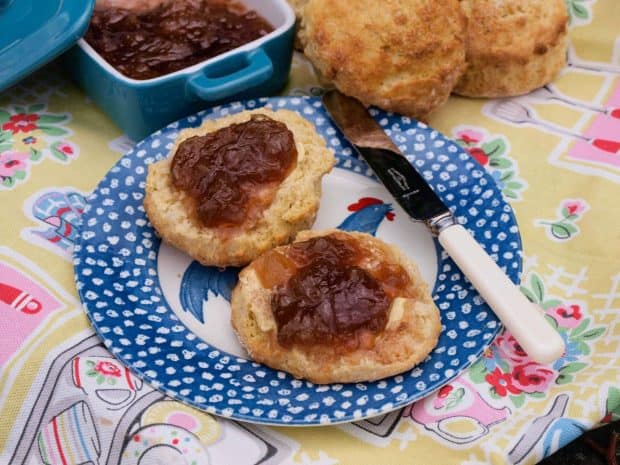 A step by step guide to making Rhubarb and Ginger Jam:
The night before you want to make the jam, layer the rhubarb, root ginger and sugar in a bowl.
The next morning most of the sugar will have turned to liquid.
Place the rhubarb and sugar go into the pan, add the ginger root to the pan, tied in a piece of muslin, or use a jelly bag.
Once the jam is made, and you have tested it for setting point (see below) add the chopped preserved ginger.
Fill the jam into sterilised pots.
This quantity will make about 4 standard jars.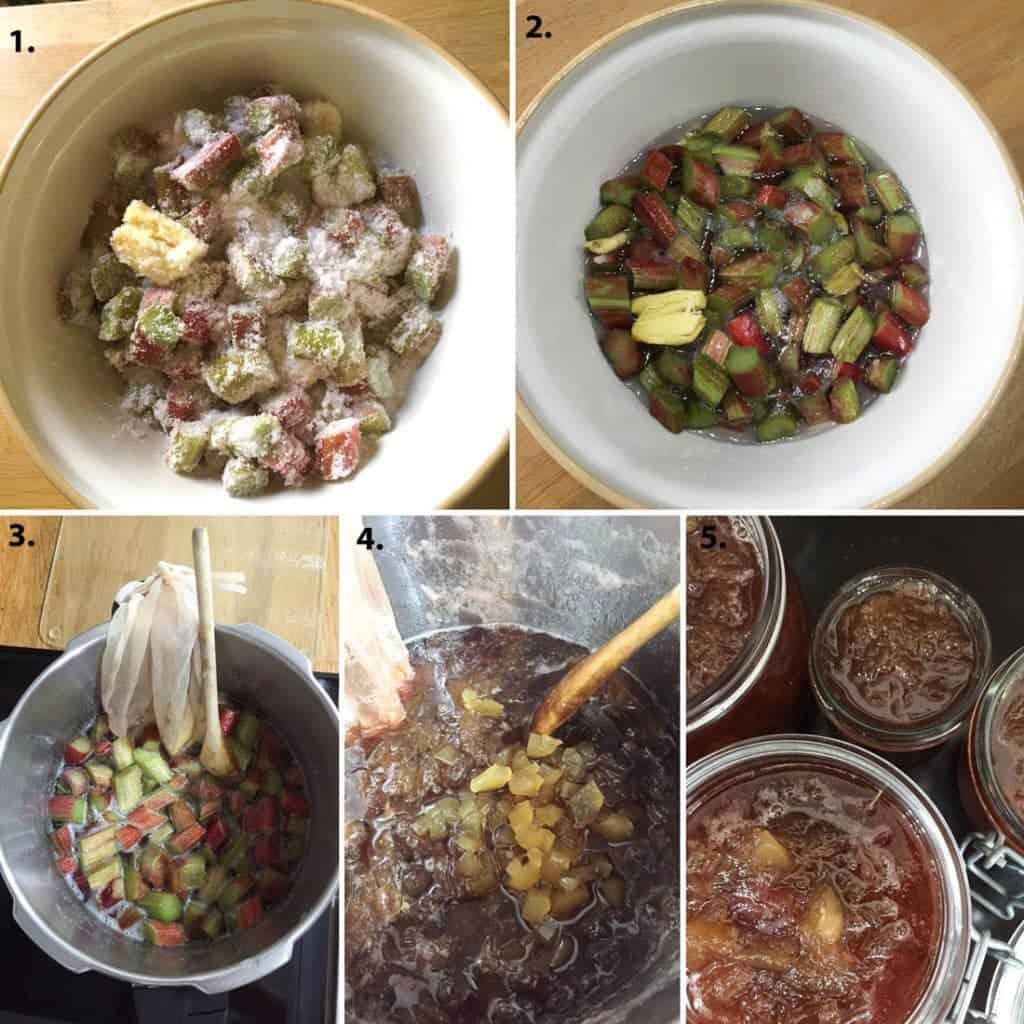 If you have never made jam before, read this excellent article, published in the Guardian Lifestyle, by Darina Allen. It will answer many of the questions you may have
Jam making FAQs
What does a rolling boil look like?
I learned about jam-making from my Mum and my grandmother by watching them. I think it is much easier to understand when you can see what you are aiming for.
So here is a little help with the main techniques for jam making. The video above will show you what a "rolling boil' looks like.
How do I test if my jam will set?
The Wrinkle Test
When you have boiled the jam for 20 minutes you can check if it will set (firm up) once cooled. To test for setting point you can use a jam thermometer, you can use the 'flake' test, but I have always used the wrinkle test.
Place some saucers in the fridge before you start making the jam. After your jam has been at a rolling boil for the necessary time, take the pan off the heat.
Put a teaspoon of the jam onto one of the cold saucers. Place the saucer back in the fridge and leave for 5 minutes. Then remove the saucer and push your finger across the jam. If it wrinkles, you can skim off the froth and pot up your jam in sterilised jars.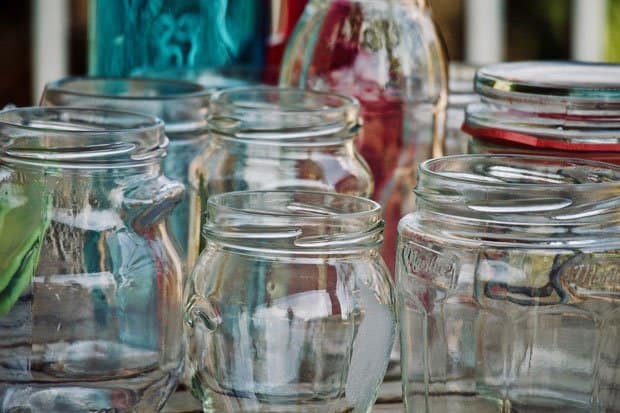 How do I sterilise my jam jars?
I sterilise my jam jars and metal lids by thoroughly washing and rinsing them. I then put them, still wet, upside down onto a baking tray and place it in the oven at 150C just before I start to make the jam.
The water creates steam which helps to sterilise the jars. I take them out of the oven and fill them with the hot jam, then put on the lids. There are other methods but this is how I sterilise my jars.
Do I need to water-bath the jam?
No. I have never water-bathed jam and my jams, jellies, and marmalade stay in good condition for at least a year kept in a cool dry cupboard. In other countries, this is common practice and often used for lower sugar recipes.
More Jam Recipes from Farmersgirl Kitchen
Once you have learned the basic technique for making jam it's easy to move on to other kinds of jam. Here are some of my jam recipes you might like to try:

Blackcurrant Jam is one of the easiest jams you can make. Blackcurrants are naturally high in pectin which is the agent required to make the jam set. You don't need to add any additional pectin or lemon juice in this recipe, just blackcurrants, water, and sugar.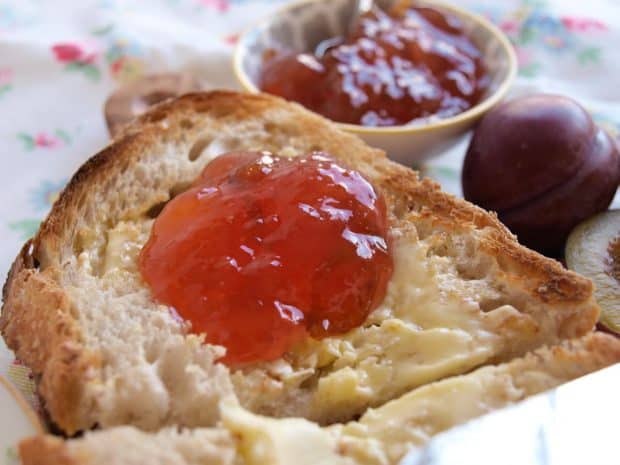 My recipe for Easy Plum Jam is really very simple and, as plums are high in pectin so the jam will set easily.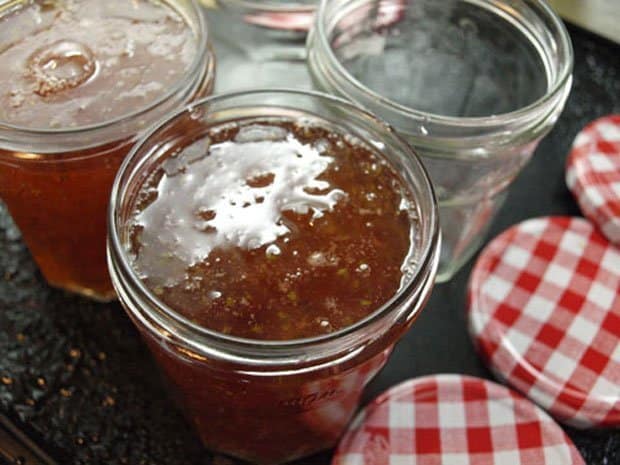 Gooseberry Jam is a rather magical jam. You start with green or slightly pink berries, sugar and water, and the result if a glowing amber-pink and totally delicious spread.
More Rhubarb Jam Recipes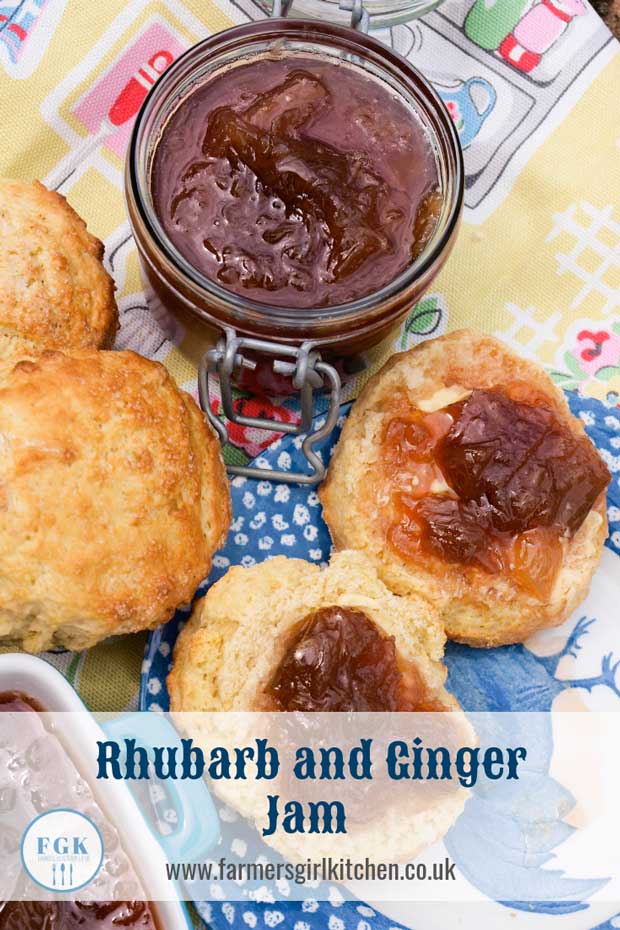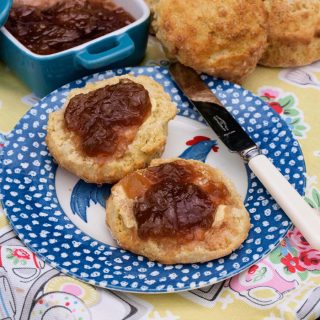 Rhubarb and Ginger Jam
One of the most delicious jams, easy to make and popular with all the family.
Ingredients
1.13

kg

rhubarb

1.13

kg

sugar

30

grams

root ginger

bruised by bashing with a rolling pin

115

grams

preserved ginger

in syrup
Instructions
Wash and trim the rhubarb and cut into 2in sticks. Weigh the fruit. Put alternate layers of fruit and sugar in a bowl, cover and leave to stand overnight.

In the morning most of the sugar will have dissolved and the juices will have come out of the rhubarb

Turn into a pan, add the root ginger tied in a piece of muslin and bring slowly to the boil. Fast boil for 15 minutes. Remove the ginger and add the preserved ginger, boil for a further 5 minutes. By this time the rhubarb should be clear.

Test for set. Pot and cover in the usual way.
Notes
You need to start this recipe the night before you plan to make the jam.
As you can see, the weight of the rhubarb is equal to the weight of the sugar, so you can vary how much you make quite easily, but here are some weights for a smaller batch of jam:
Small Batch Rhubarb & Ginger Jam 
650 g rhubarb
650 g sugar 
15 g root ginger
50 g preserved ginger
Follow the recipe instructions.  Fast boil for 10 minutes, add the preserved ginger and boil for 5 minutes.  Test for set. 
Nutrition
Calories:
5003
kcal
Carbohydrates:
1276
g
Protein:
10
g
Fat:
2
g
Sodium:
77
mg
Potassium:
3378
mg
Fiber:
20
g
Sugar:
1227
g
Vitamin A:
1155
IU
Vitamin C:
91.9
mg
Calcium:
983
mg
Iron:
3
mg
Don't Miss My Latest Recipes
CLICK TO SUBSCRIBE NOW to join my newsletter list & receive a FREE 'How To Adapt Recipes For Your Slow Cooker' printable!
Share by Email