Instant Chocolate Mincemeat is quick and easy to make. it's ideal if you want to make your own mincemeat but didn't quite get around to making soon enough for it to mature properly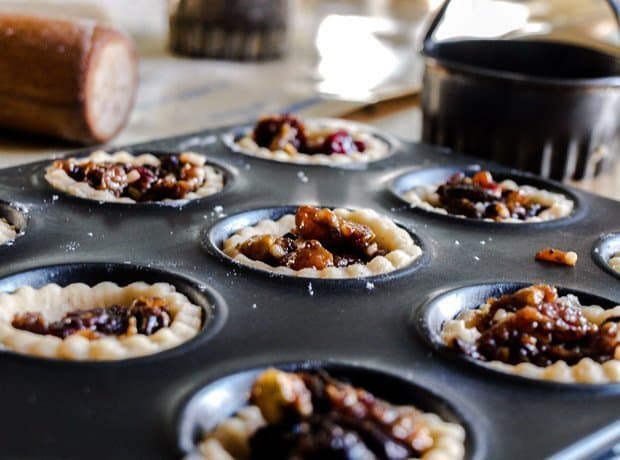 What is Mincemeat?
Mincemeat is a rich mixture of dried fruits, spices, apples, citrus zest and juice, alcohol and suet or butter. It is mainly used to fill sweet shortcrust pastry tarts which are served as individual Mince Pies.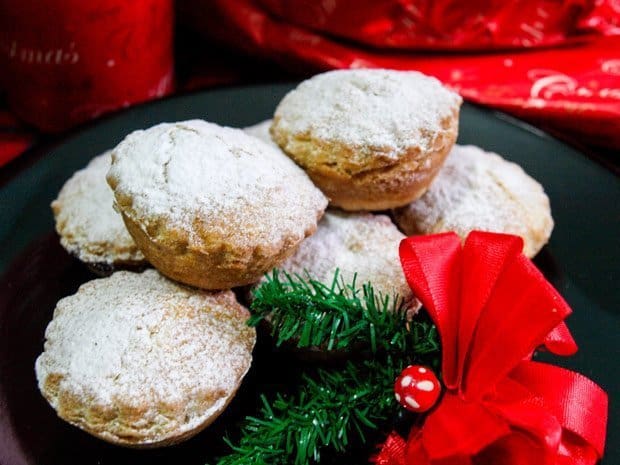 Mince Pies are the classic way to use Christmas Mincemeat. Sweet shortcrust pastry is filled with mincemeat with a pastry lid on top. I like to make Mini Mince Pies because they are the perfect little mouthful for tea time or parties.
Is there meat in Mincemeat?
Originally, there was meat in mincemeat as well as the dried fruit and spices. This is how it got its name. The meat element was gradually replaced with beef suet.
I use vegetable suet but you can also use butter. This means the mincemeat is also suitable for vegetarians.
How to make Instant Chocolate Mincemeat

Start the mincemeat by zesting a lemon. Grate the zest (the yellow part of the lemon) use a special lemon zester or peel off a fine layer and cut it up with a knife.
Then squeeze the juice of half the lemon. Put the juice and zest in a medium-sized bowl.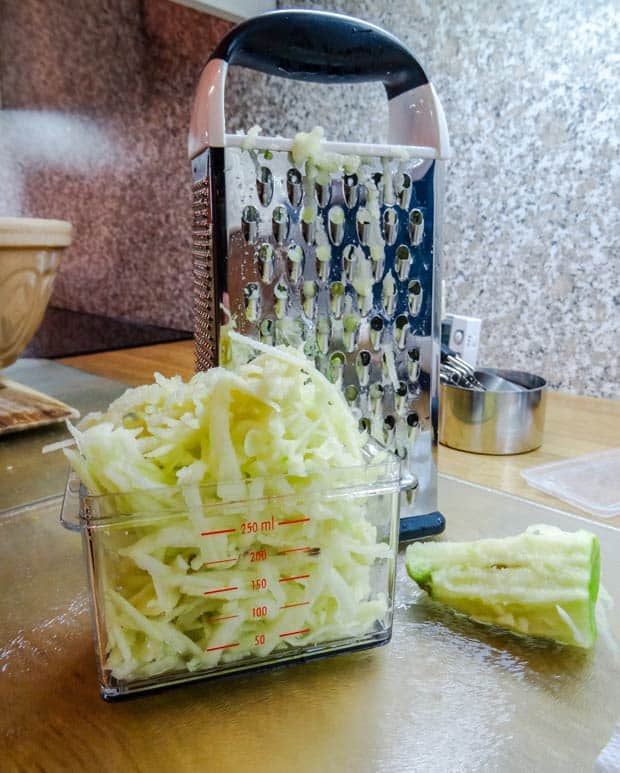 Grate a dessert apple on the coarse side of the grater. if you use the fine grater the apple will lose too much texture. Add the grated apple to the lemon juice and zest.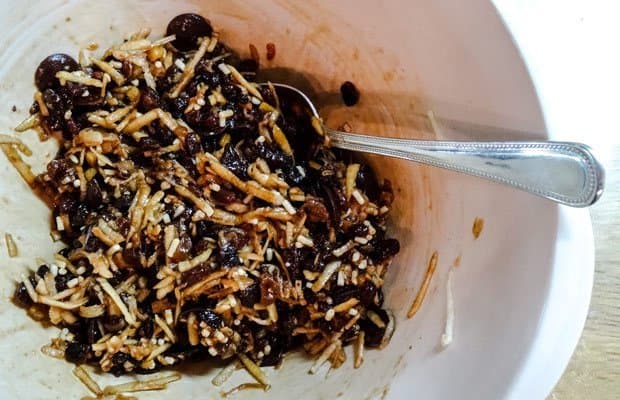 Add the dried fruits, sugar, chocolate, vegetable suet, brandy and nuts to the apple and lemon and mix thoroughly with a spoon
You can use any combination of dried fruits and nuts. Use what you like and what you have in your store cupboard.
When can I use the chocolate mincemeat?
You can use this mincemeat straight away or put it in a clean container and store in the fridge for a week.
More Mincemeat Recipes from Farmersgirl Kitchen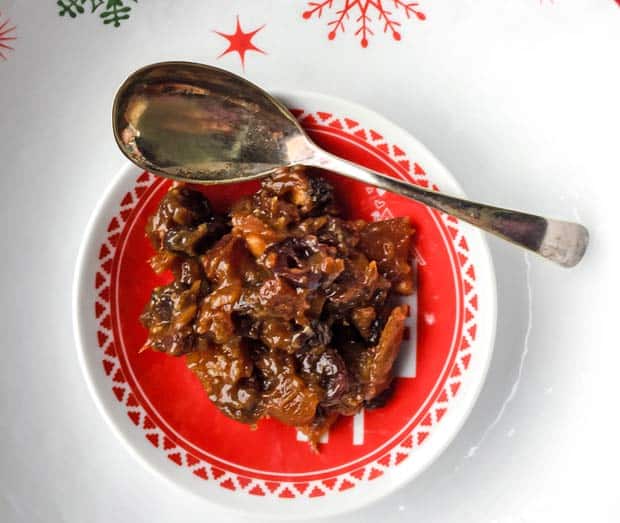 Easy Slow Cooker Mincemeat with Ginger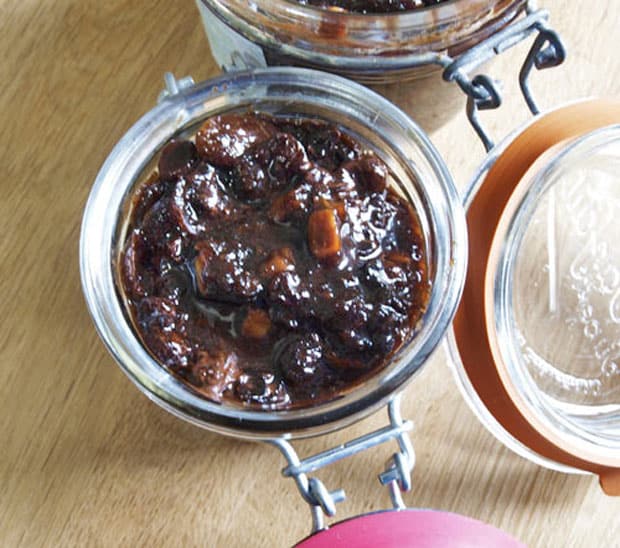 Dark Chocolate Mincemeat is a cooked mincemeat recipe that needs to be made ahead of time.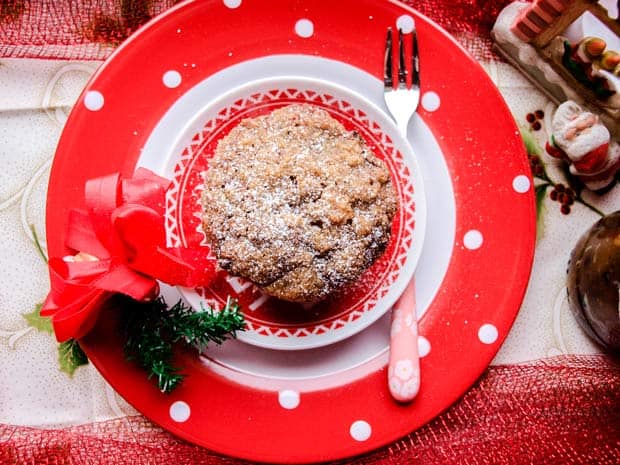 Festive Apple and Mincemeat Muffins are perfect for a holiday breakfast or anytime snack
More Mincemeat Recipes
Chocolate Cherry Mincemeat from Something Sweet, Something Svoury
Lemon and Ginger Mincemeat from Tin & Thyme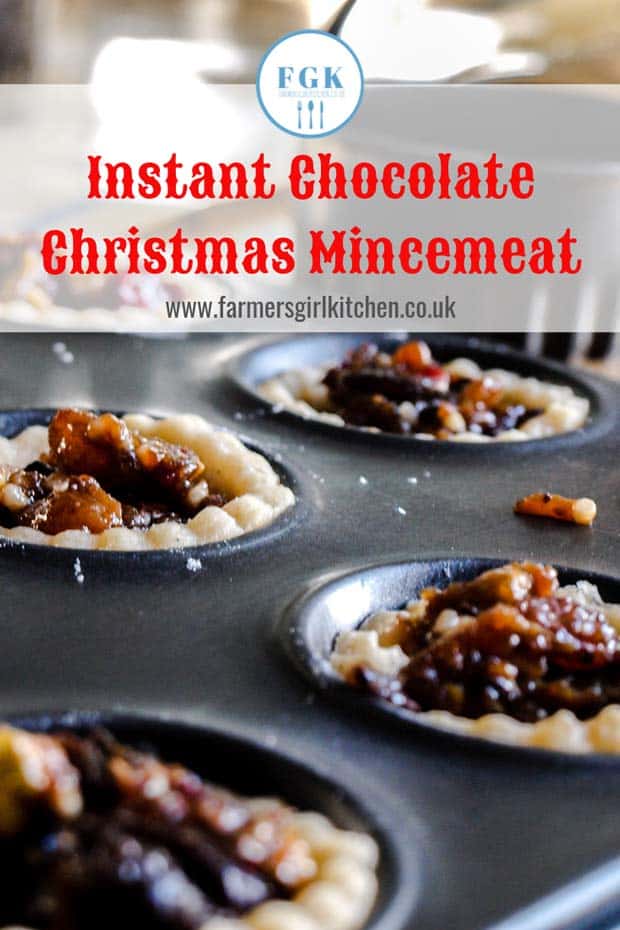 Let's get social
Stay in touch with everything that's going on at Farmersgirl Kitchen.
Facebook Pinterest Instagram Twitter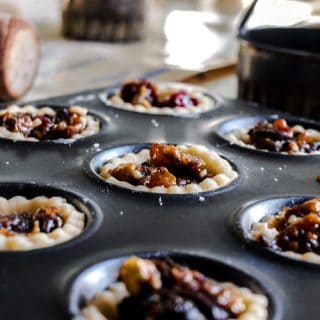 Instant Chocolate Mincemeat
This is mincemeat that you can mix up quickly using any mixture of dried fruits and nuts you have in your cupboard, the addition of some chopped chocolate, adds a lovely richness to the fruit mixture
Equipment
weighing scales

bowl

spoon

grater

Lemon squeezer

knife
Ingredients
1

lemon

zest

1/2

lemon

juice

1

Apple

dessert

50

g

sultanas

50

g

dried cranberries

50

g

prunes

chopped

50

g

raisins

1

tbsp

brandy

100

g

dark brown sugar

60

g

vegetable suet

50

g

dark chocolate

chopped

1

tbsp

pistaschio nuts chopped
Instructions
Put the zest and lemon juice in a bowl, grate the apple including the skin, into the juice.

Add all the other ingredients and stir.

Store in a lidded jar in the fridge until ready to use.
Notes
You can use any dried fruit and any nuts you like in this Instant Chocolate Mincemeat recipe. 
You can also leave out the chocolate and add additional dreid fruit to make a more traditional instant mincemat. 
Don't Miss My Latest Recipes
CLICK TO SUBSCRIBE NOW to join my newsletter list & receive a FREE 'How To Adapt Recipes For Your Slow Cooker' printable!
Share by Email