I was struggling with the
'We should Cocoa'
challenge for November, just how should I combine chocolate and apples? I thought about a chocolate apple cake, stewed apples with chocolate custard, chocolate covered apples. But none of these ideas really appealed, what did appeal was Dark Chocolate Mincemeat.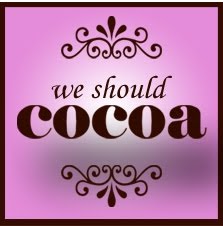 However, I was lucky enough to win Dan Lepard's Short and Sweet from The Chocolate Log Blog (co-host of We should Cocoa) and my copy arrived this week. Flipping through all the lovely recipes and excellent photographs and I stumbled upon a recipe for 'Dark Rich Mincemeat'. Maybe it was the name that did it, dark and rich conjures up CHOCOLATE to me and it got me wondering what it would be like to include some dark chocolate IN the mincemeat.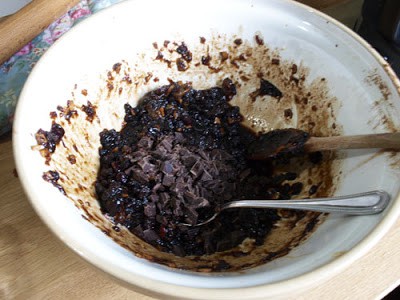 Mixing the Dark Chocolate into the Mincemeat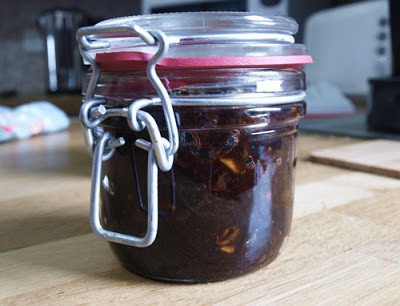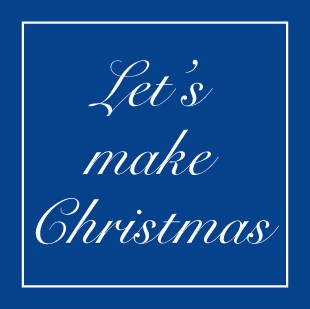 Recipe for Dark Chocolate Mincemeat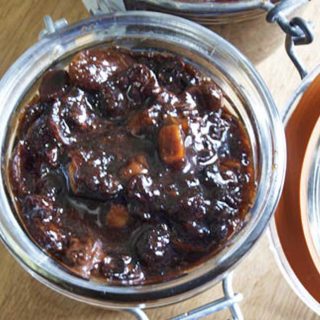 Dark Chocolate Mincemeat
Christmas Mincemeat (dried fruits, apples and butter) with added chocolate. Inspired by Dan Lepard's Dark rich mincemeat in Short and Sweet
Ingredients
2

dessert apples

peeled, cored and chopped small

300

g

Dried raisin

sultana & cranberry mix

100

g

soft prunes

stoned and chopped

250

ml

stout or porter

1

medium cooking apple

peeled cored and grated

300

g

muscovado sugar

1

lemon

grated zest and juice

1

tbsp

mixed spice

1

tsp

ground cinnamon

1/4

tsp

ground cloves

50

g

butter

3

tbsp

brandy or rum

100

g

dark chocolate
Instructions
Add the stout or porter to a large pan with the grated cooking apple, muscovado sugar, lemon zest and juice.

Bring to the boil, stirring and simmer for about 5 minutes.

Measure the dried fruits and other dry ingredients and put in a bowl with the chopped dessert apples.

Add the dried fruit mixture to the pan with the butter and simmer until thick.

Remove from the heat, leave until warm and stir in the brandy or rum. Leave to cool completely, then stir in 100g chopped dark chocolate.
Notes
Details Prep time: 10 mins Cook time: 20 mins Total time: 30 mins Yield: around 3lb
Don't Miss My Latest Recipes
CLICK TO SUBSCRIBE NOW to join my newsletter list & receive a FREE 'How To Adapt Recipes For Your Slow Cooker' printable!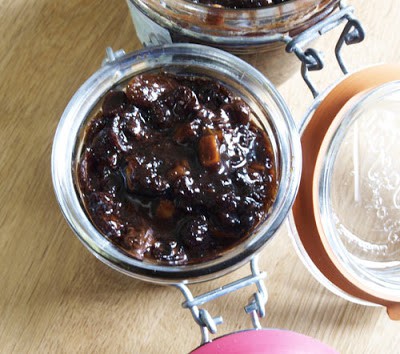 I haven't made anything with it yet, but I had a little taste and it is so delicious!