Slow Cooker Greek Baker's Pot is a really simple and totally delicious vegetarian recipe. It's an ideal recipe for an everyday easy dinner and it is perfect for all the family.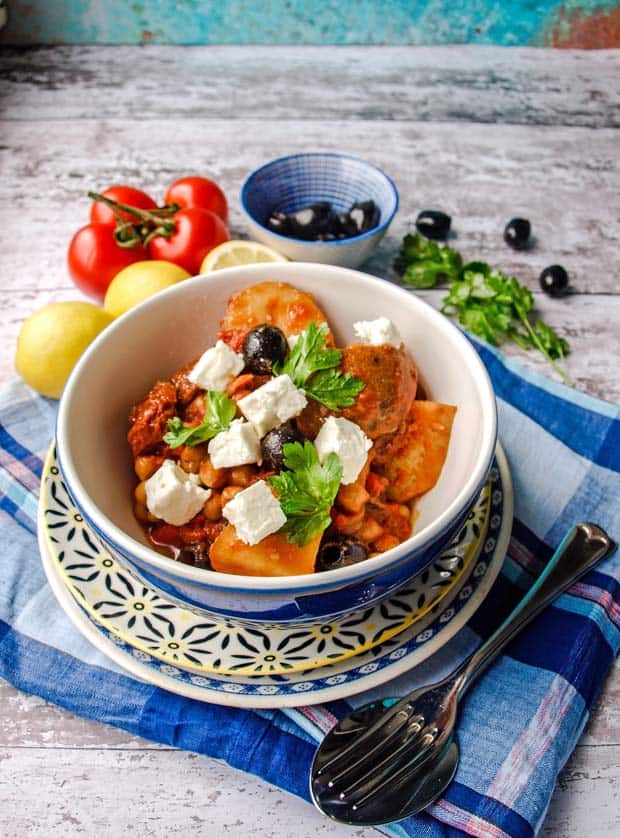 What is Greek Baker's Pot?
The recipe is based on an old Greek country dish eaten during Lent when meat was not permitted. Many families didn't have an oven so they sent their casserole to the local baker to be cooked overnight in the heat remaining in the baker's oven.
What ingredients are in the Greek Baker's Pot?
Use dried chickpeas (garbanzos) soaked overnight or for a faster Greek Baker's Pot use canned chickpeas
Red or yellow onions and garlic add a savoury flavour
Potatoes absorb all the delicious flavours of the sauce
Sweet red pepper or bell pepper
Celery (optional)
Fresh or canned tomatoes
Greek Feta Cheese – a brined curd cheese made from sheep's milk
Mixed fresh herbs e.g. oregano, thyme and basil
Black Olives or a mixture of black & green olives.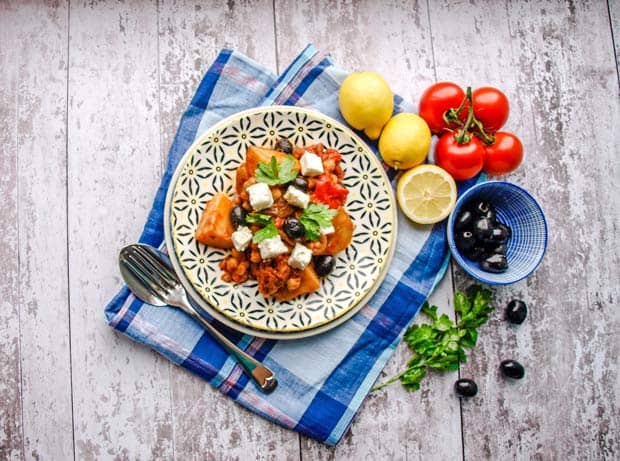 How to make Slow Cooker Greek Baker's Pot
A traditional Greek Baker's Pot has slices of potato baked as a 'lid' on top of the chickpeas and vegetables.
To make the recipe in the slow cooker I chop the potatoes into chunks and cook them along with the other vegetables. They soak up all the lovely tomato juices and taste so good.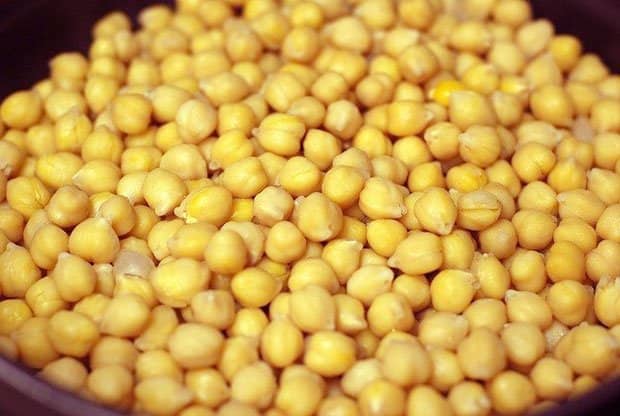 Soak the chickpeas
If you are using dried chickpeas cover them with water the night before you want to make the Greek Baker's Pot. In the morning drain the water away.
If you are using canned chickpeas then simply drain the water from the can and add at the appropriate point in the recipe.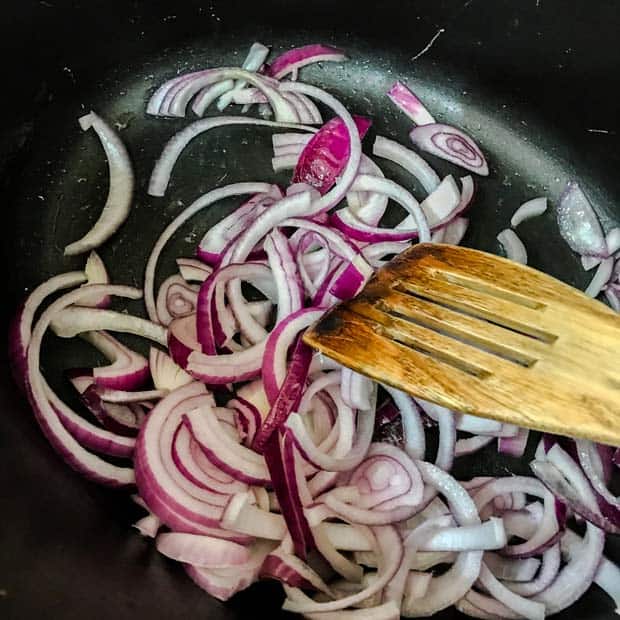 Saute the onions
Slice and gently saute the onions in olive oil. I always saute onions before cooking in a recipe in my slow cooker because it takes away the sharp and bitter taste of raw onion.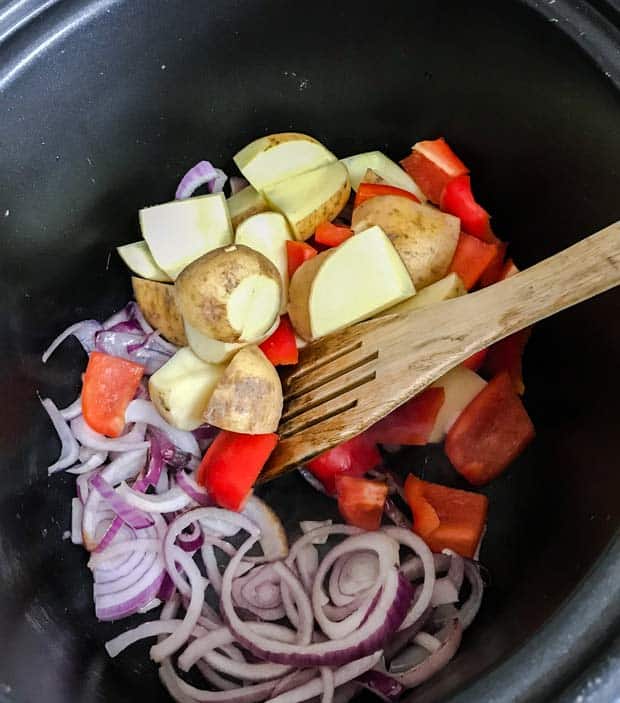 Add the potatoes, garlic, celery and peppers
Deseed and chop the sweet red pepper and cut the potatoes into large chunks.
Slice the celery (if using) and crush the garlic.
Add these to the pan and saute with the onions for about 3-4 minutes.
Can I peel the potatoes?
I don't peel the potatoes because it helps them to hold together better in the slow cooker . I also like the taste of potato skin and most of the nutrients in potatoes are just under the skin.
You can peel the potatoes if you want to but leave them in larger pieces or they will disintegrate.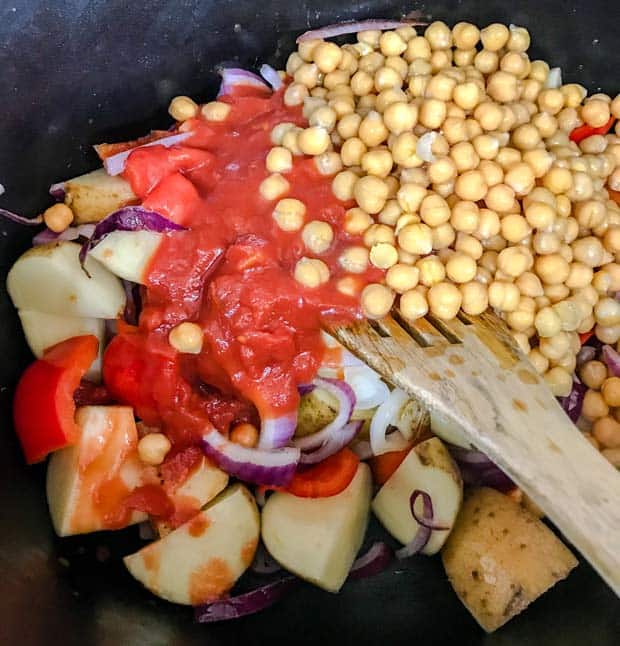 Add tomatoes and chickpeas
Add the canned or fresh tomatoes, chickpeas, stock and herbs to the vegetables.
Season with salt and pepper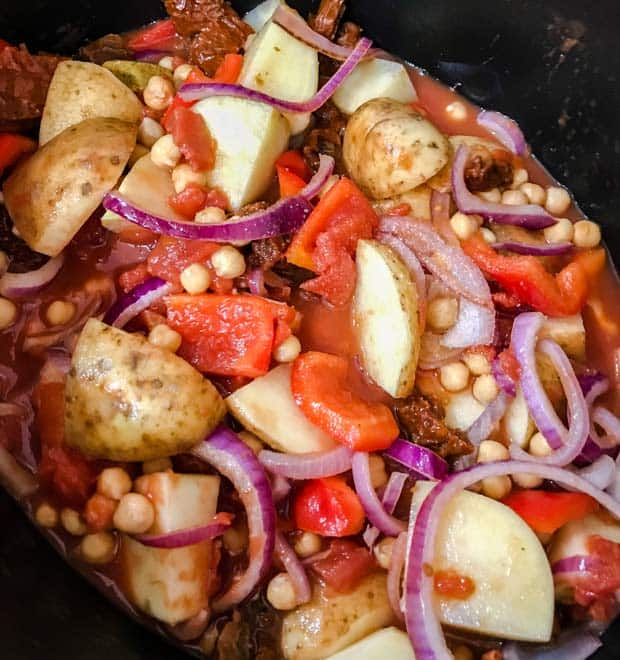 Cook in the Slow Cooker
Stir the ingredients together gently. Put on the lid and cook as follows:
For dried chickpeas (soaked overnight)
Cook for 8 hours on low or 6 hours on High
For canned chickpeas
Cook for 6 hours on low or 4 hours on High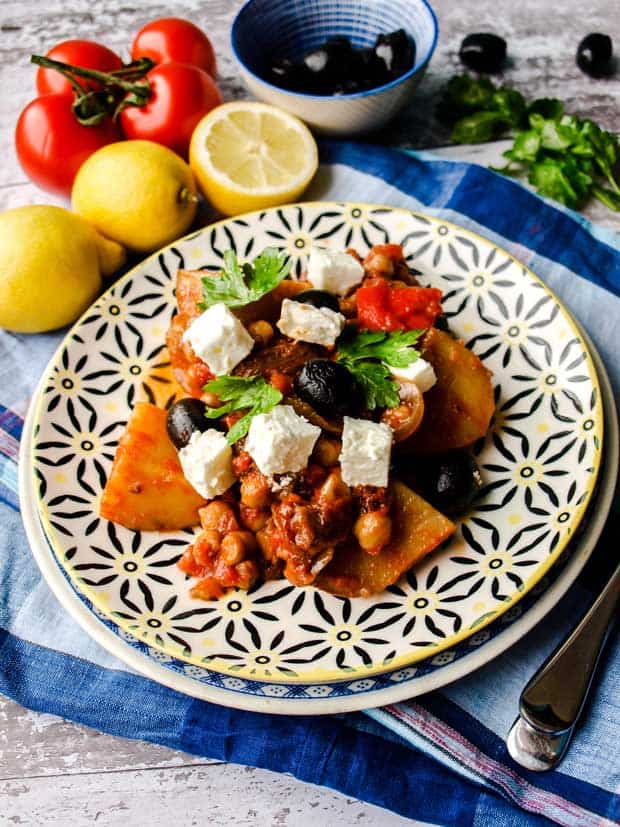 Add Feta and Olives before serving
Cut the Greek Feta cheese into small cubes and add these and the black olives to the dish just before serving.
Garnish with some fresh parsley.
What else can I add to the Slow Cooker Greek Baker's Pot?
There are lots of different vegetables you can add to this recipe, here are a few suggestions:
Sundried tomatoes
Courgettes (Zucchini)
Aubergines (Eggplant)
Broad Beans (Fava Beans)
Spinach leaves (add at the end of cooking)
Can I freeze Greek Baker's Pot?
Yes you can freeze the cooked dish before adding the olives, feta and parsley. Defrost in a covered container in the fridge for best results.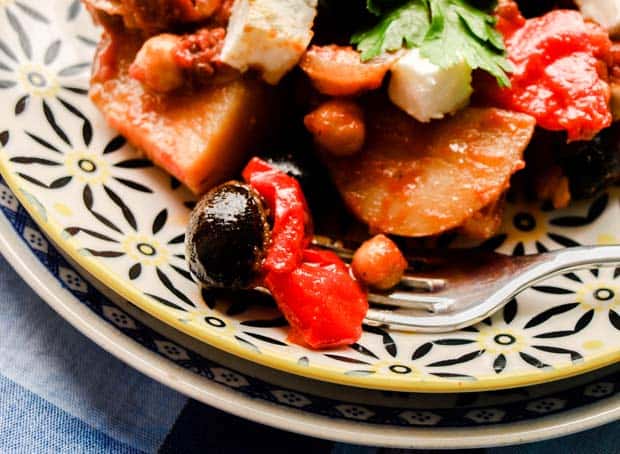 Serving suggestion
Serve the Greek Baker's Pot in bowls with salad and some crusty bread. It's the perfect comfort food hug!
More Slow Cooker One-Pot Recipes from Farmersgirl Kitchen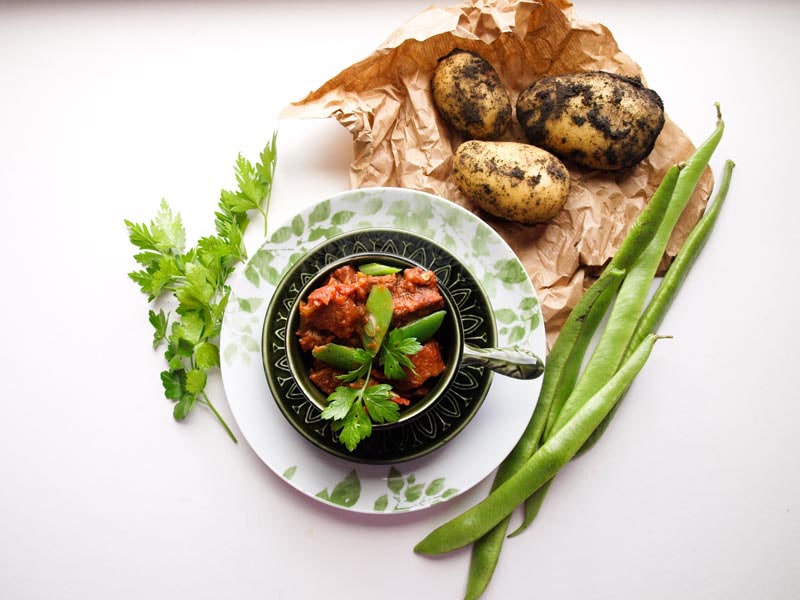 Slow Cooker Chorizo, Potato & Runner Bean One Pot
This Slow Cooker Chorizo, Potato, and Runner Bean One Pot dinner is perfect for making an inexpensive, tasty, and filling meal using a garden glut of potatoes and runner beans from the garden or allotment.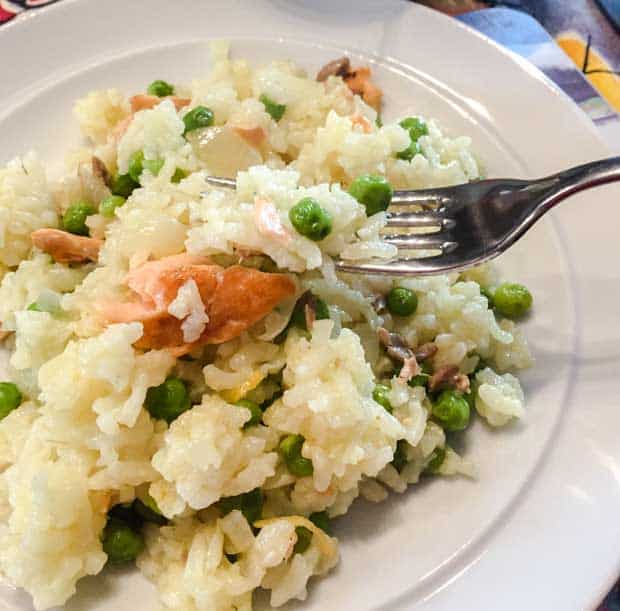 Easy Slow Cooker Risotto
Easy Slow Cooker Risotto is a simple way to make a delicious creamy rice dish with simple ingredients. Serve it as it is with a salad or add whatever ingredients you have to hand, it's such a versatile recipe.

Slow Cooker Italian Sausage Casserole
This Slow Cooker Italian Sausage Casserole is a warming bowl of spicy sausages and creamy beans. It's even better when you put it all in the Slow Cooker in the morning and it's ready for you to eat at supper time.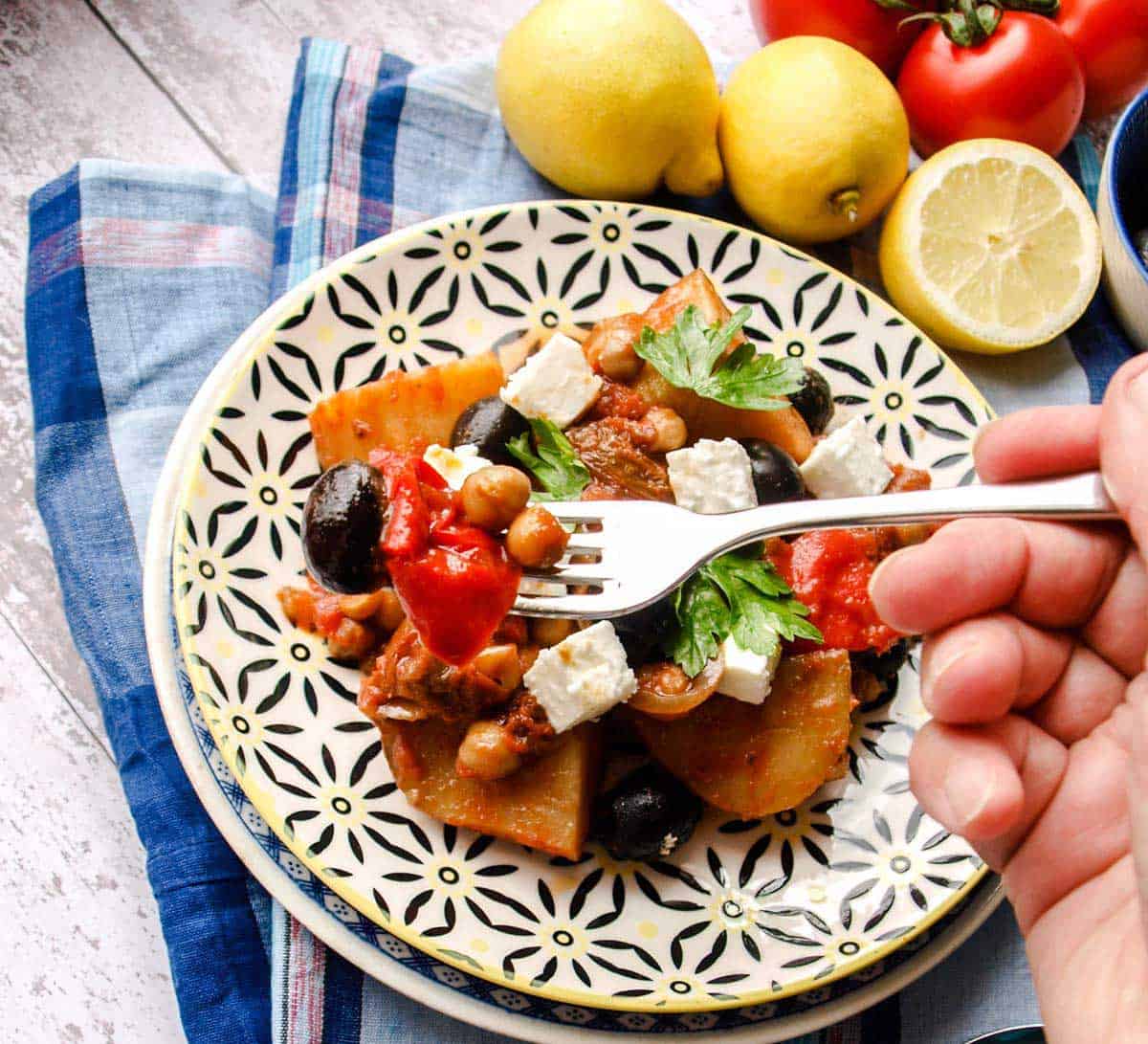 More chickpea casserole recipes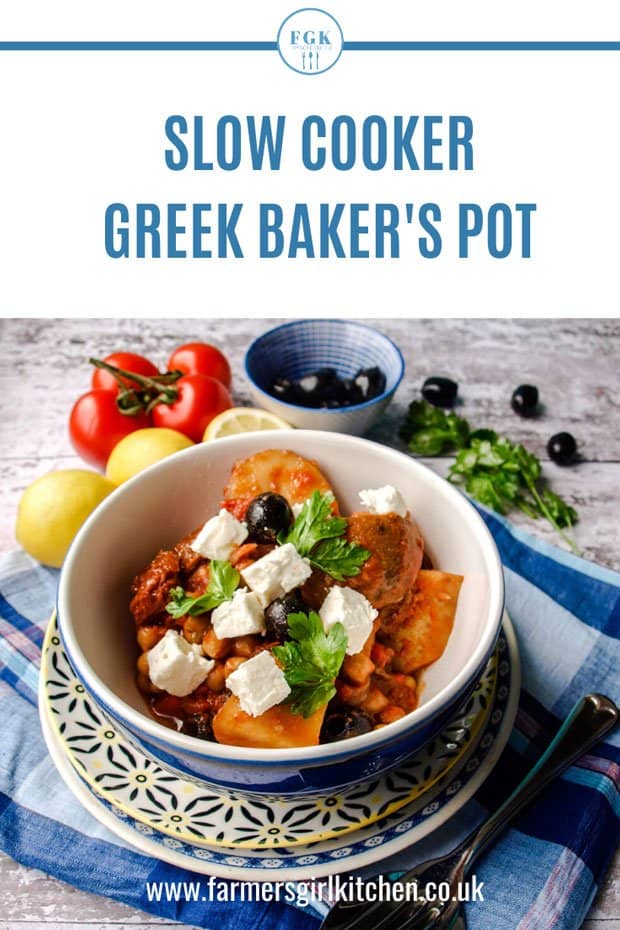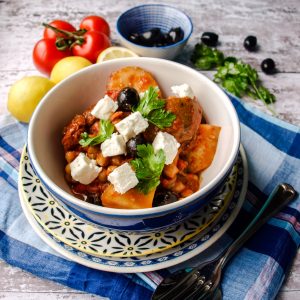 Slow Cooker Vegetarian Greek Baker's Pot
A traditional Greek casserole made with chickpeas adapted for the slow cooker.
Ingredients
350

g

dried chickpeas

or 400 g can of chickpeas

1

tbsp

olive oil

2

onions

peeled and sliced

2

garlic cloves

peeled and crushed

4

celery sticks

sliced (optional)

1

red pepper

cored, seeded and chopped

1

tsp

mixed herbs

oregano, thyme, basil

400

g

can of tomatoes

225

g

potatoes

chopped into 2 cm chunks

1

tsp

sugar

70

ml

vegetable stock

salt & pepper

100

g

mixed olives and Greek feta
Instructions
If using dried chickpeas, then soak the chickpeas in water overnight

In the morning, heat the oil in a saute pan, large frying pan or if you have a Sear and Stew Slow Cooker with a metal bowl, you can use it direct on the heat.

Fry the onions over a medium heat for a few minutes, add the garlic, celery and red pepper and potoatoes and cook for a few minutes more.

Put the vegetables into the slow cooker and add the chickpeas, tomatoes, stock, and herbs.

Season with salt & pepper
If using dried chickpeas
Cook on Low for 8 hours or on High for 6 hours
If using canned chickpeas
Cook on Low for 6 hours or on High for 4 hours

Add the olives and diced feta cheese before serving
Notes
I had a few sun dried tomatoes left over in the fridge so added those too.
Nutrition
Calories:
208
kcal
Carbohydrates:
27
g
Protein:
9
g
Fat:
7
g
Saturated Fat:
3
g
Cholesterol:
14
mg
Sodium:
245
mg
Potassium:
437
mg
Fiber:
6
g
Sugar:
6
g
Vitamin A:
745
IU
Vitamin C:
33.4
mg
Calcium:
132
mg
Iron:
3.2
mg
Don't Miss My Latest Recipes
CLICK TO SUBSCRIBE NOW to join my newsletter list & receive a FREE 'How To Adapt Recipes For Your Slow Cooker' printable!
Share by Email