I seem to have established a bit of a reputation for comfort food. Until I started blogging I don't think I realised just how much I like warming stews and casseroles, bakes, crumbles and pies. Not wanting to disappoint my followers, here is another one! It started out as Boston Baked Beans but as I had no belly pork as per the recipe, I subsituted the spicy chorizo sausage which was in my fridge, so the dish moved continent and ended up in sunny Spain.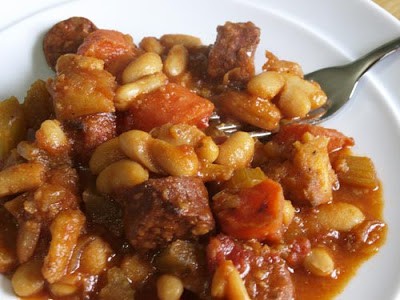 ChorizoBaked Beans
350g dried cannellini beans, soaked overnight and drained
1 tbsp sunflower oil
1 large onion, peeled and sliced
4 sticks celery, sliced
200g chorizo sausage, cut into chunks OR 200g Quorn Meatballs
1 x 200g can tomatoes
2 tbsp tomato puree
1 tbsp molasses or black treacle
1 tsp mustard powder
600ml chicken stock
Roasted Roots
4 parsnips, peeled and cut into chunks
4 carrots, peeled and cut into chunks
1 small swede, peeled and cut into chunks
2 tbsp 'Do me a Flavour' Roast Parsnip Seasoning (optional)
2 tbsp sunflower oil
1. Bring the beans to the boil in a pan of fresh unsalted water. Cook them for an hour until tender but not mushy.

2. Put 2 tbsp sunflower oil in a roasting tin add the chopped veg and the seasoning, if using. Mix together and roast in the oven at 200C for 40 – 50 minutes. The swede I had was using wasn't cooking very well, so after about 30 minutes, I covered the tin with foil and cooked it for about 20 more minutes, then uncovered to finish it off for 5 minutes.

3. While the roots are roasting, make the bean dish, put 1 tbsp of sunflower oil in a pan and add the onion and celery, cook gently until starting to soften then add the chorizo chunks, or quorn meatballs (you might want to add half a teaspoon of smoked paprika if you are using the quorn) and stir around until the onion and celery start to take on the colour of the chorizo.

4. Add the beans, the tomatoes, tomato puree, molasses or treacle, mustard and stock.
5. Cover the casserole and cook in a preheated oven (160C) for 1hr 30 minutes. Add the roasted root vegetables to the casserole and cook for another 30 minutes.

This dish is quite a long way from either Boston or Bilbao but was inspired by both, and also by what I needed to use up from the fridge!
More Bean Recipes from Farmersgirl Kitchen

Lamb & Cannellini Bean Hotpot is a warming dish of lamb and beans in a rich tomato sauce. The recipe is quick to prepare and cooks in the oven in 30 minutes.