Baked Potatoes are my favourite way to serve potatoes, but they have to have a crispy, crunchy skin. I've found that Air Fryer Baked Potatoes made in the Optimum HealthyFry Air Fryer is the perfect way to get the oven effect, and yet only having to heat up a very small space.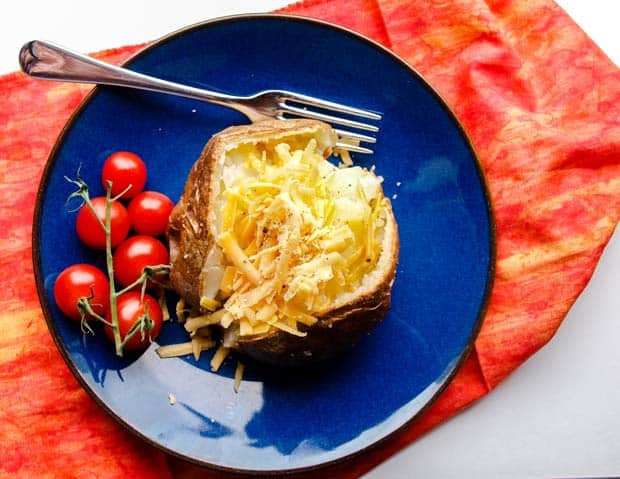 Advertisement: This post contains affiliate links for more information please see my PRIVACY POLICY
If you bake two or three potatoes in the main oven, you have to heat the whole oven to 200c for about an hour, that's a lot of power. If you cook them in the microwave it's much quicker, but the skin is soft and the potato is never as fluffy as oven-baked.
The Optimum Healthy Fry Air Fryer
I've had my Optimum HealthyFry Air fryer for about 3 years now and I use it all the time. I have made Airfryer chips (fries) once or twice but the HealthyFry really comes into its own as a mini-oven.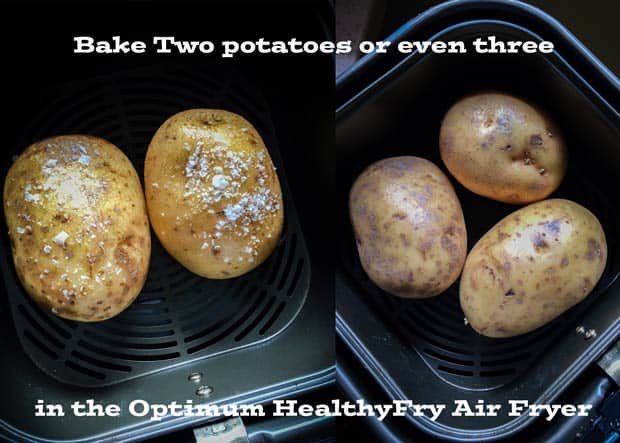 How many potatoes can you bake in the Healthy Fry?
The basket of the HealthyFry is a generous size. Although I baked two potatoes, you can fit 3 x 300g potatoes in the basket or 4 smaller potatoes.   
Baking in the HealthyFry isn't like the microwave. It takes the same time to bake three potatoes as it does to bake one.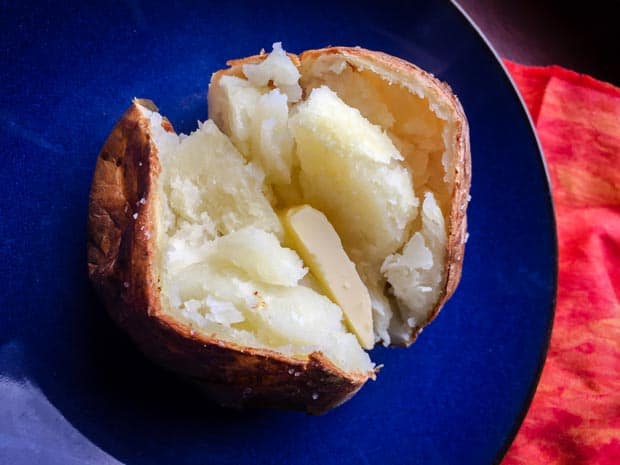 How do you serve Air Fryer Baked Potatoes?
The Air Fryer Baked Potatoes have a perfectly crisp skin and fluffy potato inside. Simply add a knob of butter and a little seasoning to make an ideal accompaniment.
Add a favourite topping
There are so many different toppings that you can add to a baked potato. Here are few to try:
Grated Cheese
Coleslaw
Baked Beans (a lower calorie option)
Make the Baked Potato into a Feast
Top with some Slow Cooker Chilli or a luscious Slow Cooker Coconut Chicken Curry. to make your delicious baked potato into a real feast.
More ideas for the HealthyFry Air fryer:
Heat up ready-made falafels – Preheat the HealthyFry for 3 minutes, then bake the falafels at 180c for 10 minutes
Cook a slice of pre-made pizza. Preheat the HealthyFry for 3 minutes, then bake the pizza slice at 190c for 5 minutes
Make your own HealthyFry Tortilla Chips
Sterilise jam jars: (2 or 3 depending on size) for making small quantities of jam or chutney. Wash the jars in hot soapy water, then rinse thoroughly. Preheat the HealthyFry for 3 minutes, then place the empty wet jars into the basket. Set the temperature to 120C and 'cook' for 30 minutes.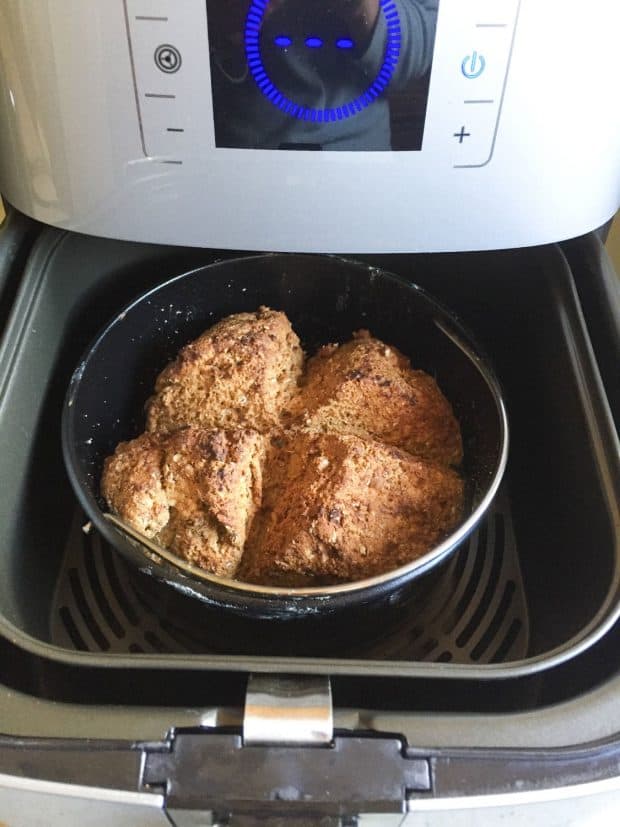 Air Fryer Soda Bread 
Bake Wholemeal Irish Soda Bread in the HealthyFry Air Fryer. It's really simple to make and a lifesaver if you run out of bread. 
Make an Individual Toasted Cheese Sandwich
Spread butter or other spread onto two pieces of bread, grate approximately 50g cheddar cheese.
Preheat the Optimum HealthyFry for 3 minutes.  
Place one slice buttered side down into the basket of the HealthyFry Airfyer.
Cover with grated cheese, top with the other slice (butter side upwards) and press down with a spatula.
Toast the sandwich at 190c for 6 minutes. Check and if you want it toasted more cook for another 2-3 minutes.


Make Rhubarb and Blueberry compote
Place equal quantities of washed and chopped rhubarb and whole blueberries into an ovenproof dish.
Cover with baking parchment and foil. If you only use foil the acid in the rhubarb will react with the foil.
Add approximately 100g of sugar. You need more sugar with rhubarb, other fruits may need less, and a tablespoon of water. 
Then bake in the pre-heated Air Fryer at 180C for 30-40 minutes. 
Check after 30 minutes and test with a knife. If the rhubarb does not easily yield then bake for another 5 to 10 minutes. 
Serve warm or cold with Greek yogurt for breakfast or with cream, ice cream or custard for dessert.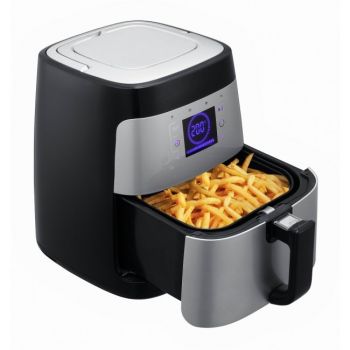 Read my review of the Optimum HealthyFry and find out more about just how versatile this nifty piece of kitchen kit is  
The Optimum HealthyFry Air Fryer costs £199, and as I'm a Froothie Ambassador you get free delivery in the UK!
Just use my ambassador link to order your HealthyFry Air Fryer. And simply type "3116" and "free ambassador delivery" in the comment section of the order. Delivery will be credited back to your card.
More Potato Recipes at Farmersgirl Kitchen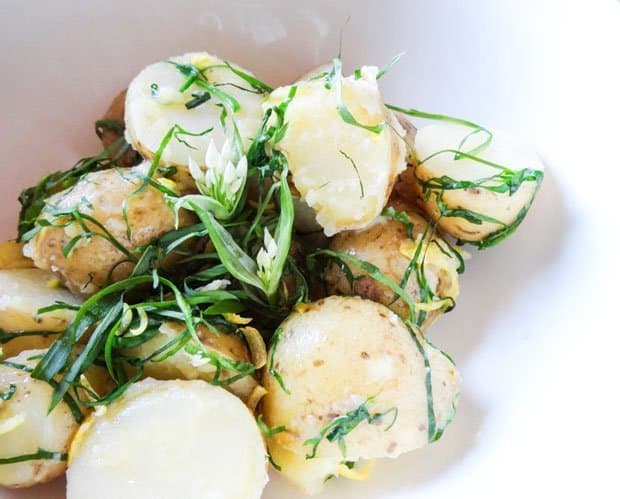 New Potatoes with Wild Garlic and Lemon Dressing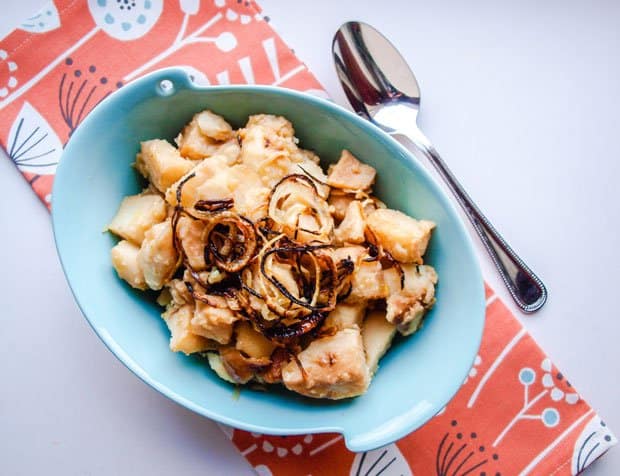 Slow Cooker Scottish Stovies – potatoes with onions and seasoning.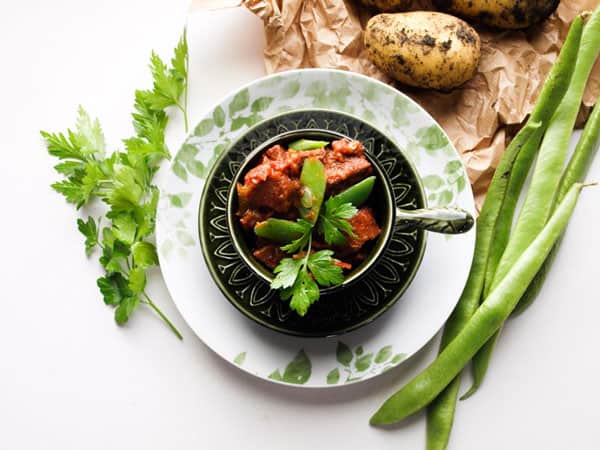 Slow Cooker Chorizo, Potato and Runner Bean One-Pot
More Airfryer Recipes
Lavender Honey Cake (Tin & Thyme)
AirFried Breaded Tofish (Planet Veggie)
AirFryer Carrot Falafel (Tin & Thyme)
Crispy Air fried Smoked Paprika Chickpeas (Planet Veggie)
Vegetable Kebabs (Simply Food)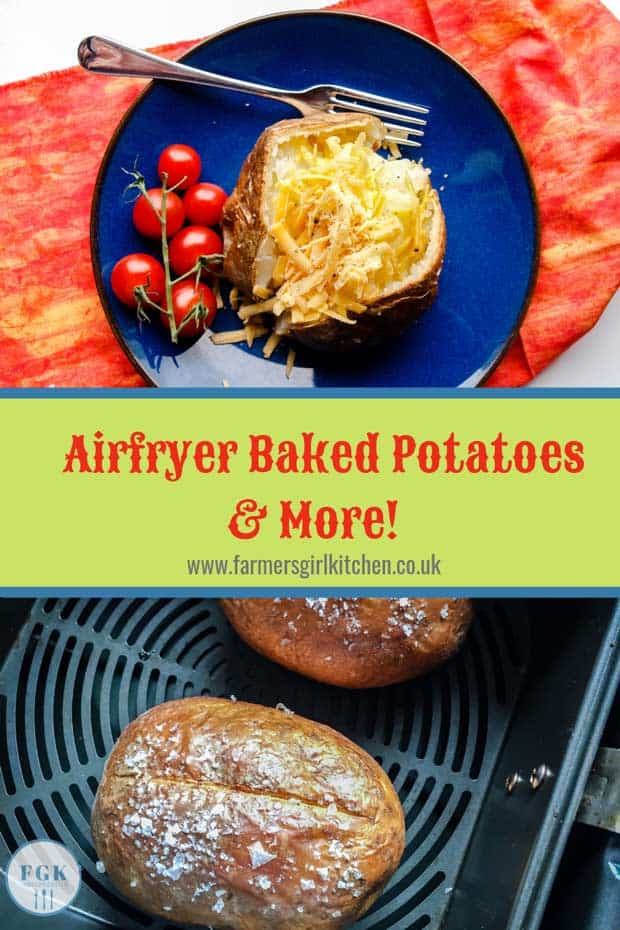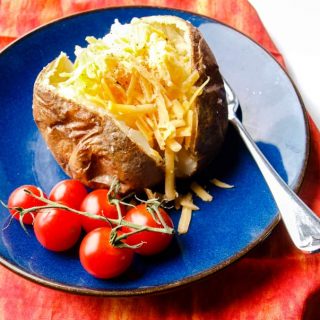 Air Fryer Baked Potatoes
Easy instructions for fuel saving by baking potatoes in the Healthy Fry Air fryer
Equipment
Optimum Healthy Fry Air Fryer

Measuring spoons

Pastry brush
Ingredients
600

grams

Baking Potato

I used 2 x 300 g Maris Piper Potatoes

1

tbsp

olive oil

1

tsp

sea salt
To Serve
100

g

cheddar cheese

grated

20

g

butter

12

cherry tomatoes
Instructions
Preheat the Optimum HealthyFry Airfryer at 60C for 3 minutes

Pierce the potatoes with a knife, then using a pastry brush, brush the potatoes with oil and sprinkle with salt.

Set the time for 50 minutes, then close the HealthyFry and leave to bake

Check with a sharp knife to make sure the potatoes are baked all the way through, if not set for another 10 minutes and bake again.

Once ready, place each potato on a plate, cut it open and squeeze the fluffy potato to the top.

Top each potato with a pat of butter and heap the grated cheese on top.

Serve each potato with 6 cherry tomatoes.
Notes
Smaller potatoes will take less time to bake, you can easily open the drawer of the HealthyFry to check how they are doing.
Larger potatoes will take longer to bake. 
Baking fewer or more potatoes will not make any difference to the baking time. I could easily fit three 300g potatoes in the HealthyFry. 
You can, of course, eat the baked potato as a side dish or use other toppings of your choice. 
Nutrition
Calories:
590
kcal
Carbohydrates:
59
g
Protein:
20
g
Fat:
32
g
Saturated Fat:
17
g
Cholesterol:
74
mg
Sodium:
1571
mg
Potassium:
1522
mg
Fiber:
5
g
Sugar:
5
g
Vitamin A:
1250
IU
Vitamin C:
40.3
mg
Calcium:
411
mg
Iron:
3.6
mg
Don't Miss My Latest Recipes
CLICK TO SUBSCRIBE NOW to join my newsletter list & receive a FREE 'How To Adapt Recipes For Your Slow Cooker' printable!
Share by Email