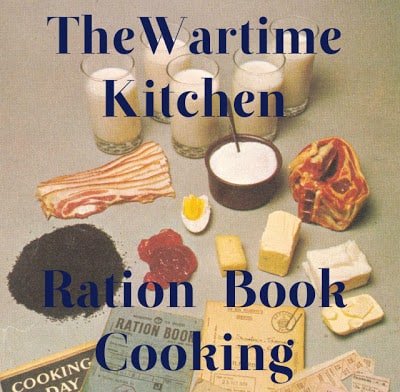 We've all heard stories of 'what it was like in the war' and the recent TV series, War Time Farm brought home again how different things were for people in Britain trying to get by and feed their families during the Second World War. When Karen of Lavender and Lovage suggested living on WW2 rations for a week, I was right in there signing on with Karen and Fiona from London Unattached. As the time has got nearer, it has become more daunting, maybe because I've really looked at what might be involved!
I've thought hard about how I should approach this challenge and over this weekend I have come to the conclusion that I need to start from where I am. So my challenge will take into account that we live on a farm where, according to my MIL who lived through WW2, there were always plenty of vegetables and they didn't often have to do without.
In terms of our own family, if there was a war on my sons, who are 23 and 25, would be enlisted and fighting. I would like to think that our younger son, who is a musician, would be in ENSA entertaining the troops. Our elder son, perhaps a quartermaster, organising the stores in one of the forces. However, it is more likely that they would front line troops sent to Europe or the far east to fight for their country. It gives me a chill just to think about it.
During the Second World War it was considered essential that a male
workforce was kept back from active military service to be employed in
certain jobs. As a farmer, my husband would be in a 'protected occupation', just as his father was, and I would also be needed to work on the farm, which is why you see my dressed as a 'Land Girl' in my blog header this week!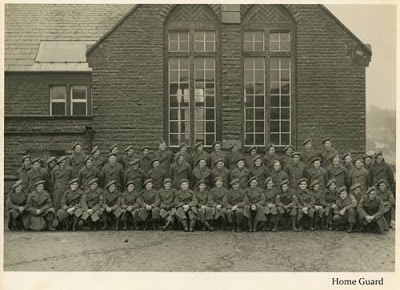 This photograph of the local
Home Guard
includes my late father-in-law.
So what are we working with? Not a lot to be honest, but as there are three of us in the house, I have tripled these rations to feed all three of us, on the basis that it will be easier and more economical and make the rations go further than if I'm not dealing with rations for one.
WW2 Rations 1940: per one person (adult)
Butter: 50g (2oz)
Bacon or
ham: 100g (4oz)
Margarine: 100g (4oz)
Cooking fat/lard: 100g (4oz)
Sugar: 225g (8oz).
Meat: To the value of 1/2d – 1lb (450g)
Milk: 3 pints (1800ml) occasionally dropping to 2
pints (1200ml).
Cheese: 2oz (50g) rising
to 8oz (225g)
Eggs: 1 fresh egg a week.
Tea: 50g (2oz).
Jam: 450g (1lb) every two months.
Dried eggs 1 packet (12 eggs) every four weeks.
Sweets: 350g (12oz) every four weeks
Menu
Monday
Breakfast – Porridge (made with water)
Lunch – Leek and Potato Soup

Leek and Potato Soup
1 tbsp lard or oil
3 large leeks
1 1/2 lb potatoes
4 pints stock
Heat the oil over a moderate heat, add the cleaned chopped leeks, and let them sweat for while until they start to soften. Add the potatoes, chopped into 2in chunks and cook for a couple of minutes. Add the stock and cook until the leeks and potatoes have cooked, about 30 minutes.
Supper – Egg and Sausage Pie

Sausages were not on ration but were often difficult to get hold of, so when you did get them, you wanted to make the most of them. Eggs were rationed and this pie, uses all of our egg rations for the week. However it will provide two meals, so good value. The recipe comes from Aunt Kate's Ration Recipe Book, presented with the 'People's Friend'.



Egg and Sausage Pie
3 eggs
8oz sausages (approx 4 sausages) I browned the sausages first although this is not required
1/4 pint milk
salt and pepper
1/2lb short pastry (I substituted vegetable shortening, couldn't face lard, for half the butter in this recipe)
Line a deep sandwich tin with pastry, Place sausages, sliced length ways, on the pastry. Beat the eggs with the milk and a dash of salt and pepper and pour over the sausages. Bake for 45 minutes in a moderate oven. Use hot, or when cold cut into wedges and serve with lettuce and sliced tomatoes.
So what is left?
WW2 Rations 1940 for
three people
Butter
150g (6oz)
75g Butter
Bacon or ham: 300g (12oz)
Margarine: 300g (12oz)
Cooking fat/lard:
300g (12oz)
200g lard
Sugar: 675g (1lb 10oz)
Meat: 1350g (3lb)
Milk:
9 pints occasionally dropping to 8 pints
8 3/4 pints
Cheese: 150g (6oz) rising to 675g (1lb 10oz)?
Eggs:
3 fresh eggs per week
0 eggs
Jam: 150g (6oz) per week
Dried Eggs 3 packets
(36 eggs every four weeks) 9
eggs for one week
Sweets: 262g (3oz) per week.