Spicy Courgette and Apple Chutney is a recipe, developed specifically to make use of nature's bounty at the end of the summer. It's sweet and spicy with tasty chunks of apple and courgette (zucchini).

"It is a truth universally acknowledged, that a glut of courgettes (zucchini) and apples, must be in want of a recipe". With apologies to Jane Austen!
Chutneys and relishes are even easier to make than jams and jellies. You don't need to work out a 'setting point', you just cook it down until it reaches the thickness that you want.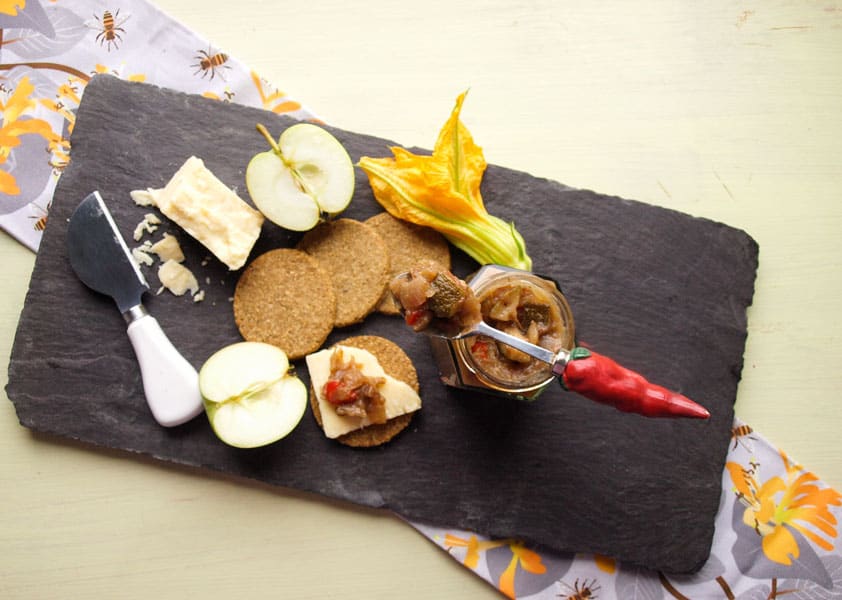 How do you serve Spicy Courgette & Apple Chutney?
You can enjoy this tasty chutney with cheese and crackers. Chutney also makes a great accompaniment to pies, pastries, and roasts. I often add a spoonful of chutney to a casserole or slow cooker one-pot to add a touch of spice and piquancy.

Give it as a gift
Spicy Courgette and Apple Chutney also makes a great gift for friends and family. Tie a pretty circle of fabric over the jar lid and add a fancy label and you are done.
How to make Spicy Courgette and Apple Chutney
Follow the step by step instructions for great results.

Gather your ingredients, apples, onions, courgettes (zucchini), red (bell) pepper, root ginger, and garlic cloves. Cut the apples, courgettes, onion, and red pepper into even-sized chunks.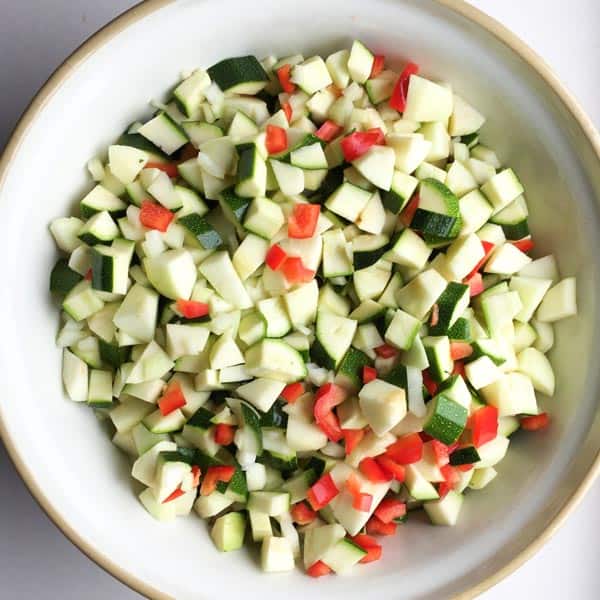 Put the chopped apple, courgettes, red pepper and onion in a non-metallic bowl and add the salt. Cover and leave for an hour.

Drain off the excess water that will have gathered in the bottom of the bowl. I needed two colanders to drain off this quantity.

Add the other ingredients, including the chopped dates, sugar, ginger and garlic to a large saucepan with the vinegar and spices. There's no need to add any more salt as you have salted the vegetables already.
Bring to the boil then simmer until the mixture becomes pulpy and is nice and thick. Be careful with the temperature and stir frequently as you don't want the chutney to stick to the bottom of the pan.

How long before I can eat the Courgette and Apple Chutney?
Spicy Courgette and Apple Chutney will mature and improve so try to leave it for at least two weeks. However, I did try it the next day and it was delicious. There is no overpowering vinegar flavour, it's not too spicy, and it is the perfect partner for cheese and oatcakes.
How long can I keep the chutney?
If your jars are well sterlised and sealed, the chutney will keep for up to a year unopened. Once opened store in the fridge and use within 3 weeks.
More Chutney Recipes from Farmersgirl Kitchen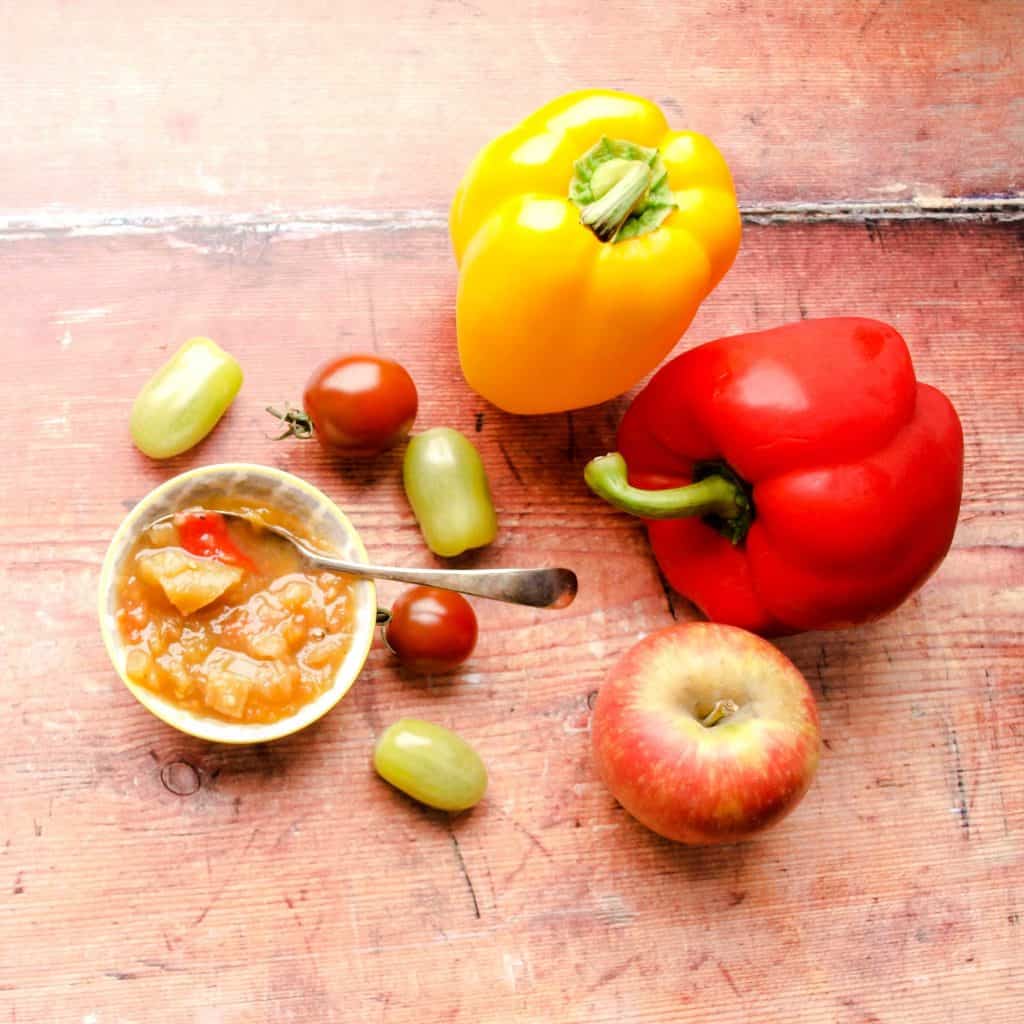 Green Tomato, Apple & Pepper Chutney is the perfect way to use the last tomatoes of the season. Combining green tomatoes with apple and sweet peppers makes a sweet fruity chutney that is ideal as a gift.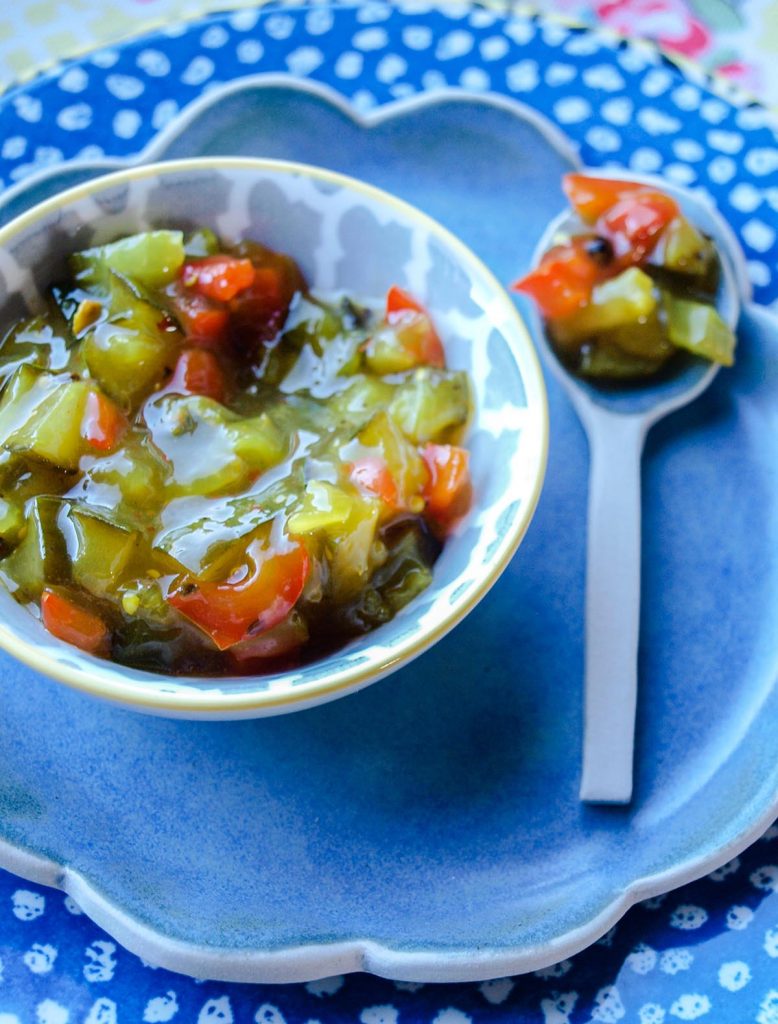 Sweet Cucumber Relish is a sweet, crunchy, and pickled relish that is ideal to liven up your sandwiches, burgers, salads, and more.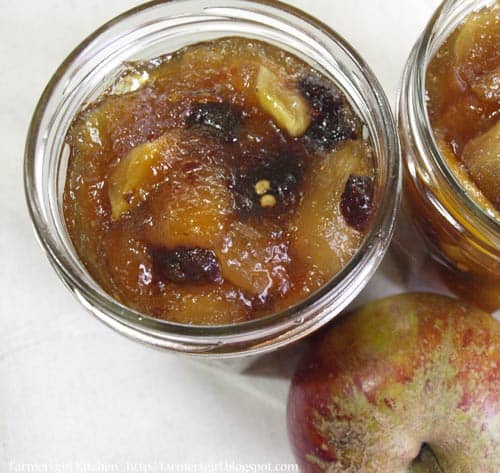 Apricot and Apple Chutney is a thick and chunky sweet preserve packed full of fresh and dried fruit. Serve it with cheese and cold meats, it is also delicious with curry as an alternative to mango chutney.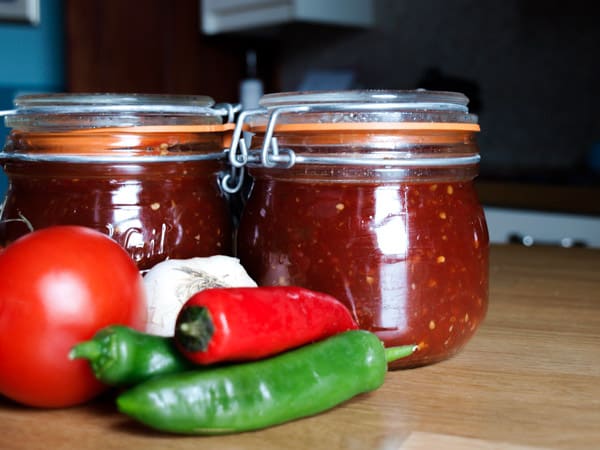 This Tomato Chilli Jam is really delicious and easy to make at home, it's ideal to make when you have a glut of tomatoes or when you can buy them cheaply.
More Chutney Recipes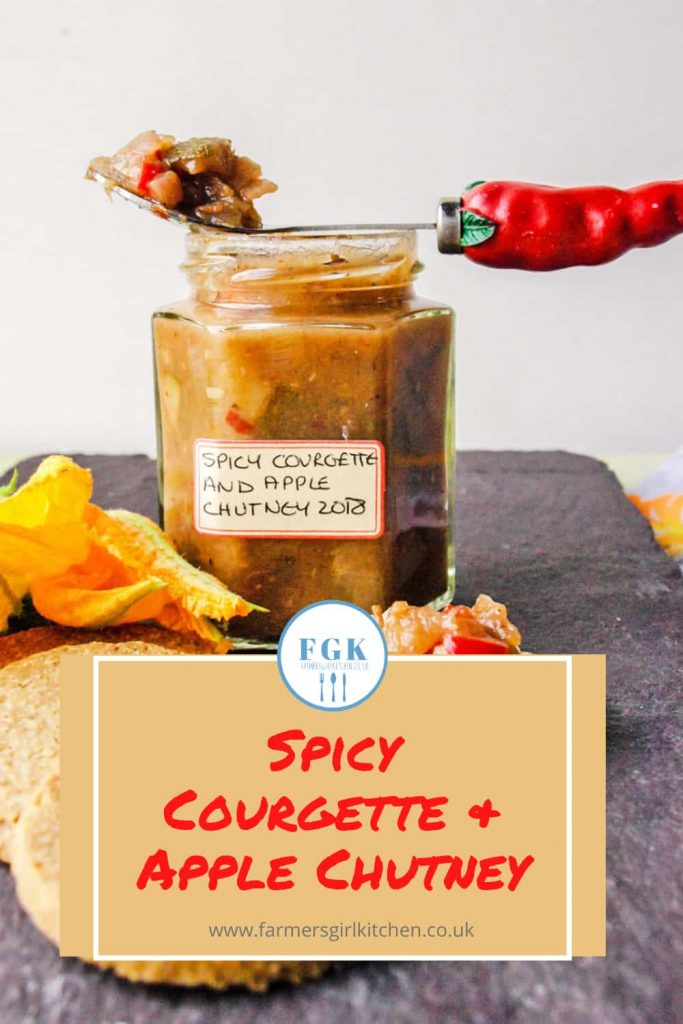 I'm adding this recipe to #CookBlogShare the sharing community for delicious recipes, hosted this month at Easy Peasy Recipes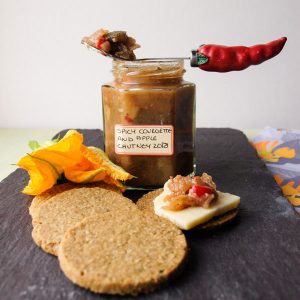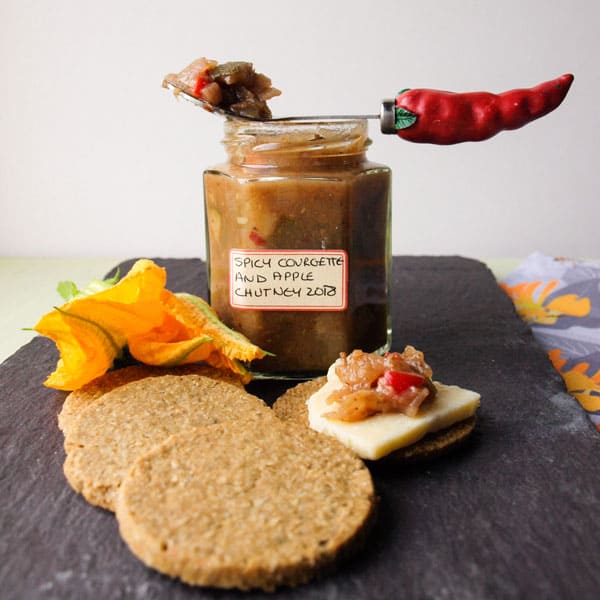 Spicy Courgette and Apple Chutney
Spicy Courgette and Apple Chutney is a mildly spiced preserve. It's well balanced with enough sweetness from the apples to complement the courgettes and spices. Perfect to serve with cheese and crackers.
Ingredients
1500

g

courgettes

750

g

apples

2

large onions

1

red pepper

8

cm

root ginger

grated

3

cloves

garlic

crushed

150

g

dates

chopped

1

tbsp

salt

1/2

tsp

chilli powder

2

tsp

garam masala

225

g

dark brown sugar

425

ml

distilled malt vinegar
Instructions
Peel and dice the apples, dice the courgettes, onions and red pepper.

Place in a large non-metallic bowl, sprinkle with the salt, cover with a tea towel and leave for an hour.

Drain the water off the vegetables.

Place in a large saucepan, I use the base of my pressure cooker, add the rest of the ingredients and stir well.

Bring to the boil, stirring. Then reduce the heat and simmer, stirring frequently until thick and pulpy, about 1-1 1/2 hrs.

Ladle into sterilised jars. Don't use metal lids as the vinegar degrades the metal spoiling the chutney. Use either clip type jars or you can buy waxed circles and cellophane covers for jam and chutney making.
Notes
Keep at least 2 weeks before eating.
Don't Miss My Latest Recipes
CLICK TO SUBSCRIBE NOW to join my newsletter list & receive a FREE 'How To Adapt Recipes For Your Slow Cooker' printable!
Share by Email
This recipe is linked up to #CookBlogShare this week hosted by Effortless Foodie.