Slow Cooker Scottish Stovies is a comforting plate of slowly cooked potato seasoned with beef and onions. Stovies or 'Stoved Potatoes' is a classic dish that makes simple ingredients taste incredibly good.
Stovies were a feature of my childhood. My mother made and served 'plain' stovies i.e. just potatoes and onions, which she cooked on the stove in a pot with a tight lid. Stovies were often served with a Scotch Pie and lots of brown sauce.
Traditional Recipes
Like all traditional recipes, my recipe is traditional to my family and I know that there are many other families who have their own Scottish Stovies recipes and traditions.
About the Ingredients for Scottish Stovies
What is Beef Dripping?
Beef dripping is the fat that renders down when you are roasting beef. The fat is drained off and chilled for use the next day.
Beef dripping definitely makes the best Scottish Stovies. If you can't get beef dripping, try my cheat's method using white vegetable fat and beef stock cube, it gives a pretty authentic taste.
Can I use oil or butter?
You can use oil although the white vegetable fat gives a better result. If you do use oil, then use neutral flavoured vegetable oil, not olive oil.
I don't recommend using butter because of the cooking method. Butter is likely to burn and will also give its own flavour to the potatoes.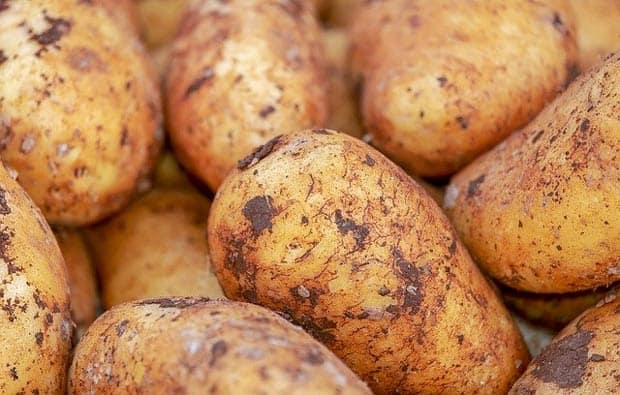 What kind of potatoes should I use?
Use a fluffy potato rather than a waxy potato. I use Maris Piper potatoes, they are a good all-rounder and hold their shape well.
Why Slow Cooker Scottish Stovies?
I have adapted this traditional frugal Scottish recipe for the slow cooker because essentially, Stovies are cooked on a low heat and steamed in a very little water. This is exactly how a Slow Cooker cooks so it is a good fit.
Can I make Scottish Stovies without a Slow Cooker?
Yes, the traditional recipe is made using a pan with a thick base and a tight lid. Once the onions are cooked, add the potatoes and the 30 ml water. Put on a very low heat for about an hour. Don't take the lid off to check how they are cooking as you will release the steam. Just give the pot a shake every now and then.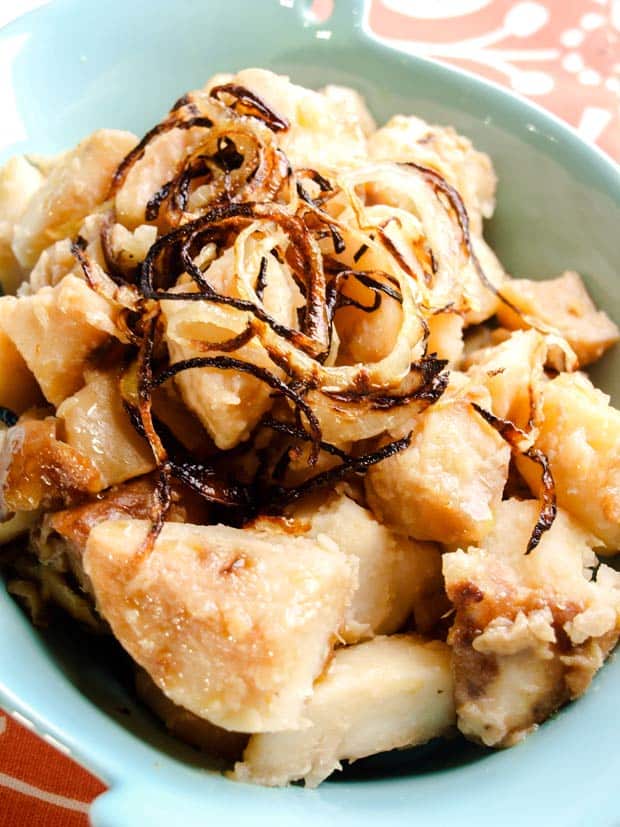 How to make Slow Cooker Scottish Stovies
Here are some step by step photographs showing you how to make this delicious potato recipe. Find the full details of quantities and timings in the Recipe Card at the end of this article.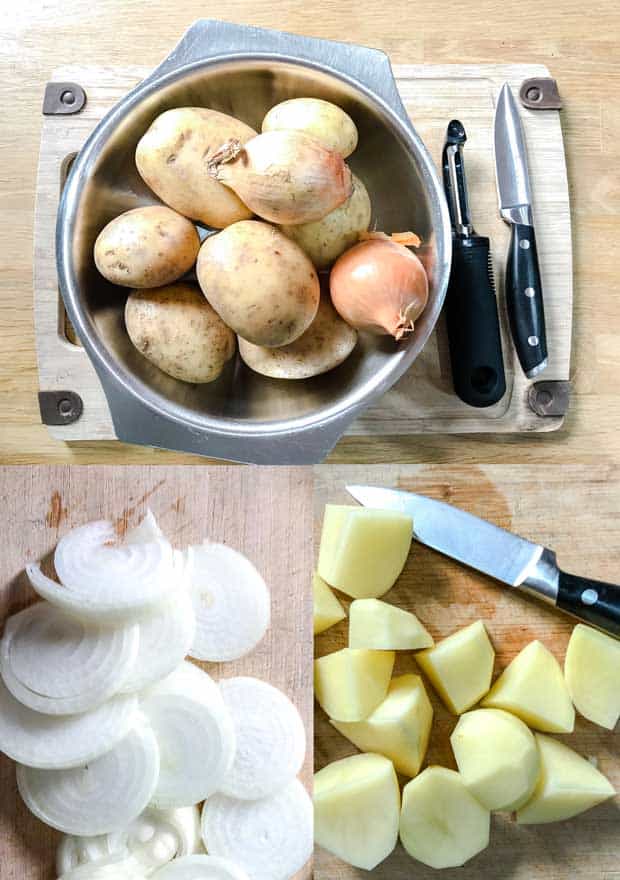 Slice the onions and cut the potatoes into 4 cm pieces
Place the dripping or fat in a pan and very gently sauté the onions until they are soft.
Add the potatoes and stir them to coat and mix thoroughly with the onions.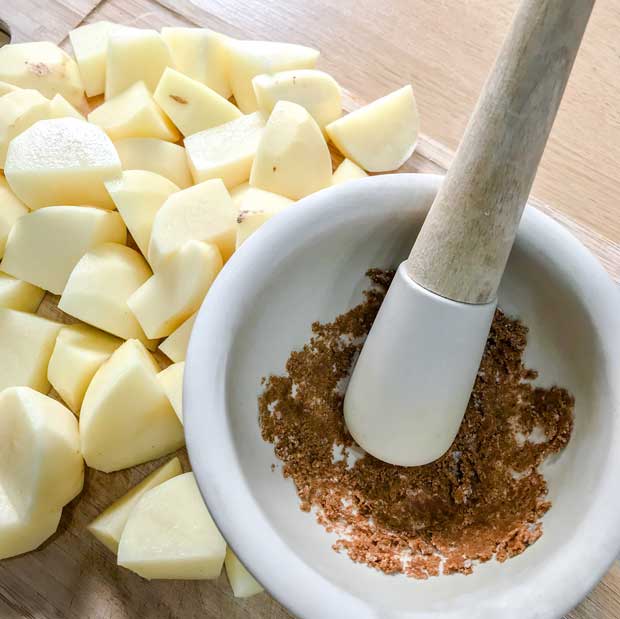 Grind up stock cube (if using) with salt in mortar and pestle.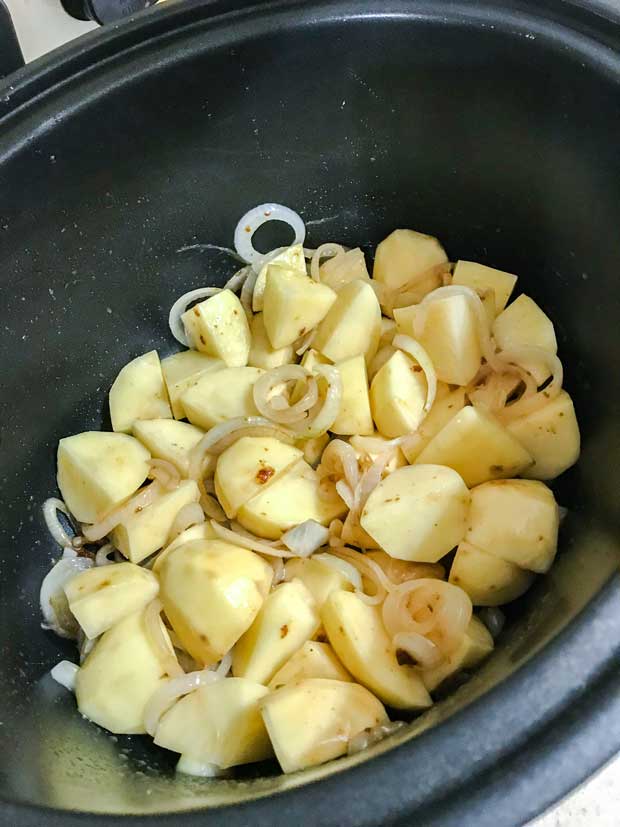 Sprinkle the salt and stock cube over potato-onion mixture in the slow cooker and stir.
Add the cold water and put on the lid.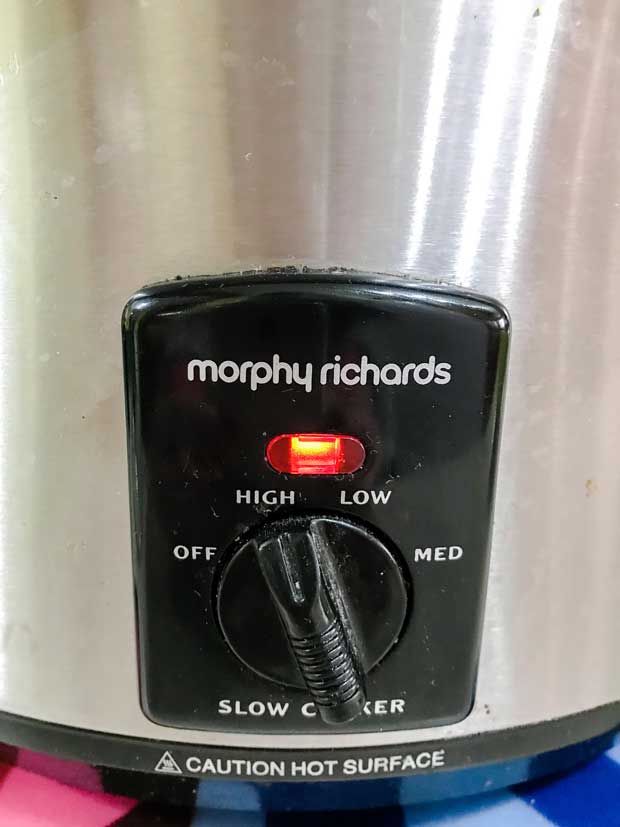 Cook on High for 1 15 minutes hour and then on Low for 1 hour 15 minutes.
Beat the stovies lightly with a wooden spoon to break up the edges of the potatoes and combine the flaovurs.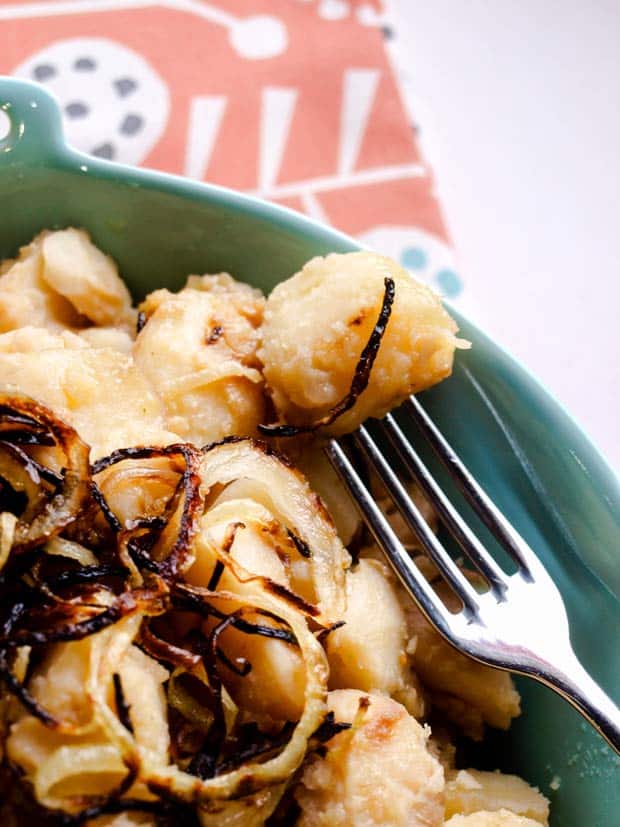 Make Stovies into a Meal
Roast Beef Stovies
Use leftover roast beef cut into small pieces. Then use a wooden spoon to beat the pieces into the cooked stovies.
Corned Beef Stovies
Canned corned beef (not the cured US style) is a good staple to have in your larder. Add crumbled corned beef to your cooked Stovies and beat this into the potatoes to make an inexpensive and substantial meal. For many years my Mum served Corned Beef Stovies as one of the dishes at her Hogmanay (New Year's Eve) party. It was always very popular.
Can I add anything else to the Stovies?
Once the potatoes and onions are cooked add whatever you like to them. Stovies are great for stretching small quantities of leftover meat or even chicken.
Can I make Vegetarian Slow Cooker Scottish Stovies?
Yes, use the vegetable fat and don't add the beef stock cube. Once cooked you can add cooked vegetarian mince or other meat-free protein.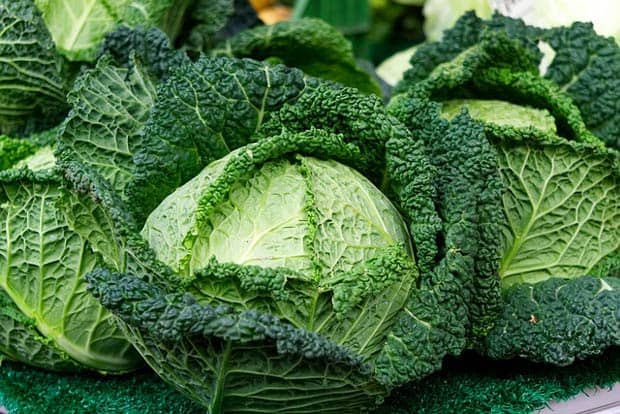 What vegetables should I serve with Stovies?
I hate to admit it, but I don't remember any vegetables being served with Stovies when I was a child. I would suggest serving steamed Savoy Cabbage, but any green vegetable would taste good with stovies.
More Scottish Recipes from Farmersgirl Kitchen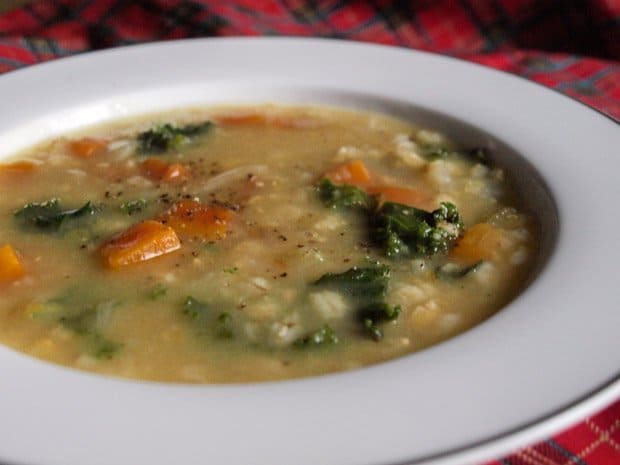 Scotch Broth is a very popular recipe and no wonder. This recipe turns a few pulese and root vegetables into a feast.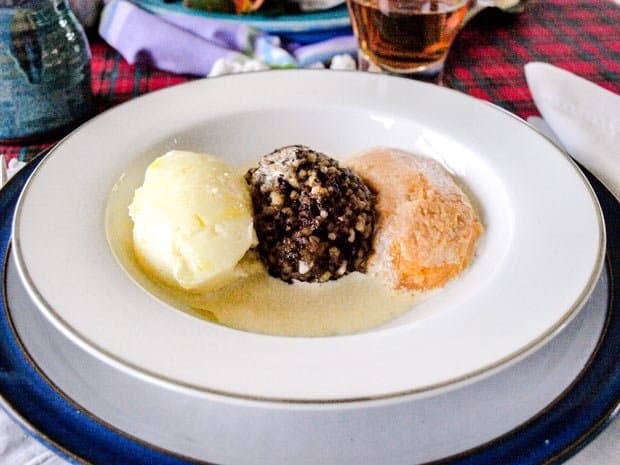 How to host the Ultimate Burns Supper provides recipes and traditions to help you oragnise a very Scottish celebration.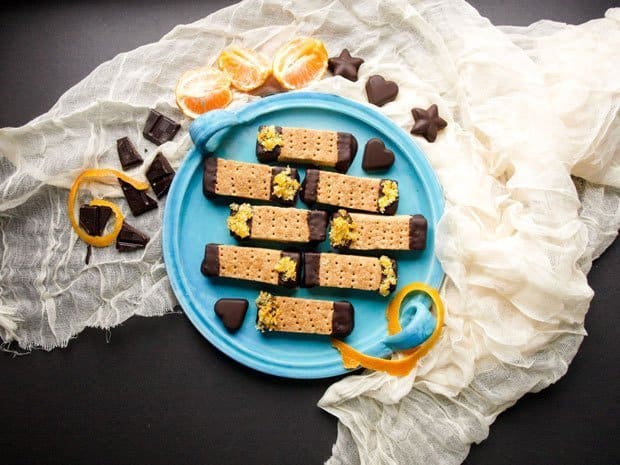 Chocolate Orange Scottish Shortbread is a delicious variation on traditional shortbread fingers.
More Potato Recipes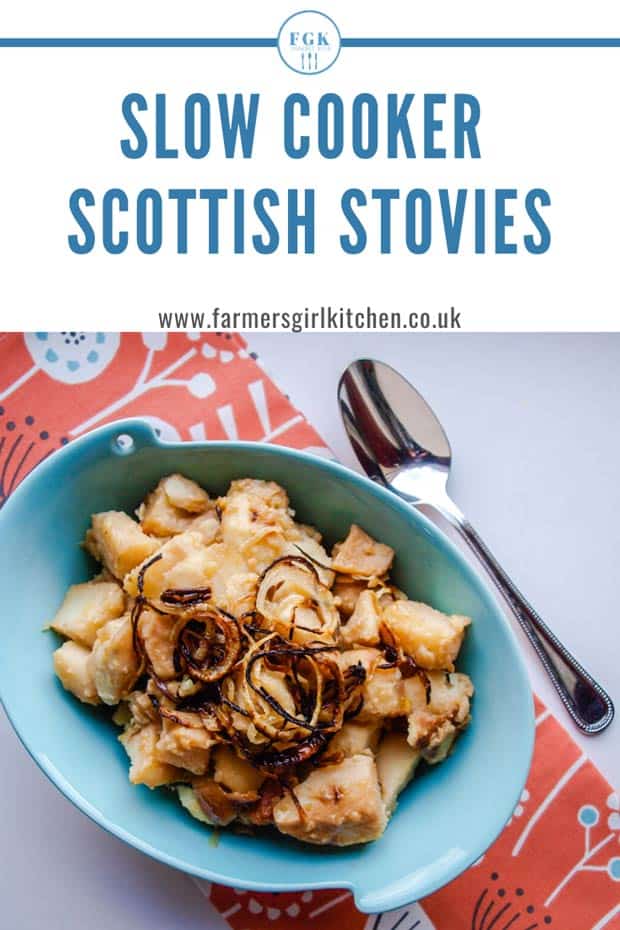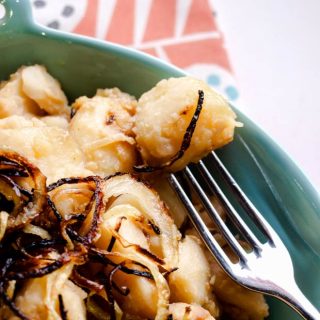 Slow Cooker Scottish Stovies
Slow Cooker Scottish Stovies is a traditional 'stoved' potato recipe adapted or the Slow Cooker.  Chunks of potato cook slowly with sliced onions, seasoned with a savoury beef flavour. 
Ingredients
900

g

Potatoes

2

onions

20

g

solid vegetable fat or beef dripping

1

Beef stock cube

if using vegetable fat

1

tsp

salt

30

ml

water
Instructions
Slice the onions and cut the potatoes into 4 cm pieces

Place the dripping or fat in a pan and very gently sauté the onions. They should soften but not colour.

Add the potatoes and stir them to coat and mix thoroughly with the onions.

Transfer to your slow cooker pot.

Grind up stock cube (if using) with salt, sprinkle over the potatoes and onions in the slow cooker.

Pour over the water, don't be tempted to add more, 30 ml is all you need) put on the lid and cook for 1 hour 15 minutes on HIGH, then 1 hour 15 minutes on LOW.

When the potatoes are cooked, take a wooden spoon and roughly break up the potatoes. You want to retain chunks of potato but roughen up the edges.
Notes
If you have a slow cooker pot that can go on the stove, you can saute the onions in the pot rather than using a separate pan. 
Once the Scottish Stovies are ready, you can serve as a side dish or add leftover meat or vegetables to the potatoes and serve as a main meal. 
Nutrition
Calories:
190
kcal
Carbohydrates:
33
g
Protein:
7
g
Fat:
4
g
Saturated Fat:
3
g
Cholesterol:
11
mg
Sodium:
882
mg
Potassium:
1010
mg
Fiber:
7
g
Sugar:
2
g
Vitamin A:
125
IU
Vitamin C:
30
mg
Calcium:
80
mg
Iron:
7
mg
Don't Miss My Latest Recipes
CLICK TO SUBSCRIBE NOW to join my newsletter list & receive a FREE 'How To Adapt Recipes For Your Slow Cooker' printable!
Share by Email