Mini Treacle Tarts are a little bite-sized version of traditional British dessert, a pastry case filled with breadcrumbs and sweet golden treacle, ground almonds, cream, and egg.  They are so sweet and delicious, ideal for afternoon tea and make the perfect alternative to Christmas mince pies.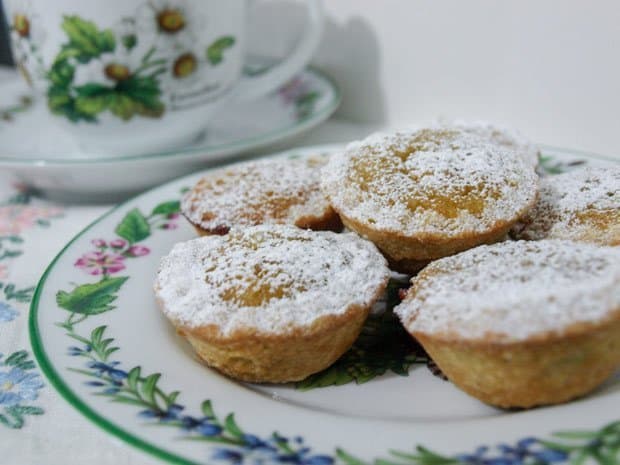 This recipe comes from a delightful book called The British Larder, A Cookbook for all Seasons, written by Madalene Bonvini-Hamel

When this weighty tome thumped through my letterbox (actually, it wouldn't go through my letterbox, the postie delivered it right into my hands) I was somewhat overwhelmed by the sheer size and weight of the book, but I was soon engrossed in the excellent writing and sensational recipes.
About the Author
Professional chef Madalene has worked at some of the country's finest restaurants, from Aubergine (as part of Gordon Ramsay's brigade) and Claridges, and under Michel Roux Jr at Le
Gavroche.  Blimey, this is a serious chef, how on earth am I going to make anything from a book by such a high powered chef?
However, reading on I found that Madalene and her partner Ross Pike had created a
website
to show off their love of seasonal produce, this led to them opening their Award-winning Pub, The British Larder in Suffolk.  This gave me a little courage to think that perhaps there might be some recipes which suited my home cooking style.
Contents
The book starts with information about The British Larder and the author.  There are then some pages of notes on suppliers, ingredients and some basic recipes. The book is divided into chapters by month,  with each month starting with a practical and beautifully
written essay on the foods available in that month.  Read carefully as there are some little gems of recipes hidden amongst the prose.  The book is also generously illustrated with stunning
photographs taken my Madalane herself (RESPECT!)
Here is a taster of some of the recipes from each month:
January
Pan Roasted Cod with Jerusalem Artichokes, Venison Burgers with Roasted Parsnip Straws and Beetroot and Red Onion Relish. Braised Beef Ribs with January King Cabbage and Carrot Crush, Poppy Seed and Blood Orange Loaf Cake
February
Mussels with Smoky Bacon, Cider and Horseradish, Cauliflower and Shallot Piccalilli, Rhubarb Melting Moments (I can't begin to describe how fantastic these look!)
March
Buckler Leaf Sorrel and Spinach Soup, Slow Cooked Duck Legs with Pickled Rhubarb, My Famous Treacle Tart
April
Smoked Bacon, Binham Blue and Wild Garlic Breakfast Muffins, Crispy Quack Eggs with Radish Mayonnaise, Cardamom and Golden Sultana Hot Cross Buns
May
Homemade Elderflower Cordial, Pan Seared Woodpigeon with English Asparagus and Broad Bean and Wild Mint Hummus, Chocolate and Fresh Mint Parfaits
June
Roasted Aubergine Soup with Dry-Roasted Almonds, Garden Herb-marinated Half Roast Chicken with Kohlrabi, Fennel and Peanut Slaw, Chocolate Fudge Cakes with Cherries in Red Wine
July
Beetroot Tarte Tatin with Frozen Broad Bean Crème Fraiche, Courgette –Wrapped Chicken Skewers, Gooseberry Curd and Brown Sugar Meringue Mess with Garibaldi Biscuits
August
Borlotti Bean and Courgette Hummus, Mustard Seed-smoked Beef with Soft-boiled Duck Eggs and Toasted Cobnuts, Victoria Plum and Blackberry Frozen Ice Cream Slices
September
Oven Roasted Acorn Squash with Salt-baked Beetroots and Rosehip and Elderberry Vinaigrette, Slow Roasted Pork Belly with Crab Apple  Jelly and Caramelised Damsons, Hedgerow Fruit
Pastilles (yes, pastilles as in 'sweets').
October
Red Wine-poached Quinces and Goats Cheese Open Filo Tarts with Salted Caramel Walnuts, Pot Roasted Mallard with Cider Apples and Celeriac Mash, Apple Snow with Warm Honey Madeleines.
November
Pulled Pork and Pumpkin Pies, Pheasant Ravioli with Chestnut Sauce, Pear Parfait with Liquorice Jelly and Spice-poached Pears
December
Sage, Prune and Armagnac-stuffed Turkey Breast with Prune Sauce,  Beef and Oyster Pie, Chocolate and Cranberry Salami.
Who is it for?
I got a copy of the Readers Digest Cookery Year when I was in my early twenties, I learned a lot about seasonal cooking and eating from that book.  It was also a great reference and
source of techniques.  I think The British Larder could act in the same way for a cook who is keen to learn and would like to create ambitious dishes.  It is also good for those of us who would like a reminder and some fresh inspiration to cook seasonally.
I noticed there are quite a few 'game' recipes in this book.  Probably more than I have seen in a cookery book that is not devoted to game.  So if you like to cook and eat game you will find lots of inspiration and interesting recipes for venison, partridge, pheasant, woodcock, and rabbit.
Pros
The kind of cookbooks I really enjoy are the ones where the personality of the author comes through.  In The British Larder there is an introductory paragraph or two about every recipe, and it is here that Madalene really hooked me in. Here is an excerpt from one of the introductions:
"I find that a glass of wine, a chair, a chopping board, and a sharp knife do the trick and, of course, if you have a friend to gossip with even better, the time passes quickly and before you know it, the beans are prepared and all that is left to do is the cooking" (Sweet and Sour Pickled Green Beans)
I loved the dessert recipes, although Madalene claims not to be much of a pastry chef, the flavour combinations would certainly suit my taste.  Preserves, cordials, pickles and chutneys also feature in many of the chapters with more inspiring flavour combinations.
Cons
There are quite a few inspired vegetarian dishes, but they are heavily outweighed by meat/fish/poultry recipes, so I wouldn't recommend The British Larder for vegetarian or vegan cooks.
Ease of use
The recipes are well written and comprehensive; many of them feature useful 'Cooks Notes' with substitutions or additional ideas relating to the recipe.
The Verdict
This is an expensive book, even with online discount prices, but I think it is good value for money and likely to become a new classic for British cooks, chefs, and foodies.
The British Larder, A Cookbook for all Seasons, written by Madalene Bonvini-Hamel Absolute Press (An imprint of Bloomsbury Publishing) RRP £30, Online Price £19.20
I was provided with a copy of The British Larder by Absolute Press/Bloomsbury Publishing, I was not required to write a positive review and my opinions are my own.
The Recipe for Mini Treacle Tarts
I thought about making one of the imaginative and ambitious dishes that I've described, but in the end, I decided to choose a classic Treacle Tart to show you just how detailed and well written these recipes are, to the extent that I felt very comfortable adapting the ingredients to make some mini tarts.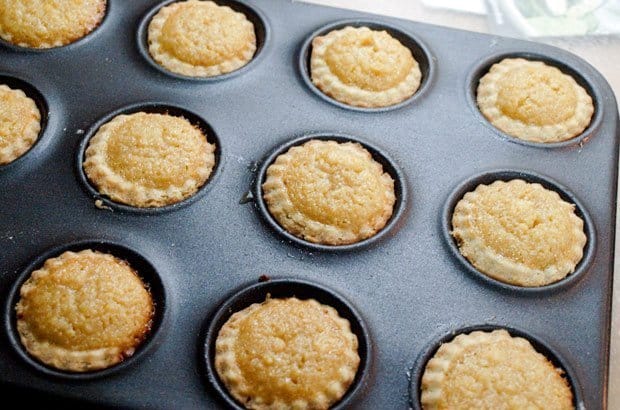 The Mini Treacle Tarts can be served warm with cream as dessert or cold and dusted with icing sugar for an afternoon tea treat.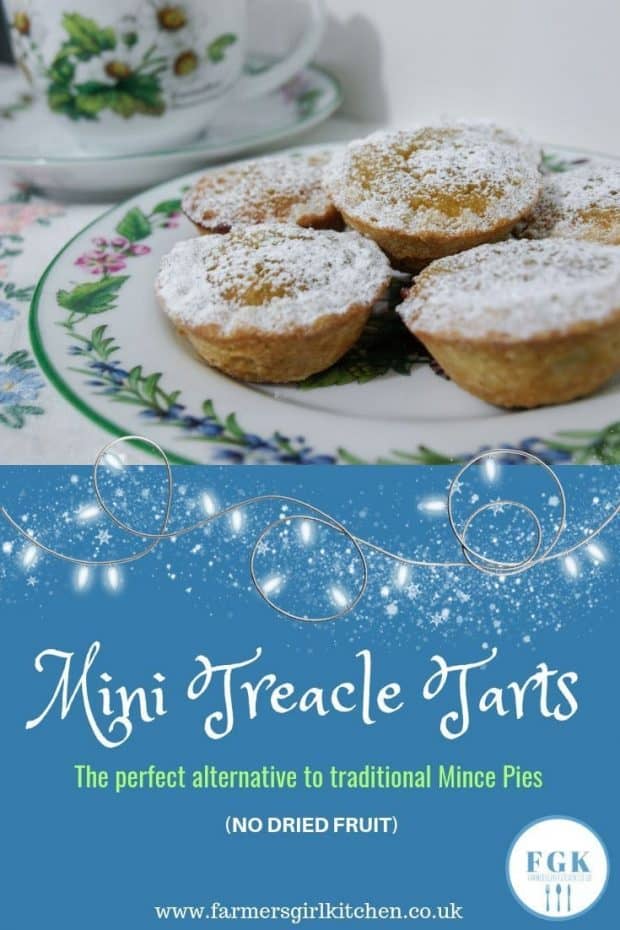 PIN FOR LATER
More Festive Treats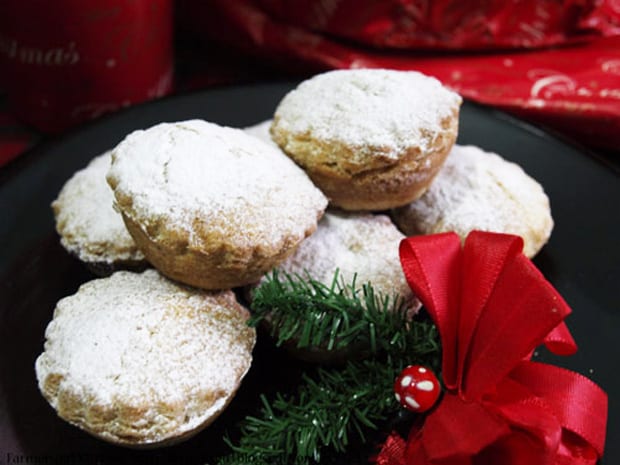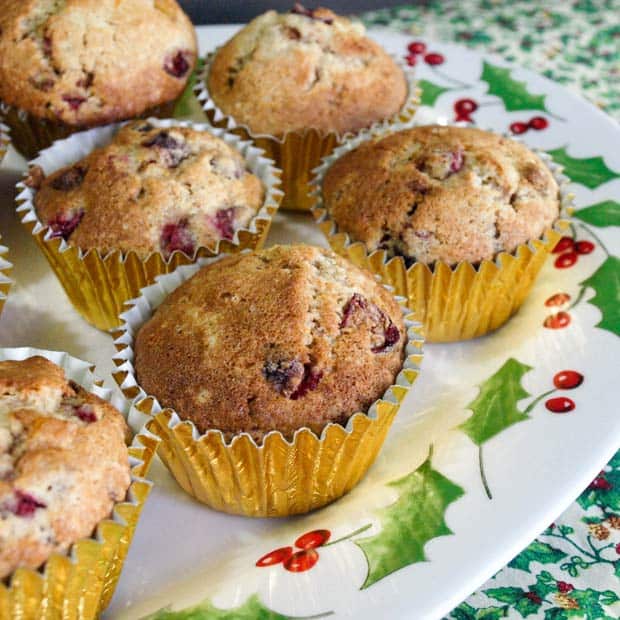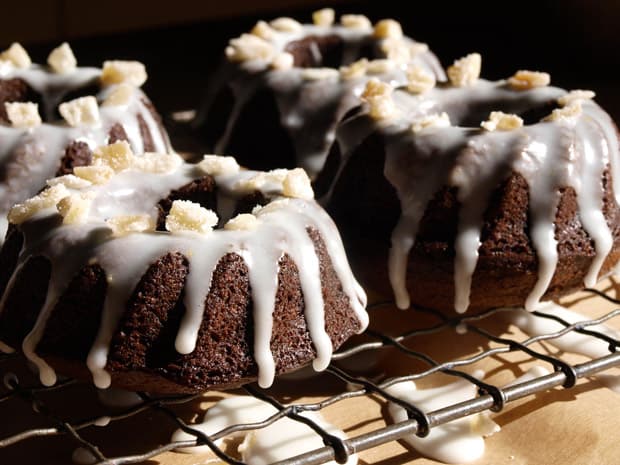 Mini Gingerbread with Lemon Glaze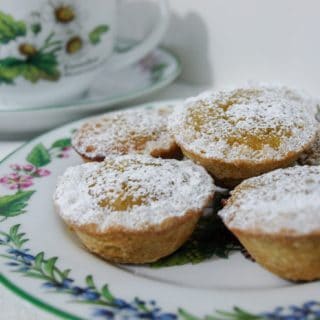 Mini Treacle Tarts
These bite-sized Mini Tarts are ideal for afternoon tea or as an alternative to Christmas mince pies recipe adapted from "My Famous Treacle Tart" from The British Larder
Ingredients
For the Shortcrust Pastry
90

g

unsalted butter

softened

30

g

caster sugar

1/2

vanilla pod

split in half length ways and seeds scraped out (optional)

1

pinch

of table salt

1

eggs

beaten

150

g

plain flour
For the filling
50

g

day-old sourdough bread

crusts removed (weight given is for crustless bread)

1/2

egg

60

ml

double cream

150

g

golden syrup

40

g

clear honey

1/2

lemon

finely grated zest and juice

30

g

ground almonds
Instructions
For the Shortcrust pastry
Put the butter, sugar, vanilla seeds, if using, and the salt into the bowl of an electric stand mixer and beat together until fluffy and pale in colour. Slowly add the beaten eggs, a little at a time, beating well after each addition.

Sift the flour over the creamed mixture, then slowly mix in the flour until the pastry comes together, being careful not to over mix. (If you prefer, the pastry can be made by hand without a mixer, using a wooden spoon to beat and combine the ingredients, as directed.)

Turn the pastry on to a lightly floured work surface, but do not knead the pastry, just push it together. This recipe makes about 600g pastry and you can either use it all or freeze some to use at a later date. It's unwise to make this recipe in a smaller quantity and you can easily freeze half of it (or as much as you have leftover) to use another time

Wrap the pastry in cling film (either wrap it as one piece or divide it into two pieces and wrap each piece separately) and then leave it to rest in the fridge for 30 minutes before rolling out. (I like to shape the pastry into flat even square (s) so that they fit comfortably into my fridge or freezer.) Freeze the pastry you are not using an use within 3 months. Defrost overnight in the fridge before use.
For the Filling
The breadcrumb mixture is prepared then chilled overnight in the fridge, so you will need to start this recipe a day in advance (See Cook's Notes)

Whizz the sourdough bread in a food processor to make fine breadcrumbs. Set aside. Whisk the egg and cream together in a small saucepan, just enough to make them runnier and easier to mix. Remove from the heat. Whisk the warmed golden syrup and honey and lemon zest and juice into the egg mixture, then stir in the ground almonds and breadcrumbs. Cover and leave the mixture to rest in the fridge overnight.

The following day, roll out the pastry on a lightly floured work surface to about 2mm thickness and Leave to rest in the fridge for 30 minutes. Cut out 12 x 7cm (3 in) rounds and use to line the cups in a mini muffin baking tin.

Meanwhile preheat the oven to 160C/Gas Mark 3.

Whisk the chilled breadcrumb mixture and pour it into the chilled pastry case. Bake in the oven for 15-20 minutes or until lightly set and golden - the tart will still have a gentle wobble in the centre but his will firm up once cooled.

Remove from the oven to a wire rack and leave the tart to cool completely in the tin. Once cold, trim the overhanging pastry from the top edges of the tart with a small serrated knife, then carefully remove the tart from the tin and cut it into slices. Serve with whipped Chantilly cream, creme fraiche or vanilla ice cream.
Notes
To make a single large tart use the pastry to line a (loose-bottomed, if you like) 35 x 10 x 2.5cm fluted oblong flan tin (leaving a slight overhang of pastry). Bake for 45 minutes.
Use fresh bread that is a day old, cut the crusts off and the inside of the loaf only. You can use regular white bread for the recipe, but I prefer sourdough as it gives the tart that extra special taste. Do not use dried breadcrumbs.
Be patient when making this tart and follow the recipe - leave the breadcrumb mixture to rest overnight in the fridge, do not overcook the tarts, and leave it to cool completely before cutting and eating.
Nutrition
Calories:
211
kcal
Carbohydrates:
27
g
Protein:
3
g
Fat:
10
g
Saturated Fat:
5
g
Cholesterol:
43
mg
Sodium:
35
mg
Potassium:
35
mg
Sugar:
15
g
Vitamin A:
290
IU
Vitamin C:
2.4
mg
Calcium:
22
mg
Iron:
0.9
mg
Don't Miss My Latest Recipes
CLICK TO SUBSCRIBE NOW to join my newsletter list & receive a FREE 'How To Adapt Recipes For Your Slow Cooker' printable!
Share by Email
Recipe Review
Lots of people I meet don't like dried fruit, so I made these Mini Treacle Tarts as an alternative to mince pies and they loved them! .  I was a little disappointed with the vanilla seeds in the pastry as I didn't feel that there was a real hit of vanilla, so would boost it with vanilla sugar. Great idea though.  The pastry is very soft even after a night in the fridge and not particularly easy to work with, I think I prefer my standard recipe but might try adding vanilla.  The Treacle Tart mixture is a real triumph, easy to make and tastes very good indeed.