Easy Puff Pastry Mincemeat Rolls are the simplest mince pies you will make. Take sweet mincemeat, almond and orange filling and wrap it in ready-made puff pastry to make a light flaky homemade mince pie in no time at all.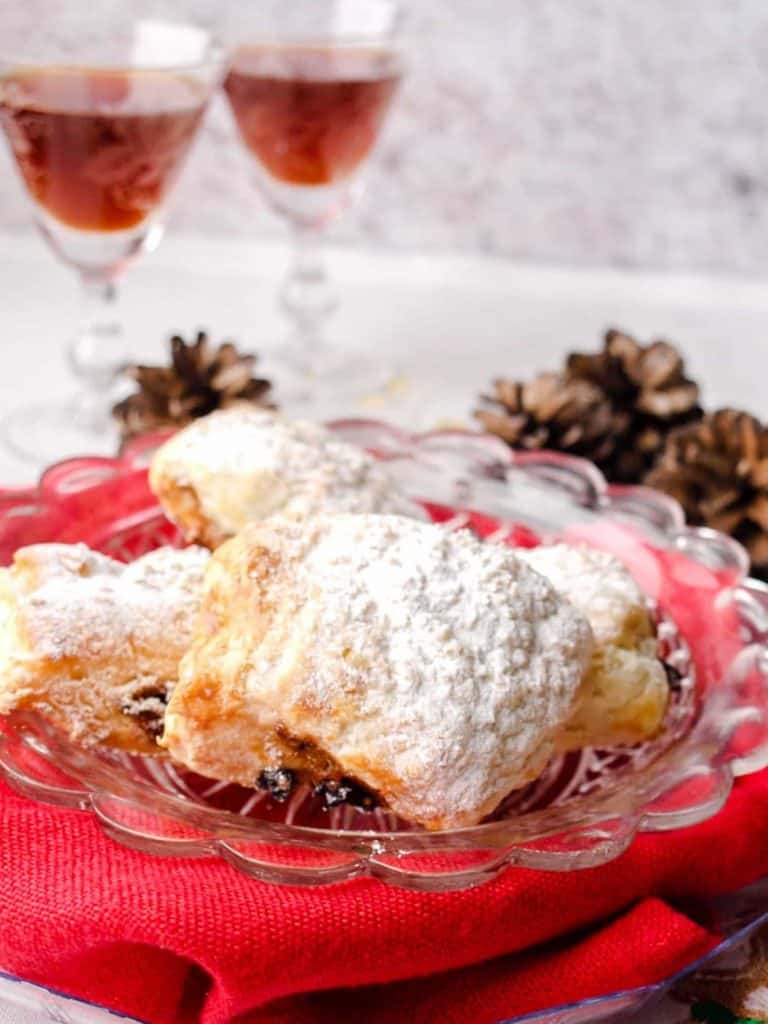 Quick Puff Pastry Mincemeat Rolls
It gets really hectic in the lead-up to the holiday season. You might be entertaining friends or family on a night when you have been at work all day. Or perhaps you have been out shopping for gifts, there are so many things to do.
Homemade mince pies are a real treat, but they do take a little time to make. First, you have to make the pastry, then cut it out and line the tins, fill the pies and then add the tops. It's something I really enjoy, but only when I have time.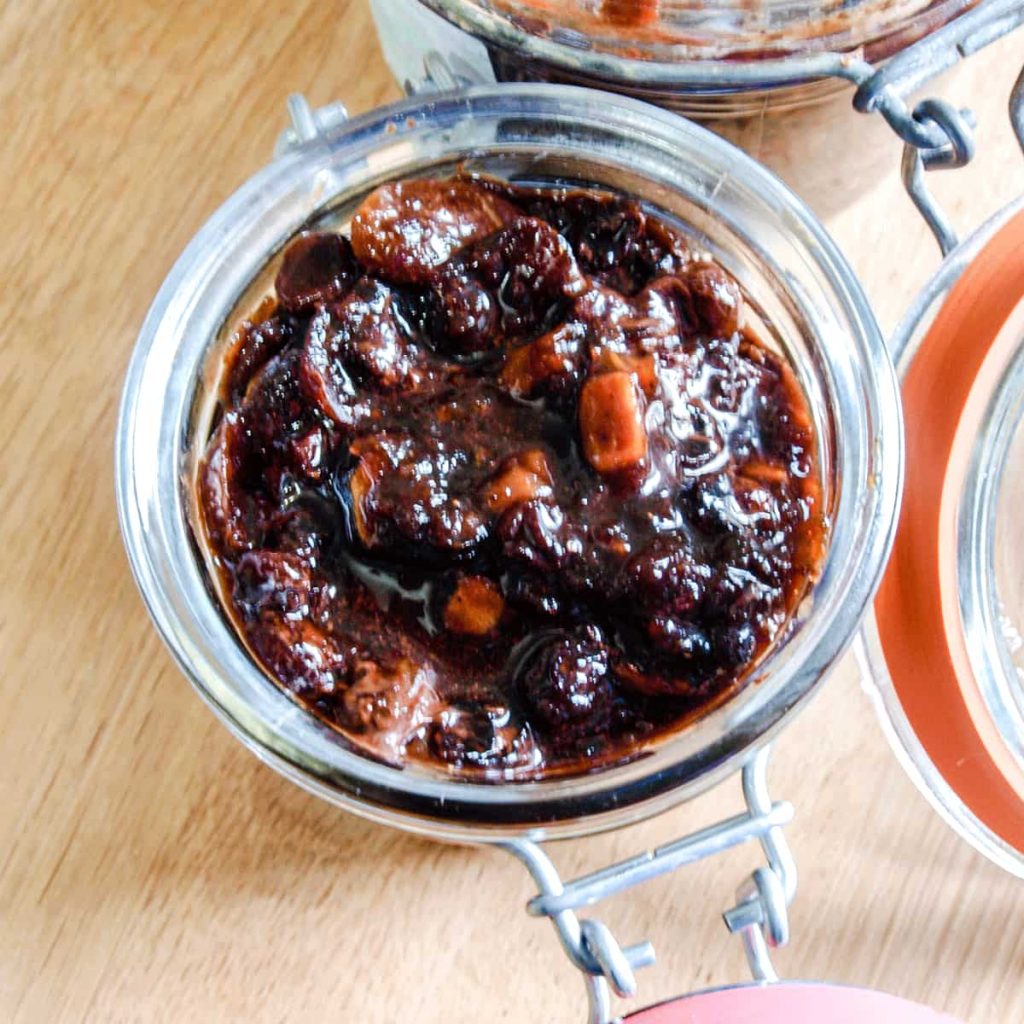 What is Mincemeat?
Mincemeat is a rich mixture of dried fruits, spices, apples, citrus zest and juice, alcohol and suet or butter.
Is there meat in Mincemeat?
Originally, there was meat in mincemeat as well as the dried fruit and spices. This is how it got its name. The meat element was gradually replaced with beef suet.
I use vegetable suet but you can also use butter. This means the mincemeat is also suitable for vegetarians.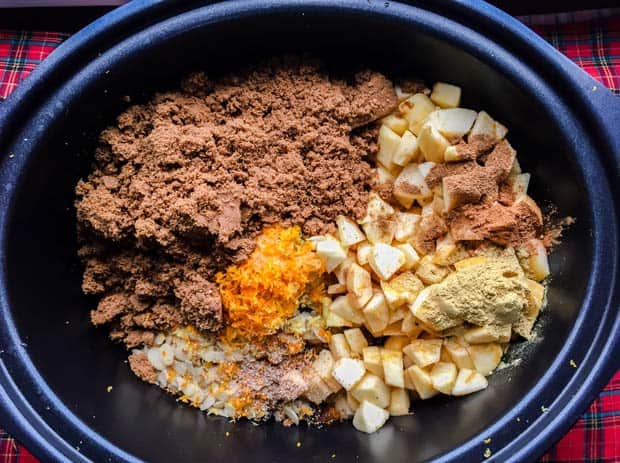 Make your own Mincemeat
If you do have time, then it is really easy to make your own mincemeat. Here are some recipes for you to try:
What ingredients do I need to make the Puff Pastry Mincemeat Rolls?
Pack of ready-rolled puff pastry sheets (thawed if frozeen)
Jar of mincemeat
Ground almonds (almond flour)
Orange zest
Brandy or Port (optional)
How do I improve the flavour of ready-made Mincemeat?
Add some alcohol to ready-made mincemeat. Brandy is traditional, but port, rum, whisky, or your favourite liqueur will add depth of flavour .
Add chopped chocolate to the mincemeat. If you are not using my Dark Chocolate or Instant Chocolate Mincemeat, add some chopped chocolate to bought or plain homemade mincemeat.
Peel and finely chop an apple and add to the mincemeat.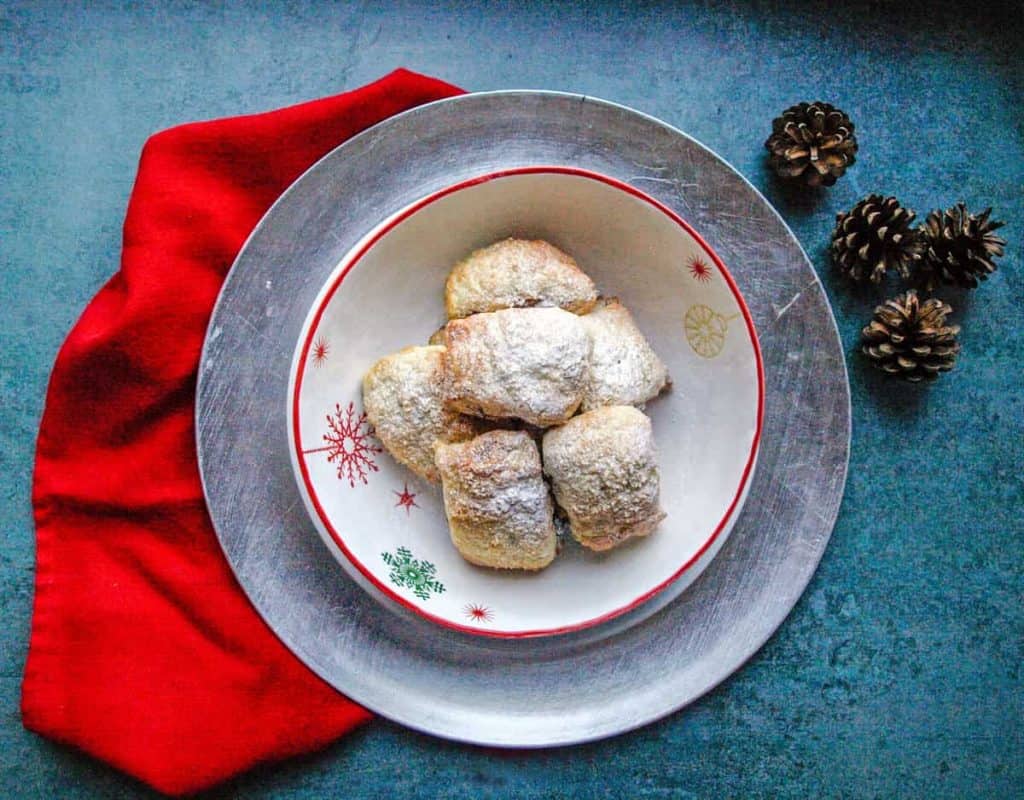 How to make Easy Puff Pastry Mincemeat Rolls
This recipe for Easy Puff Pastry Mincemeat Rolls couldn't be simper, follow the step-by-step photographs for all the details.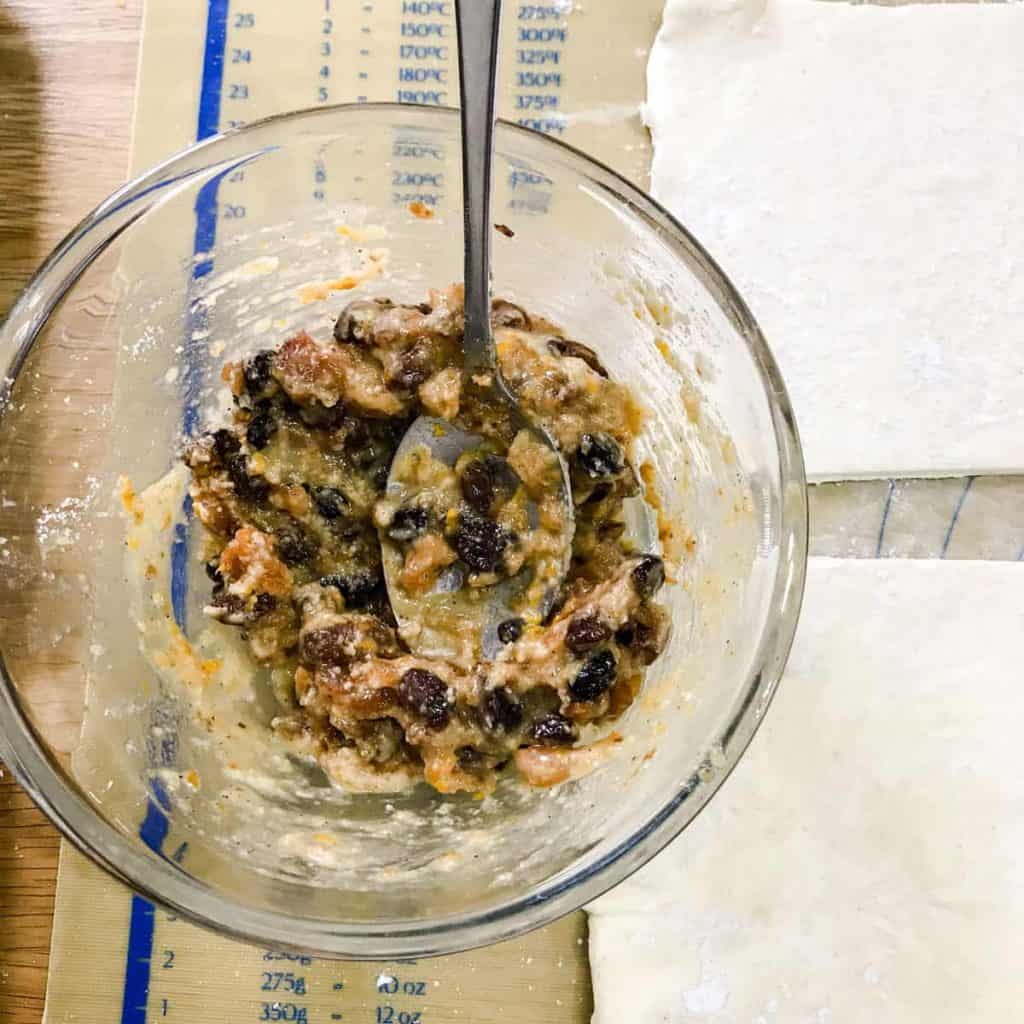 Make the Mincemeat Filling
Put the mincemeat into a bowl and mix in the ground almonds, orange zest, brandy or other alcohol, and a beaten egg. The almonds and egg help to bind the mincemeat together and hold it in the roll.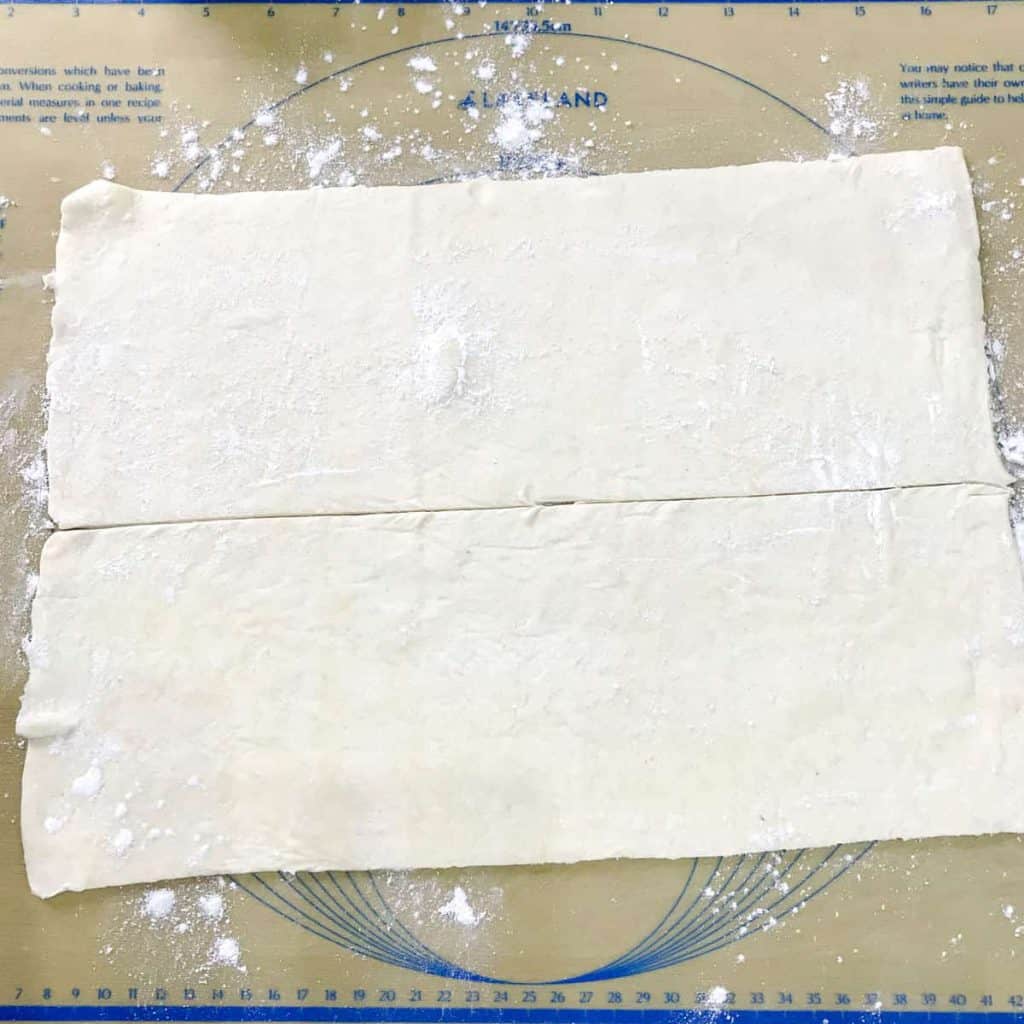 Prepare the Puff Pastry
Divide the puff pastry sheets into two long rectangles. If you are familiar with the technique for making savoury sausage rolls, then this is the same method.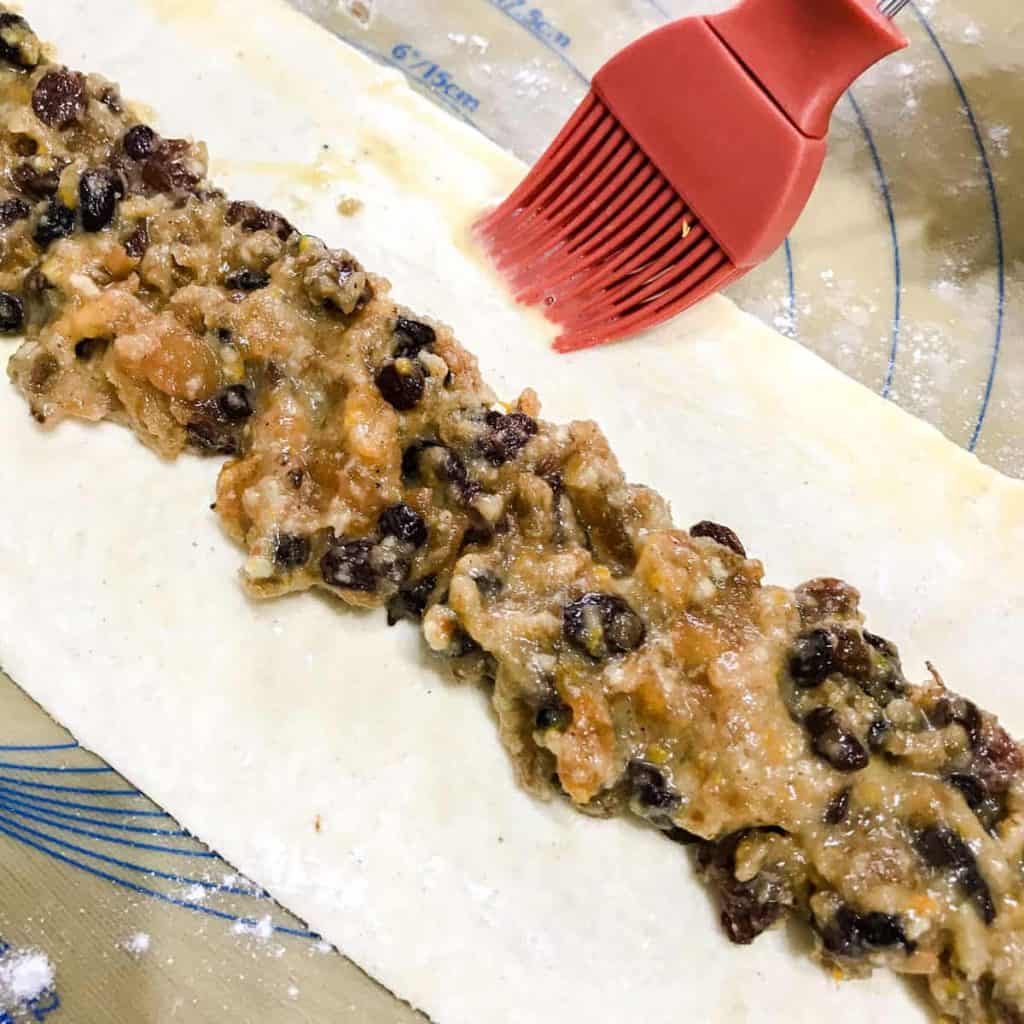 Add the mincemeat mixture
Divide the pastry in half lengthways, then divide the mincemeat mixture between the two strips of pastry.
Beat the second egg and brush egg wash on the long edges of the pastry.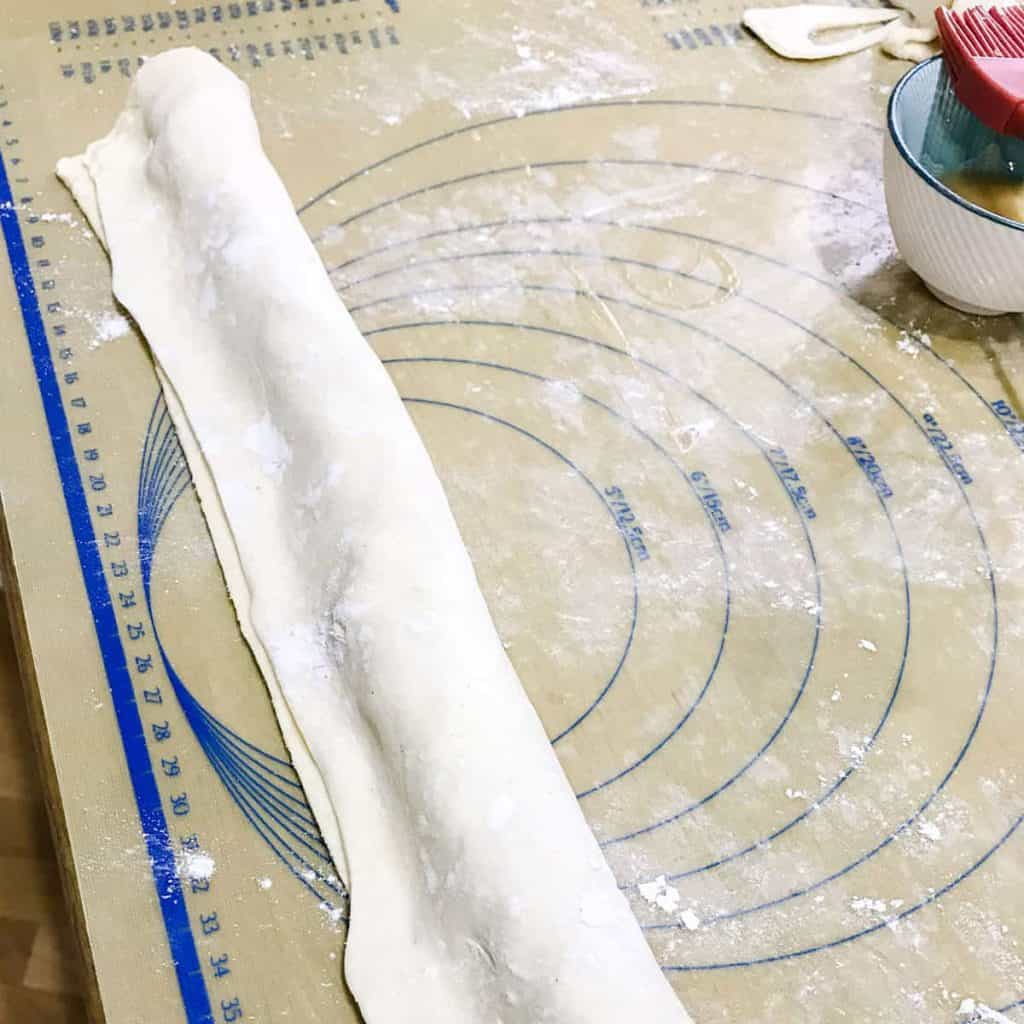 Seal the puff pastry
Carefully fold the pastry over the mincemeat mixture and seal.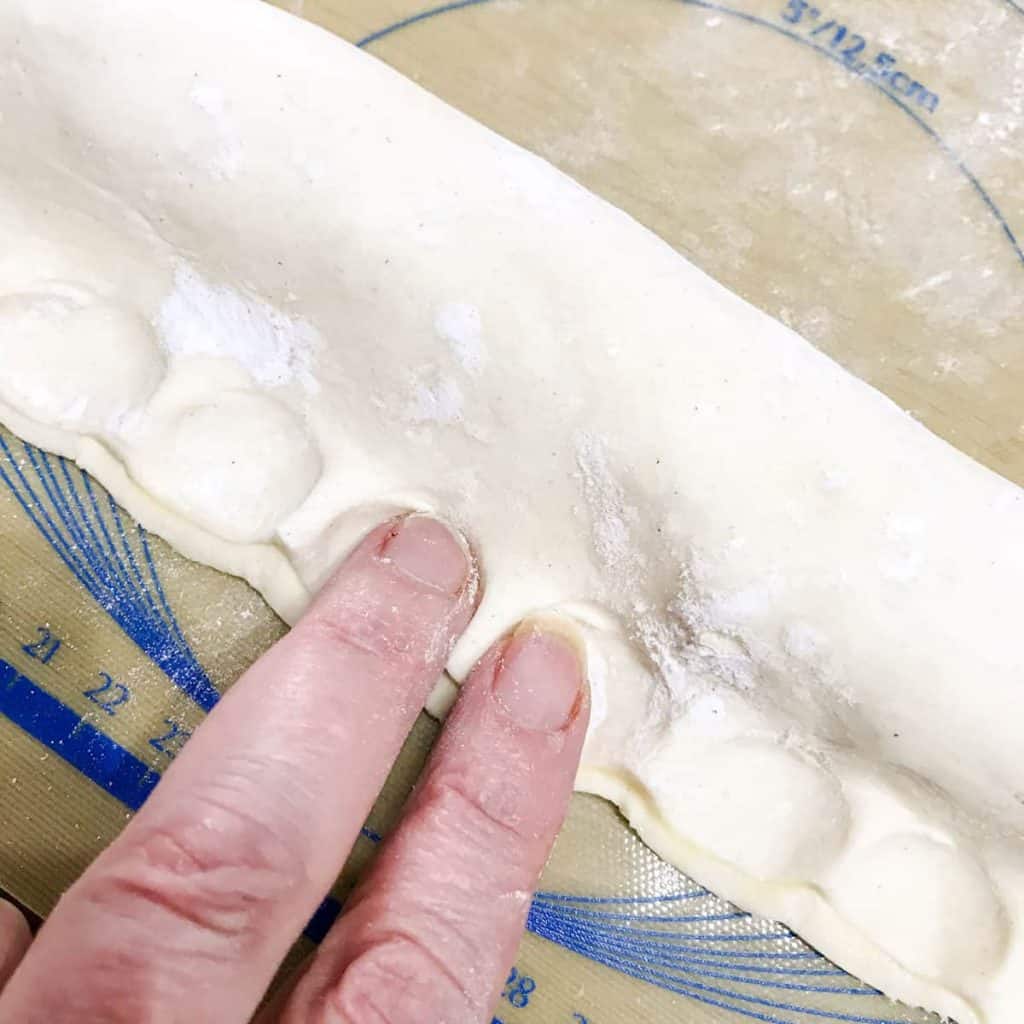 Crimp the edges
Use your fingers or a finger and thumb to crimp the edge of the pastry to ensure that it is properly sealed.
Cut across the roll of pastry with a sharp knife. I start by making a cut in the middle, then half each piece until I have rolls of about 3 cm long. But you can make them longer or very slightly shorter. Don't make them too short or the mincemeat may spill out.
Bake
Place on a baking tray lined with baking parchment or greased and dusted with flour, and bake until golden.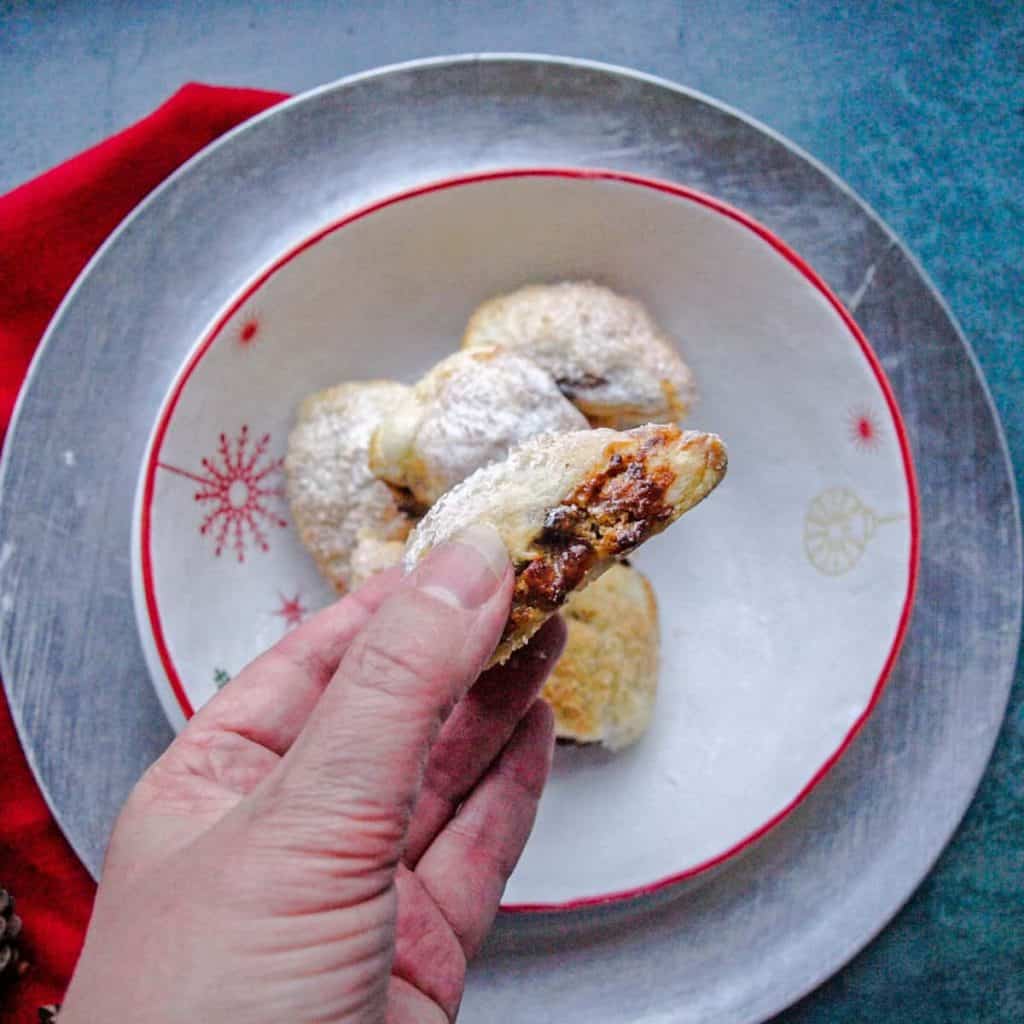 How to serve Easy Puff Pastry Mincemeat Rolls
Dust the Mincemeat Rolls with icing (confectioners) sugar once they have cooled. I like to serve them slightly warm with a glass of sherry, but they are also delicious with tea or coffee.
How do I store Mincemeat Rolls?
The Mincemeat Rolls will keep in a sealed container for a couple of days. However, they are better eaten fresh. Refresh them by warming through in a low oven.
Can I freeze Puff Pastry Mincemeat Rolls?
Cooked puff pastry will freeze but these Mincemeat Rolls are best eaten on the day they are made.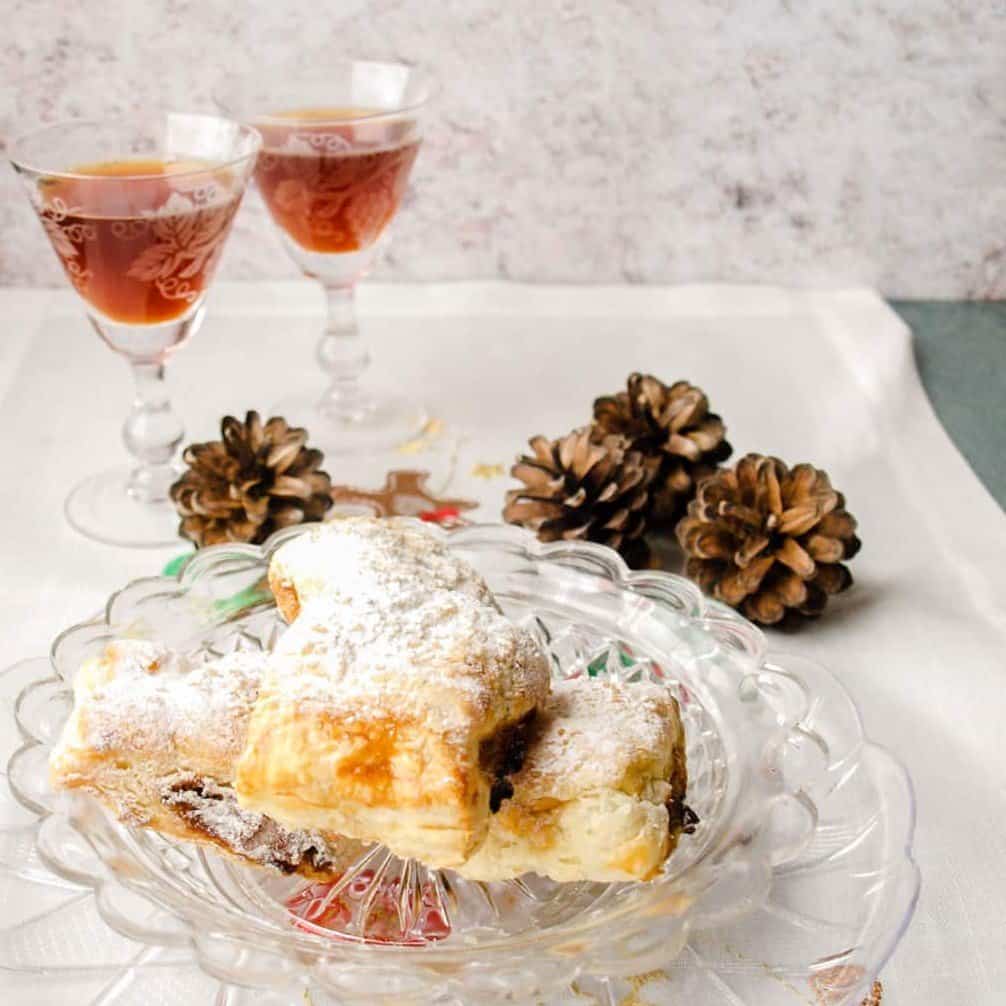 More Mincemeat Recipes from Farmersgirl Kitchen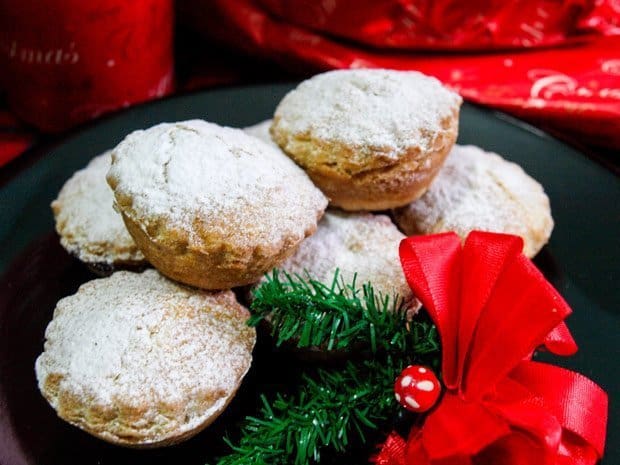 Christmas Mini Mince Pies are a delightful traditional Brtish treat in a bite-sized mouthful.

Chocolate Mincemeat Tart is a deep filled and delicious large tart filled with chocolate mincemeat. It makes a great dessert served with cream or ice cream.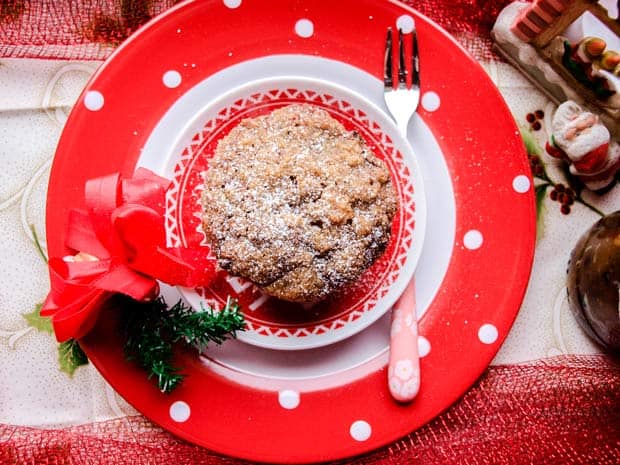 Easy Festive Apple and Mincemeat Streusel Muffins are packed full of flavour with a light sponge muffin and a crisp streusel topping.

33 Recipes using Mincemeat is a collection of festive recipes for cakes, desserts, cookies, breads and tarts and alternatives to traditional mince pies all using mincemeat.
Even More Mincemeat Bakes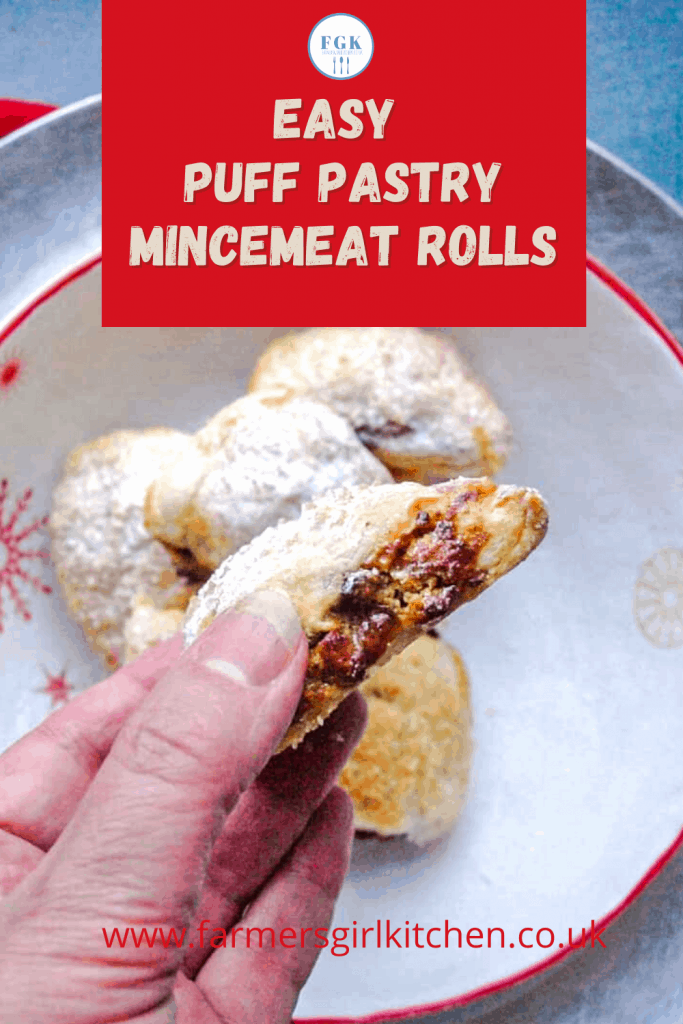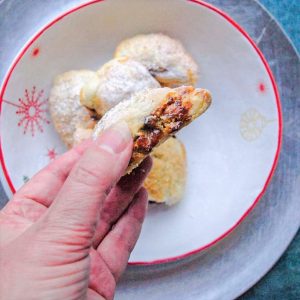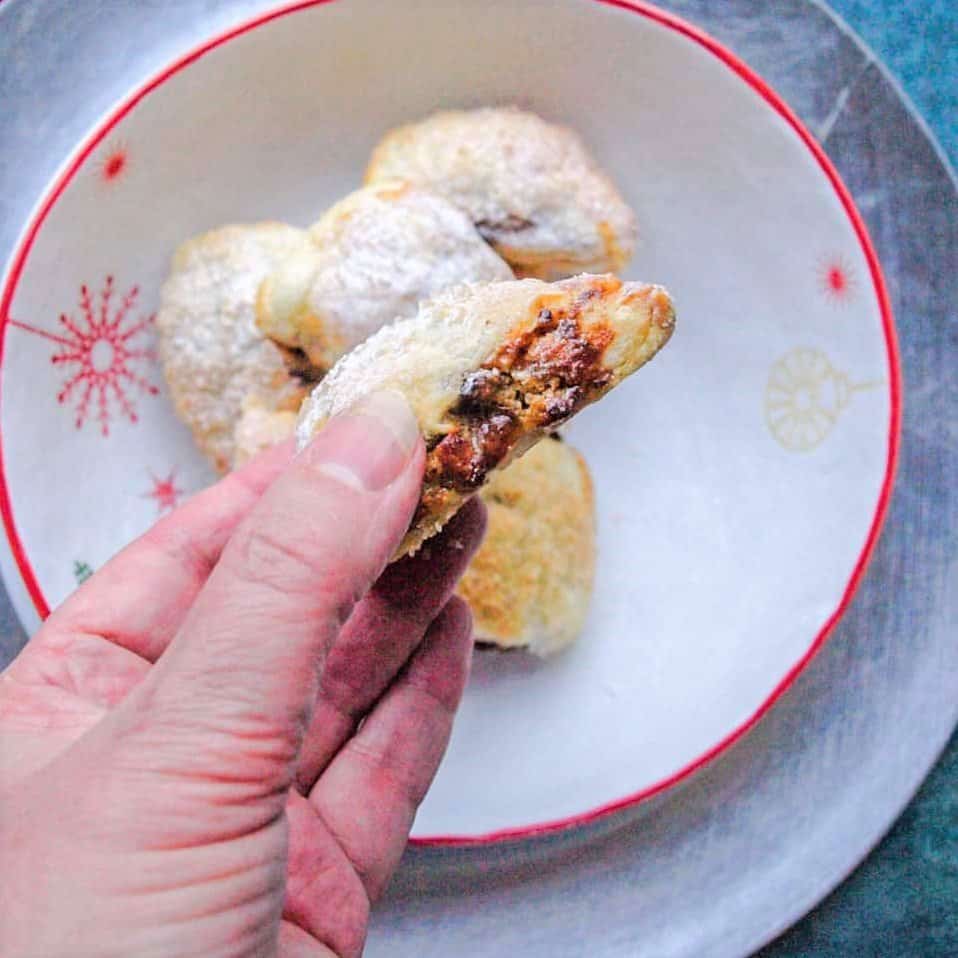 Easy Puff Pastry Mincemeat Rolls
Using ready-rolled puff pastry to make sweet mince pies in the style of savoury sausage rolls.
Ingredients
375

g

Ready rolled puff pastry

300

g

mincemeat

approximately

2

tbsp

ground almonds

2

eggs

1

orange

grated zest

1

tbsp

brandy or port
Instructions
Put the mincemeat in a bowl, mix in one beaten egg, zest of an orange, 1 tbsp brandy or port and 2 tbsp of ground almonds.

Divide the pastry into two long rectangles. Divide the mincemeat mixture between the two strips of pastry.

Beat the second egg and brush egg wash along the edges.

Fold the pastry over and press with a fork, brush with egg wash and cut into rolls about 3 cm in length..

Place on a baking sheet and bake in the oven at 200C for 10-15 minutes until puffed up and golden.

Leave to cool slightly, then serve dusted with icing sugar.
Nutrition
Calories:
204.59
kcal
Carbohydrates:
25.71
g
Protein:
3.1
g
Fat:
9.9
g
Saturated Fat:
2.46
g
Cholesterol:
20.46
mg
Sodium:
170.8
mg
Potassium:
36.71
mg
Fiber:
1.07
g
Sugar:
13.63
g
Vitamin A:
48.12
IU
Vitamin C:
4.36
mg
Calcium:
10.54
mg
Iron:
0.73
mg
Don't Miss My Latest Recipes
CLICK TO SUBSCRIBE NOW to join my newsletter list & receive a FREE 'How To Adapt Recipes For Your Slow Cooker' printable!
Share by Email