Vintage Soup!
I know it doesn't look like an 'old' cookbook, but VINTAGE means 20 years old or older so many of my cookbooks are indeed vintage.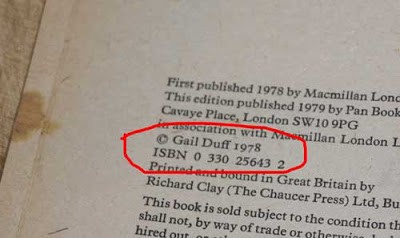 As you can see this one was first published in 1978, I didn't buy it then, I think I must have waited until 1980 or 81 lol! This was my wholefood phase, a lot of it is still with me, wholemeal pasta and brown rice, but we really embraced it around that time.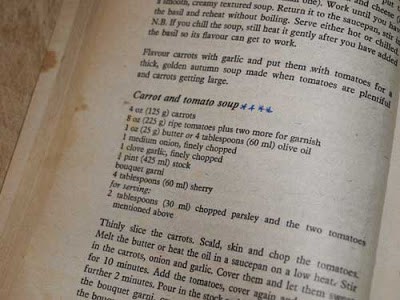 Can you see the fabulous tomato stains on the edge of the book, always a good sign. The inside of the book looks like it is vintage, the paper is starting to brown with age 😮 The star ratings are something I started around about this time, as it was when DH and I bought our first flat and had our first kitchen that wasn't shared. I rate all my recipes so I can see which ones I have made and what I thought of them.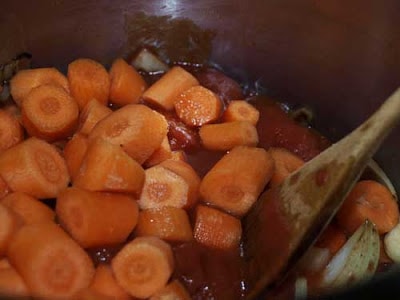 Anyway, to the recipe: Carrot and Tomato Soup
4oz (125g) carrots
8oz (225g) ripe tomatoes plus two more for garnish, here is where I deviate, you know I always deviate from the recipe, tomatoes are rubbish just now in Scotland, so use two tins of plum tomatoes.
1 oz (25g) butter or 4 tbsp of oil (I used about a tsp)
1 medium onion (finely chopped)
3/4 pint (425ml) stock
bouquet garni (no fresh herbs so I didn't bother)
4 tablespoons (60ml) sherry (only for special occasions)
For Serving: 2 tbsp (30ml) chopped parsley and two tomatoes mentioned above.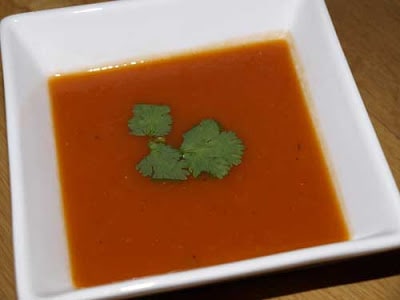 I don't even really measure anything, just throw some onions, garlic, carrots into a little oil, whoosh it about, fill up my pressure cooker with stock and once it's cooked, pulverise it with the stick blender, Voila!
Here is what Gail Duff says you should do:
Thinly slice the carrots, Scald, skin and chop the tomatoes. Melt the butter or heat the oil in a saucepan on a low heat. Stir in the carrots, onion and garlic. Cover them and let them sweat for 10 minutes. Add the tomatoes, cover again and cook for a further 2 minutes. Pour in the stock and bring it to the boil. Add the bouquet garni, cover and simmer for 15 minutes. Remove the bouquet garni, cool the soup slightly and work it in a blender or rub it through the fine blade of a mouli. Return it to the saucepan, stir in the sherry and reheat. Serve in individual bowls with 2 tomato slices and some chopped parsley floating on top.
(those who are eagle eyed may also notice that I have coriander floating on my soup as I didn't have any parsley)