I love shortbread biscuits or cookies. These Chocolate Chip Shortbread Cookies are made simply by adding chopped dark chocolate to a basic flour, butter and sugar shortbread recipe. Make it with or without the chocolate, either way, you won't be disappointed.
Chocolate Chip Shortbread Cookies
Chocolate Chip Shortbread Cookies
2017-12-10 21:39:07
Adding chocolate chunks to a simple Shortbread biscuit, takes it to the next level!
Ingredients
300g (10oz) plain flour
100g ( 4oz) caster sugar
200g (8oz) butter
100g chocolate chips or chopped chocolate
caster (superfine) sugar for dredging
Instructions
Sift the flour into a bowl and add the sugar.
Work in the butter with your fingertips - keep it in one piece and gradually work in the dry
ingredients.
Knead well adding in the chocolate chips or chopped chocolate once the dough has come together.
Pat down on a work surface and use a rolling pin to roll the dough to about 1/2 cm (1/8 in) and cut out with a cookie cutter.
You will probably have to keep pushing the dough back
together again as it is very crumbly.
Slide the cut biscuits off the work surface with a knife and onto a baking sheet.
Bake in the oven at 170C (325F) Mark 3 for about 8 minutes until firm and pale golden brown.
Lift onto a cooling tray with a spatula and dredge with caster (superfine) sugar.
Notes
You can make plain shortbread biscuits, just omit the chocolate, the rest of the ingredients remain the same.
Yield depends on size of cutter.
Farmersgirl Kitchen https://www.farmersgirlkitchen.co.uk/
Butter, sugar, flour, chocolate, what more do I need to say? Delicious!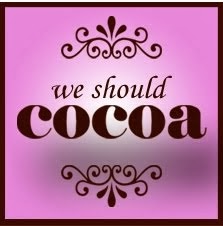 I am entering these cookies for We Should Cocoa, the blog challenge run by Choclette of Chocolate Log Blog and this month hosted by Rebecca at BakeNQuilt.