Garlic Bread and Tomato Bake is a quick and easy recipe that's filling and tasty and can be put together from a few simple ingredients.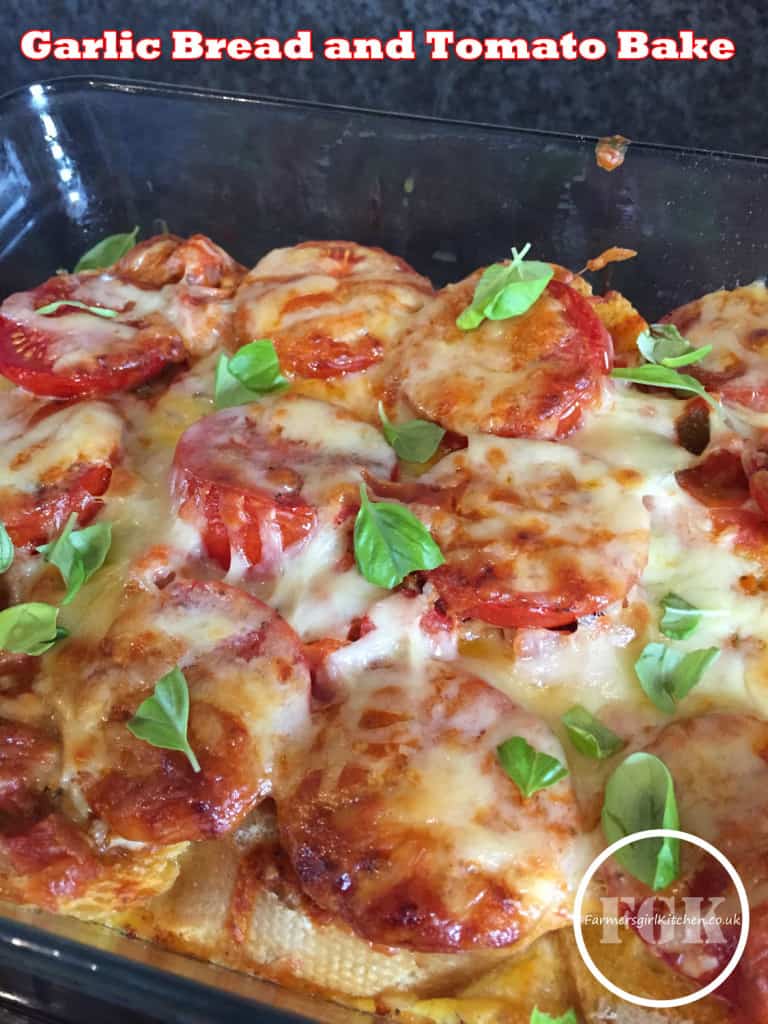 What's for lunch?
You know how it is on a Saturday when you haven't really planned what to eat for lunch? Then suddenly you find that everyone is at home and looking expectantly for you to come up with something tasty for them to enjoy.
What's in the fridge?
Well that's what happened to me last Saturday. What could I make? What did I have in the larder and fridge? I had eggs, tomatoes, cheese and a garlic baguette, so here is the Garlic Bread and Tomato ?Bake that I created:
Garlic Bread and Tomato Bake
Serves 4


A single garlic baguette
6 tomatoes
4 eggs
100 ml milk
2 tbsp red pesto
75g grated cheddar
freshly ground pepper
A few basil leaves (optional)
Pre – heat the oven to 180C
Slice up the garlic bread and place in a buttered oven proof dish.
Thickly slice the tomatoes and layer over the bread.
Cover with 2 tablespoons of pesto.
Beat the eggs and add the milk, pour it over the bread and tomatoes.
Season with freshly ground pepper and cover with the grated cheese.
Bake for 20-25 minutes or until risen and golden.
Tear up a few basil leaves and scatter over the top.
Serve with salad.
And of course Credit Crunch Munch as this is a thrifty dish which will fill up the family at very little cost. Credit Crunch Munch is run by Helen at Fuss Free Flavours and Camilla at Fab Food 4 All
Quick and Easy Vegetarian Noodle Bowl