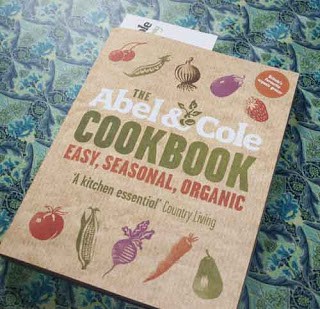 I was contacted by Emma Healey of Abel & Cole to review some products for them. Unfortunately, Abel & Cole don't deliver to the wilds of south west Scotland yet. So I wasn't able to review their lovely organic veggie boxesm, but I Emma was able to send me the Abel & Cole Cookbook. It arrived on Thursday but I didn't have much chance to look at it until today.
As a cookbook it is written in a very relaxed style. I enjoyed the introductions and finding out about the history of the company. The book is set out by the seasons: Spring, Summer, Autumn, Winter and the idea is that you should cook by the seasons. Even though I have only had a superficial look through the book so far, I can see that I generally don't cook seasonal produce, and how restrictive seasonal cooking would be unless you have access to the likes of Abel & Cole. Certainly the south of Scotland is not the place for growing vegetables, it is dairy, beef and lamb country. A few potatoes but the ground just isn't suitable for vegetables other than for potatoes.


So what did I make?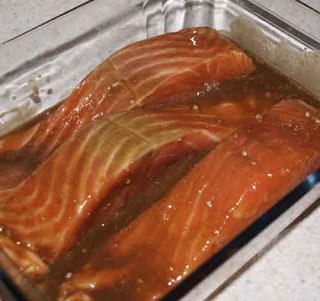 Not a Spring recipe at all, but a Summer recipe for Honey Glazed Salmon Steaks.
1 tbsp balsamic vinegar
1 tbsp Dijon Mustard ( I used 1 tsp as I have had encounteres with Dijon mustard before!)
1 tbsp runny honey
1 garlic clove, peeled and crushed
Salt & freshly ground black pepper
Olive oil
2 salmon steaks ( you will note that I had three salmon steaks!)
Mix together the vinegar, musard, honey, garlic and seasoning in a bowl. Brush over both sides of the salmon and leave in the fridge for about an hour.
Heat a ridged fying pan to a very high heat, then rub it with a little oil. Sear the steaks for about 3 minutes on each side, turning only once. The fish is cooked if it flakes easily when lightly prised with a fork. The cooking time may vary depending on the thickness of the salmon steaks and how you like them cooked. Remove from the girll, bursh with any remianin glaze and serve.
I served the salmon with roasted cherry tomatoes ( oops imported) and a Leek and Potato bake – YES, seasonal cooking at last. There isn't a recipe in the book for a Leek and Potato Bake, but there is one on the Abel and Cole website HERE.
and the finished plate….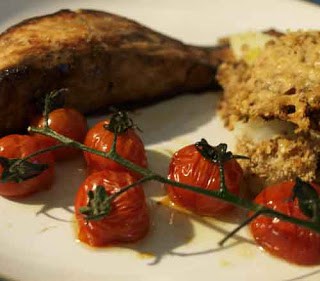 The salmon was moist and delicious and the leek & potato bake went very well with it, as did the tomatoes.
I'll be back with more recipes from the Abel & Cole Cookbook very soon.