Leek and Potato Soup is one of my favourite winter soups. It's one of a triumvirate of Scottish staple soups alongside Lentil Soup and Scotch Broth that appeared on every table when I was a child.
Advertisement: This post contains affiliate links. For more information please see my PRIVACY POLICY
I make a large pot of soup every weekend which also provides warming lunches for the following week. It's a real winter warmer and it's also really easy to make.
How to make Leek and Potato Soup
Potatoes
First, peel the potatoes and cut into roughly even-sized pieces of about 4cm (1 1/2 in), you don't have to be accurate.
If you want the soup to cook more quickly then cut all the vegetables smaller.
Leeks
To prepare the leeks, slice off the root end and the very top of the leek, then slice vertically and place upside down in a tall jug of water.
Leave for 10-15 minutes, then agitate the leeks up and down to get rid of most of the earth which may be stuck in the 'leaves'.
Slice horizontally, then if the leeks still seem to have a bit of earth on them put the sliced leeks in a bowl of cold water and move them around until they are clean, then drain.
Place the butter and a little oil in the bottom of your soup pot and heat to a medium temperature.
Add the leeks and potatoes and stir around for about 5 minutes. Until that the vegetables are covered in the oil and butter and the leeks have started to soften.
Once the leeks are soft, add the stock, then cook.
Soup Pot, Pressure Cooker or Instant Pot
I use my pressure cooker, so once up to pressure it only takes 15-20 minutes for the soup to cook.
In the Instant Pot, the recipe takes 12 minutes at medium pressure.
If you don't have a pressure cooker then simmer fhe vegetables for abut 30-40 minutes depending on how large you have cut your vegetables.
Once cooked the soup is cooked add milk and blend the soup until smooth reheat and serve hot. For special occasions garnish with crispy fried onion and a swirl of cream.
Blending the Soup
To get the best texture I use the Optimum Froothie G2.3 Blender. It makes short work of blending soups and smoothies and they come out silky smooth with no grainy texture that you can get from the starch in potatoes.
Read more about the Optimum Froothie G2.3 Platinum Induction Blender and check out the latest sale prices for G2.3 Blender if you order through my affiliate link, I earn a small amount of commission which helps to maintain Farmersgirl Kitchen and if you add 3116 FREE AMBASSADOR DELIVERY to the comment box when they order. the delivery charge will then be credited to your card.
Or UPGRADE to the FROOTHIE EVOLVE and take advantage of this Special Offer
As a Froothie Ambassador, I can offer an additional £100 discount on the current offer price of £499 on the Froothie website. Buy through my Ambassador Link and you also get an additional 2 years warranty, which brings the warranty to 7 years.
To get this discount please add the following text in the comment box when you order:
Ambassador (3116) special 2 extra warranty years + Google100
A luxury version of Leek and Potato Soup
If you are serving this soup for a special occasion and want to be really decadent replace the milk with single or double cream to give a rich silky texture.
If you are a fan of truffles, then a little bit of shaved truffle would be a tasty garnish although the fried onions. Or fry some finely shredded leeks with a few herbs to add a special something to the soup.
More Warming Soups from Farmersgirl Kitchen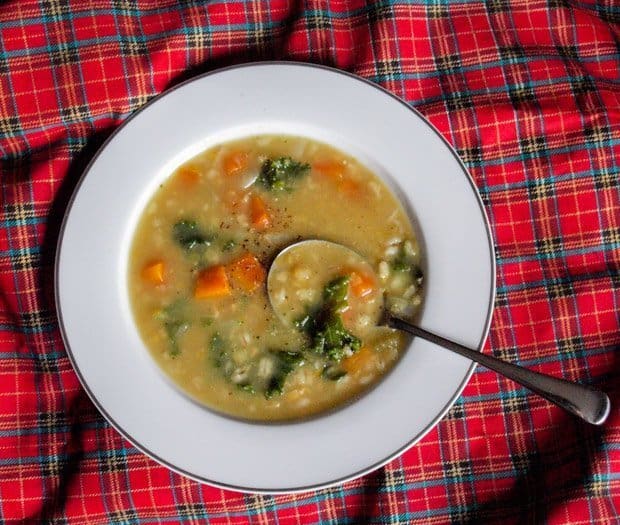 A traditional Scotch Broth recipe made simple with a vegetarian stock, a very popular choice.
Cauliflower Cheese Soup has all the delicious flavours of that favourite side dish, cauliflower in cheese sauce, combined together in a rich, warming, and creamy soup.
Cullen Skink is a traditional Scottish soup made with smoked fish, potatoes, and onions. It's the perfect soup to serve as a hearty family meal with homemade soda bread and equally at home at an elegant dinner party.
More Delicious Soups
Curried Parsnip & Coriander Soup – Fab Food 4 All
Haggis Neeps & Tattie Soup – Foodie Quine
Celeriac Soup with Apple and Chilli Oil – Thinly Spread
Velvety Chestnut and Celeriac Soup – Food to Glow
Disclosure: Froothie UK sent me the Optimum G2.3 Platinum Series Induction Blender to use and review at home. I have not been paid for this post and was not required to give the Optimum G2.3 blender a positive write up. All opinions are my own. Affiliate links included in this post.