Sweet Potato Mash with Sage, Ricotta, and Pecan Nuts is a delicious side dish that's perfect to serve for a special dinner. The sweetness of the mash is lightened by the ricotta, and the crisp sage leaves and pecan nuts add both flavour and texture.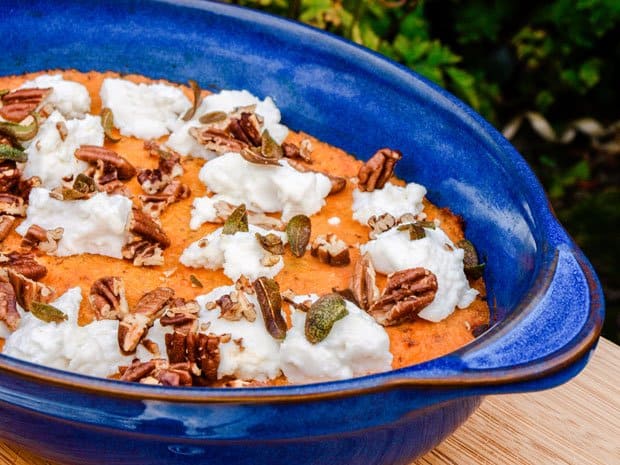 The recipe is from 30 Ingredients by Sally Clarke and is a real treat. In this book, Sally brings us chef style food explained clearly and with simple recipes for you to make at home.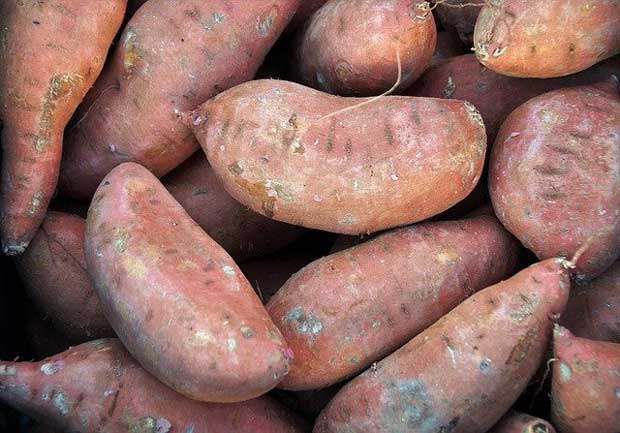 What are Sweet Potatoes?
Sweet potatoes are a starchy sweet tasting tuber that grows underground. They are from an entirely different plant family to the usual white potatoes.
Peel and boil sweet ptoates to make mash, bake them in their skins or peel and roast as wedges or chunks.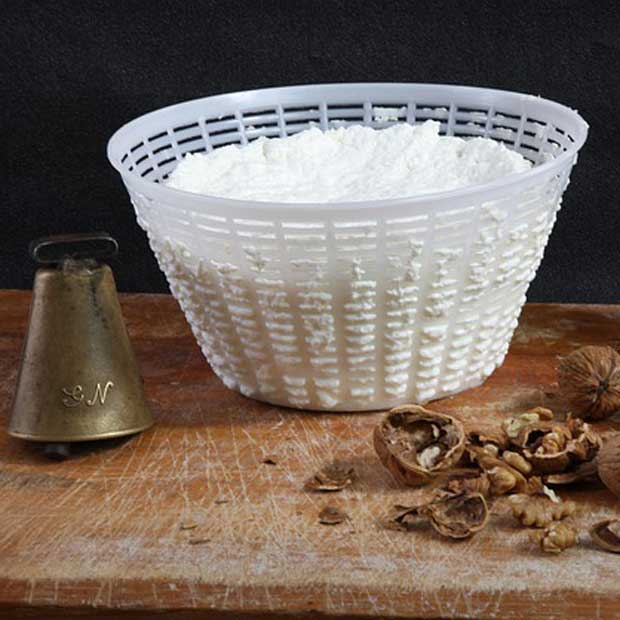 What is Ricotta?
The Italian word ricotta means 'recooked'. And this soft fresh cheese is traditionally made in Italy to use the whey left over from making other cheeses. It is quite easy to make at home from whole mil. Find out How to make Soft Cheese and other Alchemy.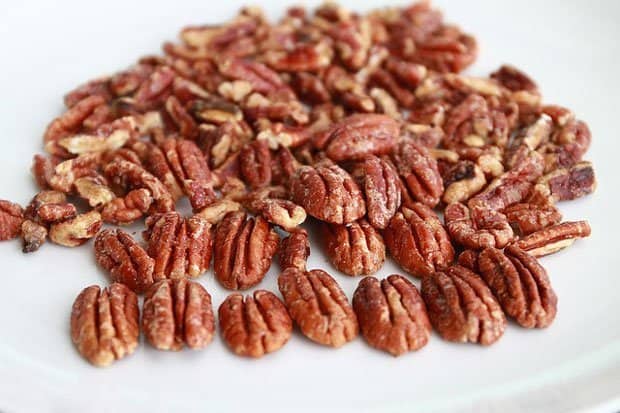 What are Pecan Nuts?
Pecan Nuts are the nut of particular species of hickory tree that grows in North America. Pecan nuts have a sweet creamy flavour and are usually used in desserts such as Pecan Pie.
The sweetness of the pecan nuts goes particularly well with the sweet potatoes and adds a pleasant crunchy texture.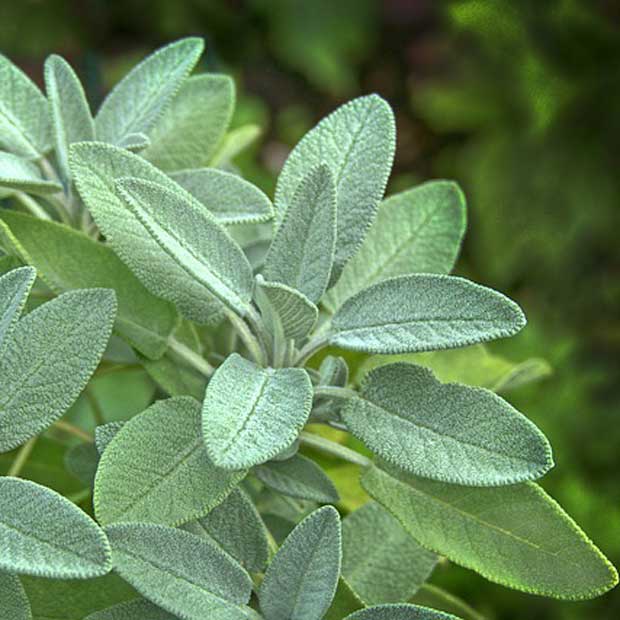 What is Sage?
Sage or Slavia Officinalis is a distinctly flavoured small evergreen shrub with narrow pale and grey-green leaves. Sage leaves have an earthy, slightly peppery taste with hints of lemon and mint.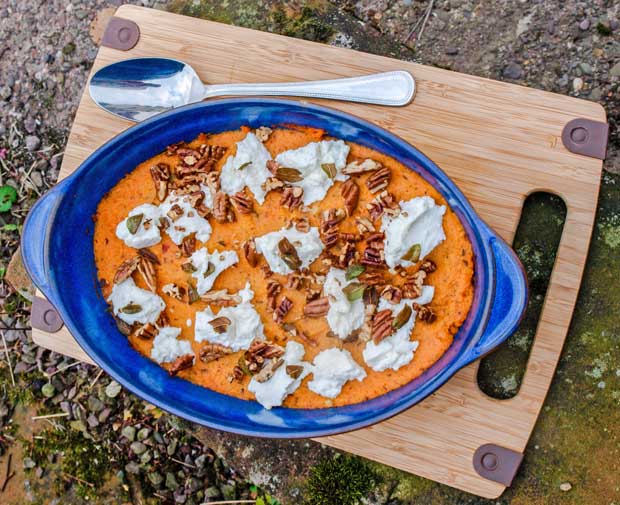 What does Sweet Potato Mash with Crisp Sage Leaves, Ricotta, and Pecan Nuts taste like?
Pecans and sweet potatoes are a marriage made in heaven. Although both are sweet they are not cloying. The cumin and chilli add a nice spicy taste without overpowering the sweet potato. The fresh creamy ricotta lifts the dish and its cool creaminess is offset perfectly by the other ingredients.
Don't hold back on the crisp sage leaves. The recipe suggests 'a bunch' of sage which is difficult to measure. but I will add more next time I make the recipe.
30 Ingredients – a review
Sally Clarke has an innovative and uncomplicated approach to food At the heart of 30 Recipes lies her simple concept of cooking with the freshest and best, produce the vision.
This is what has ensured Sally's success for the last thirty years. Sally has chosen a handful of recipes for each of her favourite 30 ingredients,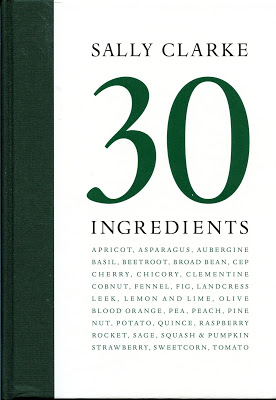 About the author
It is 30 years since Sally Clarke founded her now legendary Notting Hill restaurant Clarke's and become the pioneer of seasonal fine dining in British cuisine. To celebrate this significant anniversary, the award-winning chef, restaurateur, and author has now written an irresistible cookery book, 30 Ingredients.
What are the 30 Ingredients?
There are 30 ingredients in the book but there are at least two and sometimes three recipes for each ingredient.
Apricot
Asparagus
Aubergine
Basil
Beetroot
Broad Bean
Cep (mushroom)
Cherry
Chicory
Clementine
Cobnuts
Fennel
Fig
Landcress
Leeks
Lemon and Lime
Olive
Blood Orange
Pea
Peach
Pine Nut
Potato
Quince
Raspberry
Rocket
Sage
Squash and Pumpkin
Strawberry
Sweetcorn
Tomato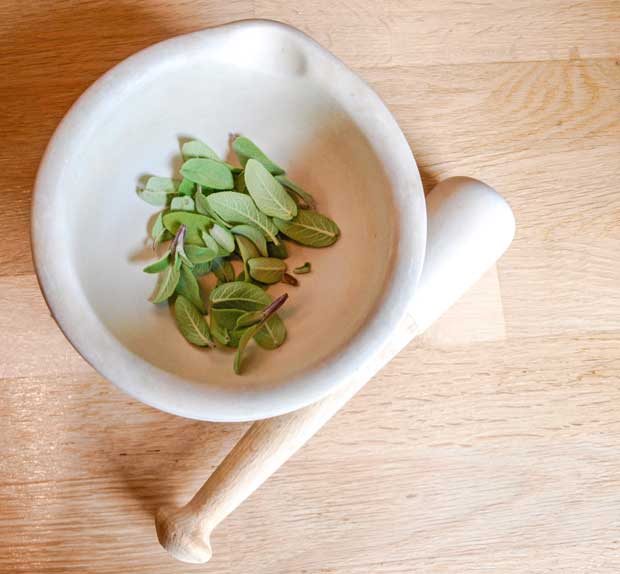 Who is 30 Ingredients for?
This is a book for people with a passion for food who want to make the most of every ingredient they use. Although the 30 ingredients are all vegetables, fruits, herbs, and nuts, this is not a vegetarian cookbook. There are a variety of recipes for meat, fish, and poultry as well as meat-free recipes. 30 Ingredients would make a beautiful gift for anyone who loves to cook.
Pros
The book is beautifully produced and the photographs are stunning. Not every recipe has a photograph but the quality of the photographs are very high.
Each ingredient is given a page of text, which is easy to read and the recipes are clear and well written with a couple of paragraphs of 'story' where appropriate.
Cons
30 Ingredients is quite a big book, however, it does stay open so you can read the recipes – hurrah! At £25 it's not cheap but I think this is justified by the quality of the production and the excellence of the recipes.
The Verdict
Add it to your wish list for birthday or Christmas. Then you too can spend hours drooling over the exciting recipe ideas and the beautiful pictures.
Sally Clarke: 30 Ingredients
Published by Frances Lincoln Limited Publishers
RRP Hardback £25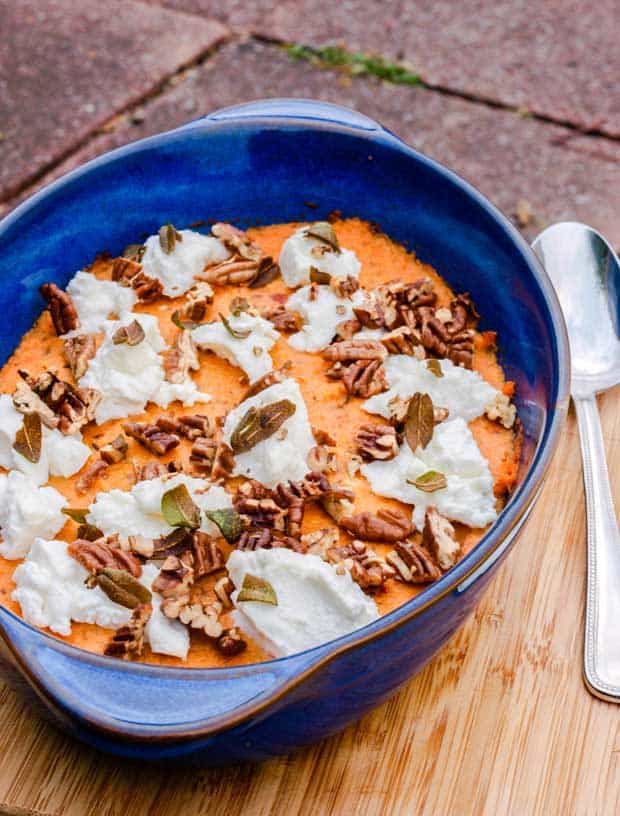 Serving Suggestions
Sweet Potato Mash with Sage, Ricotta, and Pecan Nuts is ideal to serve at your festive holiday table. It's an ideal accompaniment to turkey, chicken, duck or pork.
Equally, Sweet Potato Mash goes really well with simple grilled sausages or as a side for a barbecue get together.
More Potato Recipes from Farmersgirl Kitchen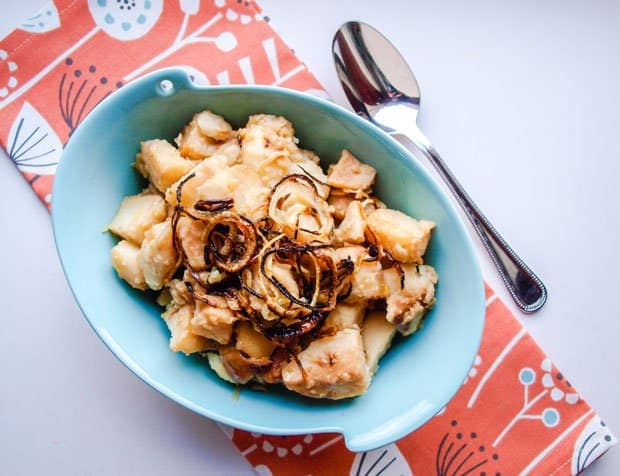 Slow Cooker Scottish Stovies a traditional stoved potato recipe adapted for the slow cooker, ideal to stretch leftovers.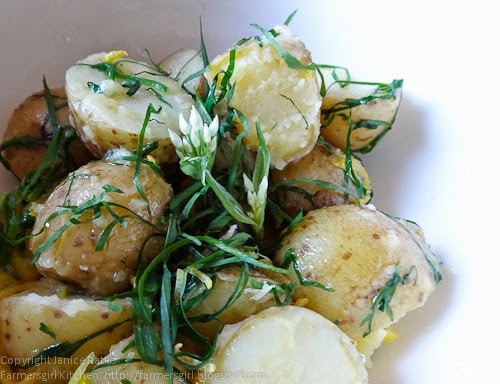 New Potatoes in Garlic & Lemon Dressing are a real seasonal treat.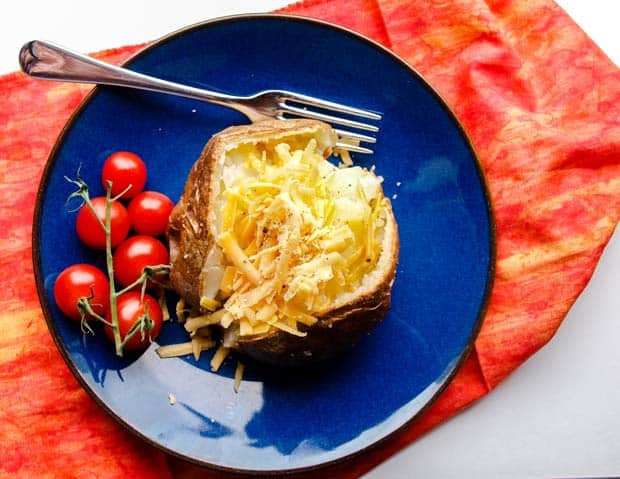 Air Fryer Baked Potatoes are so easy to make and you get the best crispy skin and fluffy potato.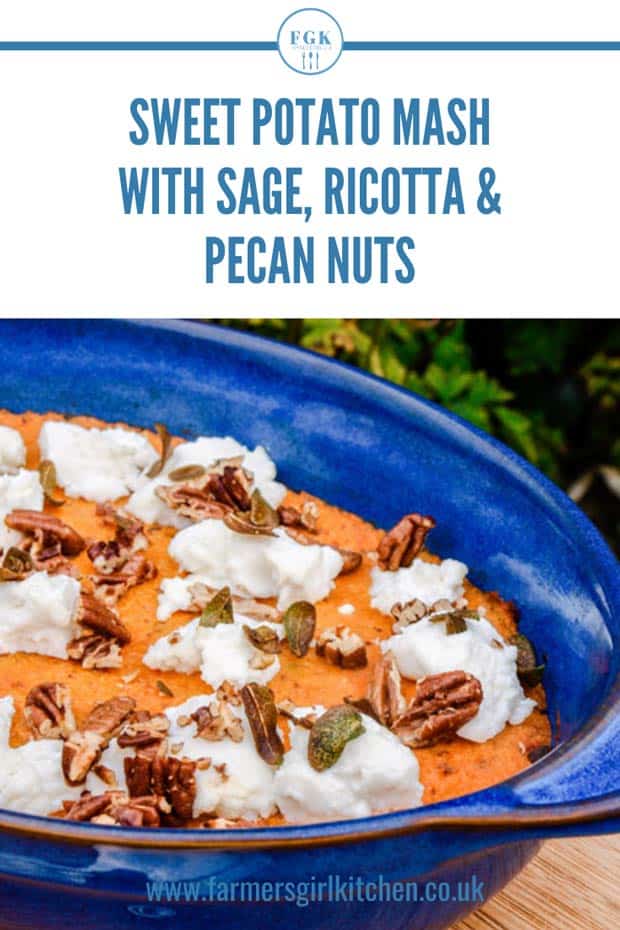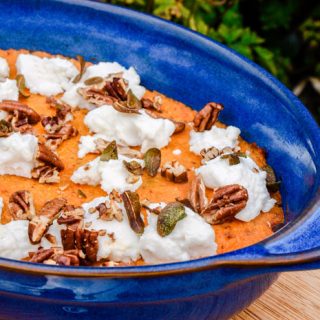 Sweet Potato Mash with Crisp Sage Leaves, Ricotta and Pecan Nuts
The sweetness of the mash is lightened by the ricotta, the sage leaves add a savoury note and the pecan nuts add a delicious nutty texture. 
Ingredients
1.5

kg

sweet potatoes

2

tsp

cumin seeds

2

tbsp

light olive oil

100

g

butter

plus a little extra for buttering the dish

1

bunch

sage

small leaves picked, large leaves chopped finely

1

small

red chilli

finely chopped

2

cloves

garlic

crushed to a cream

1/2

tsp

salt

50

g

pecans

medium-finely chopped

250

g

ricotta or fresh goat cheese
Instructions
Peel the sweet potatoes and place in a large pan of boilingsaltedwater, cover and simmer until tender to the centre. Drain in a colander and when cool enough to handle, cut roughly into smallish pieces.

Toast the cumin seeds in a small pan over a medium heat until they are fragrant – do not allow to burn. Crush using a pestle and mortar or in a spice grinder.

Meanwhile heat the olive oil and half the butter in a pan until foaming. Fry the small sage leaves until crisp (though not too dark), remove with a slotted spoon and drain on kitchen paper.

Add the remaining butter to the pan and add the ground cumin, chopped chilli and chopped sage, and cook until fragrant (approximately one minute). Remove from the heat, add the garlic and stir well.

Place the sweet potato in a large bowl and beat with a hand whisk or electric whisk until smooth (I put the sweet potato through the potato ricer). Little by little add almost all the seasoned butter ingredients until well amalgamated. Add salt to taste.

Preheat the oven to 175C

Brush an oven-proof dish with butter and spoon the potato mash in, levelling the top a little. Drizzle over any remaining melted butter and bake for 8-10 minutes.

Remove from the oven and scatter the pecans with crumbled ricotta or goat cheese on the top, and continue to bake for a further 3-4 minutes or until piping hot.

Garnish with fried sage leaves and serve alongside a crisp green and bitter leaf salad or with roast pork, turkey or chicken.
Notes
You really need to add lots of chopped sage for the flavour to come through, hard to judge 'a bunch' and I probably underplayed it, will be trying again with more sage. Pecans and sweet potatoes is a marriage made in heaven though and the cumin and chilli add a nice spicy lift without overpowering the sweet potato.
Nutrition
Calories:
515
kcal
Carbohydrates:
54
g
Protein:
10
g
Fat:
30
g
Saturated Fat:
13
g
Cholesterol:
57
mg
Sodium:
487
mg
Potassium:
964
mg
Fiber:
9
g
Sugar:
11
g
Vitamin A:
36149
IU
Vitamin C:
17
mg
Calcium:
190
mg
Iron:
3
mg
Don't Miss My Latest Recipes
CLICK TO SUBSCRIBE NOW to join my newsletter list & receive a FREE 'How To Adapt Recipes For Your Slow Cooker' printable!
Share by Email