I'm going to show you how to make the Perfect Scottish Porridge. Porridge (Oatmeal) is the ultimate healthful breakfast and Scotland is the home of porridge So, along with Hamlyn's of Scotland I'm sharing my recipe for Scottish Porridge.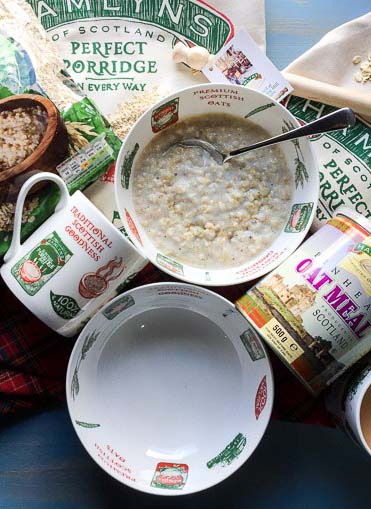 Sponsored Post
Hamlyns of Scotland is part of a family food business which started milling oats in 1888, so they know a thing or two about oats.
Their traditional range of Scottish Porridge Oats and Scottish Oatmeal is produced from premium Scottish oats, grown and milled in Scotland – 100% Scottish from seed to mill to the finished product.

Porridge Oats have been grown and eaten in Scotland, since medieval times and is still a very popular breakfast.
Although eating porridge didn't ever go away, it's now more popular than it has been for many years. I really think porridge has come back fighting and flexing it's not inconsiderable muscles!
What are the Health Benefits of Scottish Porridge?
Oatsbenefit your health in lots of ways, they are 100 percent whole grain, high in energy and low in fat.
An average bowl of porridge made with water is only 171 calories. Oats also release their energy slowly as they have a high content of complex carbohydrates and soluble fibre. This means you will stay fuller for longer.
My Perfect Scottish Porridge
As a child, I really didn't like porridge, it was always made with water and salt and served in a pool of milk. There was no option to add sugar or fruit or seeds or nuts, so I rejected porridge until just a few years ago.
Now I am a total porridge convert, my favourite sweetener is maple syrup. I also love to add different seasonal fruits to my porridge including dried fruits like prunes and dried apricots.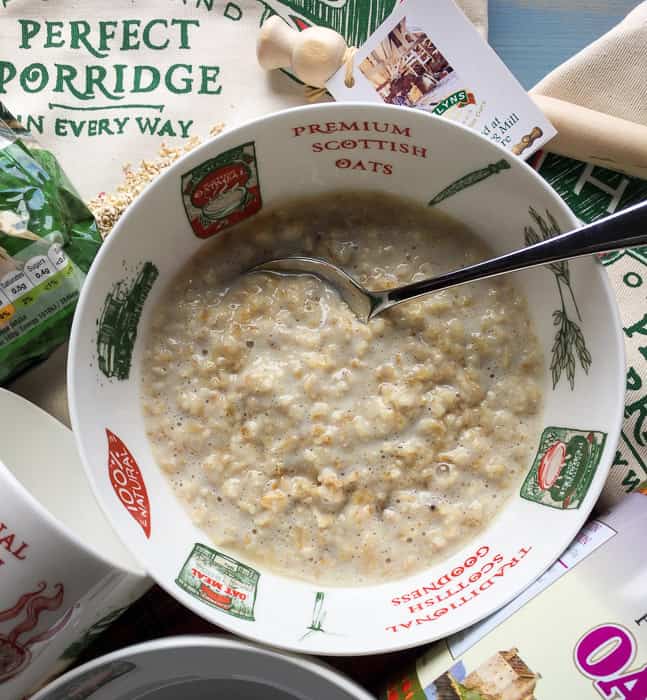 Your Perfect Scottish Porridge
Given that I'm a relatively recent convert to porridge, I'm not going to dictate how you should make and eat your porridge.
Instead, I am going to do is introduce you to the different kinds of oats you can use to make your Perfect Scottish Porridge and offer up the recipe I use for my porridge.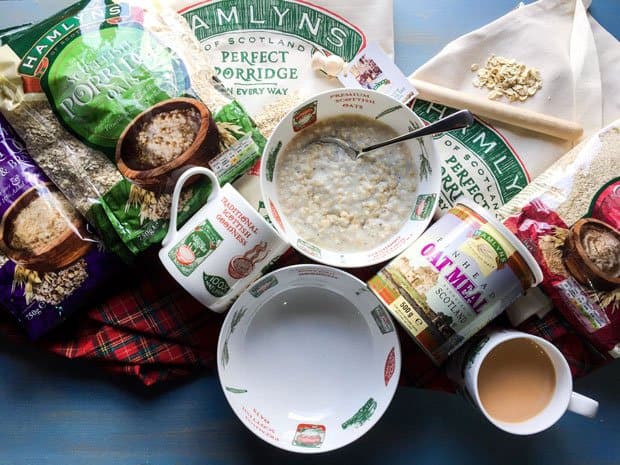 Scottish Porridge Oats: Nearly everyone is aware of porridge oats, they are rolled oats for making porridge. They are quick and easy only 3 or 4 minutes on the hob or in the microwave and you have a delicious, creamy filling porridge.
Scottish Oatmeal: Made with premium Scottish oats, which are stoneground, using traditional milling stones. Milled to a medium grade, which makes a superb smooth porridge that can be made in a pot or in the microwave.
Hamlyns Scottish Porridge Oats and Bran: This Scottish Porridge Oats variety contains 10% wheat bran. The wheat bran gives the porridge a distinctive taste and helps to further aid digestion.
Scottish Porridge Oats & Bran can be used in any recipe which includes porridge oats but is particularly good for biscuits, flapjacks and fruit crumbles.
Hamlyns Scottish Pinhead Oatmeal: The most traditional oatmeal. It's made from the whole grain. The outer husk is removed before the inner groat is cut into three pieces.
Pinhead (also known as "steel-cut' oatmeal makes a substantial, nutty porridge. There's no need to soak the oatmeal overnight, but it's best cooked in a saucepan and takes around 25 minutes to cook. Longer to cook than porridge oats or stoneground oatmeal but definitely worth it.

WIN a Hamlyn's Breakfast Hamper CLOSED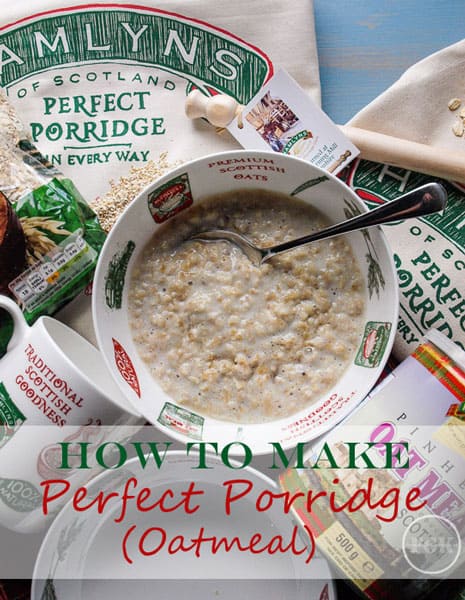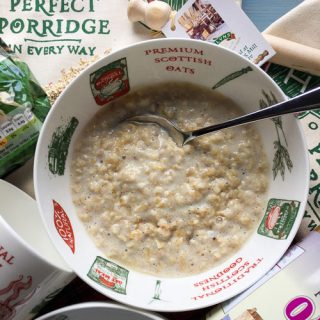 My Perfect Scottish Porridge
A quick and simple recipe for Scottish Porridge Oats, that's creamy and makes the perfect base for you to make it your own.
Ingredients
100

g

Scottish Porridge Oats

500

ml

milk
Instructions
Put the Scottish Porridge Oats and milk into a large non-metallic bowl or jug

Cook in the microwave at 900 wats for 2 minutes, then stir.

Put back into the microwave and cook for another 1 minute, then stop and stir again.

Put the porridge back into the microwave and cook for another 2 minutes.

Stir and serve with the toppings of your choice.
Notes
Cooking times will vary according to the wattage of your microwave.
You can also cook the porridge in a saucepan on the hob, stirring as the porridge cooks.
Nutrition
Calories:
188
kcal
Carbohydrates:
18
g
Protein:
9
g
Fat:
9
g
Saturated Fat:
5
g
Cholesterol:
25
mg
Sodium:
110
mg
Potassium:
365
mg
Fiber:
1
g
Sugar:
13
g
Vitamin A:
405
IU
Calcium:
283
mg
Iron:
1
mg
Don't Miss My Latest Recipes
CLICK TO SUBSCRIBE NOW to join my newsletter list & receive a FREE 'How To Adapt Recipes For Your Slow Cooker' printable!
Share by Email