Slow Cooker Ginger Figs are a totally delightful dessert. Just add three ingredients to your slow cooker and leave it to create the most intense and gloriously fragrant seasonal fruit dessert.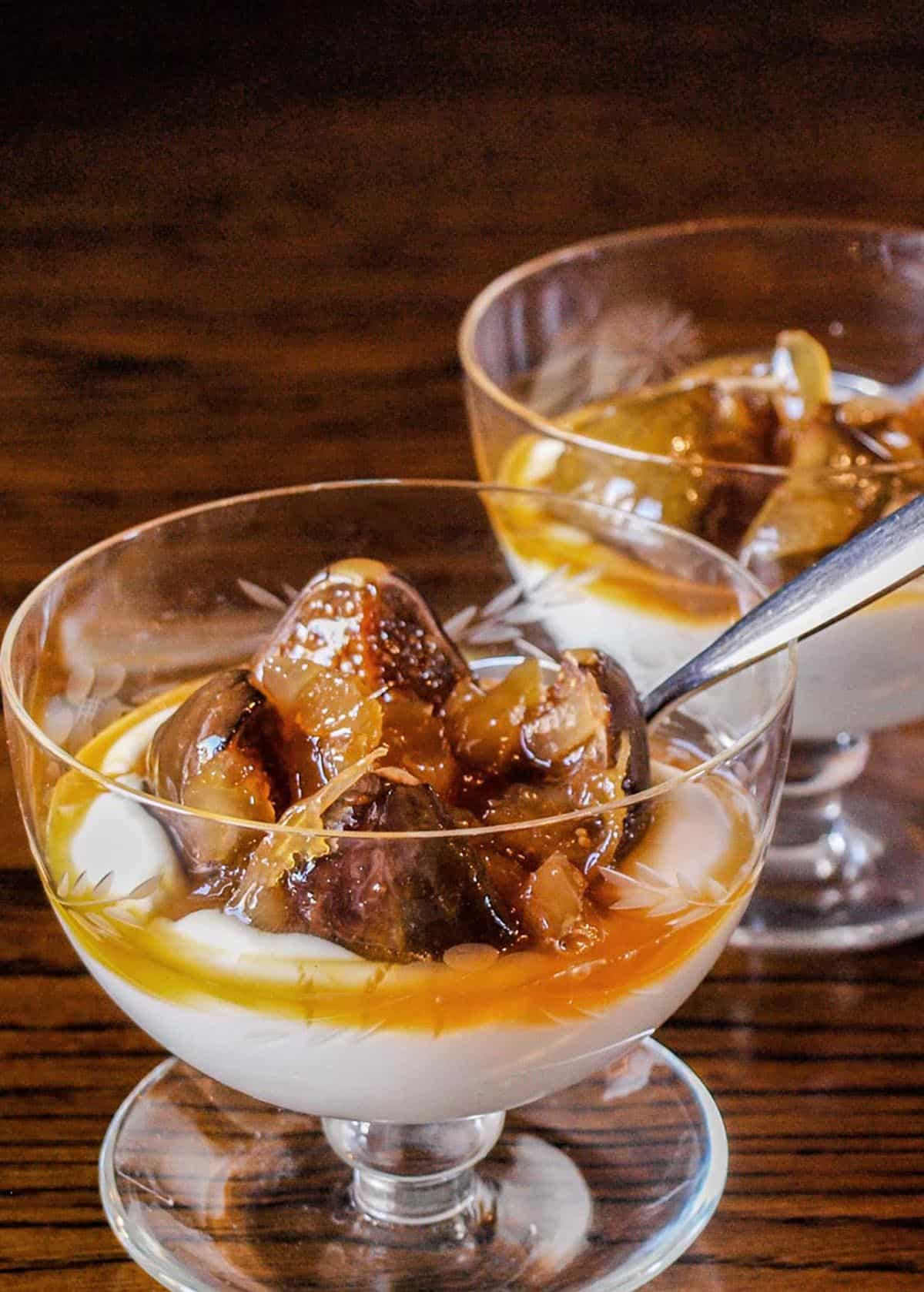 I love fresh figs and it's always exciting when they come into season. Figs are delicious when fresh and ripe, but something magical happens when you cook them. The flavours intensify and the natural sweetness increases.
Why cook Ginger Figs in the Slow Cooker?
I use my slow cooker at every opportunity for all kinds of recipes. The low even temperature that your slow cooker produces means that the fruit stays in one piece. The longer time at a low temperature means the ginger and the orange juice really infuse the flesh of the figs and create a delicious sauce.

What are figs?
A fig is a soft pear-shaped fruit with green or purple outer flesh and many tiny seeds inside. This fruit is, in fact, an inverted flower that grows inside the outer pod. Fig trees are part of the mulberry family and are common across most Mediterranean countries and in Northern India.
When are figs available to buy?
Fresh figs are available all year round. However, the best of the crop appears in stores in the UK in late summer and autumn. Dried figs are also available all year round and they are a great addition to cake and bread recipes. Or soak them in tea with dried apricots and dried apples for a winter fruit salad.

What is preserved ginger?
Preserved ginger is fresh ginger root that has been peeled, sliced and cooked in sugar syrup. I buy preserved ginger in a jar for convenience. If you would like to make your won then you can find a recipe for Homemade Stem Ginger at Tales from the Kitchen Shed.

What kind of orange juice should I use?
Use fresh orange juice for the recipe. You can squeeze oranges to make your juice, this is the very best kind of fresh orange juice. However, you can also use orange juice from a bottle or carton. Use the kind of fresh orange juice that you would drink at breakfast time.

How should I store the cooked Ginger Figs?
If you want to get ahead then make the Slow Cooker Ginger Figs in advance. Once cooked, remove the Ginger Figs from the Slow Cooker. Then keep them in a closed container in the fridge for 3-4 days. Let the figs come to room temperature before serving as you will miss out on the deep flavours if you serve them too cold.

Can I freeze Ginger Figs?
Yes, you can freeze the cooked and chilled figs in a freezer-proof container for up to 3 months. Defrost them overnight in the fridge to retain the best texture.

How do I serve Slow Cooker Ginger Figs?
I serve the Ginger Figs at room temperature with thick Greek yogurt. I find that the creamy yogurt with its slight acidic tang is the perfect accompaniment to the soft and spicy figs.
Ginger Figs are also delicious warm with homemade Vanilla Custard Sauce or with warm rice pudding. They are also delicious with ice cream. As a real treat why not serve Slow Cooker Ginger Figs for breakfast or brunch with Cinnamon Granola?
More Fig Recipes
Quick and Easy Fig, Honey and Almond Tart
A crisp pastry base, covered in honey almond meringue, topped with fresh figs, blackberries and pieces of comb honey
Check out this recipe

Fig and Lime Jam
An easy recipe for a sweet jam with a little tang of lime. Ideal on your breakfast toast and with cheeses and cold cuts.
Check out this recipe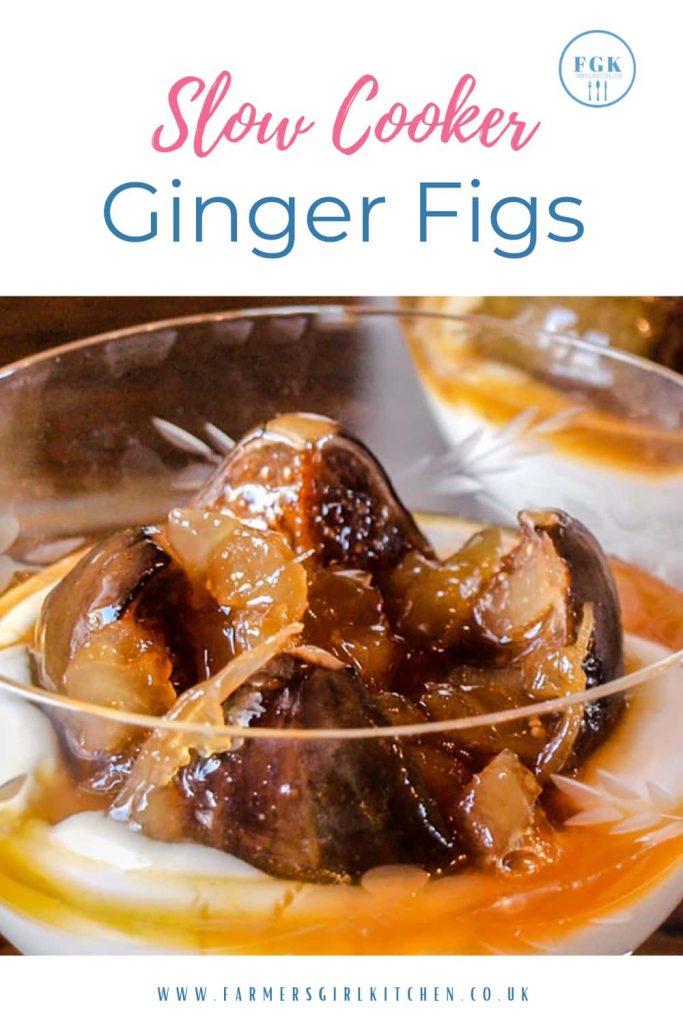 Pin for later

Slow Cooker Ginger Figs
3 simple ingredients, cooked slowly in the Slow Cooker, served with Greek yogurt this is a delicious autumn dessert.
Ingredients
4

ripe figs

50

ml

orange juice

1

tbsp

preserved ginger in syrup

chopped

3

tbsp

preserved ginger in syrup

chopped

500

g

Greek Yogurt
Instructions
Cut the hard part of the stem from the top of the figs, then slice a cross into the top of each one, be careful not to cut all the way to the bottom or your figs will fall apart.

1 tbsp preserved ginger in syrup

Place the figs in the basin of the slow cooker, open out the sections of the fig a little and fill the space with a dessert spoon of chopped preserved ginger and a teaspoon of the syrup.

Pour the orange juice around the figs and cover with the lid.

Bake in the slow cooker on low for 2-3 hours.

Remove the figs from the slow cooker to a serving dish, pour the juices into a pan and bring to a rapid boil, reducing the syrup by half, then pour this over the figs and chill in the fridge for at least an hour.

500 g Greek Yogurt

,

3 tbsp preserved ginger in syrup

Serve with Greek yogurt, drizzling the syrup and remaining chopped preserved ginger over the figs and yogurt.
Notes
You can also serve the figs warm with vanilla custard or rice pudding. 
Nutrition
Calories:
140
kcal
Carbohydrates:
21
g
Protein:
13
g
Fat:
1
g
Saturated Fat:
1
g
Polyunsaturated Fat:
1
g
Monounsaturated Fat:
1
g
Trans Fat:
1
g
Cholesterol:
6
mg
Sodium:
47
mg
Potassium:
317
mg
Fiber:
1
g
Sugar:
19
g
Vitamin A:
101
IU
Vitamin C:
7
mg
Calcium:
156
mg
Iron:
1
mg
Don't Miss My Latest Recipes
CLICK TO SUBSCRIBE NOW to join my newsletter list & receive a FREE 'How To Adapt Recipes For Your Slow Cooker' printable!
Share by Email
I'm adding this post to Cook Blog Share the link up for great recipes, hosted this week by Feast Glorious Feast.