These 21 Sensational Strawberry Desserts take sweet seasonal strawberries and turn them into sensational desserts that you will want to make again and again. I've created a collection of strawberry desserts which includes tarts. pavlovas, cakes, cheesecakes, jellies and more. So many creative delicious desserts you can make and share at home, come and have a look.
5 Sensational Strawberry Desserts from Farmersgirl Kitchen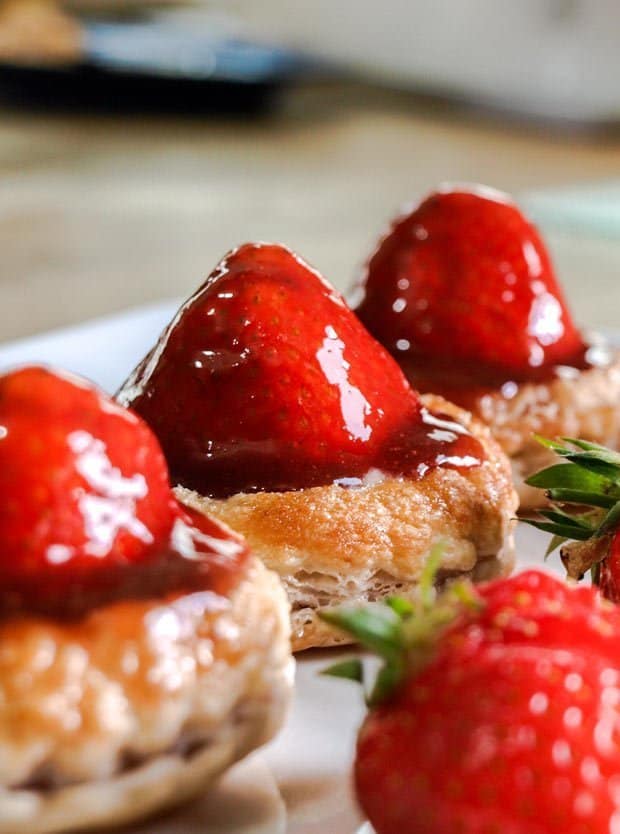 Strawberry Tarts are the ultimate strawberry dessert in the UK, as soon as summer comes, every bakery has rows of luscious strawberry tarts on sale.   In my simple recipe, I've used ready made puff pastry to make the tart cases and filled them with creme patisserie, then all you need to do is top with a large sweet strawberry and cover in strawberry sauce.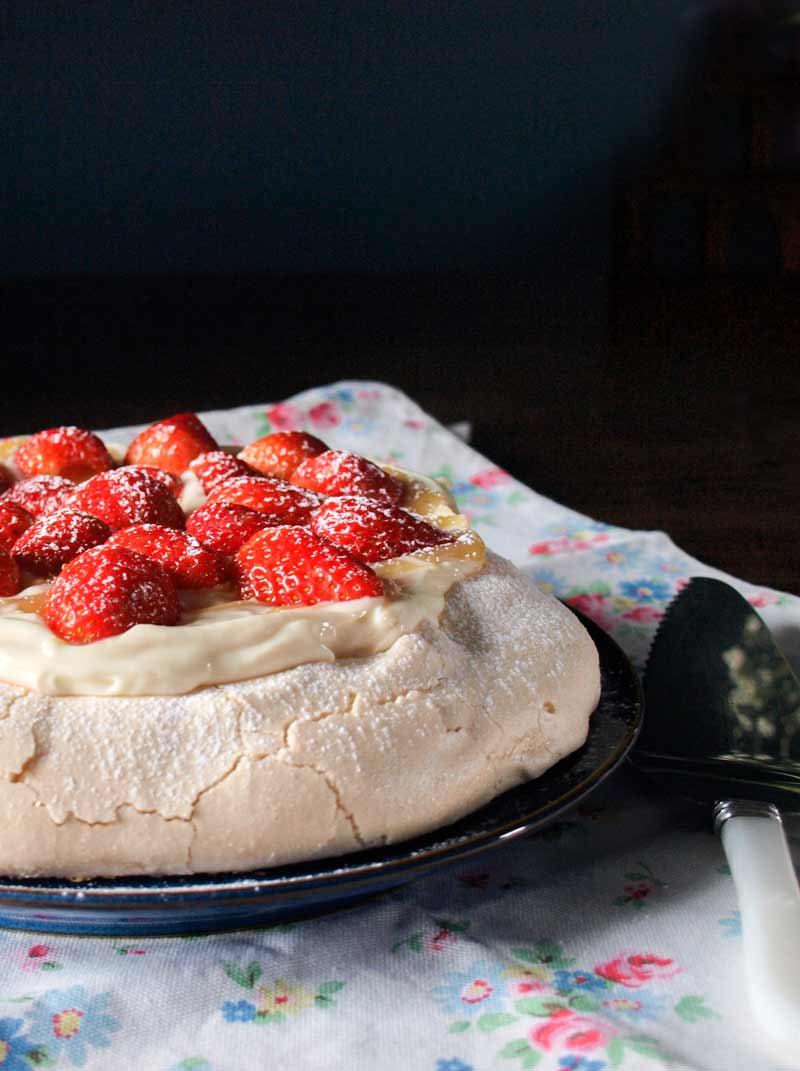 There aren't many people who don't enjoy meringue and this recipe for Strawberry Pavlova is straightforward and has never failed me.  It is a glorious strawberry dessert can easily be adapted to use other fruit You can also make the meringue ahead of time, so it's ideal for entertaining.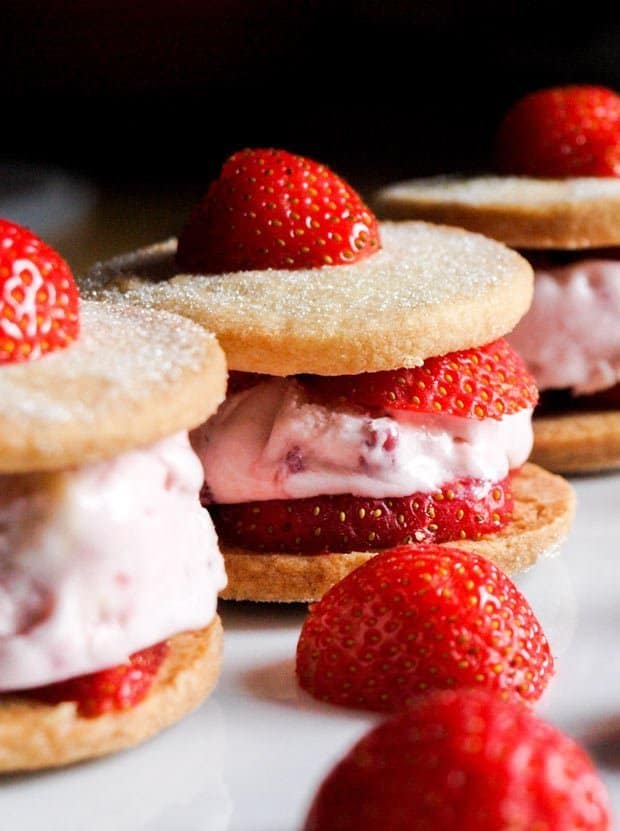 I'm a total convert to the Ice Cream Sandwich, especially when the cookies are homemade.  However, if you are really in a hurry you can use good quality bought cookies and assemble this heavenly strawberry dessert in a matter of minutes.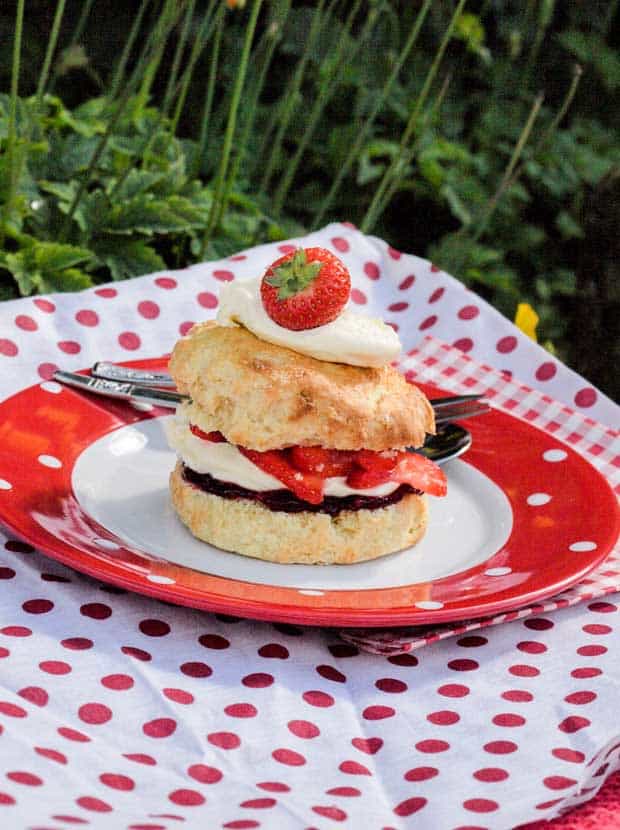 Strawberry Shortcake is a great way of making a few strawberries go a long way.  The sweet shortcake is filled with strawberry jam, cream, and sliced strawberries, it's a classic combination which is a real treat.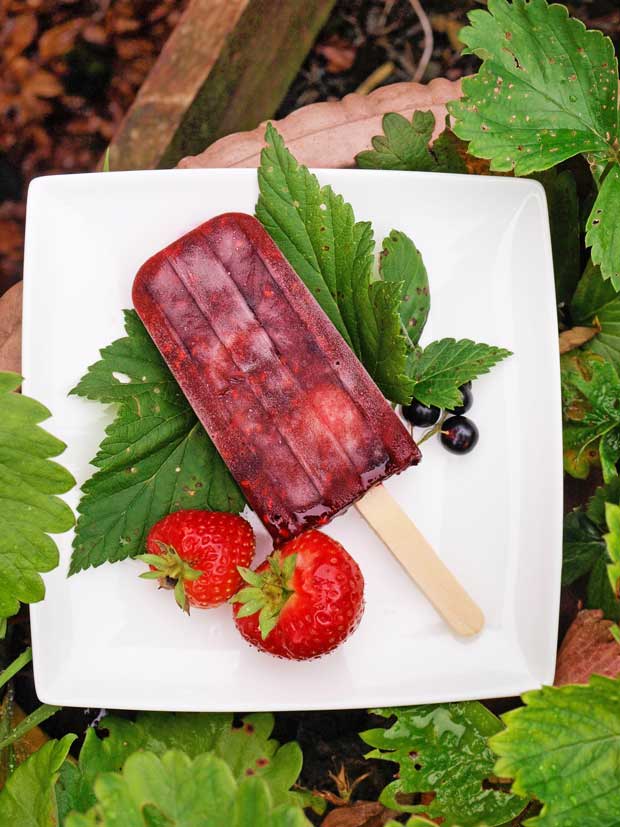 Packed full of summer berries, just like the traditional British Summer Pudding, these Ice Lollies (popsicles) are a refreshing strawberry, raspberry, and blackcurrant dessert.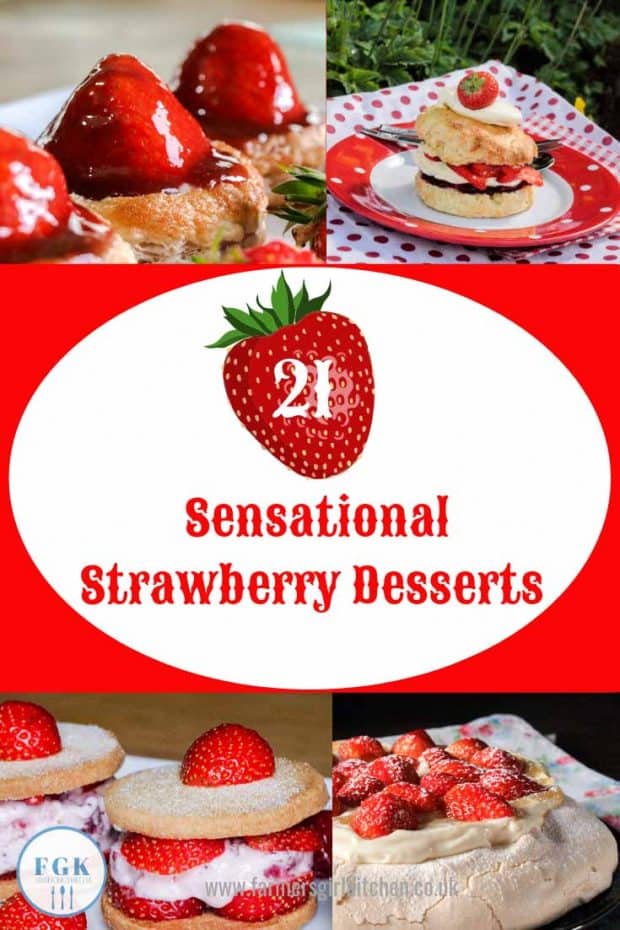 PIN FOR LATER
16 More Sensational Strawberry Dessert Recipes
Guilt-Free Raspberry and Strawberry Cheesecake from The Slimming Foodie, Oven Baked Rhubarb and Strawberry Risotto from Sneaky Veg, Vegetarian Strawberry Blancmange from Tin & Thyme White Chocolate & Strawberry Mousse from Fab Food 4 All, Strawberries and Cream Cheesecake from Sew White.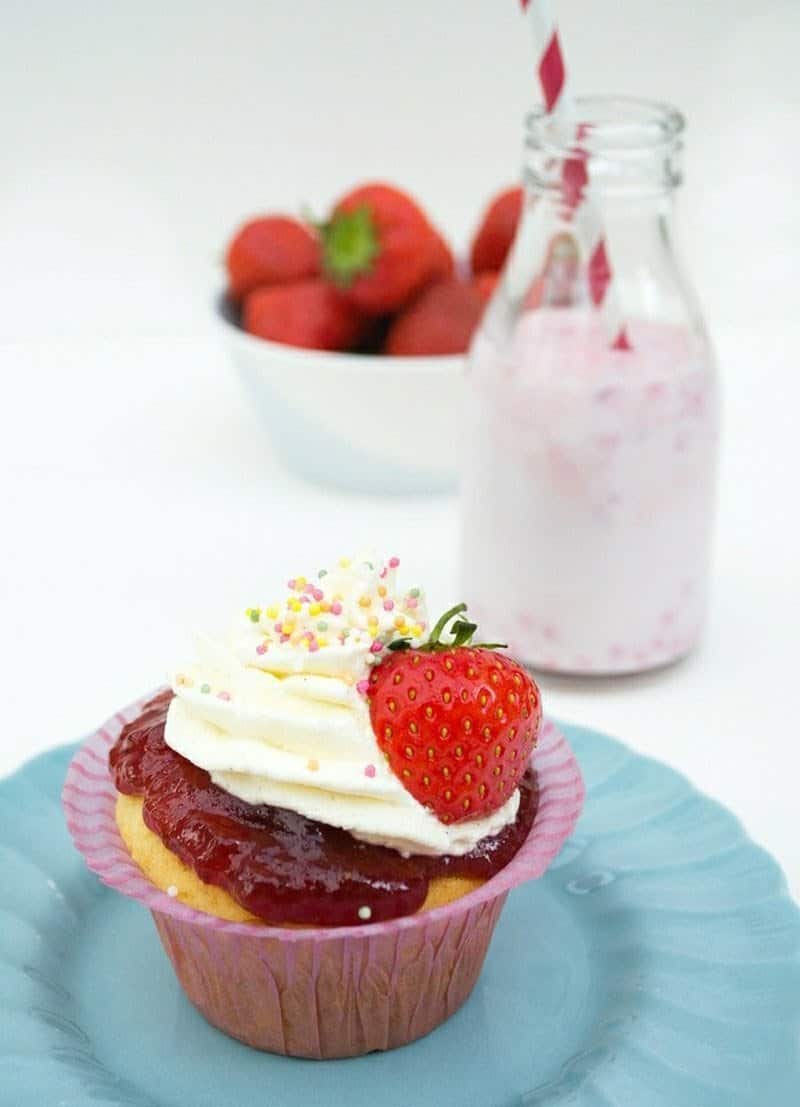 These sweet little fairy cakes feature a topping of strawberry jam, cream, a fresh strawberry, and some festive sprinkles just to top it off. Children would love these festive summer treats.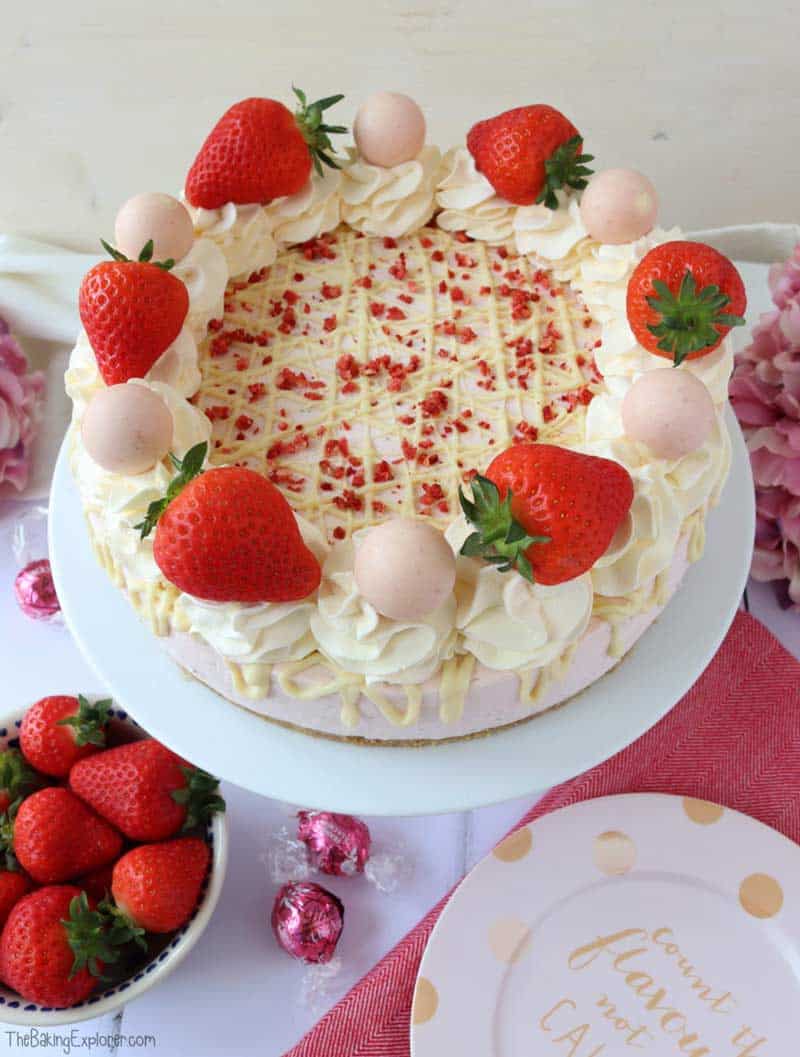 Cool and creamy, this Strawberries and Cream Cheesecake is a no-bake creamy strawberry dessert which would make a delicious centerpiece for summer entertaining and it looks so pretty too.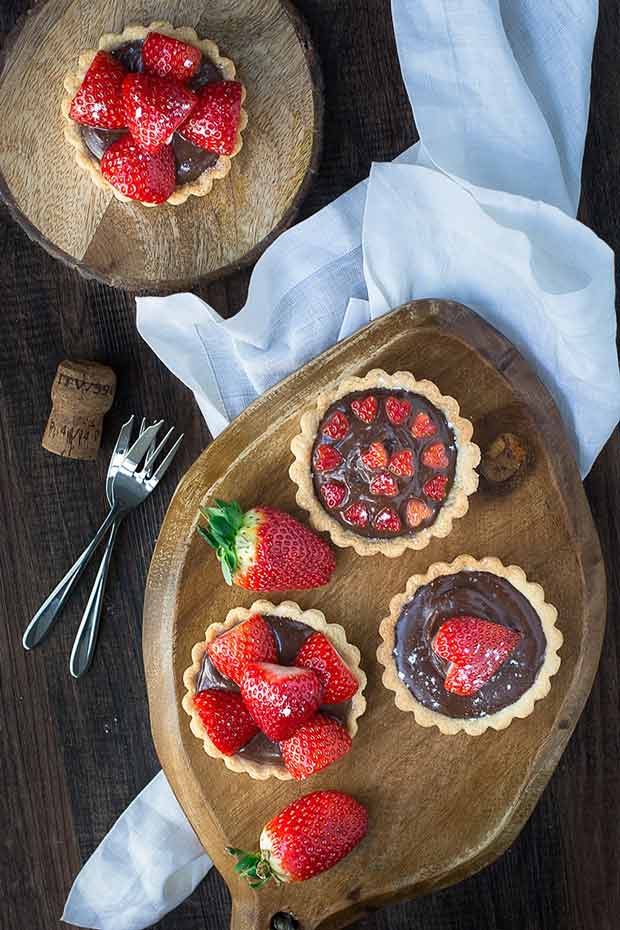 Strawberries and chocolate are a classic combination and these indulgent Strawberry & Champagne Truffle Tarts are just the thing for a special occasion or to treat yourself and your loved ones.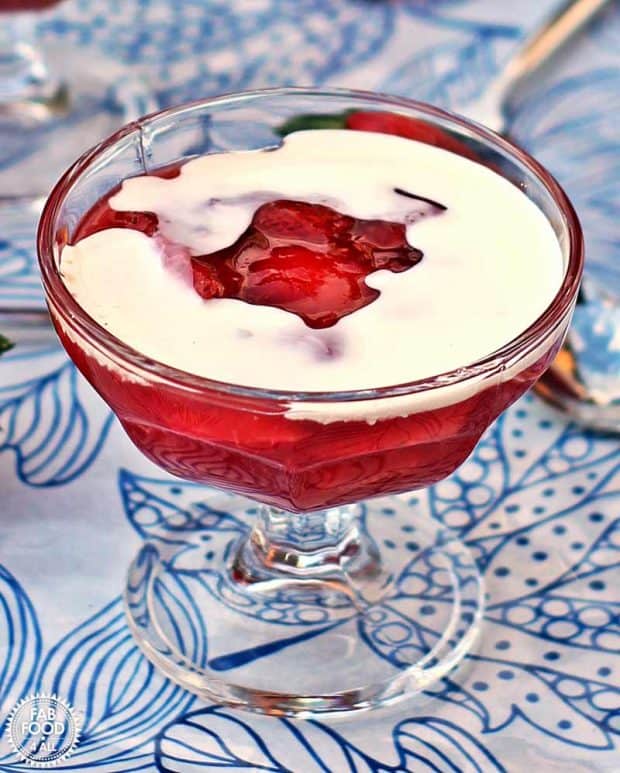 A traditional Danish red berry dessert made with strawberries or a mixture of red berries cooked and thickened with cornflour or potato starch, it's always fun to try desserts from other countries and this one is definitely worth putting on the menu.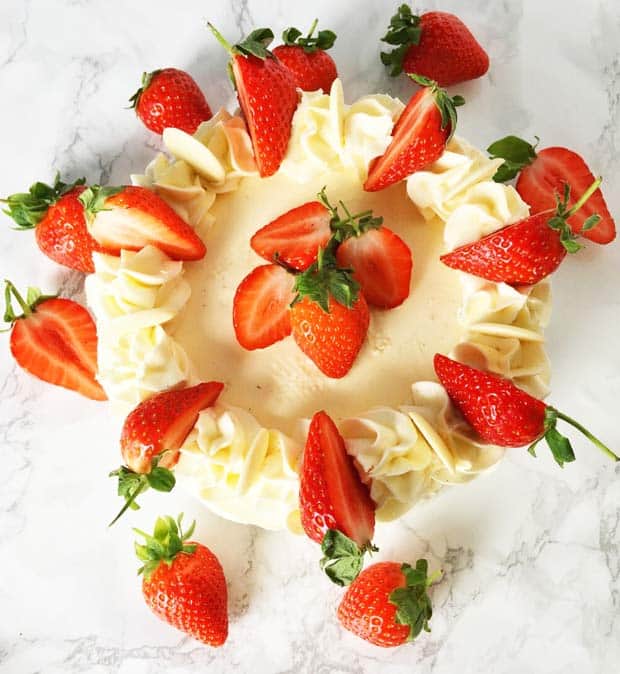 Two layers of vanilla and lemon sponge, filled with sliced strawberries with vanilla, lemon, and elderflower buttercream. Topped with buttercream swirls and decorated with fresh strawberries and white chocolate buttons, this is a perfect, easy to make cake for a Summer celebration!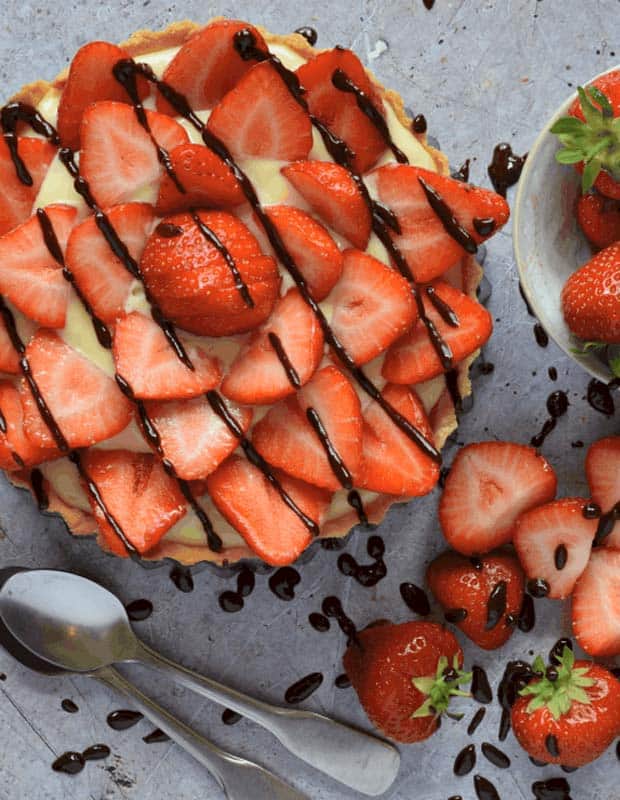 A fresh fruit tart is a classic dessert which makes the most of summer produce. This Strawberry Tart is filled with creme patisserie, topped with strawberries and drizzled with chocolate, it makes a stunning dessert.
Strawberry & White Chocolate Cup Cakes from Crunch and Cream, Healthy Strawberry Cheesecake Bites from Everyday Healthy Recipes, Strawberry & Vanilla Ice Milk from Fab Food 4 All, Summer Berry Pavlova from Amy Treasure, Strawberry Jellies with Chantilly Cream from Recipes Made Easy.
If you have enjoyed these 21 Sensational Strawberry Desserts, why not follow me on Pinterest, Facebook, Instagram and Twitter for more delicious recipes?