Paul Hollywood's Christmas Cake recipe is a rich fruit cake that is simple to make and packed full of traditional Christmas flavours. Great British Bake Off Judge, Paul Hollywood, provides the expert instructions for this special holiday treat.

Who is Paul Hollywood?
Paul Hollywood is a baker and a judge on The Great British Bake-Off on UK television. He is best known for baking bread so when I received his book 'How to Bake' to review, I was surprised and delighted to see that there are also recipes for other types of bakes.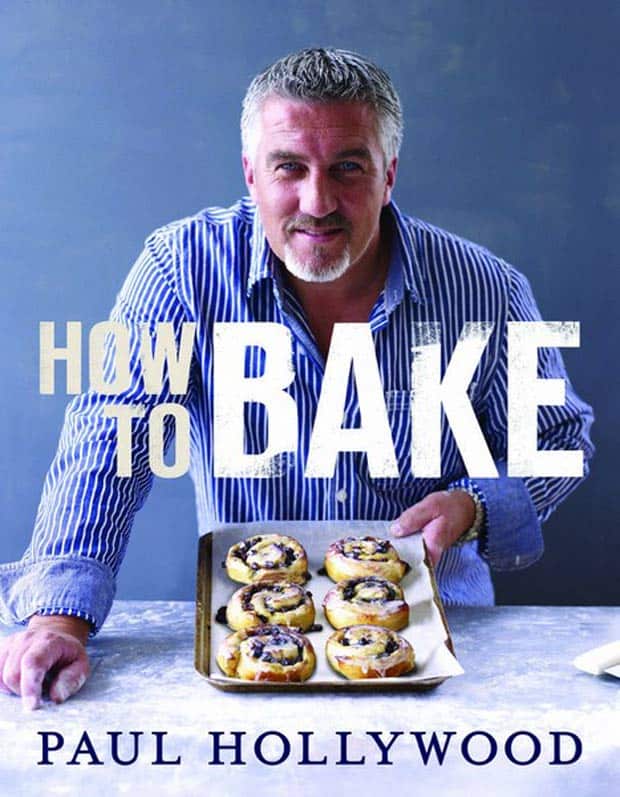 How to Bake by Paul Hollywood
In this review, I take you through each of the chapters in the book to give you a clear idea of what to expect in terms of technique and the recipes that are included.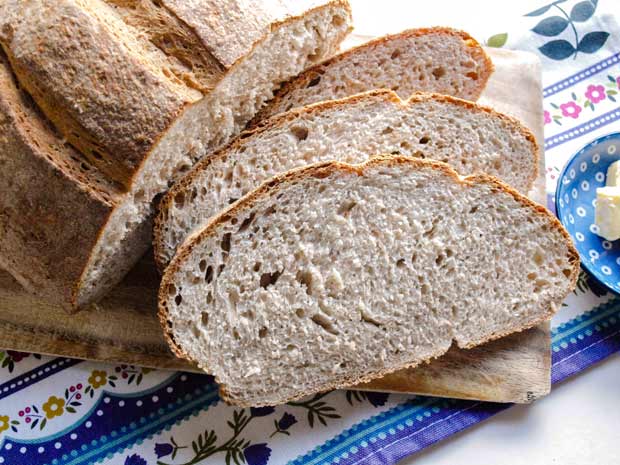 Getting started with Bread
This is a great way to start, this chapter is a comprehensive guide to baking bread.
The chapter covers everything from different types of flour, through techniques and tools.  It includes step by step pictures as well as written instructions.
Basic Breads
In this chapter, I learned how to make white and wholemeal loaves in different shapes and variations.
As well as classic bread recipes there are recipes for soda bread, flatbreads, Italian bread, and even crumpets.
Flavoured Breads
I love to add savoury and sweet ingredients into bread dough, but it can be tricky to get it right. I'm sure we have all seen that on Bake Off!
I really liked the recipes for breadsticks, Coriander, olive and onion bread, Bacon and Cheddar loaves, Pecan loaf, and Hot Cross Buns.
Sourdough Bread
I've never actually made sourdough bread, although I love to eat it. Paul Hollywood takes us through all the steps and makes it sound achievable.
As well as a recipe and technique for basic sourdough bread, I liked the variety of sourdough recipes. There are recipes such as Sour olive bread, Muesli and banana sourdough, and Lavender honey and toasted almond sourdough.
So many tempting flavours, it makes me really want to try all of the recipes!
Croissants, Danish & Brioche
This chapter takes us into the realm of sweetened yeasted dough, there is a lot of technique involved in making these sweet breads and they can be time-consuming.
If you are worried about technique there is a double-page spread of photographs showing how to make the croissant dough, they are clear and easy to follow.
Biscuits, Puddings and Cakes
Now we come to the chapter which surprised me, however it's clear that these recipes are just as important to Paul as the bread. recipes
I wanted to bake all the sweet and savoury biscuits, strudels, Baklava, crumble, soufflé, cheesecake, chocolate cake, muffins, brownies, Buche de Noel and, of course, Paul Hollywood's Christmas Cake.
Tarts and Pies
If you've seen the Great British Bake-off, you will know that pies are something Paul is passionate about. In this chapter Paul demystifies pastry making with recipes and techniques for different types of pastry and recipes for everything from Lemon meringue pie to hot water crust pork pies.
Who is it for?
How to Bake is a book for anyone who wants to bake, whether you want to learn how to make bread for the first time, to extend your repertoire or challenge yourself to try something new.
Pros and Cons
Pros:
I loved the step by step photographs and there is also a photo of every recipe. I like to know what I'm aiming for. The introductions to each chapter make you feel that you are really getting the benefit of Paul Hollywood's years of experience
Cons:
It's a big book and quite heavy, but that is a very little 'con' and only relevant if you are trying to read it in bed!
Ease of use
The instructions are easy to follow, there is quite a lot to read at the start of each chapter and it's worth reading this through before diving into the recipes.
Worth buying?
I recommend this book, it is well thought out with techniques explained clearly in words and pictures, definitely worth buying.
How to Bake by Paul Hollywood is published by Bloomsbury RRP £20, Popular On line Retailer £8.86

Baking Paul Hollywood's Christmas Cake
I like to test each review book and make a recipe.  As I hadn't yet made my Christmas cake, I decided to try Paul Hollywood's Christmas Cake recipe.

What is Paul Hollywood's Christmas Cake like?
The recipe is easy to follow and turned out well. It is full of different types of dried fruit and includes dried apricots and glace pineapple and prunes. I really liked the chunky pieces of almond which gave the fruit cake texture.
The cake is much lighter in colour than the one I usually make. However, it is moist and very delicious. I had some cake mixture leftover and was able to bake a bonus cake in a small loaf tin.
This meant it was easy to try the cake without cutting into the larger cake I am keeping for Christmas. The cake cuts very well and holds together. The texture of the cake is quite dense but moist and not overly sweet.
I am a bit fan of apricots as you will know if you have made my Apricot Tea Bread recipe. I also love prunes which add a really rich flavour to the cake, if you like prunes then try my Chocolate Prune & Walnut Cake.
More Christmas Cake Recipes from Farmersgirl Kitchen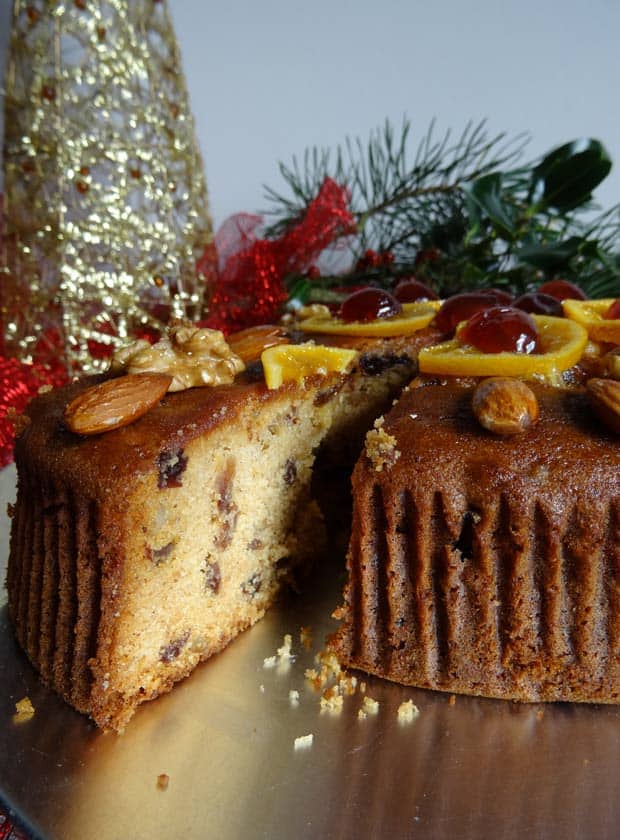 Last Minute Whisky Marmalade Christmas Cake is light and fruity rather than the rich dark fruit cake that is traditionally baked for Christmas and you can make it and eat it straight away without waiting for it to mature.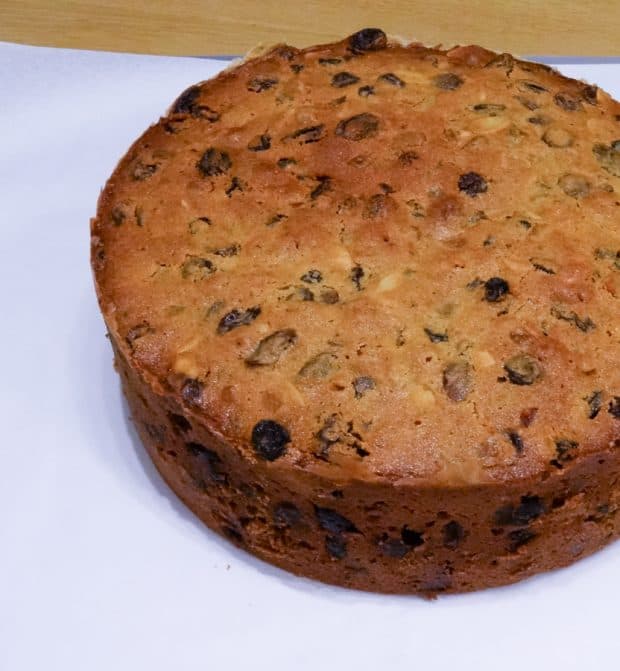 Christmas Fruit Cake is a traditional bake for the festive season in the UK. This step by step recipe produces a darker Christmas Cake and is an easy bake even if you have little experience.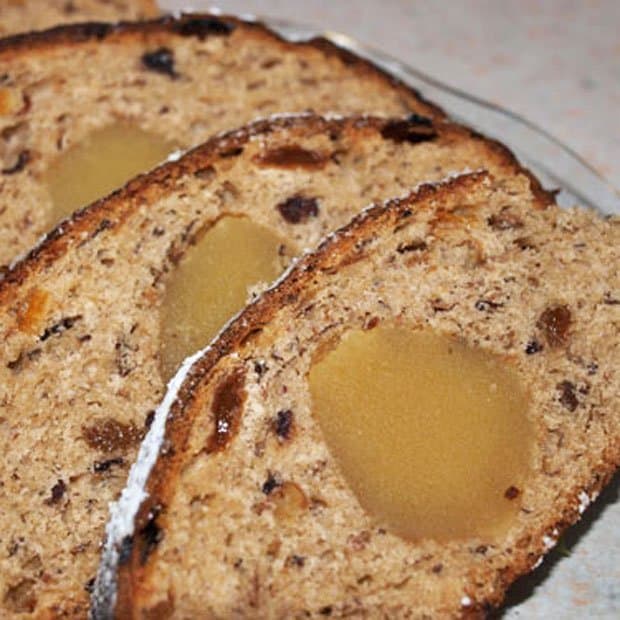 Homemade Marzipan Stollen is a delicious semi-sweet bread studded with dried fruits and nuts and filled with marzipan. It is a traditional Christmas holiday bread from Germany and this festive loaf has a long and interesting history and it is simple to make
More Christmas Cake Recipes
Tin Can Mini Christmas Cakes – Eats Amazing
Pumpkin Fruit Cake – Fab Food 4 All
Rosca de Reyes, Spanish Epiphany Cake – Fuss Free Flavour

Paul Hollywood's Christmas Cake
This is a classic, richly fruited Christmas cake – deliciously moist and substantial. It tastes wonderful just as it is, but of course the addition of marzipan and snowy white icing make it much more festive and spectacular. You can either make your own marzipan, or use a good-quality bought one. The same goes for the icing.
Ingredients
450

g

sultanas

225

g

raisins

225

g

dried apricots

chopped

115

g

prunes

chopped

55

g

glacé pineapple

225

g

glacé cherries

chopped

225

g

chopped candied peel

115

g

blanched almonds

toasted and very roughly chopped

Finely grated zest and juice of 1 orange

70

ml

brandy

225

g

unsalted butter

softened

200

g

light muscovado sugar

5

large eggs

280

g

plain flour

To finish

2

tbsp

apricot jam

500

g

quantity marzipan

see page 255, or a 500g packet ready made marzipan

Icing sugar for dusting

500

g

quantity royal icing

see page 255, or a 500g packet ready-to-roll fondant icing
Instructions
Combine all the dried and glacé fruit, candied peel and almonds in a large bowl. Add the orange zest and juice, and the brandy. Mix well,cover and leave for several hours or overnight.

Heat your oven to 150˚C. Line the base and sides of a 20cm round deep cake tin with a double thickness of baking parchment, cutting it so that it stands a good 5cm proud of the top of the tin.

In a very large mixing bowl, beat the butter and sugar together for several minutes until pale and fluffy. Beat in the eggs, one at a time, adding a little of the flour with each to prevent the mixture from splitting.

Stir in the fruit mixture. Sift the remaining flour over the mixture and fold in, using a large metal spoon. Spoon the mixture into the prepared cake tin and level the surface.

Bake in the middle of the oven for 3 hours, then check by insert a skewer into the centre – if it comes out clean, the cake is cooked. If not, give it a further 15–30 minutes. Leave the cake to cool before removing it from the tin.
To marizpan your cake
When your cake is completely cooled – and ideally after a couple of days – you can marzipan and ice it. Warm the apricot jam gently in a saucepan with a splash of water to thin it down, sieve, then brush all over the cake.

Roll out 300g of the marzipan to a large circle, about 4mm thick. Using the cake tin as a guide, cut a round of marzipan to fit the top of the cake and position it.

Roll out the other 200g marzipan with the trimmings and cut 2 long strips to fit around the side of the cake. Position these, then smooth the marzipan and mould the edges together.

If you are using ready-to-roll icing, roll it out on a surface lightly dusted with icing sugar to a thickness of about 5mm. Lift it over the marzipan, smooth down and trim off the excess at the base.

If you are using homemade royal icing, smooth it over the cake with a palette knife. You can leave it smooth or swirl it into peaks with the back of a spoon or your palette knife, as you choose. Leave to set.

Wrap a ribbon around the side of your Christmas cake and finish as you wish with festive decorations.
Don't Miss My Latest Recipes
CLICK TO SUBSCRIBE NOW to join my newsletter list & receive a FREE 'How To Adapt Recipes For Your Slow Cooker' printable!